Chapman Creek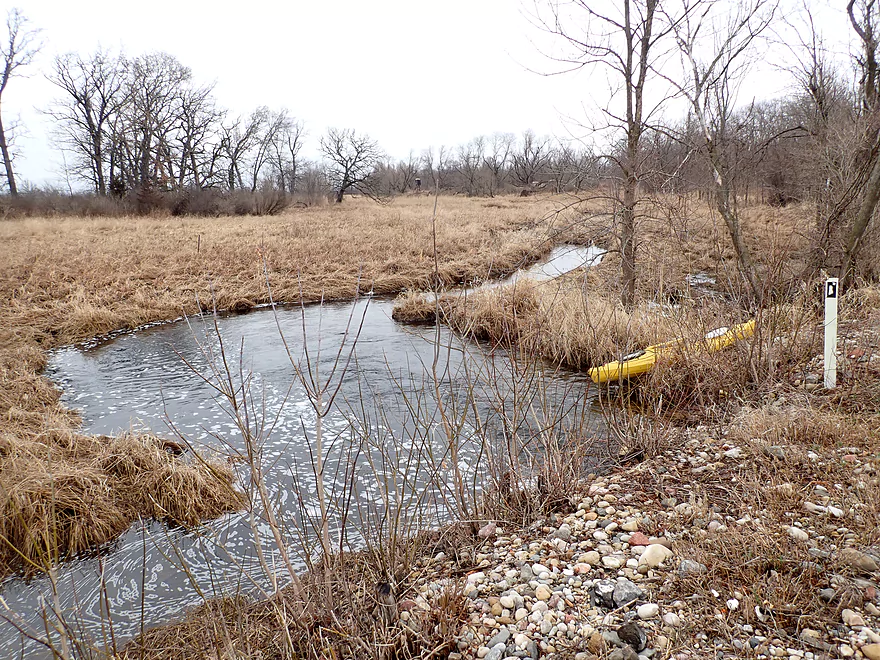 Take-out:
N. River Dr Landing
Chapman Creek is a small tributary to Buffalo Lake located just north of Portage.  This was once part of an expansive bog created by poor natural drainage.  Just two miles to the west, Neenah Creek flows due south, while just two miles to the east the Fox River (which includes Buffalo Lake) flows north.  Farmers built a vast network of drainage ditches (perhaps the largest in the state) and channelized part of Chapman Creek which radically changed this watershed.  The original bog has been reduced to a small parcel (now called "Summerton Bog State Natural Area") and the main creek has been left in a "Vaderized" state by farmers, but it's still a nice paddle.
I started the trip at Gale Drive.  Here the creek wasn't yet channelized and flowed swiftly through open wetgrass.  The water clarity was excellent and I saw many snail shells littered along the sandy bottom.
After paddling under my first culvert, I encountered a huge drainage ditch network.  Here the creek had been artificially straightened and hemmed in by huge walls of dark black topsoil with occasional clay deposits at the bottom.  Side channels significantly increased the volume of the creek and the good clarity soon vanished.
For the next mile or so the creek flowed mostly straight as an arrow with only occasional turns.  I really couldn't really see anything besides the creek as the dirt banks were so high.  This may sound a bit boring, but I found it pleasant and a good contrast relative to some of my recent trips that had excessive squiggliness. 
In multiple spots, seeps would sneak through the banks and join the main creek.  Some seeps weren't so natural though, and in one spot a series of large, gated pipes jutted out from the banks and hovered over the creek.  Most were closed but one was open and spewed water onto the creek.  I suspect a pump system connects various portions of the large drainage ditch network to Chapman Creek.  I did hear it kick off shortly after I paddled past it and suspect it's programmed to only work at certain levels.
This trip was mostly obstacle free, but I did have to duck low to get under one bridge and another culvert had to be portaged.  The latter was somewhat curious as it had a large sluice at its end.  I'm not sure why anybody would shut it or if anybody had.
I soon encountered 7th Ave, which was followed immediately by busy Interstate 39.  7th Ave was a possible take-out I considered, but it would have cut the trip short at just 2 miles so I rejected it.
After Hwy 39, Chapman Creek flowed through a really nice cattail marsh.  I've driven over this bridge (from Portage to Stevens Point) many times and this stretch of the creek can be gorgeous when the sun is out.  Sadly, it was 100% overcast (despite the weather forecast saying it wouldn't be) and the lighting/photography conditions were awful.
It wasn't long before I was on Buffalo Lake.  Despite this being a natural lake, it's actually the Fox River.  A dam in Montello though has significantly increased the size of the lake.  It's also caused a good part of the lake to silt in and much of it can be too shallow for motorboats (which didn't used to be the case).  Hopefully in the future this dam will be removed which would allow the original river channel to naturally dredge the bottom.  Sadly this will likely never happen because the state recently wasted 5 million dollars refurbishing the Montello dam.  Tragegically few environmental groups advocate for dam removal anymore and most politicians are just not educated enough about the issue to make wise decisions.
The creek mouth at Buffalo Lake wasn't well defined and consisted of a number of small cattail islands.  The current was mostly nonexistent which allowed me to paddle "upstream" to Endeavor to take out.  I could have actually taken out downstream by a public landing near Packwaukee, but there the lake was wider, had fewer cattails, and was less interesting (although there is a cool historic railroad bridge by Packwaukee).
As I worked my way upstream to Endeavor, I encountered a lot of good wildlife, including red-winged blackbirds precariously clinging to the tops of cattails, muskrats (and their lodges), as well as a large flock of pelicans.   The south end of Buffalo Lake is very underrated for wildlife…I've paddled it before and then too it was fantastic.  The take-out by Endeavor was somewhat hidden by cattails but wasn't too difficult to find as long as one hugs the western shore.
In summary, this was a somewhat simplistic trip that won't have appeal for most non-locals.  But it's not a bad paddle and was a unique experience.  It very much reminded me of Good Earth Creek but not quite as nice (another cool "drainage ditch paddle" located just to the south).   The cattail marshes on Buffalo Lake were also enjoyable with the best part being the corridor created by Chapman Creek.  In the future, I hope to explore most of these obscure marshy inlets to Buffalo Lake (eg Allen Creek, Page Creek, Mad River, and Ox Creek).
Noteworthy Wildlife:
This was a great trip for wildlife.  Sights included snails, mink, ducks, geese, muskrats, and even some domestic peacocks at the take-out.  The highlight was a large flock of pelicans on Buffalo Lake.
Put-in:
Gale Drive:  This was a decent bridge access.
Alt Put-ins:  I don't think there are any.  The creek disappears upstream of Gale Drive.  Downstream, there are some service roads that in theory could be access points, but those are likely private roads.
Take-out:
N. River Drive Landing (Endeavor):  This is a good public boat launch on the Buffalo River.  It's too shallow here for most powerboats, so kayakers pretty much have it to themselves.
Alternate Take-outs:
Hwy D Bridge/Packwaukee:  After the mouth of Chapman Creek, you can travel 2 miles south to Endeavor (as I did), or you can head 2 miles north to Packwaukee which has a nice public launch at the corner of the Hwy D bridge.  I believe a public fee is required to use it.  It doesn't matter too much which landing you use.  The nicer cattail marshes are located south (closer to Endeavor) while taking out north by Packwaukee lets you see a historic railroad bridge.
7th Ave:  If you're not interested in paddling Buffalo Lake, you can simply get out on 7th Ave.  The bank here isn't great for launching and it's a busy road, but it's all doable.  The downside to taking out here is it cuts the trip pretty short at just 2 miles.
Shuttle & Rental Information:
Endeavor to Gale Drive:  2.9 miles with 59′ of ascent.  This was a pretty easy bike shuttle.  Only downside was a stupid dog that chased me on Gale Drive.
Hazards, Logjams and Current:
Logjams:  None!
Wind:  Chapman Creek is fairly sheltered from wind, but Buffalo Lake is not.  If you plan on exploring the lake, be mindful of forecasted wind speed and direction.
Low Bridge/Culverts:  There are two bridges that have to be portaged on Chapman Creek.  Both are super easy.
Current:  The current is mostly non-existent, but close to the put-in the creek has a little pep.  Technically speaking Buffalo Lake is actually the Fox River, but there is no current on it that you have to worry about.
River Depth and Navigability:
Nearest Gauge:  Fox River @ Pardeeville – 8.02′
Generally speaking you can do this trip at almost any depth.  At really low depths though the first quarter mile after Gale Drive and parts of Buffalo Lake can get shallow.
7.0-7.5′:  Maybe too low.
7.6 to 7.8′:  An average depth.  The mouth of Chapman Creek might be a bit shallow.
7.9-8.02′:  A high depth…good target range.
8.03-8.5′:  A very high depth.  Likely still viable.
8.6'+:  Parts of the creek may burst its banks…it's still viable for paddling though.
Chapman Creek Overview:
South of Gale Drive:  Mostly not viable for paddling.  You could go maybe a half mile upstream before the creek disappears and you need to turn back.
Gale Drive to 7th Ave:  2.0 miles.  While largely artificially straightened and ditched, Chapman Creek is still a pleasant paddle.
7th Ave to Mouth:  0.5 miles.  Chapman Creek flows through a really nice cattail marsh.
Mouth to Buffalo Lake Take-outs:

Mouth to Endeavor Boat Ramp:  1.4 miles.  Mostly big lake paddling but does include some nice stretches with cattails.  This leg usually has good wildlife too.
Mouth to Freedom Rd Ramp (Packwaukee):  2.1 miles.  Mostly uninteresting big lake paddling…but it does include a historic railroad bridge.
Trip Map
Video
Photos
How did your trip turn out?

Questions or comments?

Feel free to leave your feedback.