Pine River – Hwy Q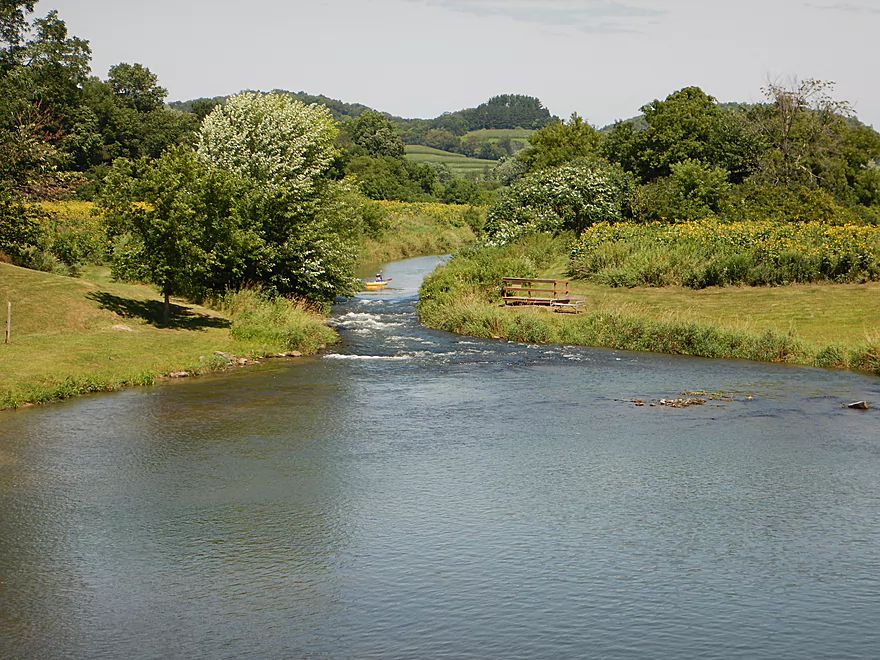 Put-in:
Canoe Port 4 or Hwy Q (Old Community Center)
Time:
3 hours 55 minutes (2.5 hours would be more typical)
The Pine is a nice river that I've done multiple times before.  The far upper section has very nice rock outcroppings similar to its sibling river to the west, the Kickapoo River.  The "middle section" runs through the city of Richland Center and is more open, with nice views of the Ocooch Mountains.  The lower section is mostly hardwood floodplain forest, which ends at Gotham where it empties into the Wisconsin River.  For this trip, I continued where I left off last time to complete the section through Richland Center.
The trip starts off on a great note at the Hwy Q bridge, with a great  view of the nearby driftless hills and a fantastic tall grass prairie (as in way over your head with abundant wildflowers) and a park trail that winds through it.  Definitely worth exploring after the trip if you have time. 
Despite this section going through the city, you won't encounter that many houses, but you will hear some road noise for the first few miles.  You will frequently see evidence of park trails, benches and even full blown kayak launchers along the river (park map). The work done for the river is much appreciated.
An early surprise on the trip was seeing a small rock outcrop, which I thought were only on the upper sections of the Pine.  Even without rock outcrops, this section is still scenic, alternating between enclosed forest and attractive grassland affording views of the Ocooch Mountains.
I normally don't think of the Pine as a super clean river, but at lower water levels a number of sections actually had good water clarity.  The substrate is surprisingly sandy with some mud on the edges and occasional pebble/gravelly bottom.
Another nice surprise were the sand and mud banks, as well as the occasional small sandbar.  Despite being cleaned out, I doubt this particular section ever had too much deadfall and it is always nice paddling a river section without excessive dead trees cluttering the water.
All in all, a pleasant trip that I recommend.  But in hindsight, I suggest cobbling only part of this trip with an upstream section I did two years ago.  More specifically, Krouskop Park to Bohmann Drive.  This would feature the best of both worlds and be a great trip.
Put-in:
Good put-in off Hwy Q where the old community center used to be.  There is a small beach that makes for an easy launch, or you can walk up the trail a bit and use a cool kayak launcher to run the class 2 rapids where the dam used to be.  Plenty of parking here, but there is no outhouse.  Make sure to take pictures from the bridge and walk around the local trail (super photogenic).
Take-out:
We took out at the Hwy O landing, but not many do this, preferring to take out at nearby bridges instead.  Just northwest of the bridge is a steep obstructed path, but there is a mowed path a little to the west which leads to a nice sandbar for taking out.  Unfortunately it is a bit of a drag to get your boat from the sandbar to the road.  But the locals are working on constructing a proper launch closer to the bridge and in fact this may be done by the time this report goes live.
Shuttle Information:
Pine River Paddle and Tube is a great livery option that I've used multiple times.  Call (608) 475-2199 for reservations.  The owner, Mark, services almost the entire length of the Pine (from Rockbridge to the mouth at Gotham) and has done a great job of clearing out and making the river navigable for paddlers.  New this year, Mark will be offering winter paddles on the Pine, which could be a unique way to experience the river. 

For bike shuttlers, the Pine River Trail is a nice option and runs from Krouskop Park (north side of Richland Center) to Lone Rock (on the Wisconsin River).  This is marked and visible on the Google map below.
Hazards and Log Jams:
None.  Mark, Friends of the Pine River, the local parks department and others have done a terrific job of clearing this out.  This section would be suitable for larger boats, canoes and families.
River Depth, Navigability and Current:
I doubt the Pine ever gets too low to run.  We ran this at 110 CFS, which is considered a bit below normal (using the nearby Kickapoo gauge so isn't 100% accurate).  The Pine can empty in a hurry and you don't want to be on it after a heavy rain.  I think a good target depth would be below 180 CFS (lower is better).  
Wildlife:
Deer, small fish, beaver evidence, frogs and one very friendly rabbit.  The beaver had actually "felled" some corn stalks and dragged them to the water to make a dam (amusing).  

For trees, there were a lot of silver maple, boxelders, and 5 or 6 catalpa trees (which have monstrous yellow-green leaves).  This area of the state has a lot of sugar maple, which turn orange and red in the fall, unlike other trees (silver maple only turn yellow).  A nice map of sugar maples here shows that Richland County (and the Ocooch Mountains) have one of the highest densities of these scenic fall trees in southern Wisconsin.  Put another way, this is a very scenic spot to be in the fall.
The wildlife highlight was a bumbling teenage great blue heron who clumsily would escape from us by flying just a little downstream each time we met (which meant we bumped into him a lot).
Detailed Overview
Map Overview:
Click here to see a map of water trails and access options on the Pine (and its tributaries).
Quick Overview:
Yuba to Pier County Park:  Few paddle this stretch because of deadfall issues, but the river here is scenic and has some great outcrops.
Pier County Park to Hwy D:  The best and most popular part of the river.
Hwy D to AA:  An ok stretch with some outcrops, but not as many.
Hwy AA to Hwy O:  A nice stretch through the city of Richland Center.  There are no outcrops here, but there are fun Class 2 rapids by Seminary Street.
Hwy O to Mouth:  This was cleaned up years ago, but likely has a few deadfall issues now.  This is a mediocre paddle with no outcrops and isn't as interesting as upstream legs.
Detailed Overview:
Yuba to Hwy C:  2.3 miles.  Relatively open with some light rapids.  Maybe one logjam.
Hwy C to Beatty Dr:  0.4 miles.  Mostly open with maybe some outcrops.  Good prospect.
Beatty Dr to Quarry Dr:  1.6 miles.  Maybe 4-5 logjams.
Quarry Road to Shellington Rd:  4.8 miles.  Mediocre trip with some deadfall and mud, but some nice geology.


Quarry Road to Hwy C:  1.5 miles.  4 major logjams make this not worth it IMO.  There are two outcrops, but they aren't major.
Hwy C to Shellington Road:  3.3 miles.  Some snags, but no logjams.  Bit of a trout stream feel to it.  Two nice clusters of outcrops at the end.  An underrated paddle.

Shellington Rd to Hwy 80:  1.5 miles.  Maybe 5 major logjams, but there should be some great outcrops on this stretch.
Hwy 80 to Hwy I:  0.5 miles.  Likely an uninteresting stretch with maybe 3 logjams.
Hwy I to Hwy 80:  0.8 miles.  Not a great stretch with maybe 2 serious logjams.
Hwy 80 to Hwy D:  5.1 miles.

Hwy 80 to Pier County Park:  1.4 miles.  Two great outcrops, but also a number of snags on this stretch (none that I had to portage).
Pier County Park to Hwy D:  3.7 miles.  11 outcrops on this stretch makes this the best leg on the Pine.  The highlight is Pier County Park.

Hwy D to Hwy AA:  6.9 miles.

Hwy D to Hwy 80/SR:  2.3 miles.  Roughly 3 outcrops on this leg.
Hwy 80/SR to Hwy AA:  4.6 miles.  Trying to remember…I believe there are 1-2 nice outcrops on this leg.

Hwy AA to Hwy Q:  5.4 miles.

Hwy AA to Industrial Dr:  2.7 miles.  Nice open section with views of the hills.
Industrial Dr to Krouskop Park:  1.7 miles.  More tree cover.  Some submerged logs to dodge.
Krouskop Park to Hwy Q:  1.0 miles.  Great section with cool bridges, class 2 rapids and hilly scenery.

Hwy Q to Hwy O:  5.5 miles. 

Hwy Q to Bohman Dr:  2.3 miles.  A nice section.
Bohman Dr to Hwy O:  3.2 miles.  Mostly open with some cornfields.  Not as nice as the previous sections.

Hwy O to Twin Bluffs:  4.8 miles.  Mediocre prospect.
Twin Bluffs to Gotham (mouth on Wisconsin River):  9.6 miles. Mostly floodplain paddling so not as interesting, but still ok.
Noteworthy Tributaries:
Willow Creek:  The best of the Pine River tributaries with fantastic "cake-shaped" outcrops.
Melancthon Creek:  An incredibly scenic creek that can only be done in high water.  There are two tunnels that you can paddle through.  Sadly there were a few annoying logjams on this stretch when I did it in 2017.  Hopefully they've been cleared up by now or will be in the future.
Hawkins Creek:  This is a speculative prospect I will likely do in the future.  It has many scenic outcrops, but also a fair degree of logjams, fences, and can only done in high water.
Pine River - West Branch:  This is one of the weaker tributaries.  A lack of outcrops and likely fences/logjams make this somewhat unappetizing, but I might try to explore the more open sections in the future.
Trip Map
Overview Map
Video
Photos
2 Comments to "Pine River – Hwy Q"
How did your trip turn out?

Questions or comments?

Feel free to leave your feedback.