Grant River: University Farm Road to Short Cut Road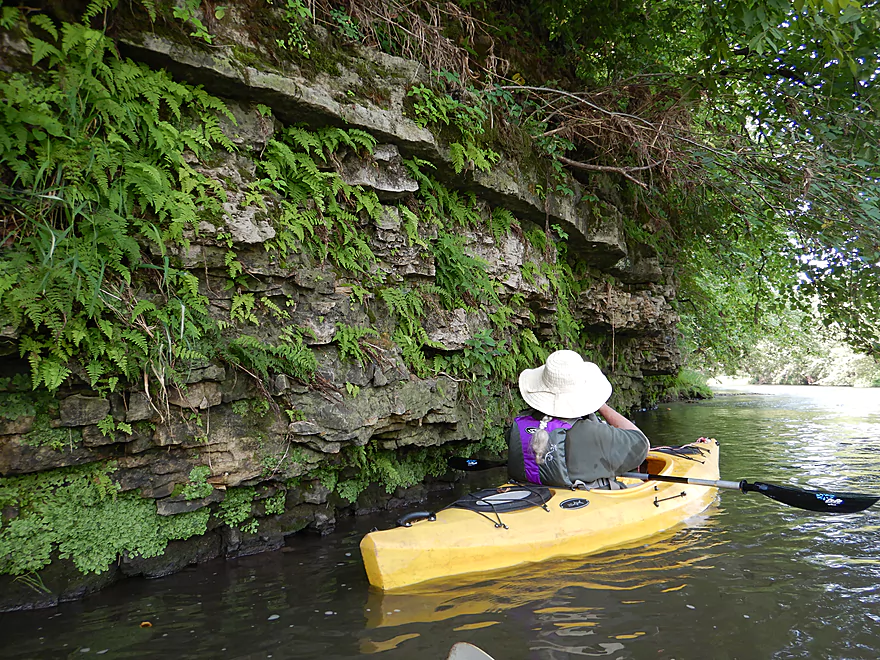 Put-in:
University Farm Road
Time:
3 hours 5 minutes (2 hours would be more typical)
The Grant River known for its phenomenal limestone outcrops is one of the better paddles in Southwest Wisconsin.  I had paddled the Grant before (Short Cut Road to Grant River Road) and that had been a great five-star trip.  The Lower Grant River has been on my to-do list for a while and this includes some great water trails served by the local livery.  But last minute, I decided to do something different and explore an obscure section of the Upper Grant that sees virtually no paddle traffic.
We started the trip at University Farm Road, which wasn't a good put-in, but there weren't many good alternatives.  Soon after launching we encountered what appeared to be a dreaded combo of rapids and a large logjam, but thankfully there was a narrow chute hidden along the bank that allowed us to sneak through unscathed.  The riffles and light rapids would continue for the duration of the trip and were a lot of fun.
Not so enjoyable was the shear amount of Japanese Hops that carpeted the banks.  This is an invasive plant we had encountered three times before (twice on the Little Platte and once on the nearby Little Maquoketa River).  It hadn't been on the Grant four years ago when we did our downstream trip, but has since spread and become a plague.  It was even vining and crawling up the corn in nearby fields.  Not only does this smother native plants, but it can scratch up paddlers good if they have the misfortune to walk through it.
The ubiquitous riverbottom pastures of Grant County have been slowly phased out in recent years because of high corn prices, but we did still paddle through some, which included two fences.  These were barbed, but not electric, and were easy to get under.  About a mile into the trip we encountered a large wall of cows that spanned the entire river.  They pretty much ignored us, which was a bit of a problem as we wanted to get through.  Eventually we were able to carefully thread our way though.  While somewhat friendly, they were destructive.  One defecated straight into the river, which while common, I wonder if the tubers downstream at Camel Ridge Road know they are tubing through cow manure…  Turbid water and streambank erosion were also unfortunate byproducts.
Following the cows, the river met a large bluff forcing it to take a sharp turn right.  At the base of the bluff were a series of limestone outcrops stretching for almost 1000′.  It was quite the contrast to see open corn land on one side of the river and on the other scenic and ancient limestone outcrops covered in ferns, lichens, and seeps.  While there were a few other outcrops on the trip, most were minor and this stretch had the only major ones.
Following a small bluff after Slab Town Road, the river entered a more open valley and became less interesting.  The mud banks here were extremely tall and are a tragic testament to many years of poor land management.  Surprisingly enough, there were a few sandbars and gravel bars…not exactly picnic prospects, but still nice.  The current seemed to pick up and here we enjoyed the strongest rapids of the trip (although still likely only a Class 1). 
At the end of the trip we came to our take-out at Short Cut Road which, despite being a public access, was in very poor condition.  I had to use my paddle like a machete to cut through the Japanese Hops (which weren't here 4 years ago) and then use rope to drag our boats up a steep and muddy bank.  Hwy 35/81 just upstream would have been a much better take-out.  What is curious is that there was no sign that anybody was using Short Cut Road despite it being a key launch point for the downstream leg which I ranked as five stars.  Maybe everybody else now uses Hwy 81.
In conclusion this was a nice trip, but wasn't in the same class as downstream sections of the Grant which are spectacular.  If you're new to the Grant, start on the downstream sections first which have more rock outcrops and variety.  But if you are a local or a Grant River veteran looking for a new adventure and not minding a weedy put-in, this can be an interesting paddle.
Noteworthy Wildlife:
There wasn't much wildlife, but we did see a great blue heron and some molting ducks having difficulty flying.  A highlight was seeing a bank beaver hole surrounded by incriminating cornstalks floating in the water.  Without a lot of wood on the banks, I guess corn will have to do.  Under Hwy 35 we found several samples of what appeared to be fossilized coral.  Likely millions of years old, it would have been fun to see what Wisconsin looked like back then.
Put-in:
Our put-in off University Farm Road wasn't good.  The bridge was uncomfortably close to a house, and the banks were overgrown and steep with large chunks of rock fill.  It was doable though…  IMO the best option is to park NW of the bridge and gently lead your boat down a steep slope to reach the water.  Here it is easy to launch directly under the bridge.
An alternate access a few hundred feet upstream would be to launch off the Bowen School Road embankment, but that was very steep.
An alternate access 1.5 miles downstream would be Slab Town Road.  This should be a doable access and much easier than University Farm Road…but if you launch here, you miss the best outcrops.
Take-out:
We took out at Short Cut Road which is a posted public access area used by fishermen and paddlers (and where we launched four years ago).  This time however it was a poor neglected access with difficult steep muddy banks and thick Japanese hops (which scratched my ankles good).   Shoulder parking was good though.
An alternate access 0.25 miles upstream would be Hwy 81 which I highly recommend instead.  This is a busy road, but parking is plenty doable on the east side of the bridge, and there is a slight trail from the northeast corner to the water where it would be easy to drag your boat (just outside of the public fishing sign).  There is a rocky area under the bridge which would be easy to get out on and based on drag marks I believe other paddlers have used this as access.
Shuttle & Rental Information:
There is a livery for the Grant River in "Grant River Canoe and Kayak" (608-794-2342).  However, I'm not sure they would be willing to do shuttles this far upstream.  Call for availability.
The bike shuttle route would be only 4.3 miles, but would require 318′ of climbing (which is steep for a bike).  Make sure your brakes work…in one place there was an aptly named "Ski Jump Road" that quickly descended down a steep 200′ hill followed immediately by another smaller hill.  We car shuttled.
Hazards, Logjams and Current:
The current was fast with many riffles and rapids (most of which were Class 1 and easy).  What was difficult was on occasion fast current would flow under or by low branches.  Experienced paddlers shouldn't have difficulty with these strainers, but they are something to be mindful of.
There was only one logjam that blocked the entire river, but that was a super easy portage because of an adjacent gravel bar.
There were two barbed wire fences to deal with, but neither was electric and both were easy to get under.
River Depth and Navigability:
The Grant can be a volatile river with big floods.  Per the downstream gauge at Burton we went at 220 CFS, which would be a typical spring depth but was a tad high for summer.  Below is a rough depth guide:
0-80 CFS:  Likely drought conditions.  Most of the river should still be navigable, but the rapids might be a bit bumpy.
81-180 CFS:  An average summer depth and a good target range.  You might hit a few rocks on the rapids but should be ok.
181-250 CFS:  A higher depth.  Water will be dirtier and muddier, but the rapids will be well padded and a lot of fun.
251-400 CFS:  A very full river.  Rapids will be fun, but some strainers might be tricky.
401-600 CFS:  Near flood conditions.  Likely suitable for only very experienced paddlers.
601+ CFS:  Likely dangerous conditions and not suitable for paddling.
Detailed Overview
Pine Grove Road to Hwy 61:  2.1 miles.  Very small and would need flood-like levels to be navigable.  Likely not interesting with several fences, 3-4 logjams, and flowing mostly through cow pasture.
Hwy 61 to Mt. Ridge:  5.0 miles.  A rugged and small paddle that needs high water.  Unfortunately there is a lot of mud and pasture to deal with not to mention a few logjams.  However, there are many fun rapids and several scenic outcrops.
Mt. Ridge to Pine Knob Road:  2.6 miles.

Mt. Ridge to Hwy K:  1.7 miles.  Narrow and fast with several rock outcrops.  No logjams, but a few tricky strainers.
Hwy K to Pine Knob Road:  0.9 miles.  A neat section with more outcrops, a longer set of Class 2 rapids, and Klondike Springs.

Pine Knob to Hwy A:  2.7 miles.  Likely way too many logjams.
Hwy A to Grays Mill Road:  0.7 miles.  Maybe one downed tree.  Mostly a simple farm field paddle.
Grays Mill Road to University Farm Road:  3.4 miles.  Maybe 2-3 downed trees and one set of rock outcrops.  River gains significant volume in this stretch from tributaries.
University Farm Road to Short Cut Road:  3.7 miles.

University Farm Road to Slab Town Road:  1.5 miles.  Very muddy and one noteworthy strainer, but also has a great series of limestone outcrops.
Slab Town Road to Short Cut Road:  2.0 miles.  Less muddy and with several sets of fun rapids, but has only one tiny outcrop and there is a logjam to deal with.

Short Cut Road to Grant River Road:  5.5 miles.  Great section with some attractive outcrops.
Grant River Road to Hwy U/Blackjack Road:  6.2 miles.

Grant River Road to Pigeon River Road(1st):  1.4 miles.  Great stretch with some of the best outcrops on the river.  Grant River Road is a bad access.
Pigeon River Road(1st) to Hwy U/Blackjack Road:  4.8 miles.  A good leg with a mix of sandstone and limestone outcrops.  Outcrops aren't as common as other legs, but it's still a nice stretch..

Hwy U to Camel Ridge Road:  6.0 miles.  Good stretch with some nice rock outcrops.
Camel Ridge Road to Chaffie Hollow Road:  3.2 miles.  Very scenic section with good current.  Features a waterfall and some nice outcrops.  Very popular with tubers.

Access note – The Chaffie Hollow Road landing is private.  Get permission from one of the three liveries like "Y'Allbee Tubin" to use it, or take out under the bridge (the latter is not easy).

Chaffie Hollow Road to Hwy N/Burton:  3.3 miles.  I don't know much about this section.  Likely more open and less interesting…but likely some outcrops and light rapids.

Access note – The landing at Burton is private.  If you take out here, use the bridge instead.

Hwy N to Great River Road:  8.5 miles.  Should be a few nice rock outcrops, but the channel is much larger and muddier.  Maybe 3 logjams.  Take out at Hwy 133 on SE side…not an ideal launch area.
Great River Road to Mouth:  1.6 miles.
Mouth/Mississippi to Potosi Point:  1.2 miles.  A short trip on the Mississippi before disembarking at Potosi Point.
Trip Map
Overview Map
Video
Photos
How did your trip turn out?

Questions or comments?

Feel free to leave your feedback.