Waupaca River – Buchholz Road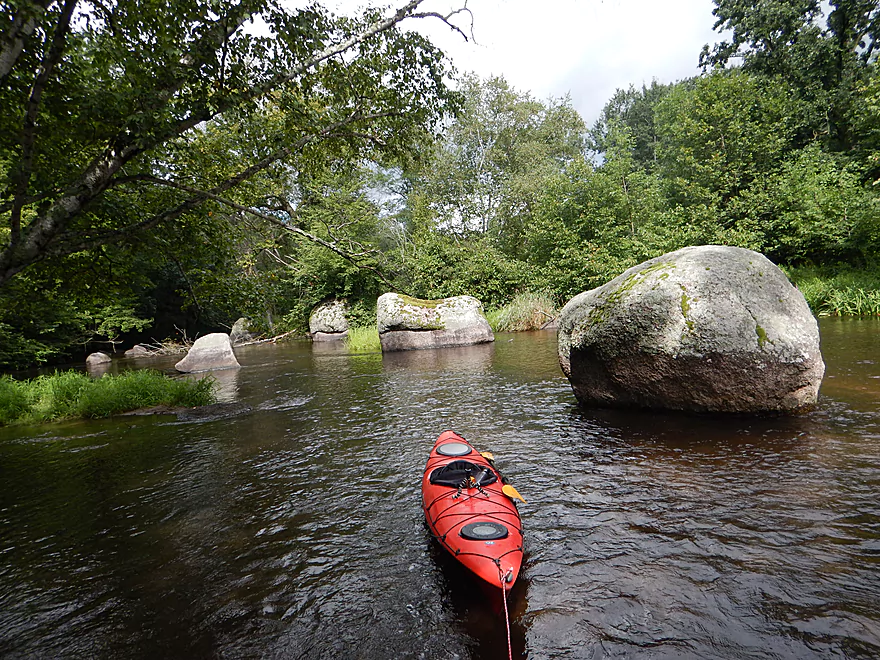 This is a tweener section of the Waupaca River located downstream from the Tomorrow River, but upstream from the popular stretch that runs through the city of Waupaca.  Few paddlers have explored this section, probably because noted canoe author Mike Svob deterred paddlers with warnings of nasty logjams. 
My trip spanned from Buchholz Road to Stedman Park.  Note, there are other bridge access points, so feel free to customize your own trip accordingly and don't feel compelled to paddle my exact route. 
The first half of the paddle up to Hwy T was my favorite.  Here the river is fastest, has many riffles, and some Class 1 rapids.  While open and a bit weedy to start, the woods quickly enclose the channel which provides scenic and shady corridors to float through.  Another nice thing about the upper Waupaca was the lack of agriculture, industry and homes along the river. 
The highlight of the entire trip was the boulder gardens.  The second best is located early in the trip, perhaps a half mile upstream of Otto Road.  The boulders here are big boys and are quite fun to paddle around.  In fact, I've paddled a number of boulder gardens in my life and these rank among my all-time favorites.
Hwy T roughly marks the halfway point in the trip, and the river does change considerably from here on.  The fast current slows, the channel widens, the woods thin, and boulder gardens become more rare.  Part of the problem is Spring Creek, which adds a lot of volume to an already small river.  Still, this is a pleasant stretch with good current and diverse plant life growing on the banks, including some fantastic wildflowers.
With only perhaps a half mile to go to the finish line, my report card read 5 stars for Buchholz to T, and 4 stars for T to Stedman Park.  But then a pleasant surprise happens and the rapids and boulder gardens make a triumphant return.  This was my favorite part of the entire trip.  For a third of a mile the river is almost continuous boulder gardens and rapids.  
The strongest rapids are located at the take-out, which makes for some interesting logistics.  If you are paying attention and paddle hard right (west) after going under the DD bridge, you shouldn't have a problem catching an eddy to take out upstream of the concrete abutment at Stedman Park.  I intentionally overshot the take-out to run the rapids (and take pictures) and then just waded back to the park (not as easy as it sounds but doable).  I definitely suggest scouting your options before doing this (or just take out two miles later at Durant Road).
So, a great trip, that was almost 4.5 stars, but the last section saved the day and sealed the five star rating.  I went during "highish" water and would have been interested in trying this at lower flow rates to enjoy the incredible water clarity I know this river is capable of (but not at my flow rate).  This is not a trip for fancy fiberglass boats, as you will bump into your share of rocks regardless of the depth, but this IMO is an easy price to pay to enjoy a river like this.
Put-in:
Launching at Buchholz Road is an ok option.  Basically there is a small concrete slab off the road that leads to the water, but it is hidey and easy to miss.  There is not a lot of room to park.  In fact a local farmer disapproved of my parking job and made sure that I knew it.  Apparently many kayakers don't pull far enough off the road (not easy to do) which is an annoyance to the locals.  The entry to the water is very good though and it is easy to get going.
1.6 miles downstream you can alternatively put in at Otto Road.  There is a small, faint path northeast of the bridge used by trout fishermen that would make launching here pretty easy.  Parking should be acceptable along the shoulder.  There are light rapids upstream of Otto Road, but you should be able to launch easily enough from an eddy.
An additional 0.9 miles downstream, you can also launch off Hwy T.  The local resident does not want you launching north or west of the bridge, but southeast there is a marked access for trout fishermen that is doable for launching.  Shoulder parking is a bit tight, but should be manageable.
Take-out:
Stedman Park is located just southwest of the DD bridge and is an ok option for disembarking.  Good free parking, privacy, a view of the rapids below, and even a picnic table to have a post-trip lunch.  There is a large concrete abutment (perhaps part of an old bridge) that separates the river from the park.  There are steep, faint paths on either side of the abutment, and I do suggest bringing rope to make it easier to get out. 
Note, the strongest rapids of the trip are here.  It is very easy to overshoot your "off-ramp" and the first trail leading up to the park.  Not the end of the world if you do, as this lets you run the fun rapids and you can then wade your boat back to the park (although some rocks and trees will require a little effort to get over).
Shuttle Information:
I don't think there is a local livery service.  Bike shuttlers have quite the dilemma with this trip.  Stedman Park to Buchholz Road is a long 7.2 miles over hilly county roads.  Alternatively…you can take a "shortcut" and pedal 1 mile on Hwy 10, shortening the entire shuttle to 3.7 miles.  Technically you aren't supposed to do this…but the shoulders are quite large and you are not on the freeway for long.
Hazards and Logjams:
There are a few wires on the trip, but these weren't a problem.  None were electrified.  Two of them you could go under easily enough and the third was a cinch to lift over your head.  So no major worries, but do keep your eyes peeled.  I've marked these on the map for reference.
There are no logjams on this section!  Somebody worked very hard to clear these out and this is very much appreciated.  Now, there are some low trees to scootch under and some strainers to paddle around, but experienced paddlers will have no issues with these.  Newbie paddlers should be alert though.
Lastly, there are many riffles and light rapids on the trip.  Mostly safe really.  The most serious rapids are at the end of the trip by the large boulder garden and the take-out, and are probably Class 2.  I thought these were safe, but newbie paddlers should be careful, should keep their life jackets on and paddle in groups.
River Depth, Navigability and Current:
I paddled the trip at 240 CFS per the local gauge, which is well above the summer norm of 200 CFS.  While high for the river, it can get much higher.  During the year it can peak at 1200 CFS.  I think you could comfortably paddle this up to 300 CFS before the river starts to get too ugly (dirty, pushy and obscuring the boulder gardens).  On the low side, the river can get down to 180 cfs in a year.  This is more of an ideal flow rate for water clarity, but might mean you would have to walk several of the riffles.
Noteworthy Wildlife:
A beaver, great blue heron, and crayfish.  The highlight was the fattest snapping turtle I have ever seen (mind you, not the largest, but the fattest).  I hope my picture does him justice…
Detailed Overview
Clementson Road to Hwy Q:  0.9 miles.  Possible prospect, but the river is very small here.
Hwy Q/Rolling Hills Road to Hwy 161:  1.2 miles.  A good prospect.
Hwy 161 to Amherst Dam: 

  5.4 miles.  More of an oversized creek than a river, the Tomorrow River is still a nice paddle known for its clear water.

Hwy 161 to 1st Street: 

  1.3 miles.  Great trip. 
1st Street to the Amherst Dam: 

  4.1 miles.  Great put-in and trip. 

Amherst Dam to Buchholz Road: 

  5.7 miles.  This section was great fun because of its many rapids, clear water, narrow channel, boulder gardens and wooded banks.

Amherst Dam to Hwy A: 

  1.7 miles.  Great segment through Amherst.
Hwy A to Keener Road: 

  0.6 miles.  A short but good section with a nice boulder garden.
Keener Road to Buchholz Road: 

  3.4 miles.  Aside from some Class 2 rapids at Keener Road and a few boulders, this is a more open and less interesting section.

Buchholz Road to Stedman Park: 

  6.1 miles.  A fantastic paddle that was narrow, fast, rocky, and scenic.

Buchholz Road to Otto Road: 

  1.5 miles.  Great stretch with some huge boulder gardens.
Otto Road to Hwy T: 

  0.9 miles.  Another great section with some boulder gardens and light rapids.
Hwy T to Stedman Park: 

  3.7 miles.  Good stretch with some great rapids and boulder gardens at the end.

Stedman Park to Durant Road:  2.1 miles.  A good prospect.
Durant Road to Cobbtown Road:  1.4 miles.  A nice section, but not as good as upstream parts with less boulders and rapids.
Cobbtown Road to Hwy Q Launch:  3.8 miles.  A doable stretch, but likely not as interesting.
Hwy Q Launch to Brainard's Bridge Park: 

  7.8 miles.  A great trip that is very popular with paddlers.
Brainard's Park to Elm Street Dam:  0.8 miles.  Half of this is a nice river paddle, half a boring flowage.  There is a portage path around the dam.
Elm Street Dam to Kiwanis Park:  3.3 miles.  Great prospect, but perhaps a logjam or two.  The Mill Street dam is VERY dangerous and preceded by Class 2 rapids.  This is also a difficult portage.  Scout before committing to a trip.
Kiwanis Park to Harrington Road:  7.7 miles.  A good prospect.
Harrington Road to Weyauwega Dam:  4.4 miles.  Maybe 3 miles is open flowage paddling.
Weyauwega Dam to Decker Memorial Park (and the Wolf River):  6.2 miles.  A mediocre prospect.
Trip Map
Overview Map
Video
Photos
4 Comments to "Waupaca River – Buchholz Road"
How did your trip turn out?

Questions or comments?

Feel free to leave your feedback.