Fox River – Governor Bend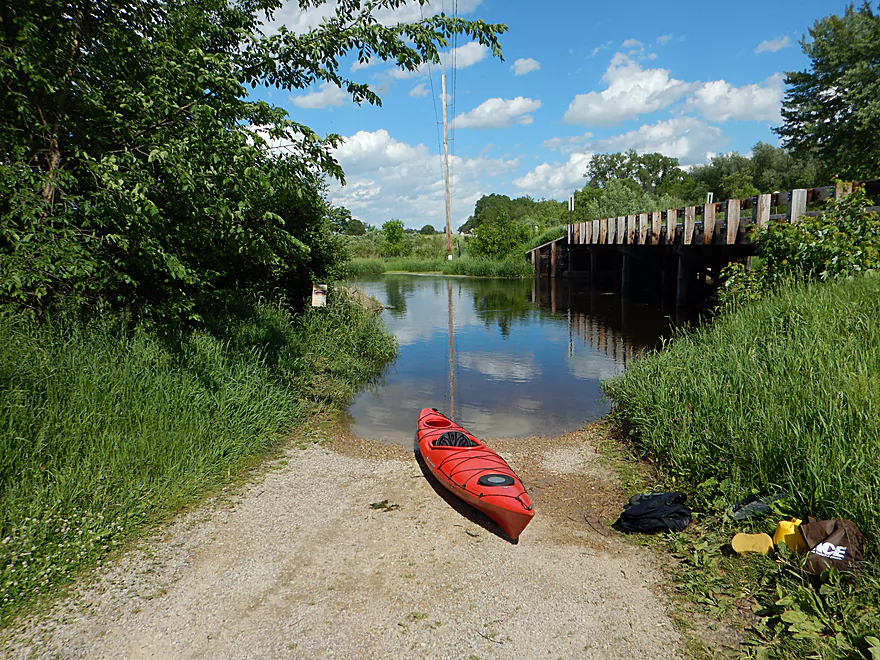 Put-in:
Governor Bend Park
Gradient:
1' per mile (very slow)
This is a simple section of the Fox River that isn't bad, but doesn't have too much going for it.  There is little current, few river bends, and little variability in the scenery.
The river itself is still very pleasant though.  There are no obstructions nor logjams, no shallow areas (aka kayak traps), and the banks are clean and relatively mud free.  After Neenah Creek joins the Fox, the river gains a little character with more bends, woods and higher banks.  During low water, I suspect the water clarity is good (but I went during high water).
I'm not sure I can recommend this trip for most, but if you are a local it is worth checking out.  The river, while not exotic, is still very peaceful and it was very pleasant to lazily drift along listening to the wind sway the grass and the trees.
At the take-out, I was met by a group of Amish teenagers (wearing winter stocking caps, interestingly enough, despite it being June).  They didn't say much but stared incessantly (10+ minutes) at me and my kayak while I disembarked at the landing.  I'm not sure they see too many kayaks?  Not a big deal.  What was a big deal was that my trusty Tsunami 125…sprung a leak.  I didn't find out until I landed, but the entire rear bulkhead had flooded, stemming from a small hole in the stern.  For my entire trip, I probably paddled with 150 pounds of water in the rear hatch, which I didn't realize (although the boat was unusually sluggish).  Not fun…my boat is now out of commission until I figure out how to fix this. 
Put-in:
The put-in at Governor Bend County Park is very good.  Free parking, outhouse, and a nice ramp to launch your canoe.  This is a popular park with locals for fishing.
Take-out:
There is an established boat launch at Hwy O with free parking, but no outhouse.
Shuttle Information:
The bike shuttle is 5.6 miles with no major hills.
Hazards and Logjams:
No hazards nor logjams.  Mind the forecast as this is open water so headwinds can be brutal.
River Depth, Navigability and Current:
The Fox doesn't fluctuate too much (well, relative to nearby rivers) which is why you see so many houses built close to the waterline.  It can still vary by a couple of feet, and during high water the river will lose some character and transparency.  I went at above average levels, but not close to flood stage.  During late summer lows, the clarity can be nice.
As for current, it is negligible.   Wind speed and direction will be more of a factor on this stretch.
Noteworthy Wildlife:
Really, not much.  Some carp, dragonflies, and painted turtles.  The low-light was a mouse in the kayak who apparently hitchhiked all the way from my house to the put-in, and I didn't discover him until he ran over my leg in the kayak (while I was on the water).  He is now exiled on Governor Bend island.
Detailed Overview
Hwy H to Hwy E:  3.1 miles.  Creek/river is kind of small here and you may need high water.  Route is 3.1 miles and logjams shouldn't be an issue.  A very open and grassy route.
Hwy E to Ross Road:  2.9 miles.  Hwy E has tough parking because of steep shoulders but you should be able to park in a drive NW of the bridge.  Next 2.7 miles will be mostly open wetgrass and logjams shouldn't be an issue.
Ross Road to Hwy 44:  3.3 miles.  More open wetgrass for the next 2.9 miles with possible logjams before Hwy 44.  Parking isn't the greatest at Ross because of the steep shoulders.
Hwy 44 to Haynes Road: 6.6 miles.  An obscure section of the Fox River upstream of Pardeeville that has redeeming values, but can be a frustrating paddle because of the logjams in the stream.
Haynes Road to Hwy 22 Dam (the south one):  2.0 miles.  Looks like a boring lake paddle IMO.  I did not see public access at either dam, so you may have to portage them.  Am not sure.  I believe canoe author Frank Piraino put in on the Hwy 22 bridge by the north dam/fork. 
Hwy 22 to Swan Lake Campground:  2.6 miles.  I do not know much about this route, but it was paddled by Frank Piraino who had a favorable opinion of it.  Rumor has it there are snags here.  I suspect there will be jams in the north fork after Hwy 22, but the south fork should be free (but less scenic).  Swan Lake Campground requires a fee for access.
Swan Lake Campground to Swan Lake (South Shore Boat Ramp):  2.7 miles.  An ok stretch.  In essence a creek paddle through grasslands with a bit of lake paddling at the end.  Serviced by a local livery.
Swan Lake to Hwy 33:  5.8 miles.  Pleasant marsh paddle.  Does include 1-2 miles of paddling.
Portage Canal:  2.3 miles.  A unique experience filled with history.  Unfortunately the canal can be at times challenging to navigate.
Hwy 33 to Governor Bend:  5.4 miles.  A classic stretch and one of the best water trails on the Fox.
Governor Bend to Hwy O:  5.7 miles.  A pleasant stretch.
Hwy O to Endeavor:  7.6 miles.  A surprisingly nice section with good wildlife.
Buffalo Lake:  10.6 miles.  An artificial lake/flowage.  Looks boring….  Beware of the weeds in late summer.
Montello to Grand River Locks:  3.4 miles.  A good section. 
Grand River Locks to Lake Puckaway:  5.3 miles.  Probably a nice section.
Puckaway Lake:  6.2 miles.  Also looks boring and to be avoided.  At least it's not fake like Buffalo Lake.  Maybe 7 miles.
North Puckaway Lake to Princeton Locks/Dam:  9.8 miles.  I do not know much about this stretch.
Princeton Locks/Dam to the City of Princeton:  3.5 miles.  A simple but pleasant section.
City of Princeton to White River Locks:  6.0 miles.

City of Princeton to Old St. Marie Landing:  1.9 miles.  A pleasant wooded section with a historic turn bridge.
Old St. Marie Landing to the White River Locks:  4.1 miles.  A slow, broad channel that is ok, but gets repetitive.

White River Locks to Landing Road: 10.4 miles.  The White and Puchyan Rivers add a lot of volume by now.  Not sure this is a great paddling stretch.
Landing Road to Riverside Park in Berlin:  3.4 miles.  A simple section that flows through downtown Berlin.
Riverside Park to Eureka Boat Landing:  7.8 miles.  River is probably no longer a cute baby and is instead an ugly teenager.
Eureka to Omro:  Roughly 6.5 miles.  Probably too big to be enjoyable.
Omro to Lake Butte des Mortes:  5.0 miles.  Likely uninteresting.
Trip Map
Overview Map
Video
Photos
How did your trip turn out?

Questions or comments?

Feel free to leave your feedback.