Namekagon River – Hayward to Stinnett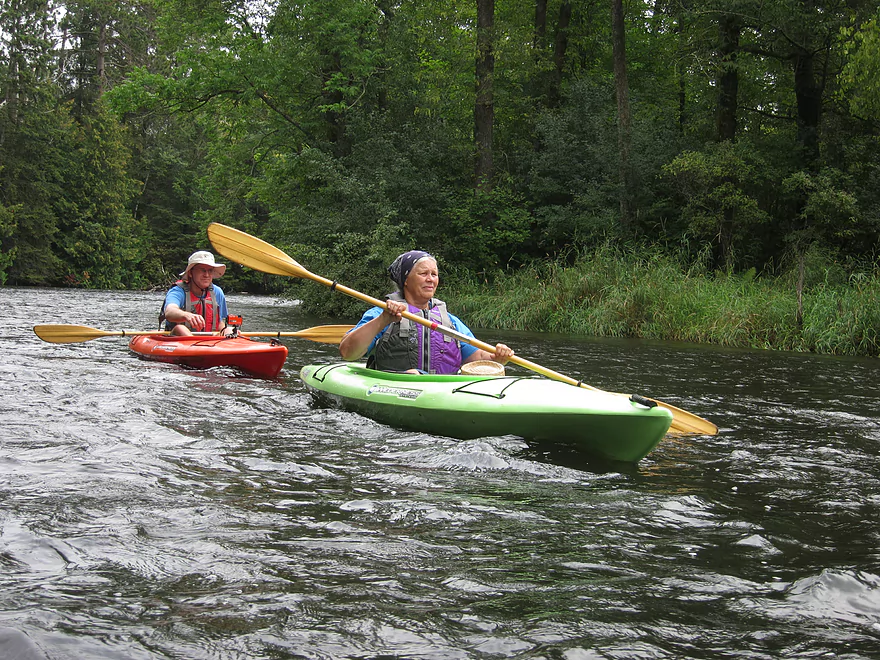 Take-out:
Stinnett Landing
Time:
5 hours (without distractions this would be much shorter)
Gradient:
3.1' per Mile (starts fast & ends slow)
The Namekagon is one of three nationally designated scenic and wild riverways in Wisconsin.  It's a popular paddle location located (roughly) from Hayward and joins the St. Croix at the border of Minnesota and Wisconsin.  A good chunk of both these rivers is managed by the national park service and they do a good job of providing information, riverside camp sites, and landings for paddlers.
Prior to this trip, there had been heavy rains, which pushed up the local waters to 250 CFS at Leonard.  It had been at ~50 CFS a day earlier–which, while on the low side, had been perfect IMO.  So the high water was somewhat unfortunate, as it covered up  the character of the river a bit and obscured some of its famously clear water, but by no means was this at flood stage.  In fact, this was considered "normal" (I prefer shallow rivers) and would be close to what you see in early June on average.
The plan in advance was to run from Hayward to Stinnett Landing, as this was presumed to be the furthest I could get upriver without having serious boat dragging issues.  I could have actually done the river much further upstream even before the rains and this would have been preferred in hindsight (more on other paddling options later).  For this trip, we rented kayaks and shuttled.  There are a number of livery options on the Namekagon.  The two hubs on the upper river are at Trego (30 miles downstream of Hayward) and at Hayward itself.  We chose Hayward Outfitters, but you can choose other options. 
We put in at the Hayward Dam Landing, which was a bit of a surprise, as I didn't see this mentioned in the other canoe reviews I had read.  Most people put in at the Hayward Landing about a half-mile downstream .  The nice thing about the dam landing is that it allows you to run through more rapids, which is a good thing IMO.  All this info is on the map.
While on average this segment drops at roughly 3′ per mile, this measurement is deceptive.  Basically the river starts very fast the first few miles (maybe 10′ per mile), then slows in the next few miles (maybe 5′ per mile), then starts to stagnate in the last miles (< 1′ per mile IMO).  So the first few miles exiting Hayward will be the most fun.  This is mostly class 1 rapids (depending on water level) but there is one class 2 (marked on the map).  It's not bad IMO, as long as you are not a new paddler.  The water can be quite pushy and there is a tricky strainer between the Hayward dam landing and the Hayward landing that you'll want to be vigilant to paddle around.
In this segment the banks are wooded and there are occasional minor boulder gardens (which would be much nicer in low water).  Despite this being a national scenic and wild riverway, you'll see houses for the first few miles and you'll hear some road noise.  After a while you'll see occasional islands and side-channels.  We explored one side channel that was very rich in plant life and had clear water and a nice tree canopy.  Unbeknownst to us, it had a number of log jams (the main channel has zero log jams) which we had to portage.  Not so bad in shallow sandy water.
In the "middle segment" the water slows down but still has some decent scoot to it.  The banks take on a scrubby look (lots of alders).    This middle segment was kind of disappointing.  While the water quality was terrific even at the higher levels, the shoreline was flat and somewhat uninteresting.  This is kind of typical for a lot of up-north rivers, unfortunately.  Between the heavy logging, poor soil and the harsh winters you don't see the same type of tree-flanked banks you do in Southern Wisconsin (up north rivers are still better though).
Along the river you'll see numerous campsites.  They are intended for paddlers and look spacious with picnic tables and toilets.  For more information on these (and other good tidbits) check out the National Park Service's page on the Namekagon.  Each campsite has a mile marker (countdown to the St. Croix, I believe) so they make good references.
The final section before Stinnett landing becomes a little more interesting.  While the current is pitiful, the area morphs from scrubland to occasional wooded banks and there are some nice wetland islands with attractive plant life, such as waterlilies.  You'll see on your left a sign that says "west river landing," which is an alternative take-out.  Just a little bit further downstream on your right is Stinnett landing.  You'll know you are close when you hear rushing water.  The sound is actually a class 1 rapids and whirlpool (which you can kind of see from google maps).  The take-out is, unfortunately, just before this.   Stinnett is very nice, with good parking and bathrooms.
While we took out at Stinnett, you can certainly go much further downstream to extend the segment.  One popular extension would be from Stinnett to Groat Landing.  This adds 2.5 miles to the trip, but the cool thing about this trip segment is that it is fast with numerous class 1 rapids (and one class 2).  There are plenty more downstream options from here.  Between Groat and Trego there are probably 14 more miles to paddle and these are quite popular with paddlers.  This area and below is probably better served by the Trego liveries (the next paddling hub downstream of Hayward).  The river does start to get bigger down here though, so I'm a tad skeptical that it would be as interesting, but it could be nice.  There are nice rapids down there though.  A nice rapid run would be from Stinnett past Groat and onto Springbrook landing (maybe 9 miles).
What I didn't discover until after the trip was that Hayward to Stinnett was not the most popular run with the locals.   That honor belonged to the stretch upstream of Hayward all the way to the Namekagon dam.  This was kind of surprising to me, since canoe author Mike Svob doesn't even review the Namekagon above Hayward.  Other review sites also tend to ignore this upper section as well.  It is long (~30 miles), so you'll have to pick a segment (between three flowages).  The local favorite is a 9 mile trip between Cable Wayside Landing and Larsen Landing.  In fact, the local livery driver actually serviced that area more than the downstream section of Hayward/Stinnett).  This would have been good to know in hindsight.  There is a nice map of this upstream area at the NPS website.  I suspect a lot of people are scared away from this section based on the NPS water level guide for the Namekagon.  While well done (it does lag a day or two, so is not up-to-date), I think its estimates for what is "too low" are not accurate and perhaps catered more toward big camping canoes and not recreational kayakers.  You might still want to check the NPS office (715-635-8346) before paddling any upper sections.  The Namekagon Dam to Hwy M suffers the most from low water.
While this review only awarded 3.5 stars (clear water with fun rapids but uninteresting slow/scrubby middle section), the river itself has more potential IMO.  If you run this during 50 to 100 CFS it might be a 4 star segment (instead of 250 CFS).  If you are into canoe camping this would be a very nice stretch to run.  Family friends paddled and camped from Hayward to the St. Croix and beyond to the Mississippi and had a great time, so I don't want to to sell the river short even though I didn't give it 4 stars.  I presume the upper section is between 4-5 stars and has looked very nice from what I scouted in years past.
Namekagon River Overview:
Upstream from the Namekagon River Dam: There is an immediate flowage and then upstream the river splinters and could still be navigable, but I don't know.
Namekagon River Dam to Hwy M:  7.2 miles.  A good prospect through mostly marsh with some Class 1 rapids.
Hwy M to Cable Wayside/Hwy 63:  6.9 miles.  Good prospect with much less rapids.  Many intermediary access options (each bridge really).
Hwy 63 to Mossback Road Landing:  3.9 miles.  Very good prospect and a local favorite.
Mossback Road Landing to Larson Road Landing:  4.9 miles.  Very good prospect and a local favorite.
Larson Road Landing to Phipps Landing/Hwy 63: 3.3 miles.
Phipps Landing to W. Phipps Bridge/Trout Run Landing: 2.8 miles.
W. Phipps Bridge to Eagle's Landing: 2.4 miles. Eagle's Landing should be a bit NE of W. Hospital Road.
Eagle's Landing to Hayward Dam:  3.2 miles.  Mostly flowage paddling.
Hayward Dam/1st Street to Stinnett River Road Landing:  9.1 miles.  A good and popular stretch.
Stinnett Landing to Groat Landing/Brickman Lake Road:  3.0 miles.  Several Class 1 rapids.
Groat Landing to Trails End Road Landing:  2.4 miles.  Section with Class 2 rapids.
Trails End Road to Legion Lane Landing:  2.7 miles.  A few Class 1 rapids.
Legion Lane Landing to Big Bend Landing/Pow Road:  5.2 miles.  A few Class 1 rapids.
Pow Road to Earl Park Landing/Road N:  3.8 miles.  Mostly flatwater.
Earl Park Landing to Trego/Cash Road:  5.0 miles.  Mostly flatwater…there are other take-out options in Trego.  Take-out is just NE of Wagon Bridge Road.
Trego to Road K Landing:  5.6 miles.  Mostly flowage paddling.
Road K to McDowell Bridge Landing:  22 miles.

Road K to Whispering Pines Road Landing: 10.3 miles.
Whispering Pines to Howell Landing:  4.4 miles.  You can take out on either side of the river.
Howell Landing to Fritz Landing/River Landing Road:  3.5 miles.
Fritz Landing to McDowell Bridge Landing/Web Creek Dr.:  2.7 miles.

McDowell to Namekagon Trail Landing:  7.0 miles.
Namekagon Trail Landing to Mouth:  5.0 miles.
Mouth to Riverside Landing/Hwy 35:  3.7 miles.  A short stretch on the St. Croix to reach a take-out.
Trip Map
Overview Map
Video
For best quality, view in full screen and 1080p!


Photos
4 Comments to "Namekagon River – Hayward to Stinnett"
How did your trip turn out?

Questions or comments?

Feel free to leave your feedback.