Stony Brook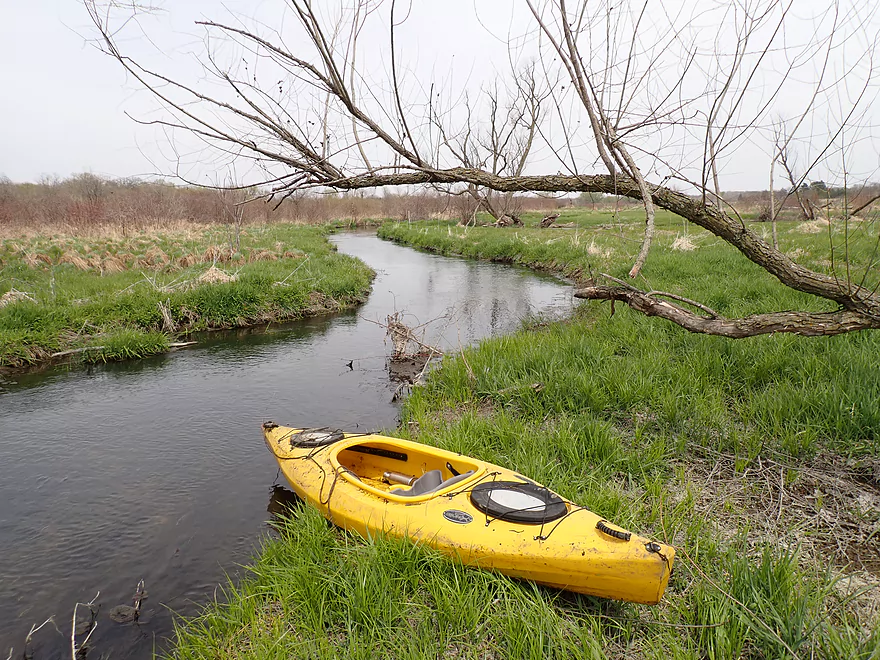 Stony Brook is an obscure tributary to the Maunesha River located east of Sun Prairie.  Not much is known about the creek, but having previously paddled and liked the Maunesha, I decided to check it out.
The trip started at Town Hall Road where I was met by a nice local who volunteered to let me use his property to store some of my equipment during the trip.  He told me he had seen other paddlers on the creek going downstream from the Town Hall Road bridge (and one coming from upstream), but had never paddled it himself. 
The creek looked scenic and inviting from the bridge, but there was a logjam within eyesight of the road, which is usually a bad-luck omen.  Sure enough, in the first 2000′ I faced five serious logjams.  The banks thankfully weren't big, but portages were still tricky because of all the mud.  Making sure I didn't step into mud that was too soft was a serious concern, and I frequently had to poke around with my paddle to find "firm mud" to step on.  While the creek wasn't too deep, it just happened to get deep by each and every logjam so wading them usually wasn't an option.
The next mile+ opened up and provided a welcome reprieve from the logjams.  This stretch featured a mix of wetgrass and marsh with surprisingly clear water.  Most paddlers don't enjoy marsh paddles as they can be repetitive and a bit boring, but I usually appreciate their unique scenery and plentiful wildlife.  Stony Brook despite its name doesn't have many stones (it's mostly a mud bottom), but every now and then I paddled past a pile of rocks (likely a gift from the last Ice Age).
Following low bridge portage 2 of 4, the creek changed as it left the marsh behind and entered a wooded swamp area.  Unfortunately the return of trees meant more logjams and I would have to endure six more serious logjams.  Some of the portages were extra difficult as the shoreline lacked just enough structure to wade over, yet couldn't be paddled through.  In a few cases I was able to avoid a complete portage by getting low, but was usually rewarded for my dexterity with deposits of mud and dead leaves in my boat.
All that unpleasantness aside, the swamp portion of the creek had its charm.  The scenery wasn't bad, there was a cool beaver dam, and many frogs and birds were singing.  I don't mind logjam portages as much as other kayakers, but what irked me more was the opportunity cost.  This was a rare nice April paddling day that I felt I squandered, and could have been spent on another creek or river (my to-do list is quite long).
Near the end of the swamp, I encountered an area where it looked like a bomb had gone off.  Shards and chunks of trees were everywhere.  I presume this meant that one (or more) strong storms recently hit Stony Brook and a twister specifically hit this exact spot.  This would explain all the logjams and why previous paddlers were better able to navigate the creek than I.
After my 12th logjam portage, one beaver dam portage, and four low bridge portages, the creek finally opened up for good on the last mile of the trip.  This final leg was ok and featured more wetgrass marsh but this time was intersected by occasional farm drainage ditches.  I presume the marsh used to be much larger before the drainage ditches transformed the land. 
I ended the trip at Hwy 89.  Initially the plan was to do a longer trip and take out on the Maunesha River by Hwy 19, but I'm glad I didn't.  Not only was I tired and dirty, but there were likely more logjams downstream.  Hwy 89 itself had very low clearance, and itself would have required a long and difficult portage.
In summary, Stony Brook itself isn't a bad creek for marsh paddling, but at this time just has too many logjams.  I think once it was viable for paddling, but recent storms have made a mess of the creek.  The Maunesha River Alliance has led area river cleanups in the past and it is possible they will work to make this creek navigable again in future, but it would be a big task.  For locals and those new to the area, I instead highly recommend the Maunesha which might be the best paddling river in Dane County.
Noteworthy Wildlife:
This was a good trip for wildlife.  Sights included turkeys, lots of geese (now with goslings), cranes, singing frogs, plenty of song birds, two ticks, and two raccoons drinking from the creek.  The highlight was a beaver dam located about two-thirds into the trip.
Put-in:
Town Hall Road:  This was an ok bridge access although there isn't much room to park.  Also the shoreline for launching is a bit steep and muddy.
Alternate Put-ins:
Newville Road (3.4 miles upstream from Town Hall):  This would be a doable bridge access, although is a bit overgrown.  This bonus leg might have +5 logjams.
Take-out:
Hwy 89:  This is a very good bridge access.  Note the bridge itself is very low, so you'll have to get out on the upstream side.
Alternate Take-outs:
Hwy 19 Landing  (3.0 miles downstream from Hwy 89):  There is a great canoe/kayak access located on the Maunesha River.  This bonus leg would be very open and marshy with maybe +4 logjams.
Shuttle Information:
Bike Shuttle – Hwy 89 to Town Hall Road:  2.3 miles with 62′ of ascent.  This is an easy bike shuttle with only a few minor hills.
Hazards, Logjams and Current:
Rapids/Current:  This is a slow creek with no rapids.
Beaver Dam:  One beaver dam had to be portaged.
Low Bridges:  Four low bridges had to be portaged.
Logjams:  Twelve logjams required portages which is a lot.  The banks weren't huge, but were muddy which made some of the portages difficult.
River Depth and Navigability:
Closest Gauge:  Yahara River @ Windsor
Trip Depth:  28.5 CFS or 2.3′
Navigability Estimates:  The following are VERY rough estimates.  Always use your own judgement.

< 27 CFS:  Maybe too low for paddling.
27-32 CFS:  A good average depth.
33-38 CFS:  Above average but should be a fine depth.
39-60 CFS:  A high depth but should be ok.
61-100 CFS:  A very high depth.
101+ CFS:  I suspect the creek would burst its banks at this point and be in flood stage.
Stony Brook Overview:
Newville Road to Town  Hall Road:  3.4 miles.  Maybe 5 logjams.
Townhall Road to Hwy 89:  4.0 miles.  A pleasant leg, but many low bridges and downed trees required portages (18 by my count).  Until these are cleared out, I can't recommend this stretch.
Hwy 89 to Mouth on Maunesha River:  2.7 miles.  Maybe 4 logjams.
Mouth to Hwy 19 Landing:  0.3 miles.  A short but pleasant leg on the Maunesha River.
Note, local paddlers may also be interested in paddling the nearby Waterloo Prairie State Natural Area.  This features a small wetgrass creek that feeds Stony Brook.  It has far fewer logjams, but likely isn't as scenic.
Trip Map
Overview Map
Video
Photos
How did your trip turn out?

Questions or comments?

Feel free to leave your feedback.