Illinois Fox River – Starved Rock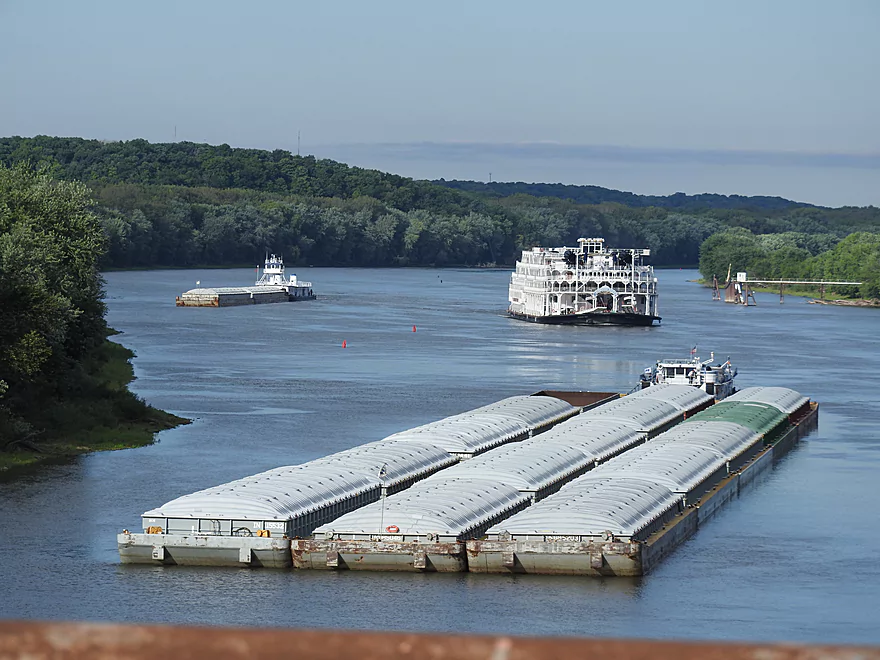 Date:
September 8th, 2018
Put-in:
Lone Point Shelter
Take-out:
Lone Point Shelter
Illinois' most popular and scenic park is Starved Rock State Park located about 90 minutes south of Beloit.  This was a park we really wanted to visit, but also to combine with a nearby kayak trip.  My first preference was to do the Vermillion River just next door, which is one of Illinois' best whitewater stretches and has scenic rocky bluffs.  But the local livery was closed and we didn't feel like bringing our own boats.  Our next option was to paddle Starved Rock itself.  We found a local rental company whose website boasted a "Starved Rock Tour" that allowed you to "see what hikers can't see".  The trip would "kayak back up scenic Illinois Canyon water level dependent" (which was high).  At the top of the webpage was a picture of a large group of kayakers paddling under a bridge toward LaSalle Canyon and below this an attractive video showing a double waterfall inside a canyon.
We signed up for this tour, but to our disappointment learned after we arrived at the put-in that it would have nothing to do with Starved Rock State Park.  Instead this would be a round trip up the Illinois River to see the cliffs of Buffalo Rock State Park.  So that was disappointing to say the least.  The Illinois River is of course a completely different beast when it comes to paddling.  Quite wide (0.8 miles near the put-in), this is a busy commercial corridor flanked by occasional industries, quarries,  and barge loading docks.  The Illinois River and the adjacent I&M canal to the north represent a historic connecting link between the Great Lakes and the Mississippi, and is part of the reason Chicago grew to such prominence.
The first part of our trip wasn't too much fun.  We battled a tough headwind on a flat and uninteresting section of the flowage.  I had hoped to see a barge, and we did see several, as well as a monster sized steamboat, but just not during the paddle.
The first highlight of the trip came when an Asian carp jumped out of the water above the head of a nearby kayaker!   The Illinois River is famous/infamous for their Asian carp which leap in large schools when startled.   Chances are you've already seen one of their viral videos before, but if not here is one.  Some of these large fish have been known to clear 3 meters in a single leap and boaters who have collided with them have been seriously injured.  According to our kayak guide, it was not uncommon for an Asian carp to jump out of the water and land in one of the tour kayaks.  While we saw a decent number of airborne fish, unfortunately none landed in a kayak (although there were close calls).
The second major highlight was Delbridge Island where there was a large number of waterfowl including white egrets, cormorants, geese and pelicans.  Mind you not a few pelicans but a HUGE flock…the most I've ever seen together.  Pelicans are one of the few predators capable of eating the large Asian Carp, which is likely why so many were here.  Past the Island we crossed the main channel north to reach Buffalo Rock State Park which had scenic sandstone cliffs reminiscent of Wisconsin Dells.  There was a small waterfall here which was backdropped by striking red/purple stains.  Despite being ahead of schedule we did not do the long tour (per the maps on our kayaks) around Sheehan Island which would have included more of Buffalo Rock State Park's cliffs and gone past the mouth of Covel Creek.
From Buffalo Rock we headed back, but made a pitstop at a nearby private campground.  Mind you a 25 minute pitstop.  Kayak tours can be a great option for beginner paddlers in unsafe waters, but I personally find them a bit annoying as you are compelled to move with the herd.  Often they move slow when you want to go fast and vice-versa (frustrating for photography).  In one case when we were paddling closer to Buffalo Rock for better pictures, we were whistled at with a kayak whistle to rejoin the main group. 
So in conclusion this was a mixed bag trip.  The pelicans, Asian carp, and Buffalo Rock were fantastic.  But the rest of the river was unvaried and uninteresting.  A hindsight trip would have been to do this as an 8 mile one-way trip from Allen Park in Ottawa to the dam/locks which would have included many sights (including Starved Rock) and be a great trip.
Put-in & Take-out:
We started and ended the trip at Lone Point Shelter.   This was a very nice public landing with good parking, outhouses, and no fees.
There are numerous alternate accesses 5.7 miles upstream in Ottawa including Allen Park.
An alternate access 2.3 miles downstream would be on the upstream side of the locks where there is parking and what appears to be a public ramp.
Adventurous paddlers willing to run the locks could take out at the Starved Rock boat ramp which is a great access option and 3.7 miles downstream from Lone Point Shelter.
Shuttle & Rental Information:
We did a round-trip so a shuttle was not required.  If you were to do a one-way trip (say 8 miles from Allen Park to the locks) no commercial shuttle exists (that I'm aware of).  That route would require a bike shuttle of 9.4 miles and include some urban pedaling in downtown Ottawa, but would be paved and mostly flat.
Kayak Morris is a rental outfitter that does group tours based out of Lone Point Shelter.  They are pricey… we paid $72 for a single kayak and $102 for a double kayak.  They do multiple routes with the main one being an up-and-back to the cliffs of Buffalo Rock State Park.  This is a group tour so you can't really deviate from the herd, and if this isn't for you, I suggest simply using your own boat.
Hazards, Logjams and Current:
Current:  Because this section is a flowage, the current isn't that strong.  Round trips are viable.
Wind:  The river here is very wide and open, so wind can be a big challenge.   Check the forecasts and be concerned about strong headwinds (say +12 mph).
Barges:  This is a very active barge route.  You should be ok, but stay vigilant as you don't want to be hit by one or flipped by their strong wake.  For the most part the barges preferred to stay on the north side of the channel.
Locks:  If you decide to lengthen this trip and run the locks, be careful.  Obviously, you want to stay away from the dam.  I believe kayakers are allowed into the locks but must follow complicated rules. 
You must yield to barges.
You must wait for a green light to enter the locks.
You might be required to secure your boat to the locks with a special o-ring.
The locks can be turbulent during transition.
The lock will use airhorn signals to let you know when you can and can't enter.
Unless you follow another rec craft in, you should let the lockmaster know you want to enter.

The preferred method is over VHF channel 14 or 16
You can contact them via cell-phone…I think 815-667-4114 is the right number but am not sure.

The lock system can be slow…if barges are ahead of you, you can expect to wait 90 minutes if not more.
River Depth and Navigability:
The depth won't matter too much.  Here is a rough guesstimate overview based on a nearby gauge in La Salle.
< 10′:  A low depth common in late fall.  The shorelines may have small sandbars.  Paddling up the Starved Rock creeks may be difficult.
11-13′:  Likely an average summer depth.
14-16′:  A high depth for summer.
17-20′:  A very high depth.  Paddling upstream may be more difficult.
21+:  Perhaps flood stage.  Likely not good conditions for paddling.
Alternate Starved Rock Area Paddles:
Illinois River:
Middle East Conflicts Wall Memorial to Allen Park:  7.4 miles.  This is a speculative route, but I believe you can launch at the memorial below the dam.  Here there appears to be a brief section of rapids.  The river flows by some industry, but also by "Shadow Bluff" which may be interesting.  This route parallels the Marseilles Canal.

Allen Park to Lone Point Shelter:  6.0 miles.  Trip starts in urban Ottawa where you should see a tall elevator bridge, barges and several loading docks.  Stay right/north of Sheehan Island to see Buffalo Rock in its entirety.
Lone Point Shelter to Starved Rock Locks:  2.8 miles.  This route parallels Starved Rock State Park.  You should see several scenic sandstone cliffs including Horseshoe Bend, Eagle Cliff and Starved Rock.  The highlight are the canyons, several of which you may be able to paddle up into under ideal conditions.  Be very careful of the dam and the barges.  Take out at the east end of the locks where it appears there is public access.
Starved Rock Locks to the Starved Rock West Boat Ramp:  1.6 miles.  This requires running the locks which can be fun, but also risky and time-consuming with many rules to follow.  Research before committing.  You can paddle north or south of Plum Island.  If south, you'll have views of Starved Rock.  Pelicans are common below the dam.  The Hwy 178 bridge can be very scenic and is located near the take-out.
Illinois and Michigan Canal: 
Bridgeport Chicago to LaSalle:  A 96-mile canal that was a historic connection between the Mississippi and Lake Michigan.  This canal was a big reason why the Portage Canal in Wisconsin became obsolete.  Roughly speaking it parallels the Illinois and Des Plaines Rivers and can be scenic.  Some sections have silted in, but others are navigable for paddling.  In some cases the canal is elevated and goes OVER rivers (like the Little Vermillion).  For more information on trip ideas, see Mike Svob's book "Paddling Illinois".
Covel Creek: 
Vermillion River: 
249th Road (by 8th Road) to Vermillion River Boat Launch:  8.1 miles.  Illinois' most well-known whitewater river.  Section includes multiple Class 2 and Class 3 rapids.  This can be a dangerous river at high levels.  Research before running.  This is a scenic stretch especially by Matthiessen State Park where you paddle by some rocky bluffs and in one case can paddle up a side creek to see some dells.  Be very careful about running the cement factory low-head dam.   A rafter with a life jacket was killed here when caught in the recirculating current.  The river was shut down from 2009 to 2010 when the dam owner (Lone Star Industries) enforced its No Tresspassing powers in reaction to the drowning to kick paddlers off the river.  Later a public access agreement was obtained by the Illinois DNR.  Simply removing the small and purposeless dam would have been a better idea…but Illinois can be a backwards state that prioritizes greed and large corporations over public interests.  If you run this, portage it (far right) or run the notch (also far right).  There is a local rafting company, but their availability is limited.
Little Vermillion River:
N37th Road to 3179th Road:  10.8 miles.  Some wires, deadfall, fickle water levels, and dam portages are a nuisance, but the reward for doing this are many scenic canyons.  Research the review from "Paddling Illinois" before running.
3179th Road to Lock 14 Landing:  7.4 miles.  Only suitable for experienced whitewater paddlers with the most dangerous stretch being Class 3-4 Canyon Rapids.  Following this is a low-head dam that must be portaged.  You may not get under Hwy 6 in high water.  For the take-out, you want to portage onto the canal (which is OVER the river!), then paddle west on the canal to a good public take-out.  Consult "Paddling Illinois" before running.
Starved Rock Creeks:
Illinois Canyon:  1.2 miles.  The largest of the Starved Rock creeks.  You can paddle up partway into the dells which is scenic, but to explore the canyon in its entirety, you would need to do this by foot along the walk path.
Horseshoe Bend:  0.3 miles.  Paddlers also occasionally paddle under the walk bridge and up the creek.  The creek soon splits into two…Tonti Canyon to the west and LaSalle Canyon to the east.  Both forks would likely need very high water to be navigable entirely.  Hiking is the preferred way to explore both of these canyons.
Wildcat Canyon:  Too small to paddle up.
French Canyon:  Too small to paddle up.
Starved Rock State Park:

Illinois' most popular and scenic park.  Basically the park consists of a number of attractive canyons and sandstone formations formed by glacial melt-water cutting its way through a tall sandstone shelf and into the Illinois River.  The best way to experience the park is via its large network of hiking trails (trail map).  Because the park is relatively close to Chicago, crowds can be a big issue, especially during peak weekends, which can detract from the experience and make photography difficult.  We got rained on our first day in the park, which was a blessing in disguise, as it scared away the hoards and allowed several dry waterfalls to flow.
If you hike the park, be mindful of its many rules.  The gates close at dark and a sign warns you that they will tow your car if you don't leave by then.  Definitely bring aquatic footwear as chances are you'll need to do some wading.  Unlike Wisconsin, Illinois state parks are free, but they do gouge you at concessions with 9 dollar sandwiches.
The history of the park is interesting.  Supposedly Chief Pontiac of the Ottawa was slain while attending a tribal council in southern Illinois by Illiniwek.  The Ottawa and Potawatomi went to war with the Illiniwek and would lay siege to a band that was trapped atop a 125 foot sandstone butte.  Here they starved to death and the area became known as Starved Rock.
You likely won't have time to to explore the entire park.  Hare are some suggestions on what to prioritize:
French Canyon:  One of the most popular canyons partly because it is so close to the main visitor center.  Basically a narrow canyon with several waterfalls and interesting erosion patterns.
Wildcat Canyon:  The tallest waterfall with two overlooks at the top and a great view from the bottom.  I think this is normally dry, but we lucked out and were able to see it flow.
Aurora Canyon:  A smaller waterfall and canyon combo that might not be as elite as the other canyons, but has ferns growing in shelves along the walls reminding me of the Hanging Gardens of Babylon.  The trail leading to this canyon isn't in great condition.
St. Louis Canyon:  One of our favorites and popular with park visitors.  Located at the far west end of the park, its highlight is a scenic waterfall at the convergence of two tall sandstone walls.
Owl Canyon:  A large bowl-like amphitheater carved out of sandstone.  Nice but not as cool as Council Overhang.  Conveniently located close to a parking lot and worth checking out if you are hiking to Tonti and LaSalle Canyons.
LaSalle Canyon:  One of the better canyons with an attractive pool and waterfall located above the dells. 
Tonti Canyon:  Located near LaSalle Canyon this is preceded by an attractive hike along tall canyon walls.  There is a hidden canyon at the end which some hikers miss.  After a big rain you can see a double waterfall which is very scenic. 
Council Overhang:  The best of the overhangs and conveniently located near the east parking lot.  Big enough to fit an orchestra and the audience underneath.
Kaskaskia Canyon:  This has just a small waterfall at the end, but is preceded by an attractive ravine.
Ottowa Canyon:  This canyon also ends in a disappointingly small waterfall, but its highlights are its huge vertical cliff walls.
Illinois Canyon:  We didn't get a chance to explore it, but it does sound good.  Here there is a creek inside the canyon which you can hike up.  Waterfalls and rock formations are very common.  
Eagle Cliff Overlook:  The best of the overlooks with a great view up and down the river.  From here you can see the eagles and pelicans feast on the fish by the dam.  You should also be able to see barges run the Starved Rock Locks.
Lover's Leap Overlook:  Close to Eagle Cliff, this is a much smaller overlook with a downstream view of the dam and locks.  You can also see Starved Rock to the west.
Beehive Overlook:  A small overlook, not nearly as good as Eagle Cliff and Lover's Leap.
Starved Rock Overlook:  Supposedly this is overrated and we skipped this.
Matthiessen State Park:
Just adjacent to Starved Rock State Park is Matthiessen State Park which is definitely worth checking out (trail map).  The park can be divided in two with a "Dells Area" to the north and the "Vermillion River Area" to the south.  Most visitors prefer to hike the Dells Area which has the best scenery.  There is a bluff trail and an interior trail system inside of the dells…you want the latter.  I suggest starting at the main entrance by the log fort.  Then once you cross the tall bridge, descend down into the canyon and hike north. 
For a half mile, you'll hike inside a long spectacular canyon.  Bring aquatic shoes as some wading is required.  You will soon come across the "Giant's Bathtub" where a round pool has been carved out of the canyon by a small waterfall.  Keep heading north to see one of the park highlights in "Lake Falls".  This is a tall waterfall backdropped by a scenic walk bridge that is a favorite with photographers.
From here, you could head back south along the bluff trail to save time.  Once you return to the main bridge by the Fort, you'll want to keep hiking south to check out the Lower Dells.  Unfortunately the Lower Dells Canyon doesn't have a convenient "on ramp" by the entrance so you'll need to hike a bluff trail to the south end of the dells to finally descend into the canyon.  Once in the Lower Dells Canyon, keep hiking north until you see "Cascade Falls" which is yet another calendar scene.  Hidden along the left wall is a series of caves which are great fun to explore.
While not as popular as Starved Rock, you can still expect to see many people in the park on a weekend.  Between Starved Rock and Matthiessen if you only had to pick one, I do suggest Starved Rock.  But Matthiessen is not a bad option, especially if you have limited time as its trail system is much shorter than Starved Rock's.
Detailed Overview
Thanks to Mike Svob, author of "Paddling Southern Wisconsin," for the info about the lower sections.
Upstream of Mitchell Park: The river actually seems big enough to run up here and there doesn't seem to be too many logjams.  However, I am not familiar with the area and am unsure of possible public access points.
Mitchell Park to Wray Park: 4.5 miles that is mostly an open wetgrass paddle.  Not exotic, but should be pleasant.
Wray Park to Grede Park:


Sub Trip – Wray Park to Wonderland Tap: 3.8 miles and nice, with wetgrass and some woods.
Sub Trip – Wonderland Tap to the Waukesha Dam: 1.9 miles on a boring, noisy flowage.  While there is a park by the dam, I'm not sure where you can leave your car.
Sub Trip – Waukesha Dam to Grede Park: .7 miles on a really narrow, fast section with lots of light rapids.  Very urban, but great fun!

Grede Park to Sunset Drive:  2.5 miles.  River slows and widens.  Might be nice spots.
Sunset Drive to Hwy 59:  1.0 miles.  Slow and weedy section of the river.
Hwy 59 to Hwy H:  1.8 miles. 
Hwy H to CR I:  5.2 Miles.  This is a lazy stretch that lacks major highlights (other than good water clarity) and isn't an elite water trail, but locals may still enjoy it.
Cty I to Cty ES/National Ave: 7.0 miles.  Part of the Vernon Marsh State Wildlife Area.  Much of this is marshy.
Cty ES to Big Bend:  7.6 miles (reviewed by Mark Rhodes)
Big Bend to Conservation Drive/Tichigan Lake Public Landing: 7.4 miles (reviewed by Morrall Films)
Tichigan Landing to Waterford Dam: 5.0.  I presume mostly a boring, over-developed flowage.
Waterford Dam to Sailer Woods/Hwy 36: 3.5 miles.  From here on we lose most of our swamp and get higher banks and more woods.  There is one other dam to portage in this section.  There are numerous other access options on this route.
Sailer Woods to Burlington (Congress Street): 4.8 miles
Burlington to Hwy JB Bridge Access: 6.6 miles
Hwy JB Bridge Access to Hwy W: 3.0 miles
Hwy W to Silver Lake (Fox River Park): 6.0 miles. 
Silver Lake to Wilmont: 2.5 miles. 
Wilmont to Hwy 173 Landing: 2.8 miles (you are in Illinois now)
Hwy 173 Landing to Chain O' Lakes State Park: 3.9 miles
Trip Map
Overview Map
Video
Photos
How did your trip turn out?

Questions or comments?

Feel free to leave your feedback.