Illinois Fox River – Fox River Park to River Road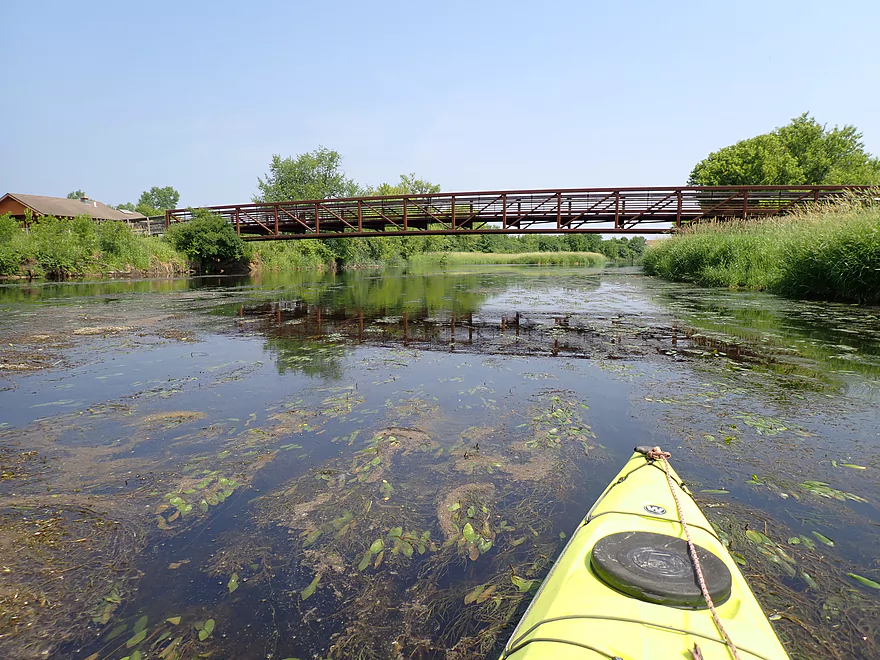 Put-in:
River Road (First Bridge)
Take-out:
River Road (Second Bridge)
Located in Southeast Wisconsin, the Illinois Fox isn't an elite kayaking river like its neighbors (Bark, Oconomowoc, and Milwaukee), but it is still pleasant and popular with locals.  For this trip I planned to explore a stretch starting from the far southern edge of Waukesha.
Initially I wanted to start at "Fox River Park" (South Launch) which from Google Maps looked like a nice put-in.  When I got there, a sign demanded payment to enter the park.  There was a payment booth but it was unmanned.  Instructions by the booth were to purchase a pass online if no gate agent was present, but I didn't have a smart phone on me.  On top of this another sign said that all cars entering were being video-taped and those that didn't have passes would be mailed fines.  This was getting ridiculous, but I drove in anyway determined to launch.  The park has a paved walkway to the shoreline where typically it would be easy to launch a kayak.  But fences and signs prohibited access to the river and kayak launches were explicitly prohibited.  Apparently the area is under construction (and has been for countless months) to provide a wheelchair accessible kayak launch.  That's fine, but I don't get why they had to close the shoreline while they waited for this to finished (it's not like there was dangerous equipment anywhere).
So I gave up, exited the park, and decided to do an old-fashioned bridge launch off of the first River Road bridge which is located just downstream from the park.  Along the northwest corner there is a rough/narrow public drive that leads to the water which served as a nice area to launch.
The first two miles of the trip honestly weren't super interesting.  Here the river was slow, wide, straight, deep and frankly kind of boring.  The banks were filled with tall, invasive reed canary grass and lacked trees.  On occasion I would see homes or the tops of apartment complexes from the river (this was the extreme southwest edge of Waukesha).  An early highlight was a cool pedestrian bridge .  But overall the river was kind of disappointing with suspect water quality and some scum.  The Waukesha wastewater plant is located about 4 miles upstream and I'm sure it contributes a significant amount of biological and chemical contaminants into the river.   On the other wastewater plants like these actually help to keep river levels relatively stable.  Despite there being a drought, I never had to worry about grounding out on the trip.
At roughly the two mile mark, the river improved markedly.  Here I escaped the final vestiges of Waukesha.  Trees started to replace homes and the channel finally started to meander.  I speculate the previous legs had been artificially straightened/deepened/widened to help navigation 100+ years ago.  Dredging projects like these really hurt rivers…wider/deeper channels mean slower current which allows scum and weeds to multiply exponentially.  The Illinois Fox would greatly benefit from remediation work to narrow the channel, speed up the current, and improve water quality.  Despite the occasional weeds and scum, the clarity at times was really impressive and was the highlight of the trip.  
The mouth of Genesee Creek marked the two-thirds point in the trip.  Genesee is actually viable for kayaking and is on my todo list, but this day it looked too shallow to run.
The final two miles featured a number of dead trees in contorted positions (many victims of the emerald ash borer).  Because there wasn't much wind, there were some fantastic tree reflections on the water.  There were even a few rock piles (likely gifts from the last ice age).  Every now and then I could smell chlorine which would be a reminder that this was an "effluent river" like Badfish Creek or the Menomonee River. 
I ended the trip at the second River Road bridge where I was surprised to see a bunch of other cars parked.  This isn't a great access because of a long guardrail but that doesn't seem to deter other paddlers.
In summary this wasn't an elite paddle and isn't a water trail you would drive a long ways to experience.  But locals who have already done other area water trails and are looking for a new adventure may like it.  The pond weeds, slow current, and generic scenery mean this will never be a five star trip for paddlers, but the clear water and clean substrate were surprisingly nice enough to make this an ok trip. 
If you're new to the Illinois Fox however, I instead suggest starting with other sections.  The stretch through Brookfield is very nice.  I also think from the Waukesha Dam to the first River Road bridge, while more urban than my trip, is more scenic and varied.  There are even fun rapids to run below the main dam.  Downstream from the second River Road bridge is the Vernon Marsh, which is a good prospect that should feature marsh plants and cattails. 
Recently the Illinois Fox River was designated a "National Water Trail" by the U.S. Secretary of Interior.  I'm not sure what it means practically but it should include more maps and perhaps some access improvements.  You can learn more at https://fabulousfoxwatertrail.org/.
Noteworthy Wildlife:
Sights included clams, one muskrat, several turtles, one woodchuck, several dragonflies, a lot of damselflies, and a handful of fish including a monster sized carp.
Put-in:
River Road – First Bridge:  Northwest of the bridge is a side drive where you can launch.  Be mindful that this is narrow and you'll likely want to park on the shoulder of the main road instead so you don't get boxed in.
Alternate Put-ins:
Fox River Park South Launch (900′ upstream from River Road):  This is a nice public park with waterside access.  However it does require a Waukesha County Park Pass.  There is a payment booth at the entrance but it was unmanned during my trip and a sign warned cars entering that they are being videotaped and those that don't pay will be mailed tickets.  As of 2023, the entire shoreline by the park is closed for "improvements".
Fox River Park North Launch/Fox River Parkway (1.8 miles upstream from the first River Road bridge):  This is a nice public bridge access.  This bonus stretch of the river is likely slow and weedy…but might not be bad.
Grede Park (4.3 miles upstream from the first River Road bridge):  Parking may be very limited by Grede Park.  I suspect the stretch below Grede Park is nice, more wooded and might even have a few riffles.
Waukesha Dam/River Walk (5.2 miles upstream from the first River Road bridge):  You can launch by the dam or the river walk below it.  The stretch below the dam is very cool with multiple rapids, good urban scenery, and a cool spot where you paddle under a building/tunnel by Madison Street.
Take-out:
River Road – Second Bridge/Hwy I:  This is a popular bridge access with local paddlers.  A faint path leads from the upstream/east side to the road where there is adequate shoulder parking.  However the guardrail is long and the banks a bit weedy, so it can take some effort to drag your boat back to the car.
Alternate Take-outs:
Fox Street/Hwy ES/National Ave (7.0 miles downstream from River Road):  This should be a suitable bridge access and appears to have a pull-off for paddlers.  This additional leg flows through the Vernon Wildlife Area and should include more cattails and marsh scenery.
Shuttle Information:
Bike Shuttle – River Road Bridge 2 to Bridge 1:  2.3 miles with 3′ of ascent.  This is a very easy bike shuttle.
Hazards, Logjams and Current:
Current:  The current was very faint and sometimes nonexistent.  This is a very easy trip with no rapids. 
Logjams:  No logjams.
Wind:  This stretch is very open with little tree cover so you likely want to avoid it when there is a strong headwind.
Weeds:  Despite the clarity, the Illinois Fox can be weedy especially in late summer.  
River Depth and Navigability:
Closest Gauge:  Fox River @ Waukesha
Trip Depth:  31 CFS or 2.77′
Navigability Estimates:  Note, the Illinois Fox is a relatively stable river and can usually be done when other river levels are too high or too low.
< 2.7′:  I doubt the river ever gets this low.
2.7-2.9:  Good depth for paddling with nice clarity.
2.9-3.1′:  Above average depth.
3.1-3.3′:  High depth.
3.3-3.6′:  Very high depth but still should be navigable.
3.6'+:  The banks might overflow at this point.
Detailed Overview
Thanks to Mike Svob, author of "Paddling Southern Wisconsin," for the info about the lower sections.
Upstream of Mitchell Park: The river actually seems big enough to run up here and there doesn't seem to be too many logjams.  However, I am not familiar with the area and am unsure of possible public access points.
Mitchell Park to Wray Park: 4.5 miles that is mostly an open wetgrass paddle.  Not exotic, but should be pleasant.
Wray Park to Grede Park:


Sub Trip – Wray Park to Wonderland Tap: 3.8 miles and nice, with wetgrass and some woods.
Sub Trip – Wonderland Tap to the Waukesha Dam: 1.9 miles on a boring, noisy flowage.  While there is a park by the dam, I'm not sure where you can leave your car.
Sub Trip – Waukesha Dam to Grede Park: .7 miles on a really narrow, fast section with lots of light rapids.  Very urban, but great fun!

Grede Park to Sunset Drive:  2.5 miles.  River slows and widens.  Might be nice spots.
Sunset Drive to Hwy 59:  1.0 miles.  Slow and weedy section of the river.
Hwy 59 to Hwy H:  1.8 miles. 
Hwy H to CR I:  5.2 Miles.  This is a lazy stretch that lacks major highlights (other than good water clarity) and isn't an elite water trail, but locals may still enjoy it.
Cty I to Cty ES/National Ave: 7.0 miles.  Part of the Vernon Marsh State Wildlife Area.  Much of this is marshy.
Cty ES to Big Bend:  7.6 miles (reviewed by Mark Rhodes)
Big Bend to Conservation Drive/Tichigan Lake Public Landing: 7.4 miles (reviewed by Morrall Films)
Tichigan Landing to Waterford Dam: 5.0.  I presume mostly a boring, over-developed flowage.
Waterford Dam to Sailer Woods/Hwy 36: 3.5 miles.  From here on we lose most of our swamp and get higher banks and more woods.  There is one other dam to portage in this section.  There are numerous other access options on this route.
Sailer Woods to Burlington (Congress Street): 4.8 miles
Burlington to Hwy JB Bridge Access: 6.6 miles
Hwy JB Bridge Access to Hwy W: 3.0 miles
Hwy W to Silver Lake (Fox River Park): 6.0 miles. 
Silver Lake to Wilmont: 2.5 miles. 
Wilmont to Hwy 173 Landing: 2.8 miles (you are in Illinois now)
Hwy 173 Landing to Chain O' Lakes State Park: 3.9 miles
Trip Map
Overview Map
Video
Photos
How did your trip turn out?

Questions or comments?

Feel free to leave your feedback.