Lake Redstone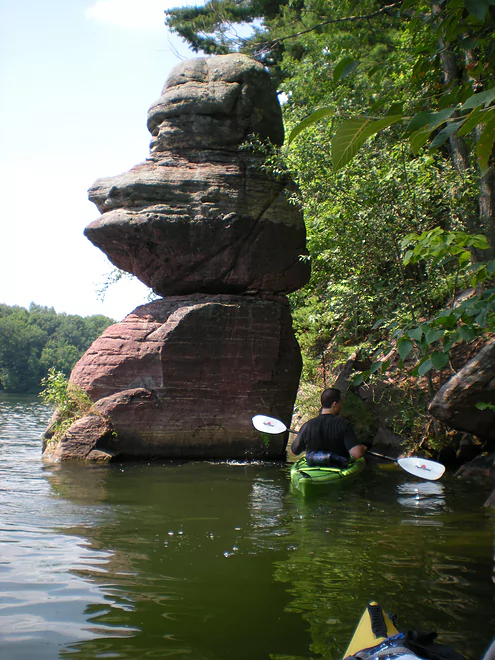 Put-in:
Lake Redstone South Beach
Take-out:
Lake Redstone South Beach
One of the most under-rated paddling prospects in southern Wisconsin is Lake Redstone.  On the face of it…this wouldn't seem like a good paddling prospect.  It's merely a very large (more-so long) man-made lake with no helping current, little public property, lots of development and lots of power boats.  But what makes this lake unique and worth paddling are its 'red stones/bluffs'.  Again…the lake is quite long…so if you paddle this, you want to pick the right sections.  There are rock formations sprinkled throughout the lake.  There is a concentration, I believe, in the northwest section and a main concentration on the southern section.  You absolutely want to do the southern section.
There are a couple of places you can start.  I believe there is a landing on the east side (see map) that in hindsight would have been a better landing.  We chose to go into Lake Redstone County Park and park/put-in at the beach.  The beach area is very nice…great area for swimming (until it gets too crowded).  The drawback is that it is a little bit of a hike uphill from the parking lot, downhill to the beach.  The other drawback is that this requires a county park sticker…yet apparently they were only sold at some remote local business establishment that probably only locals knew how to find.  So if you park here, you'll probably have to gamble you don't get a ticket.
Once you put in, you can explore the dam to the right (decent sized for a creek dam).  Along both banks are rock formations that are fun to explore.  This (the southern tip of the lake) is a nice area because it is somewhat smaller and crooked which protects it from the rest of the lake.  It also has a no-wake zone, which is a very good thing.  Following the east shore makes for a great paddle.  The water quality is not bad and this is a good swimming lake.  In fact, many people use the local bluffs as diving boards to jump into the water…somewhat tricky as private property signs are quite common, but this can be fun.
The number one problem with this lake are the power-boaters.  There are just way too many of them and the wake they create bounces off the rock walls, which creates a lot of reverberation.  Just avoid the center section of the lake and paddle VERY early in the morning (like we did) and this will work out great.  That or go during a weekday as this is worth it.  I believe the local kayak/canoe company in Wonewoc services this lake with rentals and I'll try to confirm this later.
If you are in the area, you might check out the Baraboo River to the south.  The main creek after going over the dam quickly empties into the Baraboo River.  There is access and parking for the Baraboo River on the south side of Lake Redstone County Park.  This is the 'half-way' point between La Valle and Reedsburg (5 miles to La Valle and 10 to Reedsburg) and you can read more about that here.  There is also a minor trail system around and downstream from the dam that you may want to explore if you have time after paddling.
Trip Map
Overview Map
Photos
2 Comments to "Lake Redstone"
How did your trip turn out?

Questions or comments?

Feel free to leave your feedback.