Fox River – Montello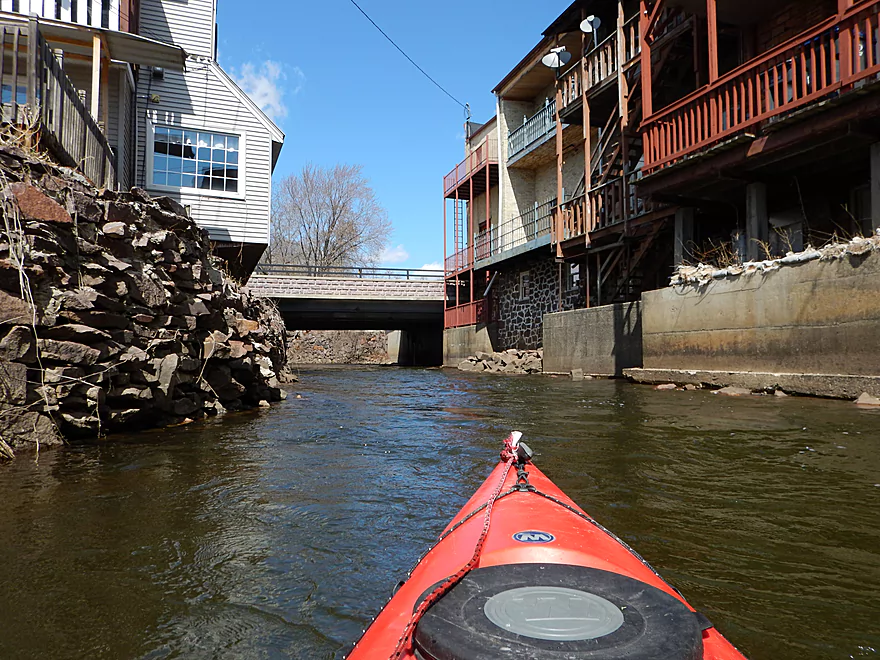 Put-in:
Parking lot at W. Montello Street
Take-out:
Grand River Locks - Public Landing
Gradient:
1' per mile (estimate)
A trip that starts on the swift, narrow Montello River and finishes on the historic Fox River.  Part urban paddle, part historic paddle, part open water paddle–a fun trip that I recommend to readers.
Put-in:
There is a downtown public parking lot that you can use for access (fishermen use it all the time).  It is a bit tricky to find and you'll have to drive through street alleys to get to it (see map).  From the parking lot, put in below the pedestrian bridge.  Bit rocky, but doable.
Shuttle Information:
Ok bike shuttle at 3.6 miles that isn't too hilly.  I got buffeted with 30 mph gusts which was not fun though.
If you're lazy, there is a local livery and rental called "Rendezvous".  They do request that you call in advance for availability.
River Depth, Navigability and Current:
The Fox River (from the Princeton gauge) can vary from roughly 400 to 2200 CFS in a year.  It can be obnoxious at higher flow rates and my suggestion is to aim for 1000 CFS or lower.  I paddled at 700 CFS and the river was still surprisingly deep.  Maybe 2-3 feet in most spots…no doubt a by-product of the dredging and channel-straightening that the Fox has endured. 
Otherwise this is a pretty slow, lazy river (1′ per mile) well suited for beginners and bigger boats.  For a fascinating big picture view of the Fox River and its gradient, check out this cool chart.
Substrate and Water Quality:
Maybe 70% sand, 30% mud.  Not fantastic water quality, but some occasional nice clear spots.  Some minor sandbars, but with maybe one exception, nothing to plan a picnic around.
Wildlife:
Not much, but this is seasonal.  Saw many clams, ducks and geese.  Also saw two beavers, lots of people and some surprising mosquitoes.  If you're in the open, you should be fine (mosquitoes HATE wind).  Not on the trip per say, but when scouting the upper Montello, I saw an absolutely massive flock of swans on the water (at least I think they were…might have been snow geese).
The Trip:
While I could have started the trip on the Fox River proper, I've been curious about the Montello River for a while, so decided to put in there as a bonus add-on section.  The Montello flows north to south and a dam on the north side of town forms "Lake Montello".  I thoroughly scouted the dam and saw no easy way to portage it unfortunately.  Maybe if you lowered your kayak down over the concrete walls with ropes and launched on the spillway when it wasn't being used?  It didn't seem practical. 
The next best bet for the Montello River is a public fishing spot, which is marked on the map and where I ultimately put in.  But was anxious to explore the section upstream so paddled against the current and up to the dam. Not easy as this is clipping along at maybe 10′ per mile and I had to paddle over class 1 rapids.  It was rewarding though, as the Montello River here is contained within concrete retaining walls and then buildings on top of this to create a cool urban canyon effect that kind of reminded me of the Milwaukee River.  After poking around below the Lake Montello dam, I did a 180 and enjoyed the minor rapids through downtown Montello.
One of the more iconic sites in the city of Montello is the old quarry and waterfalls.   Yes, they are artificial but they are still cool looking.  A lot of people pull over here and get out to take pictures.  I had hoped (naively) to kayak this, but while getting oh-so very close to the Montello River, it actually never connects with it.  It just seems to be a self-contained lake with pumps and no trespassing signs everywhere.
After you get out onto the Fox, definitely poke your nose up into the old lock which isn't too far upstream.  No longer functional (that I know of) it is still a cool bit of history. 
On this trip, you'll see a lot of people.  Both in the city of Montello, on the river with fishermen, with houses on the banks and at the busy take-out at Grand River Locks.  But for the most part this isn't too bad and most fishermen are quietly fishing.  In the summer, the local livery unleashes tubers on the water and these probably ARE an issue (tubes are slow, so their occupants get bored and disruptive…hate to stereotype but it tends to be true).
The Fox River itself is a far cry from the Montello River.  Very large and open, you can see how it has been artificially straightened and deepened to accommodate bigger boats.  Not a super exotic river, but pleasant and relaxing.  Some trees on the banks, but mostly very open and grassy which kind of reminded me of the Grand River next door.
Because the river is so open, do be mindful of the wind direction and speed.  I did this with a tail wind with gusts up to 30 MPH, which was awesome (I could sail by just putting my paddle in the air).   On the flip side, biking back was absolutely miserable.  After a short while, you'll come to the Grand River Locks and the first of its two landings.  You could take out here, but it would make for a very short trip.  Instead, I continued on the main river which flows in a huge oxbow around and back to the locks.  At the eastern mouth of the canal you'll see large  sand banks, which I suspect are remnants from decades-old dredging projects. 
You can then paddle onto the canal and work your way back up to the Grand River locks and its second landing.  In hindsight, I regret taking out so early (a sign of a good trip) and would have preferred instead to double the trip to maybe 10 miles and take out on Puckaway Lake (you have nine landings to choose from…see map).
For a bit of trip closure, I headed back to Montello and had a nice dinner at an organic cafe overlooking the Montello River.  Montello has maybe 1000-2000 people.  So, it is remarkable and noteworthy IMO to find an almost all organic cafe/grocer with a terrific vegetarian menu, riverside seating and a host of small concerts.  Definitely consider looking them up if you are in the area.  They are called "MORE Healthy Foods & Cafe".
Hazards and Log Jams:
None.  Well, the Montello River has class 1 rapids, but these were easy.  Was very nice to see not only no log jams in either river, but to see so little deadfall garbage in the Fox.  Spring floods must really keep the river clean.
If you paddle the Fox, and instead come from Buffalo Lake, I do want to say a word or 20 about the dam.  From the pictures/video you'll see you do not want to go over it.  There is a fish escalator (a term I made up) right next to the dam that looks tempting.  It's a series of smaller ledges that looks runnable…but is probably deadly if you tip over because the current flows under the surface which would trap you even with a life jacket.  However, there are two portage docks and a portage sign, so it is very easy to get around the dam on foot.
Take-out:
A very good take-out is at the Grand River locks.  I'm not sure of the history, but there is an old lock/canal and the main channel forms a massive oxbow around it.  You can either put in on the main river to the west (which most fisherman do) or you can use the east landing (in the canal) which is perfect for kayakers wanting to loop around the oxbow.  This is a surprisingly busy landing, but the east ramp is hardly used at all.   There is an outhouse which is appreciated and also a trail system out that lets you explore the "island", which if you have time I recommend doing.
Human Impact:
Again, a lot of people on the river but it isn't so bad (at least not in spring).  The Fox has been re-engineered for boat traffic which means there aren't too many curves on this trip.  Still a nice segment.  The Montello Dam is tragic and there is no doubt a very cool (and fast) river is hiding under Lake Montello.
My chief beef however is reserved for the Buffalo Lake dam.  Very recently it came into poor repair and the DNR actually "considered" removing it.  Which they of course did not and instead wasted 10 million dollars of taxpayer money to rebuild.  A shame on many fronts.  Buffalo Lake is boring.  It is silting in (even for power boaters who get stuck now in low water).  Weeds are a major issue and the fish dislike the warm water caused by the flowage. 
While there are many natural lakes in this area of the state, Buffalo Lake isn't one and it is almost entirely flowage.  In fact just after Endeavor there is some decent grade, which means the Fox there would have had good current before the dam.  To truly appreciate the effect of dams on the Fox River (and Wisconsin River), I absolutely recommend checking out this super cool chart.  What is extra tragic is that the DNR used stewardship funds which are INTENDED INSTEAD for conservation purchases. 
As a curious note, the current google map satellite pictures show the new dam under construction and Buffalo Lake in a partly drawn down state.  Most interesting is what appear to be old wing dams and a huge and menacing sediment island encroaching on the dam.
Montello River Overview:
Click here for an overview map.
Headwaters to 1st Ave:  1.0 miles.  In theory, there should be a spring located at the headwaters a mile upstream from 1st Ave.  This might be more viable as a roundtrip.
1st Ave to Lawrence Lake (North Ramp):  3.0 miles.  Technically Lawrence Creek, this is a small paddle with some logjams, but is really nice with stunning water clarity and virtually no mud.  A very underrated paddle.
Lawrence Lake (North Ramp) to Lawrence Lake Dam:  0.8 miles.  A simple lake paddle.
Lawrence Lake Dam to Pioneer Memorial Park:  5.6 miles. 

Lawrence Lake Dam to Westfield Veterans Park:  4.8 miles.  A terrific paddle because of the incredible clarity and natural springs.  Only downside are a few logjams, but they are easy portages.
Westfield Veterans Park to Pioneer Memorial Park:  0.8 miles.  The river here is faster, deeper, more wooded and less clear.  It's a scenic stretch flanked by steep clay banks.

Pioneer Memorial Park to Hwy E(by Charles St):  0.6 miles.  A nice little prospect.  Mostly within earshot of busy I39.
Hwy E(by Charles St) to Hwy E/B(by Maynard Dr):  5.1 miles.   Maybe 15-20 logjams.
Hwy E/B(by Maynard Dr) to 10th Lane:  1.4 miles.  This section should be mostly clear with I believe the only jam being the one you'll see from the Hwy E bridge.
10th Lane to Hwy E:  0.7 miles.  Nice open marsh paddle. Good access at both the put-in and take-out.
Hwy E to Water Street Dam:  1.7 miles.  A boring flowage.
Water Street Dam to Hwy J:  600′.  There are cool rapids between the two bridges in this short stretch.
Hwy J to Ember Lane:  5.1 miles.  A good prospect with clear water.  There are some logjams (maybe 6), but I think you can squeak by most of them.
Ember Lane to 11th Rd:  4.0 miles.  A good prospect but some logjams to deal with (maybe 4).  Good water clarity.
11th Rd to Lake Montello (park on south shore):  3.7 miles.  A simple section with some lake paddling.
Montello Dam to the Fox River:  0.6 miles.  A nice little urban stretch.
Detailed Overview
Hwy H to Hwy E:  3.1 miles.  Creek/river is kind of small here and you may need high water.  Route is 3.1 miles and logjams shouldn't be an issue.  A very open and grassy route.
Hwy E to Ross Road:  2.9 miles.  Hwy E has tough parking because of steep shoulders but you should be able to park in a drive NW of the bridge.  Next 2.7 miles will be mostly open wetgrass and logjams shouldn't be an issue.
Ross Road to Hwy 44:  3.3 miles.  More open wetgrass for the next 2.9 miles with possible logjams before Hwy 44.  Parking isn't the greatest at Ross because of the steep shoulders.
Hwy 44 to Haynes Road: 6.6 miles.  An obscure section of the Fox River upstream of Pardeeville that has redeeming values, but can be a frustrating paddle because of the logjams in the stream.
Haynes Road to Hwy 22 Dam (the south one):  2.0 miles.  Looks like a boring lake paddle IMO.  I did not see public access at either dam, so you may have to portage them.  Am not sure.  I believe canoe author Frank Piraino put in on the Hwy 22 bridge by the north dam/fork. 
Hwy 22 to Swan Lake Campground:  2.6 miles.  I do not know much about this route, but it was paddled by Frank Piraino who had a favorable opinion of it.  Rumor has it there are snags here.  I suspect there will be jams in the north fork after Hwy 22, but the south fork should be free (but less scenic).  Swan Lake Campground requires a fee for access.
Swan Lake Campground to Swan Lake (South Shore Boat Ramp):  2.7 miles.  An ok stretch.  In essence a creek paddle through grasslands with a bit of lake paddling at the end.  Serviced by a local livery.
Swan Lake to Hwy 33:  5.8 miles.  Pleasant marsh paddle.  Does include 1-2 miles of paddling.
Portage Canal:  2.3 miles.  A unique experience filled with history.  Unfortunately the canal can be at times challenging to navigate.
Hwy 33 to Governor Bend:  5.4 miles.  A classic stretch and one of the best water trails on the Fox.
Governor Bend to Hwy O:  5.7 miles.  A pleasant stretch.
Hwy O to Endeavor:  7.6 miles.  A surprisingly nice section with good wildlife.
Buffalo Lake:  10.6 miles.  An artificial lake/flowage.  Looks boring….  Beware of the weeds in late summer.
Montello to Grand River Locks:  3.4 miles.  A good section. 
Grand River Locks to Lake Puckaway:  5.3 miles.  Probably a nice section.
Puckaway Lake:  6.2 miles.  Also looks boring and to be avoided.  At least it's not fake like Buffalo Lake.  Maybe 7 miles.
North Puckaway Lake to Princeton Locks/Dam:  9.8 miles.  I do not know much about this stretch.
Princeton Locks/Dam to the City of Princeton:  3.5 miles.  A simple but pleasant section.
City of Princeton to White River Locks:  6.0 miles.

City of Princeton to Old St. Marie Landing:  1.9 miles.  A pleasant wooded section with a historic turn bridge.
Old St. Marie Landing to the White River Locks:  4.1 miles.  A slow, broad channel that is ok, but gets repetitive.

White River Locks to Landing Road: 10.4 miles.  The White and Puchyan Rivers add a lot of volume by now.  Not sure this is a great paddling stretch.
Landing Road to Riverside Park in Berlin:  3.4 miles.  A simple section that flows through downtown Berlin.
Riverside Park to Eureka Boat Landing:  7.8 miles.  River is probably no longer a cute baby and is instead an ugly teenager.
Eureka to Omro:  Roughly 6.5 miles.  Probably too big to be enjoyable.
Omro to Lake Butte des Mortes:  5.0 miles.  Likely uninteresting.
Trip Map
Double left-click to zoom in (needed because of how google now zooms out by default). The red line represents the trip.


Overview Map
Video
Photos
How did your trip turn out?

Questions or comments?

Feel free to leave your feedback.