Big Rib River
While not as scenic as its neighbor (the Eau Claire), the Big Rib is a pleasant paddle popular with Wausau locals.
Trip Reports
Lemke Drive to Hwy 64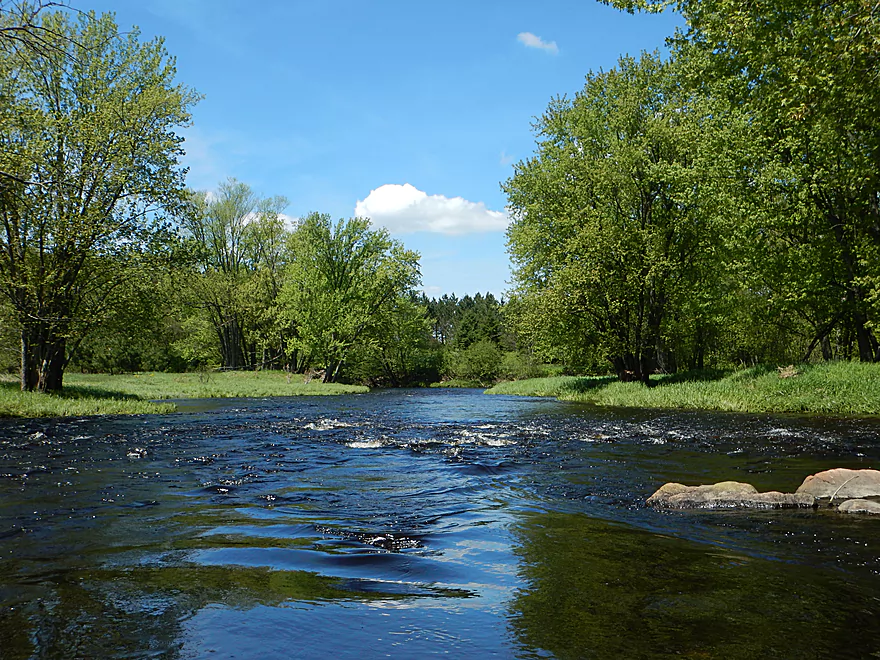 Date Paddled:
May 28th, 2017
Distance:
5.0 Miles
Time:
2 hours 5 minutes
Pleasant, but not exotic, this segment on the far upper Big Rib has a different character relative to its downstream siblings.
Read More...
Amco Park to Hwy A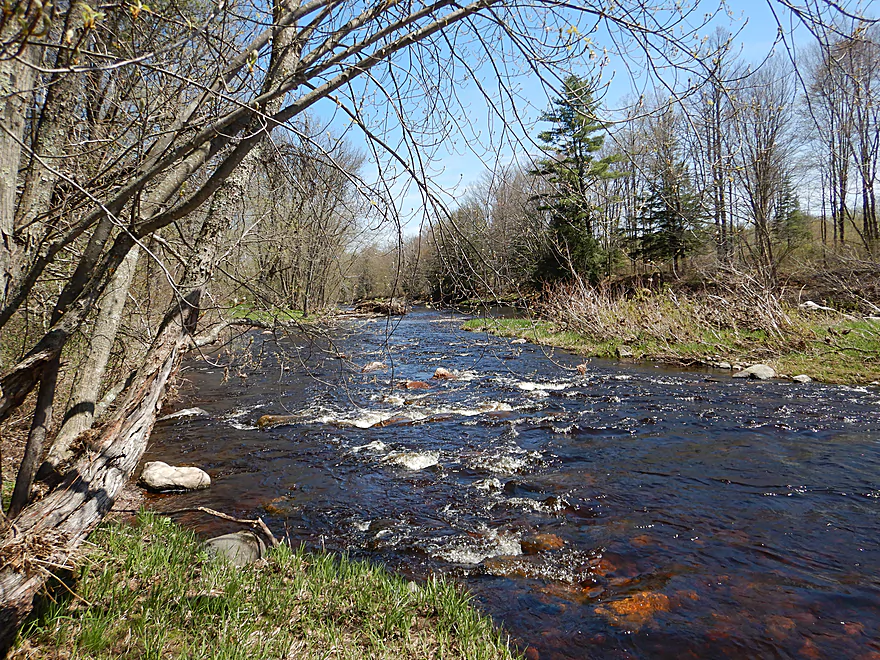 Date Paddled:
May 13th, 2018
Distance:
4.3 Miles
Time:
2 hours 31 minutes
A nice paddle with clean water, good scenery, decent current, and no hazards.  This is an easy stretch well suited to beginners and locals wanting to experience the Big Rib for the first time.
Read More...
Overview Map
Detailed Overview
Upstream of Hwy M:  Likely navigable paddling, I just don't know much more.
Hwy M to Lemke Drive:  4.5 miles.  An unknown prospect…might be interesting.  Could be some downed trees.
Lemke Drive to Hwy 64:  4.6 miles.  Pleasant but not a special trip.  Reviewed May 2017.
Hwy 64 to Silver Fox Road/Greiner Road:  3.7 miles.  Famous section that contains the dells, the most rapids and a tough section with Class 3 rapids.  Likely 5 stars.  Note, the bike shuttle for this section is poor.  Reviewed by AmericanWhitewater.org, but note their flow estimates are very aggressive.
Silver Fox Road to Hwy F/Amco Park:  3.3 Miles.  A pleasant section with some light rapids.
Amco Park to Hwy A:  4.5 miles.  Slower than upstream sections but pleasant and wooded with some small outcrops.  A good intro paddle to the Big Rib.  Reviewed May 2018.
Hwy A to Big Rib Falls County Park:  7.7 Miles.  Good prospect reviewed by Rick Kark and likely 4 stars.  Note Rib Falls by the take-out is quite strong (likely Class 4) and you want to scout this ahead of time from the nearby park.  The portage/take-out around the falls is rocky and not ideal but quite doable.
Big Rib Falls Park to Hwy 107:  6.8 miles.  Ok prospect (maybe 3 stars) with some nice sandbars. Take-out might be difficult.  You might be able to park in the business parking lot south of the bridge for access.
Hwy 107 to Sunny Vale Softball Complex:  9.5 miles.  An ok prospect with a number of sandbars.  Put-in is a trick (see above).  Take-out is somewhat speculative.  Am not 100% sure this is viable but it is a public park with parking close to a slough.  The slough may not be accessible in low water.
Sunny Vale Softball Complex to Mouth:  5.1 miles.  Some sandbars to start, then the river gets squiggly as it enters the delta. Numerous take-out options including Mallard Lane Boat Ramp, Rookery View Park and DC Everest County Park.
Not listed are several of the Big Rib tributaries.  The most interesting one is Black Creek running from Erbach Park/Athens to Meridian Road (5.8 miles).  This contains neat boulder gardens and rocky gorges but could also have unknown hazards.  This creek has been paddled before with the most popular section being a whitewater stretch by Athens per Rick Kark.  Also reviewed by AmericanWhitewater.org.
Nearby Guages
Big Rib River @ Rib Falls
Videos
Comments
How did your trip turn out?

Questions or comments?

Feel free to leave your feedback.