Lake Columbia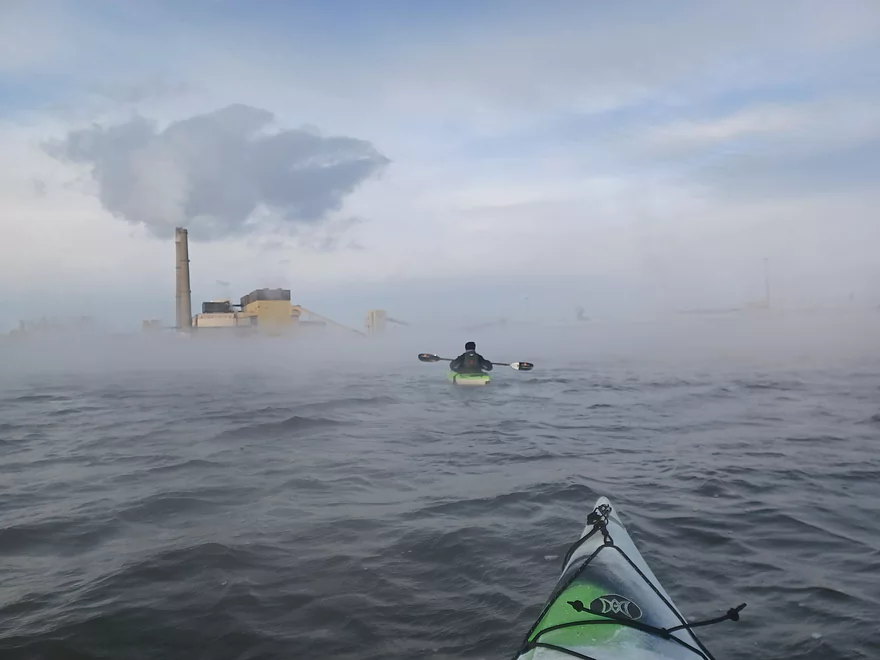 Put-in:
Lake Columbia Landing/Cty Rd V
Take-out:
Lake Columbia Landing/Cty Rd V
A bucket list warm water paddle for anyone who wants a truly unique and beautiful winter paddle in Wisconsin. Lake Columbia (aka Columbia Lake) is a 378-acre lake used by Alliant Energy as a cooling pond for their 1,100 megawatt coal powered plant.  Water is drawn from the nearby Wisconsin River and is used to cool the equipment. During the cooling process the water becomes superheated and is too hot to return to the river, so it is released into Lake Columbia to cool. In the winter, water near the plant can be as warm as 70° and can be over 100° in the summer. 
I gave this paddle a 4 stars mainly because of its uniqueness, its photographic opportunities, and the likelihood of seeing eagles. Due to the warm water and cold air there is always a lot of fog on and around the lake. This fog freezes to everything around the lake, trees, fences, grass, rocks, bushes, so everything around the lake is always covered with layers of hoar frost and beautiful ice crystals.  I strongly recommend going on a sunny day with little or no wind, and early morning and late afternoons for best picture taking and wildlife viewing.
The put-in is a large gravel parking lot on the south end of the lake, off of Hwy V.  There is no ramp but it is a short schlep from the parking lot to the water, and there is a concrete pad to launch from if you wish.  Since this is an out and back paddle on a lake the route you take will probably be determined by the conditions and the amount of time you want to spend on the water.  The Lake is about 1 3/4 miles long and less than 1/2 mile wide with a narrow dike running almost all the way down the middle the long way.  Whichever way you go, I recommend circumnavigating the lake by portaging the dike at the north end near the plant.  The dike is only about 30 yards wide and is an easy portage.  There is no set place, just portage wherever you can find an easy place to get out.  Keep your eyes out for wildlife on the shore as you paddle. Eagles are frequently spotted on the island on the right (east ) shore about halfway to the plant and on the other side of the dike on the far northeastern edge of the lake where there is a wetland with many large trees.
While this is a flatwater paddle, the lake can get quite choppy on windy days, and although the water may be warm(ish) you do not want to take a chance of going for a swim unless you are dressed for immersion (wetsuit or drysuit) so wait for a nice calm sunny winter day.  If you want to paddle with a group, check out Mad City Paddlers who do a "Fog Bowl" paddle every year on Jan 1st.
I used a nice little app called Relive to document my trip.  All you do is turn on the app, take photos along the way, and it creates a map and places your photos on the map. Here is a link to my map and pics of my trip can be viewed here.
Addendum from the Webmaster:
Thank you Eric for the guest review!  Note to readers, the Columbia coal powered plant is scheduled to be shut down in 2025.  At that point, Lake Columbia will no longer be a unique winter paddling experience.
WisconsinRiverTrips.com is always very appreciative of guest reviews, and if you the reader is ever interested in submitting one, you can use this online form.
Trip Map
Photos
How did your trip turn out?

Questions or comments?

Feel free to leave your feedback.