Belle Fountain Creek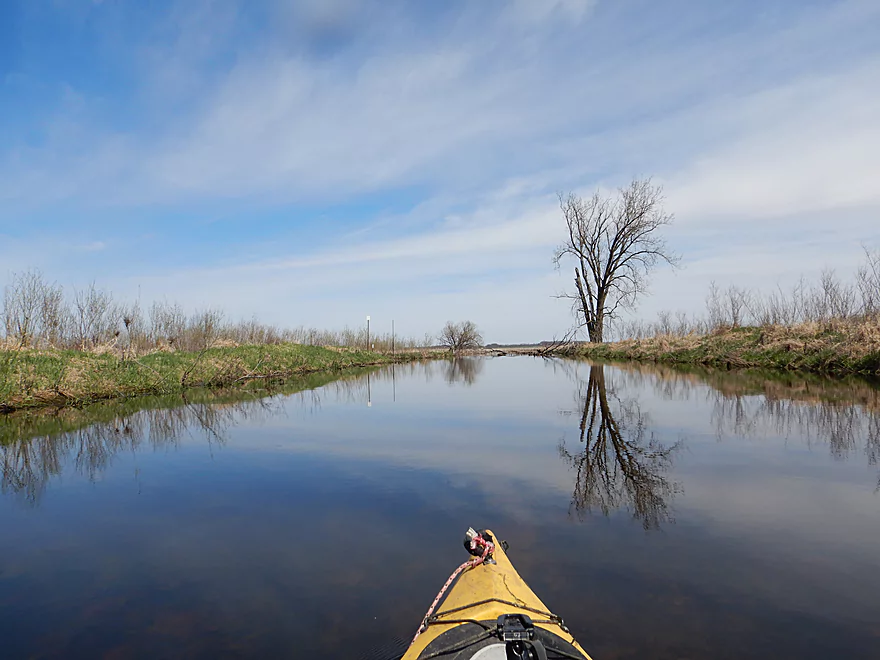 Bell Fountain Creek is a small tributary to the Grand River located about 15 miles north of Portage.   Somewhat obscure, I discovered it five years ago during my Grand River trip and it has been on my todo list ever since. 
I started the trip at Gillette Drive which was a decent put-in.  Despite the water being high from previous spring snowmelts, the water had excellent clarity, with a striking golden hue that afforded a great view of a clean and surprisingly sandy substrate.
The topography was quite flat, open, lacking in trees, and consisted mostly of shallow marshy banks.  I was constantly turning sharply right or left…not a good paddle for long boats.  Belle Fountain is fed by several significant drainage ditches that are straight as arrows though.  These are mostly bygone relics from when farmers tried to drain much of the marsh for farmland.
At about the half-way point, the creek slowed, widened and opened up in a way that reminded me of Neenah Creek.  But soon enough it narrowed and became squiggly again.  This time alders, willows and shrubs crowded the channel which required some ducking and dodging.  I never had to portage a logjam, but did have to hop over a submerged bridge as well as a few downed trees.  The most congested sections were near Lovers Lane bridge…it's all negotiable but probably best done in small boats.
I debated taking out at Hwy B, but decided to lengthen the trip by paddling out to Grand Marsh.  Past the bridge, the creek changed in character (for the better).  Here the channel straightened dramatically (suspiciously so) and the banks lost their scrubby and pokey alders.  This was the best part of the trip and even featured several small but nice sandbars. 
Finally the marshy wetgrass was replaced by cattails which demarcated the start of the Grand Marsh.  This is a significant lake created by the impoundment of the Grand River.  Much of the shoreline is owned by the DNR and set aside as a wildlife area.  It's a fantastic spot to see waterfowl and in some ways rivals Horicon Marsh.  Unfortunately the east end of the lake has been largely silted in because of the dam and has become overgrown by a huge labyrinth of invasive cattails.  Curing the cattail problem (just like Horicon) would be easy…remove the dam (cattails love dams).  With a stronger current and more varied lake levels, the cattails would die back significantly.  The original marsh could be protected by filling in the drainage ditches.  But I doubt the marsh will ever be restored to its native state.
As I entered Grand Marsh, I encountered this massive cattail estuary.  My hope was to paddle through it to reach the open water portion of the lake, but I was starting to get nervous that I could get lost in some of the many divergent cattail channels (this happened to me in 2014 and to two kayakers in 2018).  While I'm not a fan of invasive cattails displacing native marsh species, they were incredibly scenic.  They blocked the wind and waves, which resulted in a perfectly smooth surface that beautifully reflected the blue sky and clouds from above.   On sunny days with little wind, this is one of the more photogenic marshes in southern Wisconsin. 
Given the popularity of corn mazes, I think it would be amusing if somebody created a cattail maze here for paddlers.  Seriously though, I wish the DNR would mark open passages with signs and drone scout obstructed sections for clean-up.  Obstructed waterways like the Grand Marsh and Mukwanago River (all the by-product of artificial dams) could really benefit from this.
I never did find the lake, so just gave up and turned around.  The current on the creek wasn't super strong, so it wasn't too difficult to paddle upstream to reach my take-out at Hwy B.
In summary, this is a particular trip that some paddlers will like more than others.  Those that enjoy clear water and scenic marshes will like it, while those that don't care for small creeks, sharp turns, and occasional overhanging alders may not.
Noteworthy Wildlife:
Some ducks, one clam, one deer, and many singing songbirds (an advantage of spring paddles).  The highlight was a particular pair of geese who kept buzzing past my head in low, fast circles like aircraft in a holding pattern.  They weren't being friendly, but rather were trying to shoo me out of their territory.
Put-in:
Gillette Drive was a decent put-in with a good launch area, but the shoulders were a bit steep and I had to drive 300′ away from the bridge to find a suitable parking spot. 
An alternative put-in 3.5 miles upstream is at Golden Road.  Launching here would be easy, but the shoulders are even steeper and narrower than those at Gillette Drive.  You may have to leave your car some distance from the bridge.
Take-out:
Hwy B is a good take-out option.  Much of the adjacent land to the south is part of a public easement and there is a public pull-off where you can leave your car.  Don't park on the shoulder as not one, not two, but eight signs tell you not to do this (despite there being plenty of shoulder room).
An alternate take-out would be 4.0 miles downstream at the Grand Marsh Dam.  This would include some lake paddling and scenic sections with cattail corridors.  The dam has a public access option, but vehicle access is usually restricted outside of summer by the DNR…so some hiking to reach your parked car at Fur Drive may be required.
There are other take-out options on the Grand Marsh.  For more information see my overview map.
Shuttle & Rental Information:
The bike shuttle was 3.5 miles and started with a few big hills, but then was mostly flat after that.  This is the heart of Amish country, which means you'll have to bike around a fair number of horse apples and may even see some carriages.  I biked past the largest congregation of carriages and horses I had ever seen (likely an Amish church service).
Hazards, Logjams and Current:
Current:  Slow but steady.
Low Bridges:  There was one low bridge I encountered shortly after the put-in.  I was able to hop over because of the high water, but typically this would have to be portaged (easy).
Logjams: I didn't have to portage any logjams, but did have to hop over two downed trees and dodge one minor strainer.  The low-hanging alders and willows by Lovers Lane can be thick and a bit of a nuisance, but I've faced much worse.
Wind: This mostly won't be a problem, unless you run the open sections after Hwy B.  If you continue out to the main lake area, then wind direction/speed should become major considerations.
Getting Lost:  If you paddle the cattail marsh be mindful that it is easy to get lost.  Bringing GPS with is advised.
River Depth and Navigability:
There is no gauge on Belle Fountain Creek, but it's watershed is very similar to and just next door to the Upper Fox which has a gauge at Pardeeville.
6.6′-6.9′:  Very shallow depth, but likely still navigable with excellent clarity.
7.0′-7.4′:  Likely an average depth.
7.5′ to 7.7′:  Above average depth.  Still good clarity.  I did the trip at 7.57′.
7.8-8.0′:  A high depth, but likely navigable.
8.1+': Banks may burst their banks at this point.  These are all just guestimates.
Note if you plan on doing a round trip between Hwy B and the Grand Marsh, you may prefer a high flow rate.  When the Grand River is high it will backfill Belle Fountain Creek, which will slow the creek current and make round trips more viable.
Alternate Belle Fountain Creek Trips:
For more detailed information about the access options, see the overview map.
Dalton/Hwy FF to Golden Road:  5.6 miles.  Very small and windy creek paddle though mostly open marsh.  Maybe a handful of logjams.  Low hanging alders will be the biggest nuisance.
Golden Road to Gillette Drive:  3.5 miles.  Very open marsh section with few trees.  Simple, but likely a pleasant paddle.  Parking is difficult at Golden Road because of the steep shoulders.  Maybe one logjam.
Gillette Drive to Grand Marsh(Open Water):  4.5 miles.

Gillette Drive to Lovers Lane:  2.8 miles.  Very windy section through mostly marsh.  Some obstacles but nothing serious.  Very sandy and clear.
Lovers Lane to Hwy B:  0.5 miles.  Short but pleasant tweener section.  About half of the banks here are part of a public easement.
Hwy B to Grand Marsh(Cattail Estuary):  0.7 miles.  This has likely been artificially straightened by farmers, but is still a great section with fantastic clarity.  Lot of sand including several small sandbars.  The current is just slow enough that round-trip/upstream paddling is viable.
Grand Marsh(Cattail Estuary) to Grand Marsh(Open Water):  0.6 miles.  Separating the open lake from the creek mouth is a huge cattail marsh.  Getting lost can be an issue here, but it is incredibly scenic, especially on cloudless days with little wind.

Grand Marsh(Open Water) to Grand Marsh Dam:  2.7 miles.  Mostly open lake paddling.  Wind can be an issue.  Take out north of the dam.  A hike from Fur Road may be required to reach your car if the DNR gates shut the dam access road.
For more trip options on the Grand River see my previous review.
Trip Map
Overview Map
Video
Photos
2 Comments to "Belle Fountain Creek"
How did your trip turn out?

Questions or comments?

Feel free to leave your feedback.