Bark River – Hartland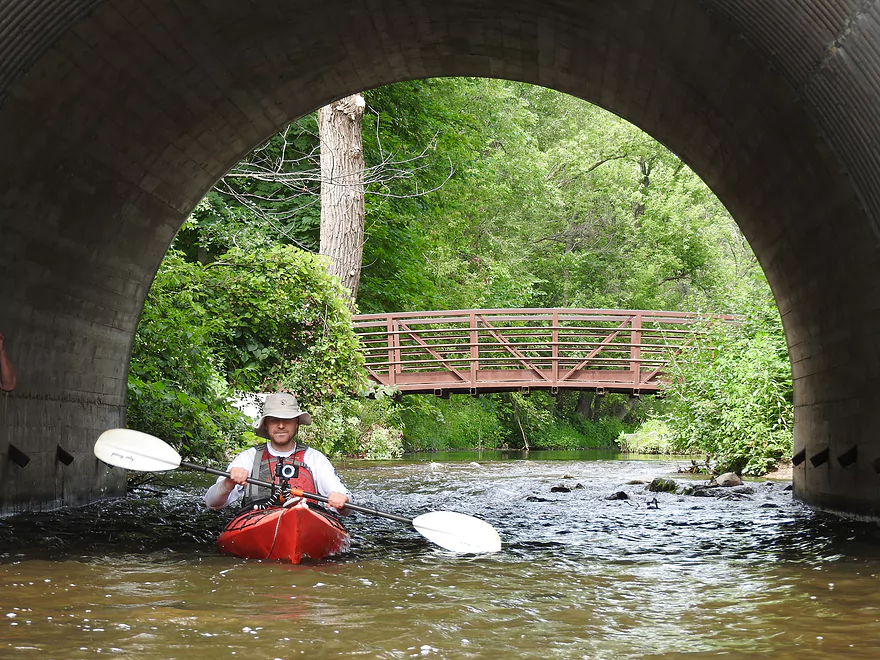 Take-out:
Delafield Post Offcie
Time:
6 hours 33 minutes (3 hours would be more typical)
We started the trip at Bark River Park in Hartland Wisconsin.  Here the river isn't much more than a creek and was encapsulated by low hanging branches.  Just upstream is a large 350′ tunnel which because of a bend is almost completely dark.  This was a fun side diversion and featured a "skylight" (drainage grate) which shot a beam of light from the top into the darkness below.
We continued downstream through suburban Hartland past several scenic bridges including one covered bridge.  A large softball complex is located next to the creek and we frequently found balls in the water (we collected a total of 15 on the trip).  The channel had good clarity, but wasn't as top-notch as the Delafield leg which we did three years ago.
Upon entering downtown Hartland we encountered a 90′ tunnel that ran under Capitol Drive (site of an old mill).  Here were the strongest rapids of the trip which were a lot of fun.  The rapids would continue up to Cardinal Lane and were a trip highlight.  Unfortunately while the vast majority of our trip was well padded, the Hartland rapids were occasionally bumpy and shallow.  Another trip highlight was at Nixon Park where a fantastic stone arch railroad bridge crossed the river (very scenic and used as the featured image of this review).
Cardinal Lane roughly marks the end of Hartland and most of our urban paddling.  This bridge is quickly followed by Cottonwood Ave, which is THE lowest bridge I've ever seen.  It was built mere inches above the water and I honestly don't know why the city doesn't consider it a major flood hazard.  Thankfully it was an easy portage.
From Cottonwood Ave to Hwy 83 spans the Hartland Ice Age Marsh.  Along the eastern end was a brief wooded section that did have some deadfall issues that took some extreme limbos to get past.  On top of this there is a super low trail bridge that had to be circumnavigated.  Before 2015, this all used to be much worse but "Buckthorn Man" and the "River Rats" did some considerable cleanup work on this very stretch and their efforts are very much appreciated.
Following Hwy 83, the river channel narrowed and became a bit more wooded.  While still marsh-like, this "lower marsh" was much nicer, had more wildlife, and was more varied.  It also had less deadfall, but we did have to portage one logjam.  Following Nagawicka Road, the river becomes more developed and pontoon boats were frequently parked along the shore.  It was interesting seeing these large boats crowded onto what really is in essence just a small 30′ wide creek.
Next up was Lake Nagawicka which took about two miles to cross.  This is actually a nice lake with clear water and some quiet parts…but the shoreline is heavily developed and occasional motorboats were a nuisance.  There are several access options on the lake itself, but we opted to exit the lake by the dam.  Finding the outlet isn't super easy on such a big lake, but if in doubt just follow the cell tower and steeple located in Delafield.
After the dam was a small rocky section with exceptionally clear water.  It was here we launched our Delafield trip three years ago and things have changed since.  Kayaking the Delafield Bark has become quite popular with locals, a new kayak ramp exist north of Mill Street, and there are now kayak rentals available at Saint John's Park.  Despite having several nice take-out options we opted to disembark by the Delafield Post Office which was a good access option because the parking lot is close to the water.
In summary, this was a varied and good trip, but some of the logjam dodging in the Hartland Ice Age Marsh knocked a star off the ratings.  Hopefully locals will do another cleanup effort…I really think kayaking could take off in Hartland like it did in Delafield if this were to happen.  The trip highlights were the rapids and historic railroad bridge.  The lowlight was Nagawicka Lake…not because it is a bad lake paddle, but rather it was so big and almost was a small trip in itself.  Paddlers certainly don't have to go across the lake if they don't want to.  On my overview map, I've subdivided this trip into segments and show additional access options, so paddlers can make their own plans.
Local Diversions:
Hartland Ice Age Marsh: This is a large marsh located just south of Hartland and is popular with locals.
Ice Age Trail:  The Bark River is located along the edge of the Terminal Moraine.  There is an Ice Age Trail segment that parallels the river in Hartland and it looks like a neat hike.
Noteworthy Wildlife:
Sights included deer, two otters, a mink, one beaver, two great blue herons, a crayfish, many cool looking spiders, and a number of zebra mussels.  The highlight were four relatively tame cranes hanging out on a lawn by Nagawicka Road.
Put-in:
We started the trip at Bark River Park located in Hartland.  Bark Park is mostly used for community softball games, but is well suited as an access with free parking and nearby restrooms.  The best launch option will be at the north end of the park by the pedestrian bridge
For those interested in a longer trip, there are several decent upstream access options.  But be warned…satellite images appear to show some logjams north of Hwy 16.
Conversely you could shorten the trip by using one of the downstream bridges, but this isn't recommended as you would miss out on the rapids.
Take-out:
We took out by the Delafield Post Office (just downstream of Genessee Street).   Here the river is shallow and it is easy to climb out onto the riprapped shoreline just next to the post office parking lot.
There are numerous alternate take-out options. 
Mill Street Landing:  There is a brand new ramp and launch area east of Genessee Street.  This is a good access option, but you must park on the street which can fill up.
St. John's Park:  The land north of the dam is a public park and you can drag a boat along the park trail to the parking lot.  But…this is a long 500′ hike and the small parking lot fills up quickly on weekends.
Bleeker Street Boat Launch:  Located east of the dam on Lake Nagawicka, this should be a good launch option…but only if you are a Delafield resident.
Naga-Waukee Park: This is a fantastic park and does have a boat ramp.  But…you must pay $6 for a launch fee and the parking lot is a 1200′ hike uphill from the ramp.
Other Options:  For many more access options on the Bark River, see my overview map.
Shuttle & Rental Information:
Bike Shuttle:  The bike route would be 5.9 miles, would include 95′ of hill climbing, and some town pedaling would be required.  You'll have to deal with some traffic, but it should be manageable as long as you avoid Hwy 16.
Kayak Rentals:  There is a kayak rental now located in St. John's Park which appears to be new.  For more information contact 'Clear Water Outdoor' at (262) 303-4206.
Hazards, Logjams and Current:
Current:  The current was quite varied….Hartland was fast because of the rapids, while the marsh segments were slow.  The river picked up steam though when it got closer to woods.
Low Bridges:  Cottonwood Ave was the lowest bridge I've ever seen and must be portaged.  There is also a ridiculously low trail bridge after Cottonwood Ave.  Both portages were really easy.
Logjams:  About a half mile past Cottonwood Ave there was a congested section that included a handful of "duckers" and "hoppers".    Most paddlers will need to undertake 2-3 logjam portages here (unless you are very good at limbo-ing like your truly).  I don't think portaging the Bark River here is a major deal because the banks are relatively flat with little mud.  Past Hwy 83 is a logjam that will also have to be portaged (river right).                                        
Lake Paddling:  Roughly two miles of this trip were over Lake Nagawicka.  This means you should be mindful of forecasted headwinds, be careful around speedboats, and should wear a life jacket when far from shore.
Rapids: There are a number of rapids in Hartland between Capitol Drive and Cardinal Lane.  They are mostly simple Class 1 rapids, but the chute under Capitol Drive could be Class 2 in higher water.
River Depth and Navigability:
There is a gauge conveniently located at the take-out.
0-20 CFS:  A very low depth with exceptional clarity.  The Hartland section though will likely be too shallow to run. 
21-35 CFS:  We did the trip at 31 CFS which was a low depth.  The Hartland rapids were pretty bumpy and we did run aground here and there, but this was still a viable depth for flatwater kayaks (v-hull and whitewater kayaks will need higher water).  Past Hartland, everything is plenty deep (minus a quick stretch under the Nagawicka Road bridge).
36-60 CFS:  A good depth, but clarity won't be as good.
61-80 CFS:  A high depth but likely still viable.
81+ CFS:  The river might be too dirty and pushy in Hartland to run.  If you know for sure, let me know in the comments below.
Detailed Overview
For more information on access options see my Overview Map.  For a background on area human interest stories, I recommend the book "The Bark River Chronicles".
Hwy Q to N Road:  0.1 miles.  Small, channelized and weedy…this may require high water to run.
N Road to Hillside Road:  1.4 miles.  Small and marshy with maybe 2-4 logjams.  High water is likely needed to run this part.

Hillside Road to Hwy 164:  2.0 miles.  Maybe 5-10 logjams.  Very small and marshy.  Likely needs high water to run.

Hwy 164 to Lisbon Park:  2.9 miles.  Maybe 2-4 logjams.  The channel here is small, shallow, weedy and bog-like.  High water is recommended.
Lisbon Park to Merton Dam/Firemen's Park:  1.3 miles.  Mostly simple flowage paddling.
Merton Dam to Bark River Park:  4.9 miles.

Merton Dam to Dorn Road:  1.2 miles.  Very scenic section with great fall color.  Highlights include some boulder gardens, springs, clear water, and pine trees.  Diverse banks with some woods and some marsh.  There is one tricky logjam by the old mill.
Dorn Road to Hartling Road:  0.7 miles.  A short but pleasant open section with no logjams.
Hartling Road to Rybeck Road:  1.0 miles.  A scenic mix of light woods, marsh, and a few boulder gardens.  There was one easy logjam to portage and a few hoppers/duckers, but it is mostly open.
Rybeck Road to Centennial Park:  1.0 miles.  Starts open and has a fantastic boulder garden.  The last part is more cluttered with a number of logjams to hop over.  I never had to portage though.
Centennial Park to Bark River Park:  1.0 miles.  A fast wooded section with multiple logjams.  There are about four major logjams in a row, but you can skip them all by portaging on the boardwalk to the east (super easy).  There are some additional hoppers beyond this stretch, but I didn't think they were too bad.

Bark River Park to Delafield Post Office:  6.1 miles.

Bark River Park to Nixon Park:  0.7 miles.  Terrific stretch through the heart of Hartland.  Highlights included many fun Class 1 rapids and one Class 2.
Nixon Park to Cottonwood Ave:  0.5 miles.  Nice stretch with a mix of light woods and suburban homes.
Cottonwood Ave to Hwy 83:  1.4 miles.  Mostly an open marsh section.  A few portages are required for downed trees.
Hwy 83 to Lake Nagawicka Mouth:  1.3 miles.  Less marsh and more woods…this is a nice stretch with good water clarity.
Lake Nagawicka Mouth to Delafield Post Office:  2.2 miles.  This is almost all lake paddling.  Lake Nagawicka has good clarity and some attractive shoreline homes, but it is heavily developed and suffers from excess motorboat traffic.  Several alternate access options exist along the lake shore.

Delafield Post Office to Hwy 67:  7.7 miles.

Delafield Post Office to Nemahbin Lake Boat Launch:  1.8 miles.  Likely the best stretch on the entire river.  Highlights include attractive rocky sections and stunning clarity.
Nemahbin Lake Boat Launch to Sawyer Road:  0.7 miles.  Mostly a simple paddle on Lower Nemahbin Lake.  Highlights include great water clarity, an attractive cattail corridor and the "Blue Hole".
Sawyer Road to Genesee Lake Road:  2.2 miles.  Very nice marsh paddle.
Genesee Lake Road to Summit Ave:  3.0 miles.  A good stretch with ecologically diverse banks.

Summit Ave to Hwy 18 Wayside:  3.8 miles.  A decent prospect.  The take-out is a small park/wayside and the last of the three Hwy 18 bridge crossings.  Note a recent reader comment says this stretch has many serious logjams.
Hwy 18 Wayside to Hwy E:  6.2 Miles.  Heavily channelized, but some of it still seems like it has potential.  Note a reader noted that this stretch has many serious logjams some of which are difficult to portage.
Hwy E to the Rome dam:  4.2 miles.  Half of this leg would be a flowage paddle on Rome Pond.
Rome to Cushman Road:  5.6 miles.  A fantastic stretch and one of southeast Wisconsin's paddling gems.
Cushman Rd to Hwy 106 Canoe Launch:  4.4 miles.

Cushman Rd to Hagedorn Rd:  0.6 miles.  A great leg with clear, fast water and many rocks.  Only downside is it can get shallow.
Hagedorn Rd to Hwy 106:  3.8 miles.  The first half is pleasant, clear and rocky.  The second half is more of a floodplain paddle with more mud and downed trees which was less interesting.

Hwy 106 canoe launch to Prince's Point Wildlife Area:  5.5 miles.  Be careful of the partly removed dam at Hebron.  There are definitely downed trees in this section.
Prince's Point to Burnt Village County Park:  7.1 miles.  Mostly floodplain forest and doesn't look as interesting IMO.
Burnt Village County Park to the Rock River:  5.5 miles.  Does not seem super interesting.  Landing is just upstream of the mouth on the east bank.
Trip Map
Overview Map
Video
Photos
2 Comments to "Bark River – Hartland"
How did your trip turn out?

Questions or comments?

Feel free to leave your feedback.