Eau Claire River – Harstad Park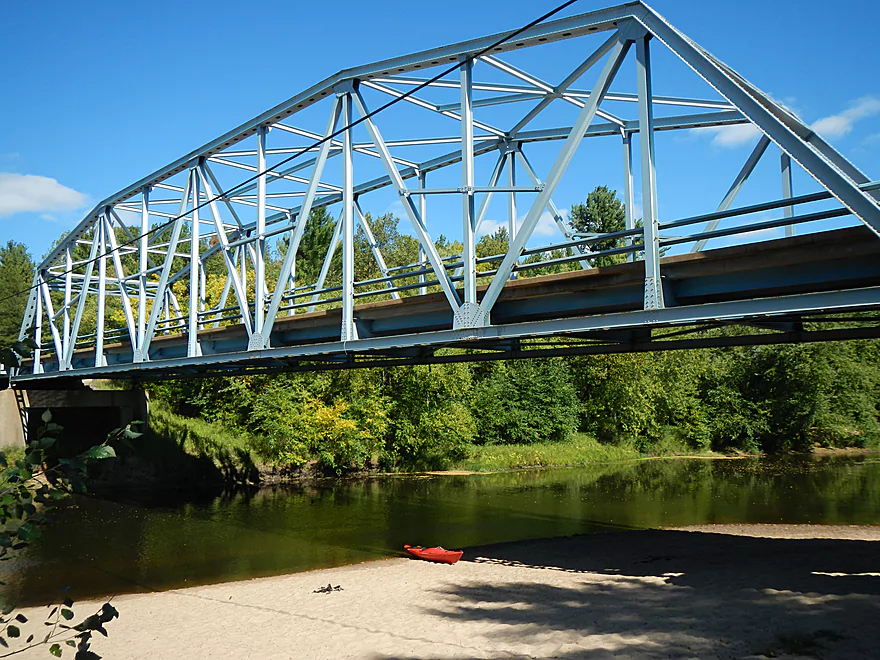 Date:
September 21st, 2013
There are actually three Eau Claire Rivers in Wisconsin, so this can be very confusing.  I previously reviewed the Eau Claire River that flows into the Wisconsin River at Wausau here.  There is another Eau Claire that flows into the St. Croix, but in this case the review will focus on the river that flows into the Chippewa River by the city of Eau Claire.
For the trip I checked with the nearby liveries and, despite the Eau Claire feeding right into the Chippewa River, those guys don't care to drive that far east.  Two main companies serve the Eau Claire, Riverside Junction and the brand new EC Adventures.  Both request phone appointments in advance.  The former didn't return my voice-mail, so the latter got my business.  In talking with EC Adventures, I initially had wanted to do the river above the large Lake Eau Claire (a big flowage), but 'Pat' convinced me it was too shallow and said there was a great section from Harstad to Hwy D below the lake that he recommended.  He said he had put people in on the upper Eau Claire, but clients complained they were getting out of their boat every 30 minutes.  I will touch on further paddling options later in the review though.  After having had my share of bad livery services, EC Adventure was great to work with and they were very helpful.  One correction (and hopefully this doesn't come off as paddle snobbery), is that they inaccurately refer to the section below Lake Eau Claire as the "North Fork" and the section above the lake as the "South Fork".  I triple checked and both the north and south forks are located upstream of Lake Eau Claire, with the confluence being maybe 10 miles to the east.  So hopefully that is not too confusing.
Despite Harstad to Hwy D being a downstream section, I was warned I would have to get out multiple times because of the shallow water.  This proved not be the case, as I never had to get out once.  This might have been because of the recent rain or, as I would prefer to think, my superior navigation skills.  Being able to read the river makes  a huge difference in not getting stuck.  Remember, still water flows deep, fast water flows deep, outside turns flow deep, and the shoreline angle continues underwater (avoid flat sand bars and hug steep banks). 
There used to be a gauge on the Eau Claire, but that no longer works.  The Chippewa is the closest river, but that is too big to approximate water levels for the much smaller Eau Claire.  The gauges at the Yellow River or Red Cedar might work.  I chose the gauge on the upper Black River.  Since its watershed is so close to the Eau Claire, I assumed that would be most helpful.  Note:  this summer we had a drought and September is always a low time to paddle.  Even so, I was told just a week or so earlier, the river (lower section) was easy to navigate, so I wouldn't worry too much about water levels.  For the upper section, I assume you would have to go spring or early summer (there can be nasty rapids during high water though).  Call the liveries for the latest water level information or call the Eau Claire County Parks Service at 715-839-4738.
For putting in, Harstad Park is very nice.  It has bathrooms and nice parking, but is a medium hike to the river though.  I don't recall a notice for a park fee, but a number of parks in the area do require a county sticker (I think it is 3 dollars).  In theory, I could have put in further upstream by the Eau Claire Lake dam.  This would have extended the trip by a half mile, maybe.  I know people do this,  but I'm not sure if they put in by the dam or by the Hwy 27 bridge downstream.  People do portage the dam, so there should be a portage path in the area.
This segment has its share of rapids (maybe 6-7), but all are class 1 and pretty tame at low water levels.  These might be trickier during spring high water though.   If there were rapids, chances are I took a video so you can get a feel for them.   The river generally moves along at a solid (but not fast) pace.  The rapids should be fine for beginners, although there was one section where the rapids could push the boat under a downed tree.
Initially I thought there would be nice rock outcroppings on this segment.  This was largely untrue, although there were some nice boulders and a few runty outcroppings.  This river does have nice rock outcroppings and boulder gardens on it…just not on this section.  This doesn't mean this segment wasn't scenic though.  The highlight of the trip was the sand.  The sandbars are topnotch and this would make a great camping river.  I suspect the popularity of the Chippewa steals camping canoers away from the Eau Claire, which is a shame as, while the Chippewa is a beautiful river with scenic wooded hills in the background (from what I remember as a kid), it is IMO probably too big to be a great paddling river (too much open water paddling.)  The East Fork of the Chippewa though is a five star prospect though that I hope to explore in the future.  Besides great sandbars, the river has wonderful sand banks–very long, that run around corners and are very cool.  Most are maybe…15′ high?  So, they aren't too big…but the exception is close to the end of the trip, where you'll see two massive sand banks, which were the highlight of the trip.  I have images and video below, but it is hard to communicate their epic size.  They reminded me of ones I saw on the lower Black River, but these were larger and had nicer sand.  While you can get right up to the first one, the second was somewhat inaccessible because of the low water, which forces you to paddle around an island away from the bank.  During high water you should be able to get close to that one as well.
The other nice thing about this segment is that the water is wonderfully clear.  Along with the sandbars, there were some gravel bars (like the Black).   Despite being an "up-north" river, there were mostly hardwoods on the banks, with some pines, which should make it a good fall color river.  Trees were actually starting to turn during my trip.  You probably won't see too many people on the river.  I saw just one other small group, as I don't think this is a super popular river, but it probably deserves more attention.
Take-out is at the Hwy D bridge and on your left.  Good parking, but no bathrooms.  While somewhat designed as a canoe landing, there is a very serious incline over cement to the actual launch area (see pictures) which took me by surprise.  Workable, but not super convenient, and it would have been handy to have a rope to pull the kayak up with.
All in all, this was a great trip that I recommend.  Can't give it five stars, as I was a tad let down not seeing rock outcroppings as expected, and some sections aren't as interesting.  But this is still a great paddle and I suspect the upstream sections are clear-cut five star segments that I hope to explore in the future.
Detailed Overview
North Fork:
Upstream of Township Memorial Park:  While probably navigable I just don't know enough to speculate.
Township Memorial Park to Hamilton Falls Road:  2.9 miles. 
Hamilton Falls to North/South Fork Confluence:  7.8 miles.  Main stretch of North Fork.  Scenic and riffly but narrow and might need high water.  Roads are poor.  You can launch above or below Hamilton Falls.
South Fork:
Upstream of Koehler Ford Lane: 

Dickerson Ave to Kohler Ford Lane (Main Branch):  7.3 miles.  Very sandy stretch and likley a handful of logjams.  Probably nothing special about it.
Rock Dam County Park to Kohler Ford Lane: 4.5 miles.  Half this trip is on Hay Creek which has some neat dells.  Launch below the dam.  Maybe some logjams but should be easy to portage on adjacent sandbars.

Koehler Ford Lane to Hwy H:  5.1 miles.  Pleasant stretch.
Hwy H to North/South Confluence:  3.1 miles.  A sandy segment I don't know much about.  Likely nice.
Main Channel:
North/South Fork Confluence to Eisberner Memorial Park:  0.8 miles.
Eisberner Memorial Park to Hwy G:  5.1 miles. Good section with boulder gardens and Class 1-2 rapids.  Water levels can be fickle though.
Hwy G to Lake Eau Claire Dam/Lake Eau Claire Park:  6.1 miles.  Probably uninteresting flowage paddling.  Alt access on the north shore by the county park.  Note the portage past the dam to Hwy 27 would be very difficult.
Lake Eau Claire Park to Hwy 27:  0.3 miles.  A scenic section with rapids and rock formations.
Hwy 27 Landing to Harstad County Park: 1.7 miles.  Launch on a newish landing under Hwy 27.  Neat granite outcrops in the area.
Harstad Park to Hwy D:  8.5 miles.  Great section with epic sandbanks.
Hwy D to Big Falls Park:  6.7 miles

Hwy D to Hwy K Landing:  5.5 miles.  Good section with a number of sandbars and one set of fun Class 2 rapids.
Hwy K to Big Falls Park:  1.2 miles.  A short stretch with one nice beach by Hwy K.  Big Falls Park is very scenic but has some serious whitewater and falls.

Big Falls Park to Hwy QQ:  5.6 miles.  You can launch from either the north or south shore, but either way it is a long hike to the water.  This should be a pleasant stretch with some nice sandbars.
Hwy QQ to Altoona Lake Dam: 4.5 miles.  Half of this flows through a broad sandy channel and half through a flowage lake.  There is an alternate take-out at Lake Altoona Park.
Altoona Lake Dam to Mouth:  3.3 miles.  A neat section through downtown Eau Claire with some Class 2 rapids.
Eau Claire Mouth to Hobbs Landing: 1.9 miles.  A short paddle on the Chippewa through the University of Eau Claire campus to reach your take-out.
Coon Fork Creek:
This is a a wild card prospect referred to me by canoe author Mike Svob and EC Adventures.  The main route starts at Coon Fork County Park (by the dam).  I checked it out and it actually looked really cool.  The area is very rocky and it appears the creek flows partly through rocky dells and canyons before emptying into the Eau Claire (at which point you could take out at G).  While shallow looking (when I scouted it), I thought it might be runnable as is (can't be certain though).  Reminds me of perhaps Robinson Creek or Spring Brook in the Dells.   RiverDarter.com has a nice video of the creek here.
Bridge Creek:
This is a really cool tributary to the Eau Claire with rocky dells and striking sandbanks.  Reviewed here.
Trip Map
Overview Map
Video
For best quality, view in fullscreen and 1080p


Photos
10 Comments to "Eau Claire River – Harstad Park"
How did your trip turn out?

Questions or comments?

Feel free to leave your feedback.