Kittleson Valley Creek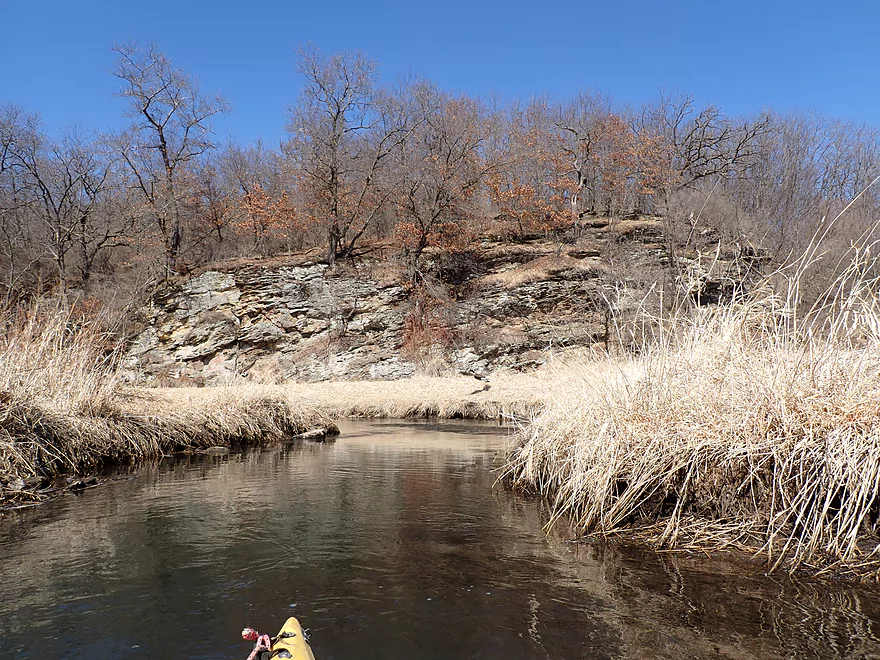 Put-in:
Hwy H (upstream of Kittleson Rd)
Kittleson Valley Creek is a small trout stream located a half hour southwest of Madison.  As part of the larger Pecatonica River watershed, it feeds first Gordon Creek and later joins the East Branch of the Pecatonica.  Seven months ago I didn't know it existed, but I happened upon it while driving south to Blanchardville for a trip on the East Branch.  It had nice outcrops and my thought process at the time was that I had done the wrong paddle….Kittleson looked so much nicer!  When I got home, I did some more map scouting and was impressed at how open (aka navigable) it was, but it wasn't always like this.  5-10 years ago the creek used to have a lot more trees (aka logjams), but these were cut down and significant bank work has been done to repair years of topsoil erosion. 
The heart of the creek (and its best parts) are between the last H bridge and Hwy 78, but that would have been too short of a trip. Extending a trip downstream didn't seem viable because of the logjams, so I opted to start much further upstream (on what technically was the Pleasant Valley Branch).   I put in at the second H bridge, which was a good bridge access that was nicely mowed for trout fishermen.
The first half mile (2nd H Bridge to Kittleson Road), featured a remarkably narrow creek.  In fact if one simply appraises this leg from the Hwy H bridge they may incorrectly deem it too narrow to run, but it wasn't.  Yes, in most spots I couldn't turn around my 10.5′ kayak had I wanted to, but the creek was mostly well padded and I never once came close to getting stuck.  I actually enjoy narrow creeks like this especially with good current (which this had).  It's as if you're zipping down a chute or on an amusement park ride.
The upper part of the creek was very clean and clear with ice cold water.  The banks flanking the creek were shallow and open with few trees.  You could see for some distance over open grasslands.  I don't think this is the case in the summer….then I suspect tall grasses overgrow the creek and block your view of the countryside.  In fact some of these grasses might partially overhang and block the creek in the summer, so IMO spring is the better time to paddle the creek.
The next mile (Kittleson Rd to Hwy H) saw the Pleasant Valley Branch soon join Kittleson Valley Creek and triple in size.  Here the creek was much straighter and less windy.  Evidence of significant bank work could be seen.  While this was done mostly for the benefit of trout, the removed trees made navigating the creek a cinch for kayaks.  This stretch was very open and had nice vistas of the open valley bottom.
The last mile (Hwy H to Hwy 78) was the best part of the trip.  If you see trout fishermen on the creek (I saw three), then chances are they will be hanging out here where the most extensive bank work has been completed and there is a nice network of mowed fishing trails.  The creek is constrained by a long bluff to the north and Hwy H to the south.  The top of the hill has seen extensive prairie restoration and is very scenic.  At the base of the bluff are a number of sandstone outcrops.  The first can be seen just after Hwy H and is the most impressive. 
I ended the trip at Hwy 78.  Just after the bridge the creek is ominously fenced with a No Trespassing sign.  This is where the easement for fishermen ends, but the landowner should have known better than block the creek as it is public.  Satellite images suggest there could be logjams on this next leg which is why I skipped it (maybe I'm wrong, but I doubt it).
In summary this was a really nice trip with clean water, good current, nice outcrops, and almost no obstructions.  Some paddlers might worry about how narrow the upper branch is, but to me that wasn't a big deal.  In fact had water levels been higher I would have launched further upstream.  The other concern might be that this trip is "too short" at just 2.4 miles, but IMO I would rather have a trip that is too short than too long.
Noteworthy Wildlife:
Sights included a mud dauber nest, a muskrat and some ducks.  Despite this being a trout stream, I didn't see that many fish, but I did see a few small ones.  The highlight was all the red-winged blackbirds singing in the background.  It was a very spring-like soundtrack.
Put-in:
Second Hwy H Bridge:  This was a very nice bridge put-in with mowed shoulders and a path to the creek.  Trout fishermen sometimes access the creek here.  Note, Hwy H crosses the creek 3 times…I'm referring to the middle bridge (just north of Kittleson Rd).
Alternate Put-ins:
Hwy A (2.0 miles upstream from my put-in)  Typically this stretch is only doable after a lot of rain.
First Hwy H Bridge (1.2 miles upstream from my put-in)  This was too shallow to run during my trip, but would be viable in higher water.
Kittleson Rd (0.6 miles downstream from my put-in)  Steep shoulder parking unless you park in a farmer's field access road (which you shouldn't do).  This is otherwise a nice bridge access.  Putting in this far downstream though means you'll have a short trip.
Take-out:
Hwy 78:  This is a decent bridge access.  The only downside is the banks are a bit steep for taking out, but it is doable.
Alternate Take-outs:
Third Hwy H Bridge (0.9 miles upstream from my take-out)  In theory this would be a decent bridge access, but if you take out here, you leave off the best part of the trip.
Drammen Valley Rd (2.5 miles downstream from my take-out)  This stretch is more wooded and may have 12 logjams.  Not recommended.
Shuttle Information:
Bike Shuttle – Hwy 78 to Second Hwy H Bridge:  1.6 miles with 36′ of ascent.  This was a super easy bike shuttle.

Hazards, Logjams and Current:
Logjams:  There was only one logjam located a few hundred yards downstream from the third Hwy H bridge.  I was able to barely duck under, but this would otherwise be an easy portage.  It wouldn't surprise me if this got cleared out in the future by trout fishermen.
Current:  Good current but never too pushy or dangerous.
Rapids:  There are a few minor riffles hear and there, but nothing significant.
Weeds:  Upstream from Kittleson Rd the stream is very narrow.  This wasn't a problem for me, but in summer the banks become overgrown and your boat may run against low hanging grasses.
River Depth and Navigability:
Trip Depth:  45 CFS or 2.14′ per the Black Earth Creek @ Black Earth Gauge  (Note the following are just rough guestimates)
0-20 CFS:  Too shallow.
21-30 CFS:  Likely too shallow, but I'm not sure.
31-40 CFS:  Below Kittleson Rd the creek should be fine for paddling.  Above, the creek may be a bit shallow in spots, but should be doable for shallow drafting boats.
41-50 CFS:  A good depth.
51-60 CFS:  A doable depth.  Clarity won't be as good.
61-80 CFS:  A high depth.  Launching from one of the far upstream bridges should be viable.
81-100 CFS:  A very high depth.  Creek will likely be muddy and not as clean at these depths, but one could likely launch all the way upstream by Hwy A.
Kittleson Valley Creek Overview:
Hwy A to 1st Hwy H Bridge:  0.8 miles.  Extremely small creek that is only runnable in very high water.
1st Hwy H Bridge to 2nd Hwy H Bridge:  1.2 miles.  Small creek that needs high water to run.
2nd Hwy H Bridge to Hwy 78:  2.4 miles. 

2nd Hwy H Bridge to Kittleson Rd:  0.6 miles.  Small creek (technically the Pleasant Valley Branch) that is a fun stretch.
Kittleson Rd to 3rd Hwy H Bridge:  0.9 miles.  Creek swells 3x as main branch joins the Pleasant Valley Branch.  Good open stretch that has been improved by the DNR.
Hwy H to Hwy 78:  0.9 miles.  Best and most popular stretch with fishermen.  Creek flows by a scenic bluff featuring several scenic sandstone outcrops.

Hwy 78 to Drammen Valley Rd:  2.5 miles.  Maybe 12 logjams.
Drammen Valley Rd to River Fork Rd:  4.4 miles.  Maybe 6 logjams.
River Fork Rd to Mouth on Gordon Creek:  0.4 miles.  Maybe 1 logjam.
Mouth to Hwy 39:  0.1 miles.  Should be open.
Trip Map
Overview Map
Video
Photos
One Comment for "Kittleson Valley Creek"
How did your trip turn out?

Questions or comments?

Feel free to leave your feedback.