Bad Axe River – South Fork – Hwy NN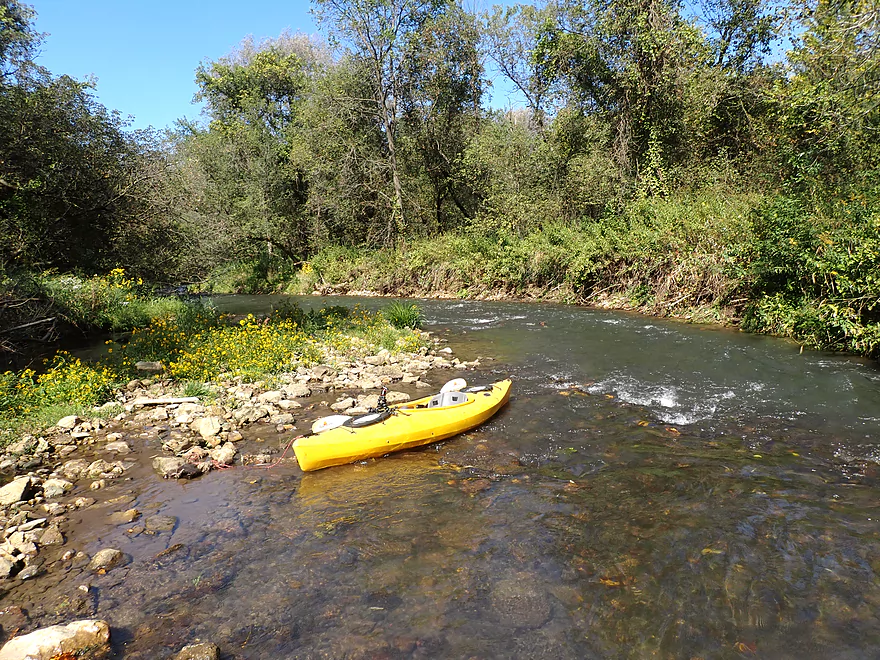 Date:
September 19th, 2020
Put-in:
Hwy NN (1st bridge)
The Bad Axe is an obscure river that empties into the Mississippi south of La Crosse.  It splinters into two main branches…a North Fork and a South Fork.  I did the North Fork last year and really enjoyed that trip which had a surprising number of rapids.  After that trip I scouted a number of other locations along the river including the South Fork.  I liked what I saw and it went on my to-do list (which is quite literal).
I started the trip at the NN bridge near Sidie Hollow Road.  Here the river was quite scenic with decent clarity, but quite narrow.  I wasn't too concerned about the narrowness, as I knew from studying satellite maps that the river would get wider and I decided to go for it.
The first quarter mile was the most challenging part of the entire trip.  The river was so narrow that at times it was tough to maneuver laterally…kind of like being an item on a factory conveyor belt.  Unfortunately this meant being pushed into rocks or strainers with little room to maneuver around them.  On top of this there were many rapids and chutes that often went around tight turns.  In several locations I just had to get out and wade my boat past some low branches and rocks.  But because this stretch was relatively shallow and not too muddy, this wasn't difficult at all.  In fact it's not uncommon to see fishermen wading through this stretch of the river.
The river then hit a long stretch of bluffs and became quite wooded for the next mile.  The scenery here was five stars and featured many attractive rapids.  One of the trip highlights was a scenic rock wall that back-dropped a fun chute.
Almost a mile and a half into the trip, Hornby Creek emptied into the South Fork.  This was a significant demarcation as it doubled (if not more) the flow of the South Fork.  Hornby Creek (while not very big) is a cool trout stream in its own right that I might explore in the future after a big rain…here is a nice picture of it.  After this confluence, the South Fork became much wider, deeper, and easier to navigate.  This trip also became significantly more enjoyable.
Just downstream from Hornby Creek I crossed the second NN bridge.  I advise most paddlers to launch here instead of at the previous bridge.  Yes, the previous 1.7 miles were quite scenic and in many spots quite navigable…but unless you're a hardcore adventurer, it's likely too much wading.
The trip after the second NN bridge was fantastic.  There were still many rapids, but most were now properly padded and there was (mostly) room to finally maneuver.  In a few spots a chute would go under a low branch, but I waded past any obstacle which was super easy. 
The scenery was stunning.  The Bad Axe flowed into a hidden driftless valley (locally called a "coulee") that featured attractive pastures and wildflowers.  Nearby large driftless hills hemmed the river in and forced it sharply north.  If the sun is out, north-facing paddles are a real treat.  This is because the angle of sunlight makes a big difference in the colors you see, and most of the time the sunlight comes from the south (in Wisconsin).  So ideally you want to paddle north to see front-lit scenery which has the most vibrant colors and richest blues.  During this trip there were some trees that were turning despite it being mid-September.  Had I saved this trip for a week later, the fall color likely would have been spectacular.
There were a few cows and fences…but not many and none of them were an issue.  This really reminded me of the West Fork of the Kickapoo River…except I liked the Bad Axe better.  At times it was also remarkably similar to the Blue River which is another favorite driftless paddle of mine.
I ended the trip at the Hwy N bridge, which was a tricky take-out because of the steep bank.  I regret not taking out at the next bridge, which I advise other paddlers to do.  The scene from the take-out was really cool…calendar-worthy really.  It was here I met an English fishermen who was equally impressed with the scenery.  He remarked that this must have been what England looked like 300 years ago.
In summary this was a fun trip that I enjoyed, but it does have its caveats.  Again…upstream of the second NN bridge the river likely requires too much wading for most paddlers, despite its good scenery.  The downstream leg was what I enjoyed the most and recommend.  However it too has many rapids and good boat control is required to get through these.  A beginner paddler could easily find themselves getting swept into a tree if they weren't careful.  This is only a river for those that know what they are doing.  Lastly, again I also recommend that paddlers not take out where I did…but instead continue to the next bridge (more good scenery + better access).
Noteworthy Wildlife:
Sights included eagles, crayfish, two cows, a snake and a woodchuck.  The Bad Axe River is known as a trout stream, and while I didn't see too many fish, I did see a few dark shadows darting through the water.  The river often paralleled bluffs which turkey vultures flew over.  Their shadows would appear on the water which was a cool effect.
Local Diversions:

Sidie Hollow Lake:  About five miles upstream of my Hwy NN put-in, the South Fork is dammed to create Sidie Hollow Lake.  This is part of a larger county park which features a very popular campground.  Many of the campsites are located by the river itself although at that point it's not much more than a small creek.  The lake is attractive and one of the best ways to see it is via a cool trail system which completely encircles the lake.  Three steep hills flank the lake which give it an enclosed feeling…it kind of has a poor man's Devil's Lake vibe.  You could kayak on the lake itself (there is a launch at the east end).  Another feature it is popular and scenic mountain bike trail.  The dam creating the lake is huge…maybe 40′ high, yet the lake is maybe just a half mile long.  I wouldn't be surprised if there used to be a waterfall here.
Put-in:
Hwy NN(1st bridge):  This was a manageable bridge access that is sometimes used by trout fishermen.  Note, Hwy NN crosses the Bad Axe in multiple spots…I launched at the first crossing (by Sidie Hollow Road).
Alternate Put-ins:
Hwy NN(2nd bridge):  1.7 miles downstream from my put-in.  This is a pretty weedy bridge access…but should be doable.  I suspect most paddlers will launch here as the preceding section is likely a bit too small for most paddlers.

Take-out:
Hwy N:  This is a popular access spot for trout fishermen.  The best parking is along the downstream/right corner.  Note the shoreline is steep here which can make pulling up a boat somewhat difficult.
Alternate Take-outs:
South Bad Axe Road:  1.5 miles downstream from my take-out.  This bridge access also has a steep bank to take out on…but is easier than Hwy N.  This 1.5 mile stretch is a very good prospect and features many light rapids, farm fields and open pasture.  I suspect most paddlers will take out here.
Anderson Ridge Road:  2.1 miles downstream from my take-out.  This is a steep and rocky take-out that might be difficult for paddlers to use.  The stretch between South Bad Axe Road and Anderson Ridge is likely ok, but likely has erosion issues with larger mud banks and perhaps a few logjams.
Shuttle & Rental Information:
Bike Shuttle:  Hwy N to Hwy NN (4.1 miles and 128′ of ascent).  This is a medium bike shuttle…there are a few hills to deal with, but it's only 4.1 miles.  This route is also scenic and doesn't have a lot of car traffic. 
Hazards, Logjams and Current:
Fences:  There are two cattle fences after the 2nd NN bridge…but both are super easy to duck under.
Low Bridges:  There is one low bridge after the 2nd NN bridge over rapids.  This was an easy portage.
Rapids:  There are countless rapids on this trip.  Upstream of the the 2nd NN bridge they tend to be narrow and rocky…which can make them difficult to navigate.  Downstream of the bridge, they are much wider, better padded, and funner.  Most rapids are Class 1, but there are a few Class 2's.  Any noteworthy rapids are featured in my video.
Strainers:  There are a number of strainers on this trip…most upstream of the 2nd NN bridge.  Most of these can be avoided with good boat control, but not easily.  If in doubt portage which most of the time is a super easy option.
Logjams:  Upstream of the 2nd NN bridge there were maybe 3-4 logjams.  Most were easy portages….but one portage was tricky as the downed tree blocked land access as well.  Downstream from the bridge, there were no logjams that needed portaging…but there were a few strainers.  Generally speaking the river was much more open after the bridge.
River Depth and Navigability:
Nearest Gauge:  Kickapoo River @ Ontario.  8.91′.  Note, the Kickapoo near this gauge is bigger than the South Fork…so likely isn't very representative.  I suspect the South Fork stays mostly shallow throughout the year but can rise sharply after a big rain.

< 8.75′:  Very shallow…likely not viable for paddling.
8.75-8.9′:  Shallow, but likely viable for paddling.
8.9-9.0′:  Some shallow spots but most mostly a good depth.
9.0-9.2′:  Likely a good target range.
9.2-9.3′:  A high depth that at which strainers could be a nuisance.
9.3'+:  Maybe too high for paddling.
Detailed Overview
Note, for additional information on access points please see my overview map.
Main Branch/North Fork:
Hwy B to Esofea County Park:  0.9 miles.  Small stream that would need very high water.  Attractive with many light rapids and steep hills.  Maybe one logjam.
Esofea Park to Helgeson Road:  1.1 miles.  Very fast and rocky section with open banks.  Small and requires very high water to be runnable. 
Helgeson Road to Hwy Y/Runge Hollow Dam:  3.0 miles.  Very tiny creek that runs through woods with perhaps a few logjams.  This would include Runge Hollow Lake which is nice and the dam can be portaged.  There is also a landing on the southeast side of the lake.
Runge Hollow Dam to Springville Branch Confluence:  2.4 miles.  Small and narrow.  Maybe a few outcrops and 2-3 logjams.
Springville Branch Confluence to Hwy O:  3.5 miles.  River gains significant volume from the Springville Branch.  This is a great leg with countless rapids and scenic driftless vistas.
Hwy O to Goede Lane:  4.5 miles.  Good prospect with more rapids, some pasture and what looks like a massive rice farm.  Deadfall finally starts to encroach on the creek here…maybe two logjams.  Goede Lane might not be the greatest access (see map for details).
Goede Lane to Munyon Lane:  2.1 miles.  Maybe 6-7 logjams.  Mud banks start to grow in size.
Munyon Lane to N. Ridge Road:  1.9 miles.  Very open and likely logjam free.
N. Ridge Road to Hwy 56:  1.8 miles.  Maybe 4 logjams.
Hwy 56 to Confluence of North and South Branches:  3.2 miles.  Maybe 5-6 logjams.
North/South Confluence to Henry Lane:  0.8 miles.  River doubles in size after both branches join.  Banks become muddier and taller.  Maybe one logjam.
Henry Lane to Amann Road:  1.6 miles.  Maybe 3 logjams.  A beat-up and messy section of woods.
Amann Road to Mouth on Mississippi:  2.0 miles.  Messy section frequently back-filled by the Mississippi.  Maybe one logjam.  There is a nice public landing directly on the mouth of the river.
South Fork:
Upstream Of Sidie Hollow Lake:  The South Fork splinters into a number of small creeks.  These are likely too narrow and shallow to paddle unless done during a very high water event.
Sidie Hollow Lake:  The river is impounded by a large dam to create a lake.  This can be a pleasant paddle.  A launch is available on the east end.
Lower Lake Road to Hwy NN1st:  4.6 miles.  The river is here is very small and shallow…but open and scenic.  This might be a viable paddle during a high water event.
Hwy NN1st to Hwy N:  4.5 miles. 


Hwy NN1st to Hwy NN2nd:  1.7 miles.  A fast, narrow and shallow creek that is very scenic with many rapids.  However this stretch is likely too small for most paddlers to enjoy.  There are 3-4 logjams and a handful of strainers in this stretch…most of which are easy portages.
Hwy NN2nd to Hwy N:  2.8 miles.  A terrific open stretch with many rapids.  There are a some strainers but these can be avoided with good boat control (or by simply portaging).

Hwy N to Anderson Ridge Road:  2.1 miles.

Hwy N to S. Bad Axe Road:  1.5 miles.  A scenic stretch with many light rapids.   Mostly free of logjams, but there is a fence to portage (not difficult).
S. Bad Axe Road to Anderson Ridge Road:  0.6 miles.  A good stretch, but not as good as the prior two legs.

Anderson Ridge Road to Oliver Road:  1.9 miles.  Maybe 1-2 logjams.  The river looks like it has been ditched somewhat by farmers.
Oliver Road to Lockington Road:  1.0 mile.  Maybe one logjam and kind of muddy.  There appears to be significant flood damage along this corridor.
Lockington Road to S. Bad Axe Road:  1.4 miles.  Very open section likely free of logjams, but muddy with tall banks.
S. Bad Axe Road to North/South Confluence:  1.5 miles.  Maybe 3-4 logjams.
Trip Map
Overview Map
Video
Photos
How did your trip turn out?

Questions or comments?

Feel free to leave your feedback.