Pecatonica River – State Line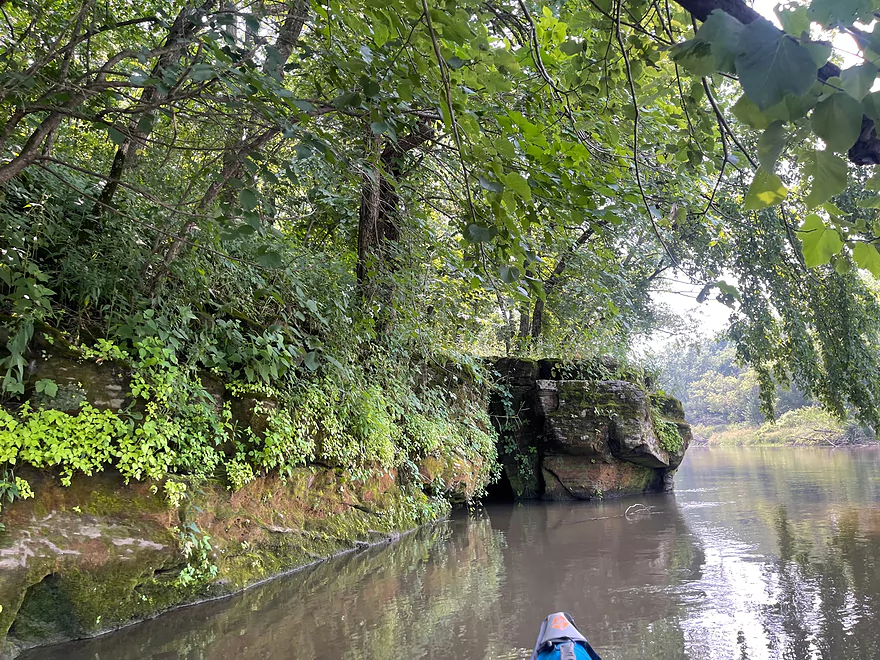 Put-in:
Browntown Boat Landing
Take-out:
Brewster's Landing
The Pecatonica is a very muddy river but maintains a good depth. This section is wide enough to avoid deadfall and is deep enough for motorboats. There were multiple pontoon boats parked along with a couple boats fishing but traffic was low.
The trip starts at the Browntown Boat Ramp, which is an excellent launch from Hwy 11. The scenery starts with mainly trees along the edges with farm fields right behind them. After the Hwy B bridge, the best scenery of the trip appears with multiple outcrops and bluffs.
After about a mile, the scenery returns to farm fields and trees along the river bank but in more of a valley. Forests pick up approaching Martintown.
Once past the Hwy M bridge, the trip continued into Illinois shortly after and the scenery goes back to farm fields lined with trees on the banks. Bridge Street crosses at Winslow, and the river turns east for the final stretch to Brewster's Landing.
The river is very muddy but this stretch of the Pecatonica River is great to paddle in periods of low water since this stretch is fairly deep. It's also wide enough where there are no log jams and is a very easy trip.
Addendum from the Webmaster:
Thanks Peter for the review!  WisconsinRiverTrips.com is always very appreciative of guest reviews, and if you the reader is ever interested in submitting one, you can use this online form.
Detailed Overview
Upstream of Hwy X:  I think the river up here is too shallow to run.
Hwy X to Hwy G1st:  4.2 miles.  This section is a small creek and may need high water.  Some logjams and probably small outcrops.  Hwy X is not a great access and lacks privacy.
Hwy G1st to Hwy E:  3.4 miles.

Hwy G1st to Hwy G2nd/Mifflin:  2.9 miles.  Great section with many rock outcrops and light rapids.  Shallow, but becomes much deeper after the Livingston Branch joins up.  Two fences, but easy to get past.
Hwy G2nd/Mifflin to Hwy E:  0.5 miles.  Short open section heavily grazed by nearby beef cattle.  Some fun rapids and outcrops are on this segment.  One fence to duck under (quite manageable).

Hwy G2nd/Mifflin to Hwy A:  4.4 miles.  An excellent prospect with good current, outcrops, a state natural area, and few logjams.  Martin (reader comment) kayaked this section and wrote a nice summary here that you can read.
Hwy A to Peniel Road/Hwy J:  1.7 miles.  Maybe two outcrops and two major logjams.
Peniel Road/Hwy J to Jones Branch Road:  2.5 miles.  Some congested woods with maybe 3 logjams and 2-3 outcrops.
Jones Branch Road to Powell Road:  3.1 miles.  A nice peaceful stretch with a few outcrops, 2 sets of light rapids, and one serious logjam.
Powell Road to Oak Park Road:  8.0 miles.  Very open section with no logjams.  Highlights include green rolling hills, oak savannas, a few rapids, and one outcrop.  Lowlights include four low fences.

Powell Road to Hwy 151/Blackstone Cattle:  4.4 miles.  The more scenic of the two sections with scenic hills and one outcrop.  There are two low electric fences to duck under.
Hwy 151 to Oak Park Road:  3.6 miles.  This section had more corn and trees, and wasn't as interesting but still was decent.  There is one low electric fence and one super low barbed wire fence.

Oak Park Road to Hwy O:  3.7 miles.  Likely some logjams but also some outcrops at the end.  Oak Park Road is a muddy but doable put-in.
Hwy O to Hwy G:  6.0 miles.  Some scenic moments, but mud and logjams are detractions.  Put-in and take-out are muddy.
Hwy G to Darlington/Festival Grounds Park:  9.1 miles.  A decent prospect.  As of 2020, there is a large logjam on this leg that requires a difficult portage up steep and muddy banks.  This might be cleared out for the 2021 Darlington Canoe Festival.
Darlington/Black Bridge Park to Roller Coaster Road:  4.2 miles.  A good prospect.  Fun rapids located by the campground.  Many put-in options in Darlington.  Take-out is muddy and tricky.
Roller Coaster Road to Walnut Road:  7.3 miles.  While one of the nicer legs on the lower Pecatonica, the river has been too badly damaged by erosion to be an elite paddle.  The highlight is a sandstone outcrop.
Walnut Road to Riverside Road:  5.5 miles.  Mediocre prospect flanked by a lot of farmland.  Excellent put-in and take-out.
Riverside Road to Hwy 78 Canoe Landing:  3.2 miles.  Mud banks grow to epic proportions…might actually be a few logjams in this leg. 
Hwy 78 Landing to Larse Road:  6.2 miles.  Straight, big, and muddy…not exciting, but there should be some decent rock outcrops halfway into the trip.  Take-out may be challenging.
Larse Road to Sargent Road:  4.3 miles.  Meh.  Put-in may be challenging.  Should be a canoe ramp at take-out.
Sargent Road to Hwy D/N:  4.6 miles.  Flows partly through a SNA and by a valley ridge so might be interesting…might not…
Hwy D/N to Hwy 11 Boat Ramp/Browntown:  8.8 miles.  The East Branch comes in and doubles the river (now pretty big).
Browntown to Brewster's Landing:  12.2 miles.

Hwy 11 Boat Ramp/Browntown to Hwy B:  4.8 miles.  Generic stretch with farm fields and a thin layer of trees.  Take-out might be tricky because of a guardrail but I think it's doable.
Hwy B to Hwy M:  4.6 miles.  A good leg with scenic bluffs and outcrops.  Put-in is meh…take-out might be bad.
Hwy M to Brewster's Landing:  2.9 miles.  Mediocre stretch that crosses into Illinois.

Brewster's Landing and Beyond:  The rest of Illinois I likely won't cover.  For more info, see Paddling Illinois by Mike Svob.
Trip Map
Overview Map
Photos
How did your trip turn out?

Questions or comments?

Feel free to leave your feedback.