Melancthon Creek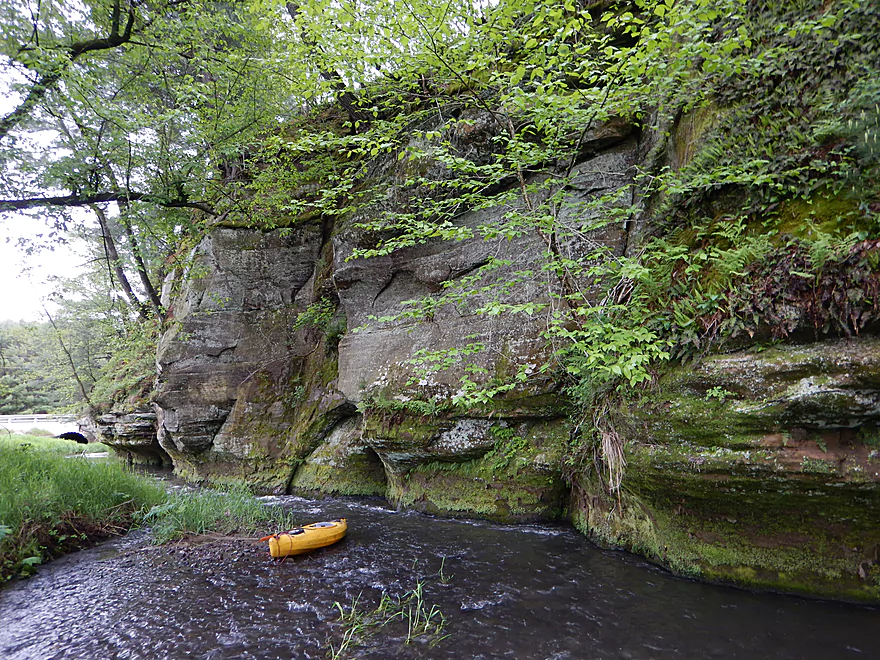 Put-in:
Hwy 80 (by Ek Lane)
Take-out:
Hwy 80 (south of Hwy C)
Time:
3 hours 45 minutes (100 minutes would be more typical)
Gradient:
15' per mile (quick stream)
Melancthon Creek is a small trout stream and a tributary of the Pine River located in Richland County.   I had stumbled upon it last week when driving to my Upper Pine Trip and it definitely caught my eye.  In studying the maps, the upper sections did not appear navigable, but the lower section did and seemed to be mostly clear of logjams.  The relief maps revealed sharp hillsides which usually means good geology, so this prospect quickly shot to the top of my to-do list.
I've never heard of anybody else paddling this creek, but it is not an unknown.  It's a popular creek with trout fishermen (I saw a couple) and most bridges have signs displaying the local trout rules.  The creek itself is almost too small to paddle (8-16′ wide on average) and is definitely not for big boats, but I did surprisingly well in my 10.5′ kayak.  You'll need enough water to run it as it can get too shallow during dry periods.  Chances are if everything else is running a bit high, Melancthon will be at a perfect depth.
This is a nice trip and all with fun riffles and a twisty, curvy channel.  But really the main reason I (or anybody else) does this is for the sandstone outcrops.  Yes, yes, many other nearby driftless streams have them…but what makes Melancthon unique is its density of outcrops.  In only 2 miles it features 12 major outcrops (and depending on where you take out on the Pine, could see 2-4 more).  This is a lot.  They are also quite varied.  You have some with nice mosses, ferns, and even flowers.  In some instances rapids undercut the base creating slanted overhangs, while other times they form a sheer, flat perpendicular wall.  Most are crowned with Wisconsin's tallest tree, the white pine.
There are even two tunnels.  One is small that you can paddle under and is ok but not special…  But the other is something else and consists of a ~40′ tunnel carved under a large outcrop by a small brook (well it might be from old miners, I don't know).  The creek mostly wraps to the right around the outcrop, but a small outlet cuts left directly under it and in very high water you could paddle completely through (it was too shallow during my trip).  What is interesting is that the creek channel is constantly squiggling in reaction to deposited sediment and eventually (10-20 years?) the main channel will flow directly under this outcrop which would be quite the sight.
Up until Borntreger Lane, logjams weren't an issue.  There were a few, but they were easy to portage as the banks were relatively shallow and firm.  But just south of Borntreger, there are a couple of clusters that were a downer and had steep muddy portages.  Detailed notes on all logjams are included on my map and in my photo gallery so you can decide for yourself if these are worth it.  The closer you get to the Pine, the more mud becomes an issue.  At times you'll see large mud walls, but it wasn't nearly as bad as the Pine and in many sections there is very little mud, shallow banks and an attractive gravel substrate.
If this trip just had a few fewer jams, I would have given it five stars.  As is, the creek is more suited for the adventurous, but hopefully in the future it will be properly cleaned up.
If you are interested in learning more about hidden driftless streams, I highly recommend the blog SeekingTrout.com which features some really cool photography.
Put-in:
Pretty good bridge access by Hwy 80 just south of Ek Lane.  Note, Hwy 80 crosses Melancthon Creek many times (8 on my trip), so you might use the map to orient yourself.
As an upstream alternative, I suppose you could launch off Century Farm Road which would add a few miles to the trip and some really nice geology…but I suspect there are too many nasty logjams this far north.
For downstream alternatives, you have a plethora of options and they all mostly work, but the further south you launch, the more outcrops you miss.  Most of the bridges have signs marking trout rules, so I assume there are a number of public easements along the shore.
Take-out:
After Melancthon empties into the Pine, you'll have three main take-out options, each with their pros and cons.  All easy to scout from car beforehand.
The first Hwy 80 bridge is an option, but the banks are rocky and it would likely be difficult to haul your boat ashore.
A quarter mile downstream, Hwy 80 crosses the Pine again, which is where I took out.  If you take out here, you'll get to paddle past a really nice cluster of outcrops.  This is a muddy take-out (but really, all take-out options are muddy).  This also requires some trekking to drag your boat up the bank and past the guardrail to your car on the shoulder.  Doable, but annoying.  Good shoulder parking.
A half mile downstream is the bridge crossing at Shellington Drive.  This is probably the best take-out option (just disembark on the downstream side) and by taking out here you'll get to see a second really cool cluster of outcrops and my personal favorite on the Upper Pine.  The banks here are steep and muddy, but a much shorter hike to the car.  There is a tricky strainer just upstream of Shellington though, so tread carefully especially in high water.
Shuttle Information:
Easiest bike shuttle route ever.  Flat and only 1.5 miles.  A hiking shuttle is certainly an option.
Mark from Pine River Paddle and Tube (608-475-2199) would likely be able to help you out if you need a ride though.
Hazards, Logjams and Current:
No fences and no fierce rapids.  There are many riffles, but none are greater than Class 1.  At times branches partly block the channel and require tight maneuvers to circumnavigate (sometimes in quick current).  There are a few logjams.  I thought these were mostly manageable with one exception…details below.
Logjam #1:  Super easy portage. Maybe 1000′ downstream from the put-in and east of Hwy 80. 
Logjam #2:  Super easy portage.  Maybe 2000′ into the trip and west of Hwy 80. 
Logjam #3:  Easy portage. South of Borntreger Lane and west of Hwy 80. 
Logjam #4:  First annoying portage.  You'll need to hike 30 yards through thick grass…medium difficult. South of Borntreger Lane and east of Hwy 80.  
Logjam #5:  This is a super nasty mess that includes 4-5 downed trees in a row through fast current.  Difficult portage over steep, muddy banks.  Here is the trick…portage on the east/left bank, not the west.  The west looks easier…but the river soon curves away from this bank and re-entry from the west bank is quite muddy and difficult.  Just downstream from #4.  
Logjam #6:  Medium portage around a downed tree.  Bit weedy and muddy but doable.  Rope helps.  Maybe 1000′ downstream from #5.
River Depth and Navigability:
When I did the trip, many other rivers were quite high.  In fact according to WaterWatch, the vast majority of rivers and streams in Wisconsin were above their 90% norms with multiple gauges at flood stage.  But this was a pretty good depth for Melancthon Creek which can run too low during dry periods. 
Below is a rough guide based on the local gauge on the Kickapoo.
0-74 CFS:  Probably too shallow to run, but amazing water clarity.
75-130 CFS:  Probably an acceptable depth.  You might have to walk a few riffles but very good water clarity.  There will be a few more logjams to portage because of the lower depth, but the current will be less pushy. (Scouted at 91 CFS)
131-170 CFS:  A good depth.  I ran the trip at 155 CFS which was pretty good, but water clarity was poor and some strainers a bit tricky.
171-210 CFS:  Probably too muddy and pushy with the strainers, but doable for experienced paddlers.
211+ CFS:  The banks might start to burst at this point.
Noteworthy Wildlife:
Not much…some fish flopping on the surface.  On one portage I almost tripped over a hiding fawn, who then sprinted straight into the creek. The fawn struggled trying to get to shore with the strong current before swimming downstream and escaping.
Other Trips in the Pine River Watershed:
For a visual overview see my Pine River map.  Sections in red/orange are probably not practical.  Willow Creek and Melancthon Creek are tributaries of the Pine and good prospects too.
Upstream of Quarry Road:  The river is actually still navigable with some large open sections, but I doubt there is much interesting geology this far north.
Quarry Road (south of Yuba) to Shellington Road (just north of Hub City):  4.8 miles. Mediocre trip with some deadfall and mud, but some nice geology. Reviewed May 2017.

Quarry Road to Hwy C:  1.5 miles. 4 major logjams make this not worth it IMO.  There are two outcrops, but they aren't major.
Hwy C to Shellington Road:  3.3 miles.  Some snags, but no logjams.  Bit of a trout stream feel to it.  Two nice clusters of outcrops at the end.

Shellington Road to Rockbridge Park:  4.3 miles.  A difficult section with many logjams and is not recommended until cleared out.  Thanks to Mark McCauley and Timothy Bauer for the info.
Rockbridge to Hwy AA (Port 1):  10.9 miles.  Good stretch with scenic outcrops and popular with paddlers.  Reviewed Jul 2011. 

Rockbridge to Hwy D:  3.7 miles.  Rockbridge put-in is the highlight.  Some nice bluffs downstream on this section.  
Hwy D to Hwy 80 Bridge near Hwy SR:  2.4 miles. Good rock formations on this stretch. 
Hwy 80 to Hwy AA (Port 1):  4.8 miles.  Trying to remember…think there is one nice bluff on this stretch. 

Hwy AA (Port 1) to Hwy Q (Port 4): 4.6 miles. Nice stretch through the city of Richland Center. Reviewed Oct 2013.

Hwy AA (Port 1) to Industrial Drive (Port 2):  2.7 miles.  Nice open section with views of the hills. 
Industrial Drive (Port 2) to Krouskop Park (Port 3):  1.9 miles.  More tree cover, so prepare to dodge submerged logs. 
Krouskop Park (Port 3) to Hwy Q (Port 4):  1 mile.  Great section with cool bridges, class 2 rapids and hilly scenery. 

Hwy Q (Port 4) to Hwy O: 5.2 miles. Good section just after the city of Richland Center. Reviewed Aug 2015.

Hwy Q (Port 4) to Bohmann Drive (Port 5):  2.4 miles.  A nice section. 
Bohmann Drive (Port 5) to Hwy O:  2.8 miles.  Mostly open with some cornfields.  Not as nice as the previous sections, but still pleasant. 

Hwy O to Twin Bluffs:  5.0 miles
Twin Bluffs to Gotham (mouth at the Wisconsin River):  9.0 miles. Mostly floodplain paddling so not as interesting, but still ok.
Trip Map
Overview Map
Video
Photos
How did your trip turn out?

Questions or comments?

Feel free to leave your feedback.