Yellow River – Necedah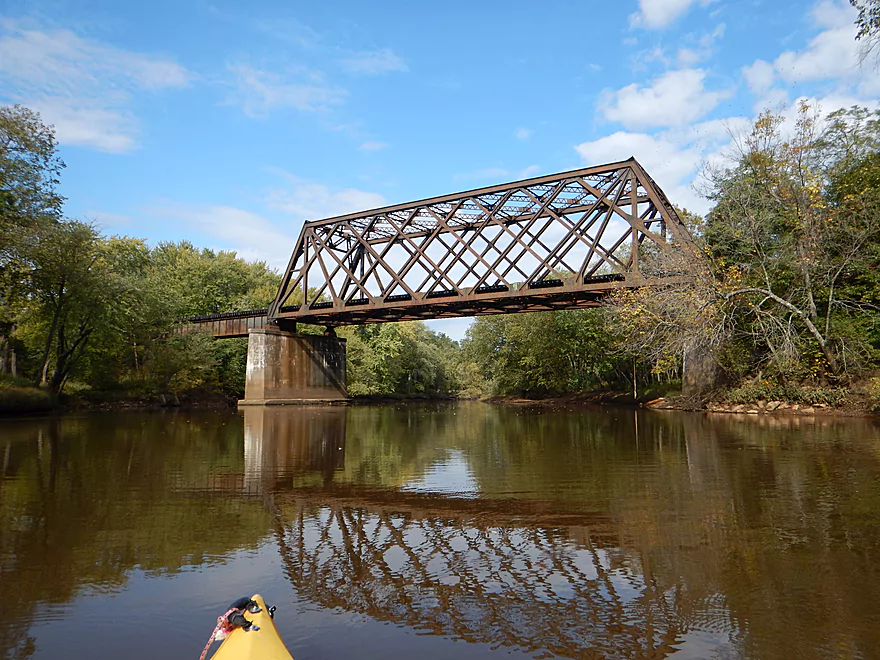 Put-in:
Necedah Dam (Friendship Road)
Take-out:
Yellow River Bay (32nd Ave Launch)
Gradient:
1' per mile (guestimate)
Not many paddling reviews cover the lower Yellow River.  Perhaps it is the length (10 miles…long but not bad), not being near a big city, or perhaps because of rumors of snags (they exist but they weren't THAT bad).  This is the "big northerly brother" of the Lemonweir River and feels a lot like it.  Super sandy, trees in the water instead of on the banks and slow current.  But in all ways is better than the Lemonweir and a bit larger as well.
To start the trip, you have two choices of put-ins.  Most put in by the sanitation plant, which is on the south side of Necedah.  A good boat ramp and option.  My vote is to instead put in by the dam 1.2 miles upstream.  This way you get to see the dam, run two sets of rapids, and see a nice iron trestle railroad bridge and some very large sandbars.  Definitely a pleasant, peaceful mini-section (minus the laundry detergent smell from the sanitation plant).
The absolute highlight of the trip are the sandbars.  This is actually one of the better sandbar rivers I've paddled (it doesn't compare to the Wisconsin River, but few do).  You can see where the best ones are by using satellite maps, but roughly speaking, the biggest/best will start in the town of Necedah and progressively get smaller to about two-thirds into the trip, at which point they disappear.  These would definitely make fantastic camping sandbars (or picnic sandbars).  Outside of fall hunters, I don't think these sandbars see that many people, so you should have them mostly to yourself.  However, do be mindful of private property and of local fire restrictions.  
The consistency of the river was again very similar to the Lemonweir.  Deteriorating sandbanks, trees in or in the process of falling into the water, and with a super sandy bottom.  Not super clear, but not too turbid either.  Much of the banks consisted of floodplain forest (like silver maple).  I suspect this river basin gets hit very hard by flooding which limits shoreline diversity and integrity.
Maybe two-thirds into the trip, the South Branch of the Yellow River joins the main branch.  This is a nice looking river (albeit looking a little snag prone), but not a nice thing for the main branch as its character changes quite a bit after this point.  Until the South Branch, it was a 3.5 star river.  After the South Branch, the river widens, slows, has more deadfall, and much fewer sandbars.  Be wary of going the wrong way around some islands (there are some big ones).  Generally speaking, if you follow the bigger channel, you'll be ok.  You will frequently see the remnants of oxbows along either bank which is a reminder of what an active river this is.
The current pretty much dies by the last power line because of the influence of the Castle Rock dam. This was not a good thing and meant three slow, unscenic miles with no helping current.  I really regretted not taking my longer/faster Wilderness Tsunami and instead opted for my shorter Equinox because I feared the log jams.  You can actually get a little lost in the Yellow River Delta because you don't have telltale current, but do have many river branches.  Just choose the biggest fork and you'll be ok.
At long last, the river opens up into Yellow River Bay (part of Castle Rock Lake) with a monstrous-sized grade visible in the distance.  Keep right and your first sign of houses will mark the take-out.  In the bay you'll see tree remnants from before the dam and sediment shock troops encroaching on the Hwy G grade (eventually these islands will reach the grade, which will be interesting!).
All in all, a pleasant trip.  It was going to get 3.5 stars…but the flowage paddling was a downer and dragged the trip down to 3 stars.  Not as nice as say the Black River East Fork to the west or the Big Eau Pleine River to the North, but nicer than the Lemonweir to the south.  Definitely consider it if you're looking for an obscure sandbar river for camping…just make sure the water levels are low enough.
Webmaster's Update – There appears to be MANY logjams now on this section and this leg may no longer be viable.  See comments below.
Put-in:
There is public fishing access on either side of the Necedah dam.  Either works for launching, but I preferred the northeast shore as it is more secluded and has better parking.  It's hidey, but there is a small steep trail that leads to the water down the embankment.  There is no outhouse by the dam.
Take-out:
Very good public boat ramp at the intersection of 32nd Street and 16th Ave.  Note, this is technically part of Buckhorn State Park, so you will need a park sticker.  Good parking, but no outhouse.
Shuttle Information:
I know of no local liveries.  The bike shuttle isn't too bad.  Very flat, but a tad on the long side at 7.1 miles.  Hwy 80 is busy, but there is a small shoulder to peddle on.
Hazards and Log Jams:
No major hazards.  There are rapids (class 2) below the dam and another class 1 immediately after that.  I felt this was easy, but I've seen this stretch at higher flow rates and it can be quite mean (maybe class 3).  These are easy to scout from the put-in.  After these two, there are no more rapids.
Log jams are a consideration.  I had to portage twice (maybe a third into the trip and marked on the map).  The portages were very easy though because of the adjacent sandbars.  For the most part the river is clear sailing and has had a lot of cleanup work on it.  However, close to the end things get a little more cluttered and I had a couple of duck-unders and squeakers.  I didn't have to portage in the second half, but if you needed to, it wouldn't be difficult because of the shallow, sloping banks and sand.   The current was up-tempo around some snags, so do be careful.  Webmaster's Update – There appears to be MANY logjams now on this section and this leg may no longer be viable.  See comments below.
Lastly, be mindful of wind speed and direction as there are a few miles of open water to contend with.
—
Update – July 30, 2023.  This area was hit by storms and now has countless logjams.  Do not kayak below the sanitation plant…the logjams are hideous.
River Depth, Navigability and Current:
Over the years, I've diligently followed statewide water levels on the USGS site.  An interesting observation I've made is that one of the first rivers (almost without fail) to flood after a big rain is indeed the Yellow River.  Absolutely stay off this river when high as it is very mean, fast and will push you into a lot of snags.  According to the local gauge at Necedah, I went at 90 CFS, which is considered shallow.  This is actually perfect as it exposes the sandbars and the current was very tame.  In fact too tame in many sections…
While there were a few areas where I had to gorilla my way over some shallows, this shouldn't be an issue for paddlers as long as you pay attention to the river.
Noteworthy Wildlife:
A swimming beaver, many map turtles (a welcome reprieve from the ubiquitous painted turtle), a great blue heron, some shorebirds and a number of clams.  Many of the sandbars had deer hoofprints (and also boot footprints from hunters).
Little Yellow River:
Upper sections are heavily channelized and might be boring
The middle section flows through the famous Necedah National Wildlife Refuge (they used to train whooping cranes to migrate from here).  Not too many log jams, but a number of flowages, ditches and gravel roads may be an issue.  
The lower section looks like a portage-fest.
The mouth was a trip Rick Kark did and liked.  Review here.
Detailed Overview
Eagle Road to Hwy 10:  12.4 miles.  Background provided by WisconsinRiverTrips.com contributor Daniel Akin.

Eagle Road to Hwy HH:  2.2 miles.  This is a dangerous section with Class 3 and 4 rapids.  There's also a wire fence across the river to deal with.
Hwy HH to Yellow River Road:  2.1 miles.  A more wooded stretch that I don't know much about.  Nice street view image.

Yellow River Road to Hwy 10:  4.3 miles.

Yellow River Road to Hwy BB:  1.3 miles.  A nice wooded stretch with no major rapids.
Hwy BB to Robin Road:  0.8 miles.  A scenic stretch of the river.  The South Branch joins up by the BB bridge and adds significant volume.
Robin Road to Hwy 10:  2.1 miles.  Great stretch featuring several fun rapids and small outcrops.  Much of this flows by a large golf course which can be scenic in the fall because of all the maple trees.

Hwy 10 to Hwy 80:  4.0 miles.  

Hwy 10 to Lincoln Ave:  2.2 miles.  Very narrow and wooded.  At times little light reaches the river which is really cool.  Neat boulder gardens and a great stretch, but there are two logjams.
Lincoln Ave to Hwy 80:  1.7 miles.  Good stretch with a number of scenic boulder gardens and one nice outcrop.

Hwy 80 to Hwy N:  3.4 miles.  Starts slow, but ends with nice boulder gardens and rapids. 
Hwy N to North Wood County Park (2nd Dam):  2.9 miles.  A rocky stretch with some rough whitewater including a Class 3 near the put-in by the "Dells".
North Wood County Park (2nd Dam) to Little Bull Falls Grill:  4.2 miles.

North Wood County Park (2nd Dam) to Hwy C:  2.8 miles.  Scenic stretch with many boulder gardens and rapids.  The most serious rapids are near Hwy C and include Jenny Falls which is a Class 3.
Hwy C to Little Bull Falls:  1.2 miles.  More rapids and boulder gardens.  There is a logjam shortly after Hwy C.  Little Bull Falls is a Class 4 and is preceded by a Class 3.

Little Bull Falls to Dexter Park:  7.5 miles. 

Little Bull Falls to Hwy 73:  1.6 miles.  Many rapids on this stretch with some nice rock outcrops.  Launch below the falls and at a private access.
Hwy 73 to Riverside Park:  1.7 miles. More rapids and the biggest and best outcrops.  Hwy 73 is a weedy but doable access option.
Riverside Park to Dexter Park:  4.2 miles. Far fewer outcrops and rapids, but a nice wooded section.  Two miles in the flowage kicks in which is less interesting.

Hwy 54 (Dexter Park) to Hwy 80 (Babcock):  9.7 miles.  While you could launch by the park, your best bet will be to launch SW of the dam off Hwy 54.  Paddling author Frank liked this section and said it had no logjams, but he did it during high water and there are many downed trees.  Can be pushy when high and only for adventurers.  Not too many sandbars.
Hwy 80 to Hwy F:  10.6 miles.  Good sandbars.  Am not sure about jams.
Hwy F to 9th Street:  8.3 miles.  A nice stretch with good sandbars.
9th Street to the dam (Necedah):  16 miles.  A lot less sandy and many oxbows.  Jams are a question mark.  I suspect this is a weak section.
Necedah to Yellow River Bay:  A nice stretch with good sandbars.
Castle Rock Lake:  Blah.  Big, open and dangerous flowage (3rd largest in the state).
Buckhorn State Park:  You can explore the back channels and they seem nice, with interpretive signs…but with no current and only 1.5 miles.  Here is a map of the official water trail in the park.
Thanks to Frank Piraino, author of "Small River Canoe Adventures of Wisconsin," and American Whitewater for a lot of this information!
Trip Map
Overview Map
Video
Photos
3 Comments to "Yellow River – Necedah"
How did your trip turn out?

Questions or comments?

Feel free to leave your feedback.