Cox Hollow Lake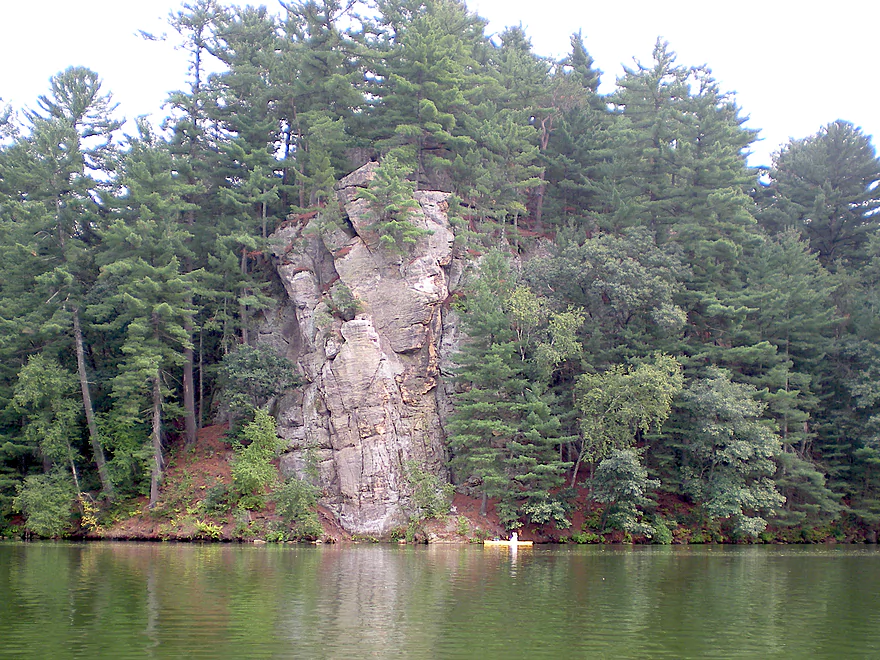 Date:
September 3rd, 2012
Take-out:
NW Boat Landing
This is the smaller of  two man-made lakes in Governor Dodge State Park.  Cox Hollow is a pleasant paddle that has abundant wildlife (blue herons, eagles, clams, snails, turtles and much more from what I saw).  This and it's sibling lake, Twin Valley, prohibit motor traffic, which is always a very big plus when it comes to kayaking.  
You can put in at the beach at the north, but it's a little hike to the parking lot and this tends to be very crowded.  The boat landing on the northwest side is perfect for put-ins and it has bathrooms.  Paddling around, there aren't too many special features of Cox Hollow.  The shoreline is a nice wooded area with occasional boulders.  The marquee attraction on the lake is a massive bluff on the south side of the lake that you will see as you go around the corner (Pine Cliff?). 
As you round the lake, you'll see the dike on the east.  I had hoped to portage this, but this didn't seem practical.  There is a trail system next to and on top of the dike, but after the lake spills over the dam, the resulting stream is just too paltry to paddle and the distance to Twin Valley lake is too much to walk.  You don't have to get out of your boat to explore the dike/dam/creek/trail area as there is access from the beach.  I suspect Twin Valley is a nicer paddle, from what I've seen (minus the nice mega bluff), but I didn't have the time to paddle it then. 
If you are in the park, there are various non-paddling things to do.  Stephens Falls is probably the marquee attraction of the park, and if you are willing to hike a bit, there is a nice cave on Cave Trail.  If you enjoy hiking, there are plenty of hiking paths in the park to choose from.
Trip Map
Photos
2 Comments to "Cox Hollow Lake"
How did your trip turn out?

Questions or comments?

Feel free to leave your feedback.