Devil's Lake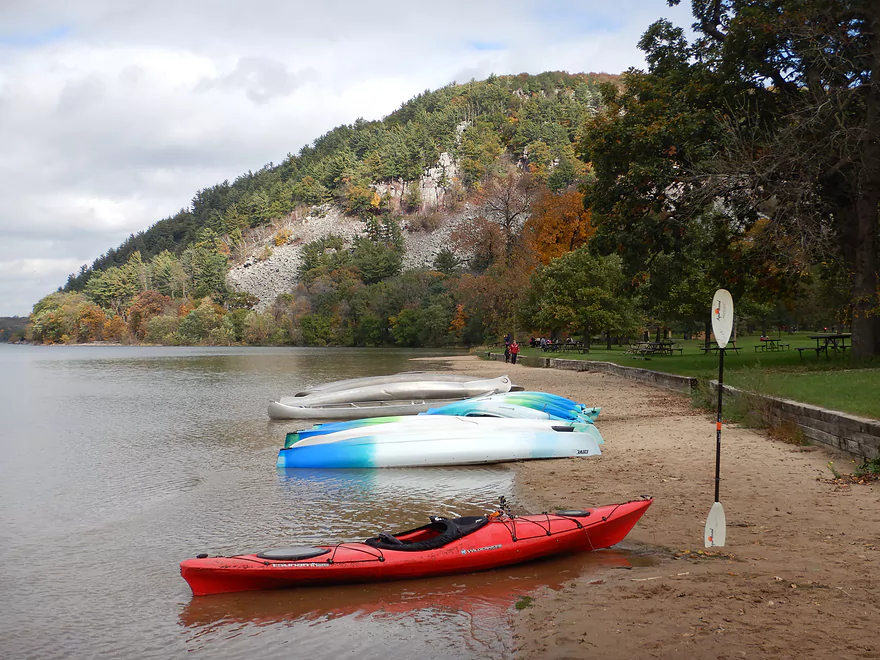 Put-in:
Elephant Rock Parking Lot
Take-out:
Elephant Rock Parking Lot
Nestled in the heart of the Baraboo Hills is the state's most popular park.  Flanked on almost all sides by scenic quartzite bluffs, it's a fantastic paddle.  In fact the only reason I haven't reviewed it to date has been the assumption that most paddlers already know all about it.  Part of what makes the park unique is its abundant maple which result in spectacular fall color.  Hoping for a nice combination of color and paddling, I decided to finally pull the trigger.
I got a late start for this trip, which was unfortunate, as this being a a fall color weekend meant parking would be an adventure.  Fortunately I missed (by about an hour) the entire north entrance being closed.  Here I descended down a tremendously scenic one-way road enclosed by a canopy of turning maples.  Cars were pulled off here…just to take pictures of the road.  At the bottom of the hill, the park staff had closed the main parking lot, which for me was a big deal because that was the only way to access the north boat ramp.  So I kept driving until I reached the final east overflow lot (which was also on the verge of filling up).  Because of its close proximity to the lake and a nice nearby gravel shoreline, it was actually a pretty good launch option.
Obviously Devil's Lake doesn't have current, so you can paddle it however.  My battle plan was to do a clockwise shore loop starting from the north shore.  This would ensure consistently unique viewing angles, foreground elements for photography, be a safety device in case I got in trouble, and ensure optimal timing for lighting and wind.
The trip started on a great note with great water clarity and towering bluffs to the west.  The water levels were pretty high…not high enough to submerge the beaches, but many picnic tables were partially under water.  I followed the railroad tracks south where I passed a group of divers.  While obscured somewhat by the railroad, partially visible was the East Bluff and its massive boulder field which were striking. 
At the end of the East Bluff, I hit the South Shore where there is a popular beach and picnic area.  Nearby is a trailhead for the East Bluff Trail and I could see the little people climbing on the rocks above from my kayak.  To them, I must have really stood out in my red kayak virtually alone on the lake.  Continuing on past more partially submerged picnic tables, I paddled past the Ice Age National Scenic Trail boardwalk which is traditionally one of the nicer and more secluded areas for swimming.
I soon came to South Lake Road, which is the only road that goes along the lake shore and typically sees a lot of foot and auto traffic.  At the west end of the road is the south boat ramp, which is a good access option.  From here is a fantastic vista of the East Bluffs and the south end of the West Bluffs.  Just north of the ramp is a small tributary to the lake in Koshawago Springs.  In hindsight I should have explored this given the high water and seen if I could have reached the springs themselves.
Past the few private homes remaining on the lake, I soon started paddling parallel to the Tumbled Rocks Trail.  This is a very underrated trail that sneaks through a huge quartzite boulder field below the West Bluffs.  I couldn't see the trail itself but could see the occasional hiker pop up from behind the boulders, which looked like a huge rockslide frozen in time.  Because of the high water, I was able to paddle closer to some of the bigger boulders which was a neat experience.
At this point a huge tailwind kicked up foot-high waves which wasn't ideal for paddling.  I quickly crossed the north shore beach…or what was left of it.  Picnic tables were partly under water, the main pier at the beach house was mostly under water, and the north boat ramp was on the verge of being flooded.
In summary this was a great little trip all the more special because of the fall color.  Never really super difficult, this would be a fantastic beginner trip for somebody who just purchased a kayak and wanted a safe and scenic starter trip.  Given that this is a short trip at roughly three miles, I do suggest combining a paddling trip with another activity in the park such as hiking (more on this later).
Noteworthy Wildlife:
I didn't see much, but on previous trips have seen many fish and snails (easy to spot in the clear water).  When hiking after the trip, I did see several raptors and huge turkey vulture flocks which I could look down upon from atop the West Bluff Trail (cool!).
Human Impact:
Crowds:  Devil's Lake has roughly 3 million visitors a year which results in problematic crowds during summer and fall color weekends.  This can result in parts or even all of the north side being shut down during busy times.  The crowds can be a nuisance for photographers as often the main trail overlooks are packed with people making it difficult to get clear shots.  On occasion loud radios can be heard as well.  The solution to much of this is to simply go during off-peak times.
Dogs:  Sorry dog lovers, but these have been a serious nuisance.  They are supposed to be on a leash, but few owners follow this rule.  They are also not supposed to be on picnic tables or in picnic shelters, but these rules too are ignored.  Along the hiking trails dog droppings can be smelled and in the winter dog footprints can mess up area ski trails.
Helicopters:  A local operator does do low helicopter tours over the park.  While I'm sure these are fun, helicopters emit a ton of noise pollution.  Small helicopters (aka drones) are not allowed in the park.
Boats:  Powerboats are not allowed…but prior to 1976 they were permitted and a big problem.  During those times the sounds they made would make unique echos off the quartzite bluffs.
Geologic History:

Roughly 15,000 years ago the Wisconsin River used to flow though what is today Devil's Lake.  However, the Wisconsin Glacier would encroach on the area and leave moraines that sealed in Devil's Lake while rerouting the Wisconsin River much further to the east.  The quartzite bluffs themselves date back much further when there used to be shallow seas in southern Wisconsin.  The resulting sandstone compressed to quartzite which is what we see today.
Put-in/Take-out:
I launched at the eastern-most parking lot on the north shore (under Elephant Rock).  This is not an official landing, but worked surprisingly well.  I did have to drag my kayak over the railroad tracks and then over a small gravel trail to reach the water.
Also on the North Shore is the main boat ramp.  However, the park staff will occasionally close the adjacent access road when the main parking lot fills up (which happened to me) thus preventing its use.
The second boat landing is located at the South Shore.  The adjacent parking lot can fill up with cars from hikers, which can make using this ramp difficult during peak times.
If parking proves to be a nightmare, you can simply launch almost anywhere along the south shore…from S. Lake Road to the main beach.  Here parking should be relatively good and the access options, while make-shift, are plenty doable.
Rental Information:
Both the south and north shores have canoe and kayak rentals.  Call ahead to ensure availability.
Hazards:
Swimmer's Itch:  This is caused by a small flatworm or trematode which is supposedly not dangerous but can cause extremely irritating itching.  Outbreaks most often occur during the summer.  Before going swimming check the official "current conditions" page for the park and/or call the park office for an update.
Wind:  Check the forecast and make sure you avoid paddling during high winds (say 12+ mph).  Often early mornings or evenings are the calmest times to paddle.
Water Depth:  The lake is 47′ at its deepest and mostly over head depth except at the beach areas.  It recommended you wear a life jacket.  If you do not know how to do an Eskimo roll and/or a wet reentry, I suggest staying close to shore.
The Cliffs:  Chances are you'll want to combine your short paddling trip with a scenic hike on the cliffs.  Be careful…it is not unusual for people to get seriously injured or die when they fall off.  Wear good shoes, don't drink alcohol, stay away from the bluff ledges, and don't hike in bad conditions (such as during night or after a rain when the rocks are wet).
Lake Depth and Navigability:
For paddlers the lake depth won't really matter much…you can paddle this during low depths and high depths (I paddled during a very high depth at 9.4′).  Here is a rough overview based on the local gauge:
6-7′:  Very low levels.  Still navigable.
7-8′:  A common fall/winter depth.
8-9′:  A common spring/summer depth.
9-10′:  A high depth.  Some piers will be under water as will some picnic tables.  The beaches will likely be mostly submerged.  I did the trip at 9.4′.
10-11′:  A very high depth that has only happened twice in the past 10 years.  The main north shore canoe ramp will likely be under water at these depths.
11-12′:  All beaches under water as well as some parking lots.
12-13′:  Most of the picnic grounds would be affected as would most parking lots.  South Lake Road may not be passable.
13-15′:  Serious flood levels that occurred during the 2008 floods.  Video of some of the flood damage.
Other Activities:
Hiking:  This is a fantastic park for hiking.  Wisconsin Explorer has a nice guide and Google Street View is available for most trails.  The following are my favorites: 
West Bluff Trail:  1.4 miles.  Accessible from the north or south shore, this trail climbs on top of the West Bluff.  Highlights include fantastic vistas of the lake and the East Bluff.  Best lighting will be in the afternoon on sunny days.
East Bluff Trail:  1.1 miles.  Accessible from the north or the south.  Includes great views of the lake and of the West Bluff.  Best lighting will be during cloudless mornings.
Tumbled Rocks Trail:  1.0 miles.  This flat trail hugs the west shoreline and is super easy.  Highlights include huge boulder fields.  Many return on this trail after hiking the West Bluff Trail which is just above.
Balanced Rock Trail & Devil's Doorway Trail:  0.5 miles.  This is a logical extension to the East Bluff Trail for those coming or going to the south parking lot.  These are fantastic trails with unique and iconic rock formations.  There is also a great vista toward the old Wisconsin River channel where on a good day you can see Lake Wisconsin.
East Railroad:  1.0 miles.  This is not a trail officially, but many return back here after hiking the East Bluff Trail.  Technically speaking hiking on the railroads is illegal, but countless do anyways.  This is a neat hike with good views of the lake, but not as good as the Tumbled Rocks Trail.  

Click here for more background on these controversial railroad trespass laws. 
Skiing:  No, the main cross country ski trails do not go along the lakeshore or atop the bluffs.  Nor are they meticulously groomed like nearby Mirror Lake State Park.  But they are cool though.  Here is a trail map.  Skiing is pretty much limited to the Johnson Moraine Loop (hilly and fun), Steinke Basin (more open and flat), and the East Bluff Woods Trail (nice woods).
Diving:  Devil's Lake is one of the most popular diving sites in the state because of its exceptionally clear water.   Nice diving video.
Bird Watching:  Thanks to the bluffs and the associated updrafts, Devil's Lake is a fantastic place to see raptors and vultures.  Both the East and West Bluff Trails are good options to see raptors and vultures.
Rock Climbing:  While the park doesn't officially endorse this, it doesn't prohibit it either and the park is considered one of the best rock climbing areas in the state.  For a great guide to climbing routes, check out MountainProject.com.
Camping:  Yes, the park does have campsites which are ok.  The problem with the campsites though is simply supply and demand…it can be very difficult to reserve a free campsite in advance.
Trip Map
Video
Photos
How did your trip turn out?

Questions or comments?

Feel free to leave your feedback.