Platte River – Platte Road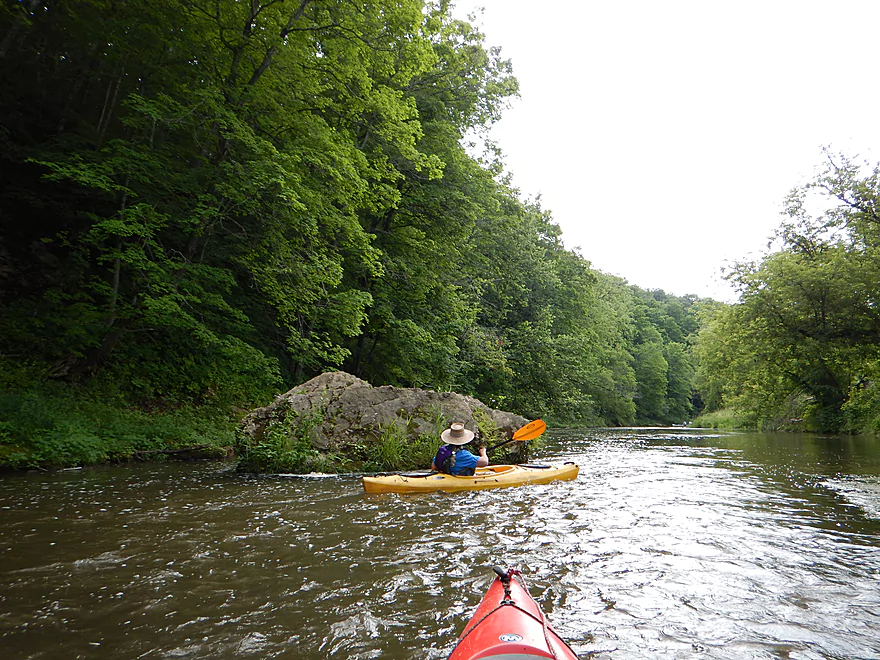 Take-out:
Big Platte Road
Time:
4 hours (2.5 hours would be more typical)
Gradient:
8.4' per mile (fast)
Two years ago I paddled the Platte River from Airport Road to the Platte River Road bridge.  This was a great trip that was given five stars for its riffles, rock outcroppings, unique plant life and scenic vistas of the driftless hills.  With inclement weather (well, water levels) in central Wisconsin, I decided to revisit the Platte and continue where I last left off.
In some ways this was a very similar section and in some very different.  The water was very turbid this go-around, which was unfortunate.  If you wait to paddle until late summer, I'm sure the river would run much cleaner.  Another difference was that we saw a lot of people on the river, which was a surprise (word must be getting out…).  There were 3-4 groups of paddlers we came across in just a short five-mile stretch.  Not to discourage you though, as this is still a pretty remote river. 
The highlight of the trip was the many riffles.  All of which are pretty safe even for beginners.  There are a couple of instances where the current could push you into strainers, but this should be manageable for alert paddlers.
The second best part of the trip are the occasional limestone rock outcroppings.  Is this like the Little Platte?  No…not even close.  But still pleasant, with the nicest section being just prior to Red Dog Road bridge.  The rock outcroppings are not always easy to see as the banks are so overgrown, but this gives the Platte River an exotic feel. 
Despite being a rural farm paddle, this is a scenic river with very green, lush hills and plant life sprawled over the rocks.  Add to this the occasional angular boulders in the water, many little rapids, and the rocky substrate and it feels like the closest you'll get to a tropical safari paddle in Wisconsin.
A pleasant trip that I'm giving 4 stars, but it just wasn't as nice as the previous upstream section.  This felt less intimate, more open and more beat up by agriculture.
Put-in:
Platte Road is a decent access with good shoulder parking.  Steep, weedy and muddy banks just under the bridge, but most people put in 100′ downstream of the bridge which is much better.  You'll see a faint trail leading from the bridge to this preferred access.  Be considerate of the local farmer and do not cut across his soybean field. 
Take-out:
Very good bridge access off Big Platte Road (right by Blakely Creek) with plenty of parking.  Limestone steps and a simple ramp made of old carpet have been set up for kayakers. 
Shuttle Information:
I'm not aware of any local liveries.  The bike shuttle is 3.6 miles with moderate hills (climbing 135′ and dropping 187′).   While not ideal, this is by far flatter than the bike shuttle on the previous upstream segment.
Hazards and Log Jams:
None, and this is a good introductory paddle for class 1 whitewater.  Note, there used to be a low fence on this stretch, but it has been removed.  Always be mindful of hoofed animals in the river though.
River Depth, Navigability and Current:
This was a good depth for the rapids as most were runnable without getting stuck.  The Platte River is actually remarkably stable relative to other Wisconsin Rivers, and is not a bad option when other water trails are flooded or too shallow.  It still can get too high or low though.  My rough guestimate would be that you wouldn't want to run this over 5′ on the Rockville gauge, nor below 4.2′.
The current was somewhat on and off in character, but generally pretty zippy at 8.4′ per miles
Wildlife:
A pretty lively river…  5-6 blue herons, 2-3 muskrats (including one that swam under my kayak), an otter, kingfishers, a number of fish (probably panfish), many dragonflies, and many frogs including the distinct northern cricket frog. 
The plant life was attractive but mostly "disturbed soil" species (nettles, wild parsnip, jewelweed, angelica and reed canary grass).  The woods were mostly boxelder with some ash, oak and walnut.
Nature highlight #1 of the trip was seeing an eagle fishing (or at least trying to).
Nature highlight #2 of the trip was the cliff swallows.  One bridge had about 120 nests in a row.  They must have had young in the nests as they were hopping mad when we came close.  It was quite the sight to see that many angry cliff swallows swarming around our kayaks.
Detailed Overview
Upstream of Rock Church Road:  The river here is likely too small and degraded by pasture to be enjoyable for paddling.  I don't know for sure though.
Rock Church Road to Hopewell Road:  (3.0 miles)  Very small...likely needs high water.  Maybe 4-6 logjams.  Likely mostly a pasture paddle, but a few really nice outcrops and maybe an intriguing gorge.
Hopewell Road to Annaton Road:  (4.2 miles) Small creek.  Mostly open with a mixture of wetlands and pasture.  Maybe 1-2 outcrops and 4-6 logjams.  Maybe some fences.
Annaton Road to Hwy E:  (0.9 miles)  Maybe 1 jam.  Mostly an open paddle.
Hwy E to Sleepy Hollow Road Bridge 1:  (1.8 miles)  River grows from creek to small river with addition of two major tributaries.  Might be a few down trees.
Sleepy Hollow Road Bridge 1 to Sleepy Hollow Road Bridge 2:  (1.6 miles)  A good prospect that is mostly open.  Probably a few limestone outcrops.  The second Sleep Hollow Road bridge is not a viable access because of a fence.
Sleepy Hollow Road Bridge 2 to Coon Hollow Road:  (1.8 miles)  A good prospect a few nice limestone outcrops.
Coon Hollow Road to Hwy A:  (3.9 miles)  A good leg with many scenic outcrops (including one massive one) and multiple fun rapids.  Unfortunately this stretch can only be run at high water levels and suffers from serious shoreline degradation.  Hwy A is a horrible access.
Hwy A to Airport Road:  (6.4 miles)  An excellent leg with great limestone outcrops.

Hwy A to Kingsford Road:  (3.3 miles)  A good leg with 6 mediocre outcrops and one really nice one.
Kingsford Road to Airport Road:  (3.2 miles)  An excellent leg with multiple outcrops and perhaps the best outcrop on the entire Platte River.

Airport Road to Platte Road:  (5.0 miles)  An excellent leg with fun riffly current.
Platte Road to Big Platte Road Bridge #1:  (5.1 miles)  An ok leg with fun riffles, limestone outcrops and nice valley vistas.
Big Platte Road Bridge #1 to Big Platte Road Bridge #2: (3.2 miles) An ok prospect.
Big Platte Road Bridge #2 to Hwy O: (1.3 miles) An ok prospect.

Hwy O to Indian Creek Road: (7.6 miles) A mediocre prospect.
Indian Creek Road to Mouth at Mississippi: (1.6 miles) A mediocre prospect.
Mississippi Options: Tricky.  The Grant River Recreational Area is 3.4 miles upstream of the mouth (that can be tough sledding especially in high water).  Downstream you could take out at Eagle Point Lane (very scenic), but that is 5.5 miles on a big Mississippi.
Trip Map
Overview Map
Video
Photos
4 Comments to "Platte River – Platte Road"
How did your trip turn out?

Questions or comments?

Feel free to leave your feedback.