Otter Creek – Hwy Q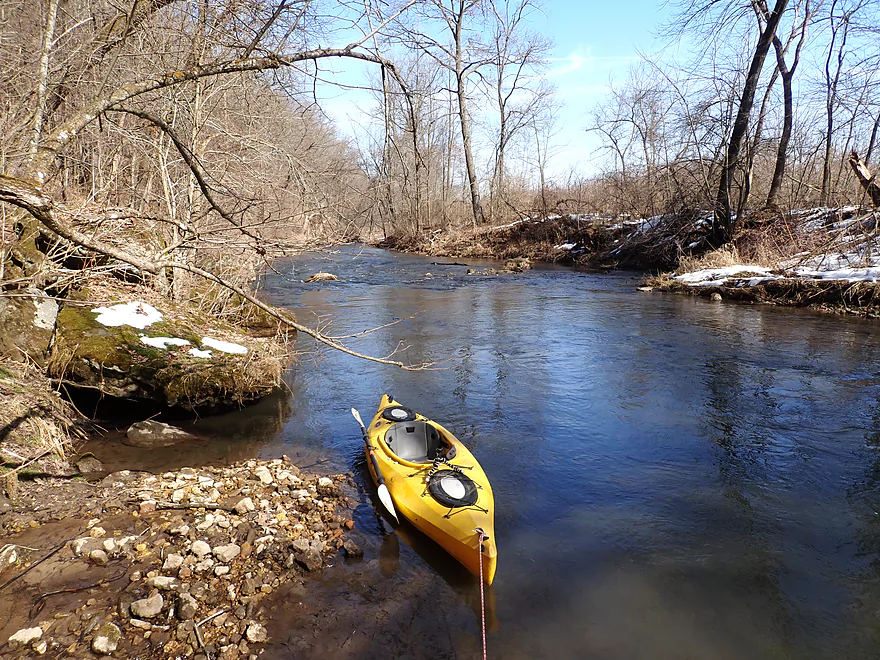 Gradient:
11' per mile (fast!)
Otter Creek is an obscure driftless stream located about 5 miles west of Governor Dodge State Park.  Coming from Spring Green, I had driven over the creek's lower portions multiple times, but always had dismissed it as a cow country paddle because of its tall muddy banks, logjams and cow fences.  Recently however I scouted upper Otter Creek and was pleasantly surprised to see how clean and inviting it was.  Otter Creek was quickly promoted to the top of my long paddling todo list and would become my inaugural paddle for 2020.
My initial plan was to paddle part of the creek and adjacent Blackhawk Lake, but unfortunately the lake was completely frozen over.  Instead I rolled the dice on a short leg from Hwy Q to Hwy II.  This part of the creek is frequented by local trout fishermen and sits adjacent to several public easement corridors.  In my experience good trout streams = good paddling creeks…as often fishermen clear out logjams to prevent water from stagnating and losing oxygen.
The trip got off to a great start with fast current, clean banks, and surprisingly clear water.  In the first mile there wasn't that much mud, and the substrate had a nice rocky bottom.  There were many light rapids that were good fun and never dangerous. 
Soon the creek meandered by a steep wooded bluff, which turned out to be the best part of the trip.  Here boulders were "falling" in slow motion down the hillside and onto the creek, while trees arched overhead and light riffles ran over the rocks.  On my left was what appeared to be a natural spring that trickled down a series of moss-covered boulders.  This was a five star part of the trip and very reminiscent of Snow Bottom State Natural Area (another fantastic paddle just 10 miles to the west).
Following the bluff, the creek started to open up, flowing between grassy banks intermixed with occasional light woods. Unfortunately the character of the creek started to change at this point…large mud banks sprouted up and I demoted the trip from five stars to 4 stars.  It was still pleasant though with occasional rapids and no logjams(!), but the creek had lost some of its charm.  I took out at Hwy II, which was a bit difficult but was doable.  I had cut the trip short at just under 3 miles because I didn't know what to expect…but in hindsight I should have continued to Spring Valley Road.  That would have added 4 miles to the trip and maybe some logjams…but would have included more fun rapids and scenic bluffs.
This is a trip that I highly recommend, but with some caveats.  You will need to wait for higher flow rates to get over the rocky rapids (see depth guide below).  Because this is one of those rare Wisconsin streams that flows north, I highly recommend saving it for a sunny day so you can paddle away from the sun and onto frontlit scenery with vibrant blue skies.  Much of upper Otter Creek appears to be a viable paddling prospect and I look forward to returning to explore other sections.
Noteworthy Wildlife:
Sights included one hawk, one muskrat/beaver, one flopping fish, and one trout fisherman.
Local Diversions:
Blackhawk Lake Recreation Area
:  Just upstream of this leg, Otter Creek is backed up by
a huge 30′ high dam
to create Blackhawk Lake.  The adjacent shores are owned by the DNR and set aside for public recreation.  There are public facilities along the western bank which include campsites,
hiking trails
, a boat launch, and a beach.  Note, while Blackhawk Lake Recreation Area practically looks and functions like a state park, and resides on state owned land, it is actually managed by the county.  Your state park sticker won't get you in and you'll need to purchase a special 7 dollar day pass.
Blackhawk Lake itself is a neat paddling prospect and on my todo list.  It's fed by Otter Creek to the south where there is a convenient public pull-off by Cave Hollow Road.  The lake is sandwiched between steep wooded hills, and while I'm not sure there are rock outcrops, the scenery is still rugged with boulders along the shoreline.  Other access points include a landing on the west shore and a dam portage at the northeast end of the lake.  The northwest shore is backdropped by a distant rock bluff and pine trees, which makes the lake very scenic.
Pompey's Pillar: 
This is a noted 150′ high rock pillar located just west of Otter Creek.  While scenic it is difficult to see or access because of the adjacent trees and private property.  A similar outcrop can be seen from the north shore of Blackhawk Lake.
Put-in:
Hwy Q was an excellent bridge access.  It's the start of a DNR easement corridor used by trout fishermen and there is a mowed path that leads to the water. 
An alternate put-in 2.4 miles upstream would be Plank Rd (just below the dam).  This upstream leg though is very small with likely a few logjams, but is very scenic.
Take-out:
Hwy II is a tricky access because the steep shoulders make parking difficult.  Also the nearby farm fields have No Trespassing signs, so you can't wander too far from the bridge.  Ideally, I would have disembarked on the upstream side where there is a public easement but parking was impractical.  Instead I took out below the bridge (east bank) and dragged my boat up a steep bank to my double-parked car.  It's all doable….just scout the bridge and come up with a plan before starting your trip. 
Adventurous paddlers can continue another 4.2 miles to Spring Valley Rd.  I don't know much about this leg, but think it is a good prospect with scenic bluffs…but also some logjams.
Shuttle & Rental Information:
The bike shuttle was a bit hilly (128′ of climbing) but was otherwise relatively easy at only 1.8 miles. 
Hazards and Concerns:
All in all a pretty safe and easy stretch.
Current:  Pretty zippy with a number of light rapids.
Rapids:  All Class 1 and super easy.
Logjams:  None
Strainers:  Just a few minor ones…nothing to be concerned about.
Fences:  None
River Depth and Navigability:
There is no gauge on Otter Creek. IMO the best analogue is the Black Earth Creek gauge.
0-40 CFS:  Likely too low…you'll hit rocks on almost all the rapids.
41-65 CFS:  Very low.  Likely manageable but still bumpy.
66-100 CFS:  An above-average depth and a good target range.  I did the trip at 80 CFS and while I hit a few rocks, I thought the rapids were sufficiently padded.
101-125 CFS:  A high depth.  Likely doable, but water clarity won't be as good.
126-160 CFS:  The banks might be close to bursting at this point.  I believe this would be a manageable paddle but should be attempted only by experienced paddlers.
161+ CFS:  This might be too high. 
Detailed Overview
For additional information on access options, see my overview map.
Union Valley Rd (1) to Plank Rd:  2.9 miles.


Union Valley Rd (1) to Union Valley Rd (2):  0.7 miles.  Very tight, narrow and shallow section.  Unless there is very high water, this likely isn't viable.  There is one major logjam.
Union Valley Rd (2) to Cave Hollow Rd:  0.6 miles.  This is typically too low to be a viable paddle.  There are 2 logjams on this stretch.  Highlights include a beaver dam and some nice boulders.
Cave Hollow Rd to Plank Rd:  1.6 miles.  A flatwater paddle over Blackhawk Lake.  This is a scenic quiet lake surrounded by steep wooded hills.  Highlights include a rocky stretch in the northeast corner and a beaver dam in the northwest corner.  To continue downstream, a portage over a 30′ high dam is required but is not too bad.  There is an alternate access on the western shore.

Plank Rd to Hwy Q:  2.4 miles.  A neat creek prospect with attractive rocky sections, but very small.  Maybe four logjams, but they should be easy portages.
Hwy Q to Hwy II:  2.8 miles.  Good section with many light rapids and boulders reminiscent of Snow Bottom.  Bank erosion is an issue near the end.  No logjams.
Hwy II to Spring Valley Rd:  4.2 miles.  Maybe 5 logjams, but a good prospect.  Creek flows by a long bluff with the potential for multiple outcrops.
Spring Valley Rd to Hwy I:  6.0 miles.  Downed trees and tall mud banks start to become an issue.  Maybe 16 logjams.  If you can take out at Conway Road you may be able to avoid the worst of it.
Hwy I to Hwy 130:  2.0 miles.  More steep muddy banks.  Maybe 6 logjams.
Hwy 130 to Hwy C:  1.8 miles.  Mostly open, but heavily eroded with maybe 3 logjams.  Should be one nice outcrop.  Perhaps one difficult fence to paddle under by Hwy C.  Hwy C is a very difficult access because of the steep banks and farm fences.
Hwy C to Wisconsin River/Otter Creek Boat Landing:  2.9 miles.  A congested leg…maybe 7 logjams.
Trip Map
Overview Map
Video
Photos
11 Comments to "Otter Creek – Hwy Q"
How did your trip turn out?

Questions or comments?

Feel free to leave your feedback.