Illinois Fox River – Silver Lake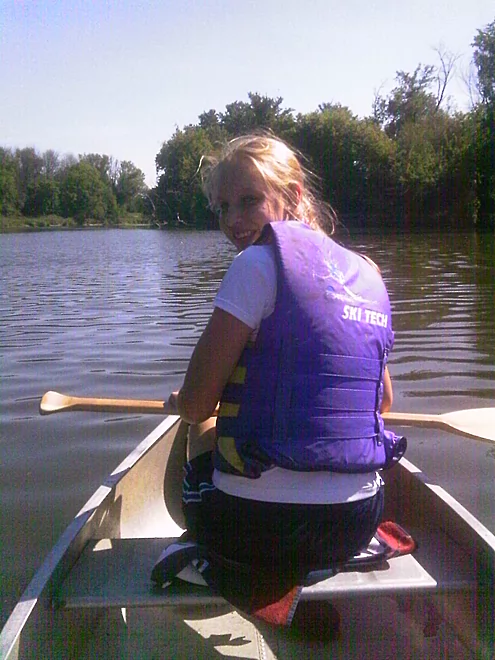 After recently finishing my canoe trailer, my daughter and I took it for a trial run.  We paddled from Fox River Park to the canoe launch at Wilmot.  The Fox here is very open and we did have to fight the wind somewhat, but this was a good first trip with my girl.  Along the way, we saw herons, turtles, dragonflies, a hawk, and some kingfishers.  The shoreline varied quite a bit and consisted of a mixture of mud, cattails, sand and many trees.  This was an easy one hour paddle recommended for first timers.
Special Thank You From the Webmaster:
Thank you to Bonnie for the review!  Note, WisconsinRiverTrips.com does indeed accept guest water trail reviews which are very much welcome.  There is a formal trip review submission form here.  But if that is intimidating, you can just send me (Aaron) an email and we can work out the details. 
Detailed Overview
Thanks to Mike Svob, author of "Paddling Southern Wisconsin," for the info about the lower sections.
Upstream of Mitchell Park: The river actually seems big enough to run up here and there doesn't seem to be too many logjams.  However, I am not familiar with the area and am unsure of possible public access points.
Mitchell Park to Wray Park: 4.5 miles that is mostly an open wetgrass paddle.  Not exotic, but should be pleasant.
Wray Park to Grede Park:


Sub Trip – Wray Park to Wonderland Tap: 3.8 miles and nice, with wetgrass and some woods.
Sub Trip – Wonderland Tap to the Waukesha Dam: 1.9 miles on a boring, noisy flowage.  While there is a park by the dam, I'm not sure where you can leave your car.
Sub Trip – Waukesha Dam to Grede Park: .7 miles on a really narrow, fast section with lots of light rapids.  Very urban, but great fun!

Grede Park to Sunset Drive:  2.5 miles.  River slows and widens.  Might be nice spots.
Sunset Drive to Hwy 59:  1.0 miles.  Slow and weedy section of the river.
Hwy 59 to Hwy H:  1.8 miles. 
Hwy H to CR I:  5.2 Miles.  This is a lazy stretch that lacks major highlights (other than good water clarity) and isn't an elite water trail, but locals may still enjoy it.
Cty I to Cty ES/National Ave: 7.0 miles.  Part of the Vernon Marsh State Wildlife Area.  Much of this is marshy.
Cty ES to Big Bend:  7.6 miles (reviewed by Mark Rhodes)
Big Bend to Conservation Drive/Tichigan Lake Public Landing: 7.4 miles (reviewed by Morrall Films)
Tichigan Landing to Waterford Dam: 5.0.  I presume mostly a boring, over-developed flowage.
Waterford Dam to Sailer Woods/Hwy 36: 3.5 miles.  From here on we lose most of our swamp and get higher banks and more woods.  There is one other dam to portage in this section.  There are numerous other access options on this route.
Sailer Woods to Burlington (Congress Street): 4.8 miles
Burlington to Hwy JB Bridge Access: 6.6 miles
Hwy JB Bridge Access to Hwy W: 3.0 miles
Hwy W to Silver Lake (Fox River Park): 6.0 miles. 
Silver Lake to Wilmont: 2.5 miles. 
Wilmont to Hwy 173 Landing: 2.8 miles (you are in Illinois now)
Hwy 173 Landing to Chain O' Lakes State Park: 3.9 miles
Trip Map
Overview Map
Photos
How did your trip turn out?

Questions or comments?

Feel free to leave your feedback.