Eau Claire River – Dells Park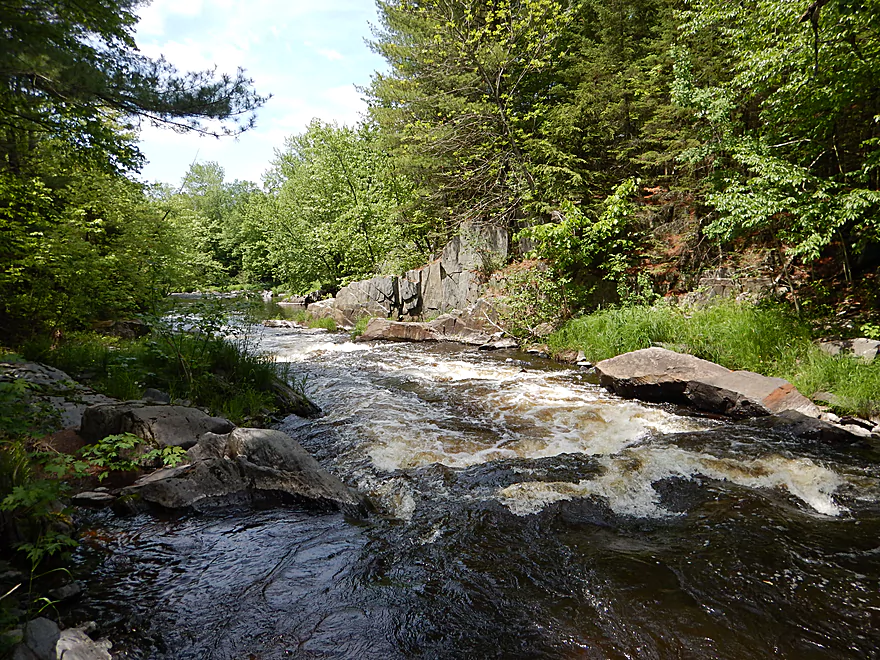 Put-in:
Dells of the Eau Claire Park
Take-out:
Eau Claire River Road (by Road N)
The Eau Claire is a scenic river just northeast of Wausau that has good water clarity, many boulder gardens, fun rapids and scenic rock walls.  The most famous section is at the well known Dells of the Eau Claire County Park (which, BTW, is much nicer than many state parks).  Here, and right below the Hwy Y bridge, an inordinate number of people will climb onto the rocks to take in the scenery and watch the river shoot through the narrow Dells.  A fine section to paddle is actually above the Dells and the dam, which I partially did on a previous trip.  The more adventurous will paddle the "ledges" (between the dam and the Dells) as well as the Dells themselves.  This is tricky, as the Dells have nasty undercurrents which can be dangerous and unforgiving for paddlers.  For this trip I chose to actually launch below the Dells for a scenic 6-mile trip to Hwy N.
The first mile of the trip is the best with almost continuous class 1-2 rapids, attractive rock walls, large boulders, fantastic boulder gardens and a clean, undeveloped shoreline.  Shortly after you pass under the scenic Ice Age Trail bridge, you'll come across a large wooded island (Sandberg Island) with a strategic choice to make.  The right channel is bigger and deeper and offers a more conventional whitewater experience.  The standing waves can be large though in the right/west channel, with perhaps class 3 rapids to contend with. 
But…the left/east channel, while smaller, is much more scenic, which is what I chose.  I got hung up numerous times but it was worth it, as the scenery and the dells were very cool.  My vote is to take the left/east channel even if you have to walk your boat at times, but the right/west channel will have the better whitewater.  The Ice Age Trail runs just east of the island and would be a good portage option.
After Sandberg Island the river widens out and slows down but still has some fun and scenic class 1 rapids.  The remaining paddle (with an exception here and there) is mostly a scenic flatwater stretch until Hwy Z.  Hwy Z has a very nice landing, but you don't want to take out just yet…
Shortly after the Hwy Z bridge you'll come across another wooded island (Lower Dells Island) and another strategic choice to make as both channels contain the most challenging rapids on the trip.  The right/west channel is larger and offers a more conventional whitewater experience with strong class 2 rapids, while the left/east channel is much more scenic and dramatic (which is what I chose).  You can and should scout these rapids first from the left bank, which is super easy to do.  Here the river narrows significantly and goes over three ledges creating larger standing waves (well, for rec paddlers anyways).  I think this is class 3 and it is on my video at 5:08 and 5:17 if you're curious.  As you'll see, a lot of water makes it over my bow and, in spite of having a half-skirt, I had to park and bail out a significant amount of water.  So take these rapids seriously!  They are easy to scout and portage if need be.  The other highlight of the left/east channel is the geology as the river is flanked by a mound of rock on the left and rock walls on the right.  Very scenic!
There are some fun class 1-2 rapids after the channels converge again, but then it is mostly peaceful flatwater paddling until the finish line.  Loved the trip and it is among my all time favorites.
Put-in:
The launch options are a bit tricky at the Dells of the Eau Claire Park.  You can launch upstream of the dam by the beach, which is super easy…but then you have to portage the dam. 
So…you could park and launch north of the dam (there is a small parking lot here), but then you have to run some rough class 2 rapids between the dam and the Y bridge.  
Do you launch at the Y bridge?  Not really, as there are "No Parking" signs everywhere. Directly below the Y bridge are the famous Dells, which contain class 4 rapids.  There is a small spot to portage the rapids/Dells on the north side, but it is very steep and you would probably need rope to lead down your boat.
So practically speaking, you want to launch below the class 4 rapids.  There are trail systems on both the north and south shores that ultimately lead to the water but they are winding and not very direct. 
My choice was to launch from the north shore just before the river bends left and where there is a nearby small parking lot (west of the main parking lot).  I then cut directly down the hill with my boat where it was very easy to launch from the bank.  If you don't mind leading your boat down a steep hill, this was actually not a bad option. 
It could be there are better launching options, but I didn't see them.  The park is free, has outhouses, and has super cool riverside trails that are worth exploring after the trip.
Take-out:
I took out at the County N bridge (technically S. Eau Claire River Road).  This is good bridge access and very popular with the locals for downstream trips.
Shuttle Information:
There are liveries in Wausau, but I don't think they are willing to go this far north.
The bike shuttle is admittedly more grueling that I'm used to–7.2 miles with 233′ of climbing hills and 121′ of descent. 
Hazards and Logjams:
There are no logjams in this stretch, but there are many numerous rapids to be mindful of.  At my depth (250 CFS) most were not greater than class 2 and weren't an issue for intermediate rec paddlers.  Obviously, the Dells (just upstream of where I put in) is very dangerous and at least class 4 and shouldn't be run unless you are a pro.  Both large islands on the river (Sandberg and Lower Island Dells) have class 3 rapids in their channels.  More on this in the main write-up.
River Depth, Navigability and Current:
Be very mindful of the depth before committing to this trip as it can easily be too shallow or too high (this of course being a very rocky and fast river).  The gauge at Kelly is not a bad indicator but does lag this section a bit.  Here are my rough estimated guidelines…:
0-100 CFS:  Super scenic with amazing water clarity.  You can run most of the lower stretch no problem, but you would have to walk many of the rapids (maybe worth it).
100-200 CFS:  Rec kayaks can probably do this section but might get hung up in the boulder gardens a number of times.
200-300 CFS:  Perfect depth for rec kayakers.  I went at 250 CFS which while I hit a number of rocks, it wasn't bad.  The only exception was the first island which is always shallow on the left/east channel.
300-400 CFS:  Starting to get a bit pushy for rec kayakers, but a minimum depth for hardcore whitewater paddlers.  Most scenic boulder gardens are probably submerged by the water.
400+ CFS:  The rapids start to become much more serious and you will want to consult a whitewater guide before running this stretch at these higher rates.
Noteworthy Wildlife:
Actually didn't see much.  There was a huge snapper, a great blue heron, a number of aquatic slugs that looked like leaches, an eagle and that was it.
Local Diversions:
The Ice Age Trail segment that runs along much of the river is very neat and definitely worth checking out.  About a mile west of the Dells is a rustic pedestrian bridge that is very photogenic.  Here is a map of the trail system.
Other Resources:
Detailed Overview
Upstream of Ackley Road:  I just don't know much about this section (it is technically the East Branch).
Ackley/Spring Road to Hwy G:  10.0 miles.  A good prospect with no major rapids.
Hwy G to Bear Lake Road:  3.0 miles.  A good prospect, but I don't believe there are rapids.
Bear Lake Road to Hwy 52:  3.6 miles.  A great five star section with many boulder gardens and rapids (a few Class 2's and one Class 3).
Hwy 52 to Dells of the Eau Claire Park:  4.1 miles.  Really neat section with rapids and fantastic rock walls.  Rapids are less serious than the upstream leg, but do include a Class 2 I believe.
Dells of the Eau Claire Park to Hwy Y:  0.2 miles.  This section is called "The Ledges" and is typically Class 2, but is Class 3 in higher water.  The dam should be portaged river right (there are downed trees in the water to contend with below the dam).

Hwy Y to Hwy N: 6.6 miles.

Hwy Y to Hwy Z:  2.0 miles.  This starts with the famous Dells that should be portaged.  There is a poor portage path (right/north) but it is steep.  I recommend instead launching from either the south or north trails.  After the Dells is a great section which includes very scenic rock walls and Class 2 rapids.
Hwy Z to Hwy N:  4.6 miles.  More flatwater, but still many rapids, including a Class 3 by Lower Dells Island.  Badger Road is a steep but alternate access point. 

Hwy N to Clubhouse Road (aka Edwin's Park):  3.5 miles.  Pleasant, but I suspect this lacks any serious rapids.  Popular with locals and the liveries.
Edwin's Park to Ross Ave:  7.8 miles.

Edwin's Park to Hwy J:  4.1 miles.  A nice section with a few rapids and boulder gardens.  The Mountain-Bay State Trail pull-off is an alternate access option.
Hwy J to Ross Ave:  3.7 miles.  A great section with more rapids and boulder gardens.  

Ross Ave to Yellowbanks Park:  2.7 miles.  I don't know much about this section...there are some rapids.
Yellowbanks Park to Eau Claire River Conservancy:  2.7 miles.  A narrow wooded section.  Not sure if the Conservancy is accessible during low water.
Eau Claire River Conservancy to the Brooks & Ross Dam (aka Drott Street):  1.5 miles.  Probably boring flowage paddling.  After the dam you are on the Wisconsin River (and another flowage).
Trip Map
Overview Map
Video
Photos
2 Comments to "Eau Claire River – Dells Park"
How did your trip turn out?

Questions or comments?

Feel free to leave your feedback.