Catfish Creek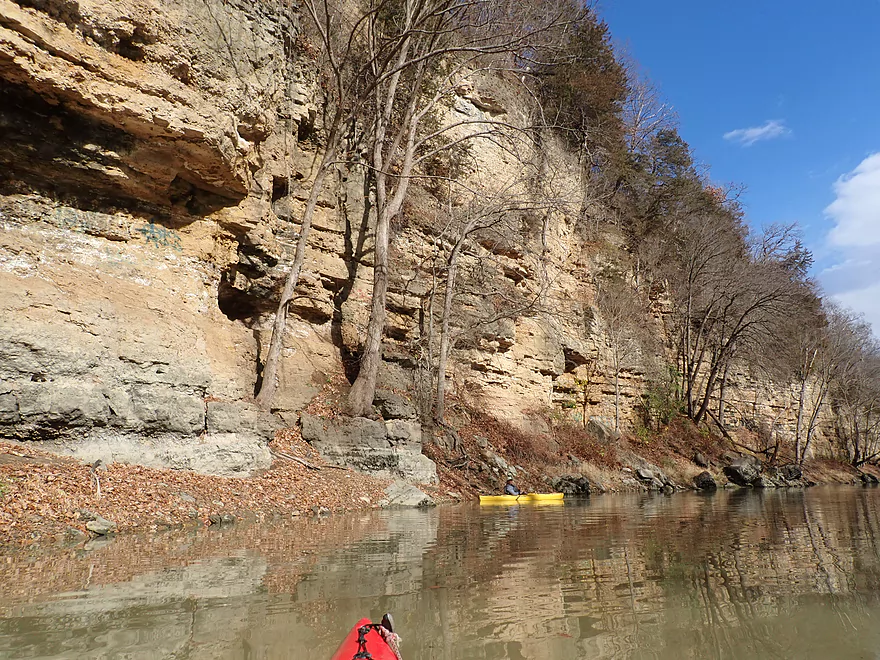 Put-in:
Mines of Spain Road
Take-out:
Mines of Spain Road
Catfish Creek is a small tributary to the Mississippi located just south of Dubuque, Iowa. Most of the upper creek is a bit small for good paddling, but the lower portion near the mouth is much larger and is a popular water trail with locals.
Most paddlers will start their trip at the canoe and kayak launch located by Mines of Spain Road (there aren't really any other good options unless you come in from the Mississippi). The launch is actually fairly close to the mouth, so to explore the creek you have to paddle upstream, but this isn't a big deal as there is almost no current.
To start our paddle, we headed north (downstream) from the official launch site toward the Mississippi. Just before the Mississippi, the creek is redirected sharply east by a huge cliff face. At least 100′ high and 400′ long, this was the trip highlight and was very reminiscent of the Upper Iowa River bluffs. At the time, cloud cover was hit and miss for photography, but when the sun was out, the cliff really lit up and looked fantastic.
Just east of the cliff, we passed under a railroad bridge and then out onto the Mississippi. I don't know if this leg of the Mississippi is that interesting, but it is on my to-do list. To the north we could see the outskirts of Dubuque (a decent-sized city bigger than La Crosse) and to the south several barges were anchored, likely waiting for water levels to come up. To the west, the Julien Dubuque Monument (a small, castle-like structure) towered over Catfish Creek and was a cool sight. We didn't spend too much time on the Mississippi…we just waved to some passing canoers loaded with camping gear and then turned back to explore the rest of Catfish Creek.
We then backtracked up the creek (heading upstream this time) past our original launch and under the Mines of Spain Road. Just south of the bridge was the second biggest cliff of the trip which redirected the creek at a sharp 90 degree angle to the west. Typically many of the rock faces on Catfish Creek are somewhat obscured by leaves. Doing a trip in early spring or late fall can provide the best scenery.
Heading west now we went down a long, straight leg which was sandwiched between two bluffs. The creek also paralleled the Catfish Creek Trail where we saw several hikers. This was a neat area with a lot of fantastic oaks. There are supposedly some burr oaks in this area that escaped the riverside clear-cutting during the steamboat era and are over 250 years old. The banks were also fairly tidy (not something you think of with most Iowa or Wisconsin creeks) which allowed trees to gracefully arch over the creek without fear of falling in. The effect was like paddling down a very wide, watery boulevard.
After a few more outcrops, we came to Granger Creek, which looked navigable but we didn't explore it. Following this small tributary, Catfish Creek made a "z-turn" and we passed by a scenic 20′-high bank. From here to Hwy 61/151 the creek really changed character. The banks were more beat-up and the trees were weedier, but it still wasn't bad. Close to the Hwy 61/151 bridge, the channel (which had been quite deep/slow up to this point), suddenly narrowed, sped up and became much more shallow. I suspect we were escaping the influence of the Mississippi, like a rocket leaving the gravitational pull of a larger planet. Glacial runoff in past eras did deepen the lower creek and it is very much affected by the Mississippi. The extent to which the Mississippi will backfill Catfish Creek will depend on water levels, but I believe it usually extends almost up to the Hwy 61/151 bridge before you see the creek in its more natural state.
There were light riffles under the Hwy 61/151 bridge, but they were shallow and difficult to paddle up. This was a good spot to turn around and head back to the put-in. Despite backtracking over the route we just did, it was still great to see the creek again, but in a different light (literally, since the sun was now over the southwest horizon which gave the outcrops a different appearance).
In summary, this was a surprisingly nice trip that I highly recommend, especially for those that live in the tri-state region. Because it is a round trip, you don't need a shuttle which makes it very easy. However, I do believe context is important. We were able to see many of the cliffs because the trees were bare…in summer I suspect most of the cliff faces will be partly obscured and paddlers will have an inferior experience. Something else to consider is that we did this trip when the Mississippi was low. If the river is too high, I suspect it will cover up some of the lower outcrops. While the entire trip was great, it was lopsided in that the best parts were closest to the Mississippi. While it was fun to paddle all the way up to Hwy 61/151, you don't need to do this to see the best of the creek.
Lastly, if you are in the area, I highly recommend visiting the Julien Dubuque Monument and hiking the canyon at nearby Horseshoe Bluff. They are both (along with lower Catfish Creek) part of the Mines of Spain Recreation Area–one of Iowa's most scenic parks.
Noteworthy Wildlife:
Sights included kingfishers, a couple of red-tailed hawks, a flock of mallards, several pileated woodpeckers, and a few bank beaver dens.
Local Diversions:
Mines of Spain Recreation Area:  This is a must-see park that includes Catfish Creek and a huge area to the south of the creek.  It has a number of trails to explore, but the highlight is "Horseshoe Bluff Trail."  It's a roughly 1-mile loop trail with the north portion going through an incredibly scenic canyon.  At the northwest end of the canyon there is an overlook with a great view of the canyon's interior plus parts of the Mississippi.  What's confusing is that the official trail map is somewhat inaccurate.  It shows only one trail when in fact there are multiple trails through the canyon and at three different levels.  I advise walking all of them (they aren't that long).  There is a fantastic hidden "level 2" trail that threads through cedars and skirts the edge of the northeast cliff that I highly recommend, but it's not on the map.  You will, however, see the stairs that  lead up to it from inside the canyon.  The official map also suggests the trail isn't a complete loop (false) and you can't access the overlook from inside the canyon (also false).  Be warned that when the Mississippi is high, some of the park trails near the creek will not be accessible. 
The history of the Mines of Spain area is very interesting.  The land was "granted" by the government of Spain to Julien Dubuque in the very late 1700s (everything west of the Mississippi at that time was owned by Spain).  The area was rich in lead and heavily mined.  So, unfortunately, much of the Horseshoe Bluff canyon is an artificial quarry, but it is still very cool.  The cliff faces inside the canyon consist of Ordovician dolomite (a type of limestone) which gives it a unique vibe.
Julien Dubuque Monument:  Overlooking Catfish Creek atop a large bluff is a medieval looking stone turret.  Julien Dubuque was originally buried here almost two centuries earlier and today it is a popular tourist attraction.  From the monument there is a fantastic vista of the Mississippi and the city of Dubuque.  Accessing the monument today is very easy…you simply drive up via Monument Drive.  Before this road was added, you had to hike up the bluff from a trail on the north side of the bluff which you can also do instead.
E.B. Lyons Interpretive Center:
  This is both a nature center and the headquarters for the Mines of Spain Recreation Area.  It was on our todo list, but it closed earlier.  The center contains many exhibits and displays explaining the history and natural features of the park.  
Eagle Point Park
: Just north of Dubuque is a fantastic park perched atop a steep bluff overlooking the Mississippi.   Here there is a great view of a lock and dam.  If you are lucky you can see a barge go through.  It costs $1 to enter the park.
Upper Mississippi Aquarium
:  This is a popular tourist attraction in Dubuque.  It is part aquarium and part museum whose
exhibits
feature the Upper Mississippi's natural and cultural history.
Put-in and Take-out:
Catfish Creek Canoe/Kayak Launch:  This is a nice public access located by the Mines of Spain Road bridge.  Typically it has a floating dock which helps paddlers get in/out, but during our trip it had been pulled for the winter.  You can still launch ok without the dock along the dirt banks, but be advised the creek here is deep so you want to be careful.
Alternate Access Points:
Old Mill Road (1.2 miles upstream from Hwy 61):  This leg is shallow and rocky but likely viable for paddling.  Old Mill Road isn't a great access, but I think there is a pull-off you can use southwest  of the bridge.
Manson Road (1.5 miles upstream from Hwy 61):  For putting in I think  you can use the park southeast of the bridge.
N. Cascade Road (4.0 miles upstream from Hwy 61):  Below Cascade Road the creek is small and very shallow, but could be scenic with multiple boulder gardens.  This is only recommended for advanced paddlers.
Shuttle Information:
Bike Shuttle:  None..this was a round-trip.
Boat Rentals:  Fever River Outfitters used to offer rentals on Catfish Creek but they went out of business.  I'm not sure if alternative rental options are available in the area.
Hazards, Logjams and Current:
Logjams/Fences/Dams/Rapids:  None…this is a pretty safe and easy creek.
Current:  There is almost no current up to Hwy 61 which makes round-trips practical.
River Depth and Navigability:
Trip Depth:  11.75′ per the Mississippi @ Clayton Gauge.  Note there is no gauge on Catfish Creek, nor would it be super relevant.  Because the creek is so close to the Mississippi that's what counts.
11-12.0′:  A relatively low level, but a good target range that reveals some nice bankside geology.
12.1-13.0′:  An average depth and decent target range for a trip.
13.1′-14.0:  Above average depth.
14.1-16.0′:  A high depth.  Some bank-side rocks will be submerged.
1.61′-20.0′:  A very high depth with perhaps some bank-side flooding.  Doable, but maybe not a scenic trip.
20.1'+:  Maybe too high for enjoyable paddling.
Catfish Creek Overview:
Main Branch:
Middle Fork/South Fork Confluence to Hwy 61:  1.0 miles.  Shallow rocky stretch mostly viable for paddling, but you may have to wait for high water.  Likely no outcrops on this leg.

Hwy 61/Mar Jo Quarry Road to Catfish Creek Launch:  1.5 miles.  A good stretch with several rock outcrops.  Current is slow which makes round-trips viable.  Hwy 61 is not a viable access, but Mar Jo Quarry Road under it likely is a viable, but not great access (crossing over a railroad would be required).  99% of paddlers will (and should) do just round-trips from the main launch.

Catfish Creek Launch/Mines of Spain Road to Mouth on Mississippi:  0.2 miles.  Most scenic part of the creek.  Includes an impressive 100'+ cliff.
South Fork:
N. Cascade Road to Manson Road:  2.5 miles.  A small and very shallow leg.  Could be a few nice boulder gardens though.
Manson Road to Old Mill Road:  0.3 miles.  Maybe one outcrop.
Old Mill Road to Middle Fork/South Fork Confluence:  0.2 miles.  Shallow rocky stretch. 
Middle Fork:
It's probably scenic but I think it's too small for kayaking unless there are very heavy rains.
Granger  Creek:
You could likely launch by Bellevue Heights Road (east of the Interpretive Center), but I'm not sure the creek would be that interesting and there are maybe two major logjams to deal with.
Mississippi Add-on Routes:
Because Catfish Creek is slow and its most scenic parts are by the mouth, you could easily combine a trip on the Mississippi with one on Catfish Creek.  eg North end of Dubuque (say AY McDonald Park) to Catfish Creek would be ~4 miles.  From Catfish Creek to Massey would also be 4 miles.  There are multiple access options on the Mississippi.  See my overview map for more details.
Trip Map
Overview Map
Video
Photos
How did your trip turn out?

Questions or comments?

Feel free to leave your feedback.