Baraboo River – Rock Springs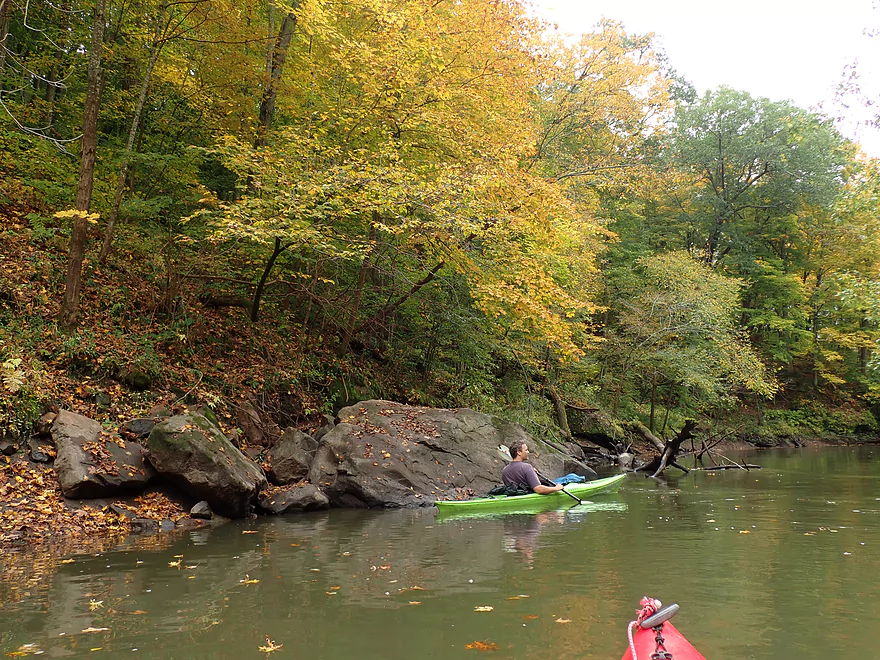 Date:
September 26th, 2020
Put-in:
Hwy 136/Ableman's Gorge
Take-out:
North Freedom Park
There are countless segments on the Baraboo River that are good for paddling…but perhaps the most scenic is from Rock Springs to North Freedom.  Most who do this leg start from the official Rock Springs launch which is located just downstream from the town.  This is actually a mistake as the preceding mile is the highlight of the trip.  Not wanting to miss the famous gorge, we instead launched just upstream of Van Hise Rock.  By the bridge there was a nice parking area and a trail that led to the water.  The shoreline was a bit muddy, but we managed to launch ok.
After we passed under the Hwy 136 bridge, we entered the heart of "Ableman's  Gorge".  Here the Baraboo river flows through a quartzite canyon.  Mining has reduced its splendor, but the gorge is still a neat part of the river to paddle through.  It starts with an outcrop just after the highway bridge.  After that, the river turns sharply left and passes under a historic 1989 railroad bridge which is supported by attractive stone pillars.  Sprinkled along the shoreline were large quartzite boulders that had tumbled down from the adjacent talus slopes…somewhat similar to Devil's Lake.  You can't see the full extent of Ablemen's Gorge from just the river, but we did see two additional outcrops that were very scenic.  Paddlers should occasionally look behind them, as that sometimes offers the best vista of the gorge.
Past the artesian well, the gorge started to fade.  Narrows Creek joined the Baraboo from the right and this was followed by the old canoe launch on the south side of town.  I don't think it's used often…the access stairs are partly buried under mud.
For much of the trip, a railroad paralleled the river.  At one point in history, this was THE artery between Chicago and the Twin Cities, and saw a lot of traffic.  After an alternate rail line was built north of the Wisconsin River, the "Baraboo Hills" line fell into disuse.  Today it dead-ends in Reedsburg.  The Rock Springs section does see occasional rail traffic including ore cars that ship quartzite out of the Pink Lady Quarry.  There's also a major grain depot south of town where grain cars load up.  While you can only partly see this from the river, you can fully hear it as this depot is quite noisy.
We soon came to a monster-sized logjam that looked ancient.  It would be our only portage of the trip…which was ok, but a bit muddy.  The Baraboo is one of if not the muddiest rivers in Wisconsin.  Mud was everywhere, which was one of the few downsides to the trip.
It was here I attempted to "fix" a leak in my boat.  My previous patch job received damage from hitting rocks and had sprung a pinhole leak.  My boat was taking in about a cup of water every 5 minutes.  Thankfully I had my bone sponge with me, and I was able to drain the cockpit periodically.  Given how the mud would stick to the paddles…I decided to apply it to my pinhole leak.  This actually worked to a degree and helped make the remaining part of the trip more enjoyable.
Shortly after the mega-logjam, we encountered our second gorge.  Here the river is constricted by two steep hills which form an attractive ravine.  This would be the second highlight of the trip and featured several scenic outcrops and boulders.  This even more so than the first gorge reminded me of Devil's Lake (a geological cousin located 8 miles to the east).  Many of the rocks and talus slopes were hidden by leaves, so this might be a good paddle to do in March.  There were a number of maples in the ravine which provided very good fall color.
Following one last outcrop and another historic railroad bridge, the river valley opened up into flatter terrain.  The second half of the trip wasn't nearly as interesting, but was still pleasant and attractively wooded.
Close to North Freedom we could see historic rail cars and engines hiding above the banks.  This was part of the Mid-Continent Railway Museum which is a popular tourist attraction.
The final stretch through North Freedom was a bit more hilly and scenic than the previous few miles.  We took out at North Freedom Park which has a great public access.  It's unique feature is a handicap kayak launch which sits atop a large floating pier.  Getting out is super easy…you just pull yourself forward with the handrails and your boat will slide along rollers and onto the dock.  No need to get muddy or wet.
Noteworthy Wildlife:
Sights included a muskrat, a great blue heron, some frogs, a downy wood pecker, and vultures.  There was evidence of bank beavers in several locations including a significant mud slide down a steep hill.  One of the more amusing sights was seeing coon prints on a steep mud bank.  It appeared that the raccoon tried to exit the river via the mud bank but couldn't get a grip and slid back into the water.
Hwy 136:  Note, Hwy 136 crosses the river multiple times.  The bridge where we put in is just upstream of Van Hise Rock.  Here there is a convenient (and scenic) pull-off with parking lot that allows hikers to explore the local trails.  A small dirt trail leads from the parking lot to the water.  The only problem with this put-in option is that the banks are steep and muddy.  Your best bet is to launch directly under the bridge itself.  Hopefully in the future a proper kayak launch will be installed here.
Alternate Put-ins:
Hwy 136 North Bridge (0.9 miles upstream of my put-in):  This would be a viable bridge access and launching here would allow paddlers to explore a short but additional stretch of Ableman's Gorge.  There may be a logjam or two on this leg though.
Firemen's Park (1.3 miles downstream of my put-in):  This is the official canoe launch of Rock Springs and is located just across from the gas station (CJ Rock-N-Stop).  Note…the launch is in bad shape and mud has partly buried the main access ladder.  It's a doable access, but tricky with just a bit too much mud.  Regardless, I can't recommend this launch, as it would mean missing out on the previous mile and the gorge.
Narrows Creek Launch (1 mile downstream of my put-in).  This launch is actually on Narrows Creek here and is a decent access option (the Baraboo River is just downstream). Unfortunately there is a logjam where Narrows Creek meets the Baraboo (easy to scout).  Also if you launch here, you miss out on the upstream gorge which is super cool.
Take-out:
North Freedom Canoe Launch:  This is an excellent public launch and boat landing.  A $3 fee is required to use the launch, but there are no entrance forms to fill out…so you'll likely ok not paying.  There is a floating dock with a kayak launch, which is super fun to use.  Bathrooms and picnic tables are available behind the parking lot.
Alternate Take-outs:
Kohlmeyer Road (4.3 miles downstream of my take-out):  A doable but steep bridge access.  This leg after North Freedom is more open, but pleasant with the highlight being a long outcrop.
Shuttle & Rental Information:
Bike Shuttle:  4.8 miles with 75′ of ascent.  Although I car shuttled, this wouldn't have been a bad bike shuttle.  You do want to shuttle north of the river as the south route has a 151′ high hill to deal with.
Baraboo River Canoe & Kayak Rentals
:  This is a livery/rental service that does routes between North Freedom and Baraboo.  They may do Rock Springs to Baraboo if you ask:  1-608-737-1100.
Hazards and Concerns:
Fences/Rapids:  None.
Logjams:  There are a handful of logjams, but most are relatively easy to sneak past.  The only exception was a huge logjam about a mile downstream from Broadway Street.  That had to be portaged, but aside from a bit of mud it wasn't too difficult.  A drainage ditch offered a convenient re-entry point.  Note, this section of the Boo is somewhat volatile…I've seen wind storms create sudden logjams…and then a short time later a flood will bulldoze them clear.  So even though my trip only had one portage, yours may have more.  
Strainers:  There are a handful of branches to dodge.  For the most part the current wasn't too bad, but this leg can be pushy in high water.  Kayakers who do this stretch should have some degree of boat control.
Mud:  It's kind of everywhere…prepare to get a bit dirty.  I advise wearing appropriate aquatic footwear that can get muddy in case you need to portage.
River Depth and Navigability:
The Baraboo River actually has a number of gauges including one conveniently located at Rock Springs.  According to this gauge I did the trip at 9.51′, which was above normal but plenty manageable.  Because I lack historical information on the Rock Springs gauge, I made the following estimates based on the Reedsburg Gauge instead (trip done at 325 CFS).
0-150 CFS:  Very low levels.  River will be plenty manageable.  These levels could reveal some logjams.
151-250 CFS:  Average levels and a good target range.
251-350 CFS:  Above normal levels, but manageable for kayakers with decent boat control
351-450 CFS:  High levels with some pushy spots.
451-550 CFS:  Very high levels…perhaps only for expert paddlers.
551+ CFS:  The river at these high levels will likely be too muddy, too pushy and have too many tricky strainers for an enjoyable paddle.
North Freedom Market
:  Despite Rock Springs having only 700 people, it actually has its own bakery which is kind of novel.  This can be a nice post-paddle pit stop for getting a snack.  I do recommend their cinnamon rolls.
Weidman Memorial Park
:  This is a county park located just over the hill from Ableman's Gorge.  Here Narrows Creek flows through an attractive rocky gorge.  A public parking lot is available where you can park and check out the creek or the quartzite
talus slope
.  Weidman Park is a cool area but unfortunately lacks a proper trail system which makes exploring some of the quartzite outcrops tricky.  Rock climbers
occasionally climb the cliffs here
.
Rock Springs Artesian Well
:  This is one of the most famous artesian wells in Southern Wisconsin, and where I personally get my drinking water every month.  Unfortunately, word has gotten out.  Long lines can occur here for those wanting to fill up their jugs and many individuals will casually butahead of the line.  Most don't know this, but there
are plenty of other natural springs
to get your water from in Southern Wisconsin that are less congested.  If you use this well, be mindful it is private and under video surveillance.  The public can use it, but dogs are not allowed near the fountain, and you can't park in the turn-around area used by the bottling trucks.
The springs are sadly a shadow of what they used to be (it used to gush out of a 6 inch pipe).  A combination of the adjacent bottling plant, a nearby deep quarry, and the DNR forcing the well to be relocated two feet above the flood plain, have likely contributed to greatly diminished outflow.
Mid-Continent Railway Museum
:  This is one of the classier tourist attractions in Sauk County.  Highlights include a large rail yard, museum, and trains rides available to the public.  You can see some of the historic trains and their cars from the Baraboo River, but for a proper experience you really should check it out from land where you can purchase a ticket. 
Many years ago this section of rail was known as the Quartzite spur and was used to service
a local low-grade iron mine
and later
a quartzite mine
.  Both enterprises eventually became economically nonviable which rendered this spur of track obsolete.  It would be later taken over by the museum.  I highly recommend reading
this article
and
this video
for more historical information.
Sadly the museum has been hit by some bad luck in the past 15 years. 
Van Hise Rock
:  Located in the heart of Ableman's Gorge is a unique Baraboo quartzite monolith with some unique textures and folds.   A wayside allows people to pull over and check it out.  I suspect something similar and way more impressive once existed where the old Rattlesnake quartzite mine was setup…which sadly is now just a lake.  What's fascinating is historical evidence suggests there was actually a much larger monolith located near Van Hise, that has since been destroyed (likely by the highway department).
Ableman's Gorge SNA
:  This is a very underrated state natural area.  A scenic trail follows the western flank of of the gorge.  Here there are large quartzite boulders, cliffs, and talus slopes…very reminiscent of Devil's Lake.  Part of this used to be a quarry (not to be confused with the Pink Lady Quarry just to the east).  In several locations you can see old concrete bunkers where the miners stored their dynamite.  This location is super photogenic especially on a sunny day after a fresh snowfall.  While most hike the lower trail, there is a more obscure upper trail that runs atop the bluffs.  Click
here
for a map of the trails.
Ableman's Gorge represents yet another sad chapter in Wisconsin's history of failed conservation.  The quartzite gorge and rock walls you see now are striking…but used to be far more impressive.  Unfortunately a MASSIVE quarry was set up just adjacent to the gorge.  You really can't see it from the road, but it is
quite striking from the air.
  Some of the mined rock is used for generic purposes (like for railroad beds) and some is used by Kraemer Construction for various landscaping projects…including ironically trail fill for some area parks. The rock is valued as it is unique known for its pinkish hue and is called Pink Lady.
Sadly (and predictably) the operators of the Pink Lady Quarry got greedy and starting nibbling off the walls of Ableman's Gorge itself.  A steep vertical dividing rock wall formed and "according to state law" was too narrow to be safe.  So the quarry used that as an excuse to lower the tallest cliff from the gorge.  The damage was extremely tragic…can you imagine if a quarry destroyed parts of Devil's Lake?  Maybe hopefully one day, the state will wake up and develop Rock Springs, Ableman's Gorge and Weidman Park into a state park to protect what's left.
Detailed Overview
Nutmeg Road to Hwy PP:  6.2 miles.  Flows by the historic Elroy-Sparta Trail and is mostly open, but there are a few logjams.  This is a narrow small stretch that will need very high water to be runnable.  There are scenic outcrops on this stretch….maybe 3.
Hwy PP to 2nd Main Street:  1.6 miles.  Maybe 3 logjams.
2nd Main Street to Franklin Street:  0.9  miles.  Maybe 1-2 logjams.  Trip starts at a scenic covered bridge and on Class 1 rapids.
Franklin Street to Hwy 82(South of Lincoln Street):  0.5 miles.  A good stretch that is mostly open and has maybe one outcrop.
Hwy 82(South of Lincoln Street) to Schultz Park:  0.6 miles.  Maybe 2 logjams.
Schultz Park to Hwy 82(South of Snyder Road):  4.0 miles.

Schultz Park to Hwy 82(North of Lumsden Road):  0.6 miles.  One outcrop, one logjam portage and a few tight fits.
Hwy 82(North of Lumsden Road) to Hwy 82(South of Snyder Road):  3.4 miles.  Three outcrops, three significant logjams and several tight fits.  A section with good potential but needs cleanup work.

Hwy 82(South of Snyder Road) to Hwy W:  1.9 miles.  Maybe 2-3 jams…think this is doable though.
Hwy W to Hwy 82/Union Center:  1.3 miles.  Good prospect by the golf course with maybe 2 outcrops.  Maybe 1-2 logjams.
Hwy 82 to Hwy FF Landing/Wonewoc:  7.1 miles.  A great section with one of the largest rock outcrops on the river.
Hwy FF Landing to Wayside Park:  2.9 miles.  There used to be a lot of logjams here.  I think it might be doable…maybe 2-3 major portages.
Wayside Park to Kalepp Road:  4.5 miles.  An uninteresting part of the river with weedy, muddy banks.  But…there are three fantastic sandstone outcrops.
Kalepp Road to N. Dutch Hollow Road:  5.3 miles.  One logjam portage with several "hoppers" and "duckers".  There are some outcrops but most are recessed and away from the river.  Mud and downed trees are a bit unsightly, otherwise a pleasant paddle.
N. Dutch Hollow Road to La Valle:  3.8 miles.  Second best section on the entire river with great rock outcrops.
From La Valle to Lake Redstone:  3.6 miles.  One of the more underrated sections of the Boo, which I really liked.
Lake Redstone to Monument Park/Reedsburg:  9.0 miles.  Supposedly kind of boring, but the logjams should be cleared out.
Monument Park to South Park:  1.4 miles.  Spanning the length of Reedsburg, this should be a nice section mostly free of jams.
South Park to Golf Course Road:  4.7 miles.  Maybe 4-5 logjams.  Probably one too many.  Should be 1-2 small sandstone outcrops.  Golf Course Road might not be a good access.
Golf Course Road to Hwy 136(by Beth Road):  3.6 miles.  Maybe a few jams.  Likely mostly floodplain paddling and probably uninteresting.
Hwy 136(by Beth Road) to Hwy 136(by Ableman's Gorge):  6.0 miles.  Maybe some outcrops at the end, but mostly uninteresting paddling I suspect.  Likely several serious logjams with difficult portages because of the high muddy banks.
Hwy 136(by Ableman's Gorge) to North Freedom Boat Launch:  8.2 miles.

Hwy 136(by Ableman's Gorge) to Rock Springs Boat Launch/Firemen's Park:  1.3 miles.  One of the most scenic parts of the entire Baraboo River.  Highlights include a steep gorge, riverside boulders and scenic outcrops.
Rock Springs Boat Launch to North Freedom Boat Launch:  7.1 miles.  This is a nice paddle, but with some downed trees to dodge and one to portage.  Highlights include historic railroad bridges, scenic outcrops, and seeing the railroad museum from the river.

North Freedom Boat Launch to Giese Park:  7.4 miles. 


North Freedom Boat Launch to Kohlmeyer Road:  4.3 miles.  Stretch starts nice as the river naturally curves and has many shade trees.  There is a scenic long outcrop after Seeley Creek.  River becomes boring after that except for a scenic railroad bridge and a few rocky banks.  Kohlmeyer Road isn't a great bridge access.
Kohlmeyer Road to Giese Park:  3.1 miles.  Some longer and less interesting stretches.  There is however a unique large volume artesian well, and a historic railroad tunnel you can wade under.

Giese Park to Gander Outdoors:  2.9 miles.  A pleasant but simple farm country paddle.  Highlights include the Skillet Creek bridge, the towering Hwy 12 bridge, and a rock outcrop upstream of Hwy 12.
Gander Outdoors to Glenville Landing:  4.9 miles.  A fantastic stretch through the heart of Baraboo with many light rapids.

Gander Outdoors to Haskins Park:  0.6 miles.  A good stretch with some fantastic rapids upstream of Hwy 136.
Haskins Park to

Maxwell-Potter Conservancy

:  3.3 miles.  The best section on the entire river with many rapids.

Maxwell-Potter Conservancy

to Glenville Landing/Hwy 113:  1.1 miles.  A pleasant stretch, but lacking in rapids.

Glenville Landing to Luebke Landing:  5.1 miles.  A pleasant trip, but a little boring at times.  I would rate this as one of the more uninteresting sections of the Baraboo.  On the plus side it had no logjams (as of 2023) and remains plenty navigable even during big droughts.
Luebke Landing to Hwy 33:  3.5 miles.  This might be one of the better legs on the Lower Baraboo.
Hwy 33 to Wayside Park:  8.0 miles.  A stretch I'm curious about.
Wayside Park to Hwy U:  3.9 miles.  Simple but pleasant short section flanked by busy interstates.
From Hwy U to the mouth:  5.3 miles.  The final leg running through floodplain forest.
Notable Baraboo River Tributaries:
West Branch of the Baraboo River:  For the most part, too many logjams, but the flowage by Hillsboro is navigable with scenic outcrops by the dam.
Dutch Hollow Lake:  A heavily developed lake and popular with locals.  Not as great as Lake Redstone but still nice.  Dutch Hollow Creek is likely too shallow to run, but it (and the bike trail) goes past a fantastic and huge exposed rock face.
Hemlock Slough:  A nice little lake paddle with many rock outcrops and attractive hemlocks.  
Little Baraboo River:  For the most part too many logjams.  However the small flowage by Cazenovia Memorial Park is navigable and there are small outcrops both below the dam and on the northwest corner of Lee Lake.
Lake Redstone:  Definitely a fun paddle with fantastic red rock formations, a swimming beach, and a spillway waterfall.
Big Creek:  You can't get too far upstream because of logjams, but there is a nice outcrop by Hwy F and this can be combined with a trip on the north side of Lake Redstone.
Narrows Creek:  There is a neat section by Weidman Memorial Park with boulders and light rapids with I believe nearby outcrops downstream.  Unfortunately there are likely too many logjams.  I did partly paddle a nice downstream portion from the mouth on the Baraboo before I hit a logjam and turned back.
Seeley Creek:
Skillet Creek:

From Gasser Road to Pewit's Nest:  Gorgeous, but filled with logjams.
Pewit's Nest:  Stunning scenery, but the ledges are likely too steep and narrow for kayaking.  Best experienced as a hike.
Pewit's Nest to Hatchery Road:  A bit of nice geology, but likely small with several logjams.  Neither endpoint is a great access.

Rowley Creek:  A scenic creek, but shallow and with hostile locals.
Leech Creek:  From Hwy U to Tritz Road would be 2.5 miles.  Likely open and an easy paddle, but uninteresting because of the artificial channelization.
Long Lake:  A very slow creek that empties into the Boo close to the Wisconsin.  There could be serious logjams by the mouth, but the upper sections are plenty navigable and are paddled by locals.
Trip Map
Overview Map
Video
Photos
3 Comments to "Baraboo River – Rock Springs"
How did your trip turn out?

Questions or comments?

Feel free to leave your feedback.