Black River – East Fork: Overguard Rd to Campground Rd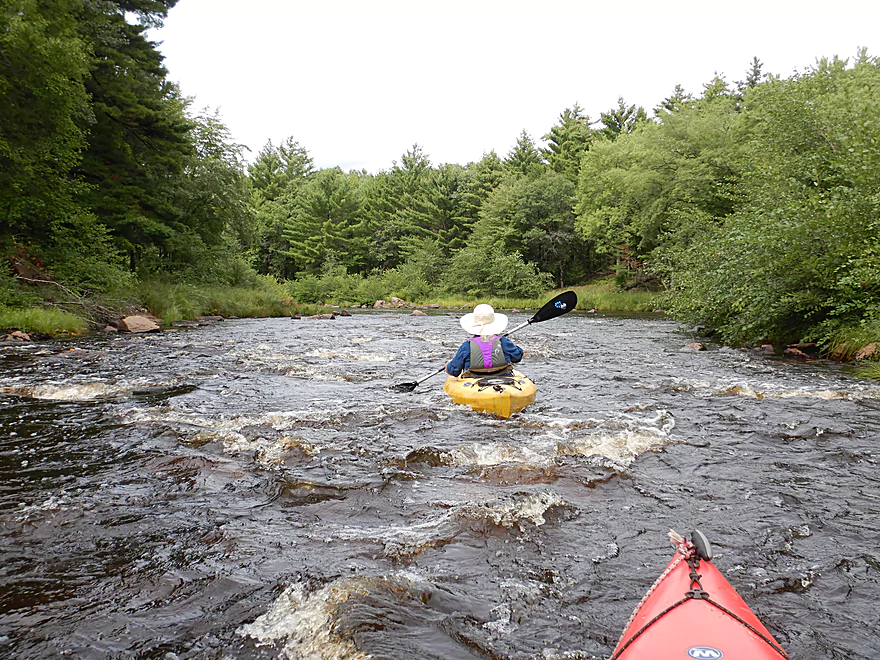 Date:
September 1st, 2018
Take-out:
East Fork Campground
Time:
4 hours 48 minutes (2 hours would be more typical)
The East Fork is a major tributary of the Black River located in Central Wisconsin.  Its upper portions have headwaters in Glacial Lake Wisconsin (a weak paddling region of the state) but as the East Fork approaches the main branch and the driftless area, the river undergoes a dramatic geologic transformation.  Precambrian granite replaces sand and mud, while pines and ferns become more common.  Being largely undeveloped and one of Wisconsin's longest undammed rivers, this is a good paddling river with its best and most popular section being its last.  Because of fickle water levels and a brutal bike shuttle, this isn't the easiest of water trails to do but timed just right, can be a very scenic and fun paddle
The trip started on an inauspicious note as we drove an hour through heavy rain on I90 to the launch area where everything was quite wet.  Our put-in was at Overguard Road which was unique because we had to drag our boats 680′ to reach the water.  Since I was here last (4 years ago) the county has added gravel to the trail which kept most (but not all) mud to a minimum.  Unfortunately an attractive paddle marker that used to hang from a tree at the obscure landing and acted as a lighthouse has since been either stolen or removed by floods.
Kayakers paddling the first half-mile from Overguard Road, might rightly be confused as to why I gave this trip a five star rating as the channel here was broad, slow, straight, and uninteresting.  But hang in there, as it does get more interesting.  This was a very dark black river (more so than the "Black River") and while clean, hid many boulders in its 4-5′ average depth.  Along the shore were a mix of native grasses, ferns turning color, and an assortment of hardwoods and pine.  The closer we got to the mouth on Lake Arbutus, the more common the pines became which after the big rain had a great smell.  Large granite boulders protruding from the banks gave this segment unique character.
The main reason you do this trip though is for the rapids.  There are nine total named rapids with three being Class 2.  These were a lot of fun and while never super big were scenic.  Often they would be flanked by large boulders or granite outcrops, and frequently intermixed with boulder gardens. Like the Baraboo River in Baraboo, this is a good beginner river for paddlers looking for an introduction to whitewater, but timing it can be tricky as often it is too high or too low.   I thought we picked a good depth (892.6′) and only hit a few rocks here and there.
About halfway into the trip we encountered Rock Creek which was very scenic and true to its namesake rocky…perhaps a future paddle.  Shortly after was Rocky Creek Rapids which are the longest rapids of the trip and perhaps the strongest.  At the end of the rapids is East Fork Road which would be a suitable take-out if you wish.  Here the depth gauge is located which had been destroyed in a flood several years ago, but has since been replaced.
The second half of the trip wasn't as interesting, but still was good with some fun rapids near the end.  After the last rapids we saw campsites along the left shore which marked the start of the East Fork Campground which was soon followed by the main landing.   We could have continued to Lake Arbutus, but that would have been mostly flatwater flowage paddling. 
In conclusion, this was a great trip because of the undeveloped scenery and rapids.  This was much better than my previous two upstream trips and I definitely recommend it, but just be mindful of water levels.
Noteworthy Wildlife:
We saw very little wildlife…just a red-tailed hawk and a lot of beaver evidence.  No bears, elk, or wolves which are known to reside in the Black River Forest.
Put-in:
The put-in by Overguard Road was decent.  The only issue was we had to hike 680′ over a trail to reach the water.  Parking is available in an open area at the end of Overguard Road.  There are multiple trails, so make sure you study a map and choose the west one.
An alternate access 7.4 miles upstream would be at Pray Road.  This is a decent access and the subsequent leg is solid but not nearly as good as this downstream section.
An alternate access 2.3 miles downstream would be at East Fork Road.  That is a doable option used by other paddlers…but if you take out here, you miss out on the best section of the river.
Take-out:
We took out at the East Fork Campground where there is public parking and a boat ramp.  Note, you will need a state park sticker to launch here.  There are no facilities by the ramp but there are in the campground to the east.
If you are feeling adventurous, you can continue a half mile further to reach Lake Arbutus.  This is an attractive lake but is a completely different experience from the river.  There are numerous access options on the lake.
Shuttle & Rental Information:
Car shuttling is recommended.  The bike shuttle would be a brutal 7.1 miles over large, rough gravel…practically unviable.
The "Hatfield Sports Shop" used to do shuttles on the Black River and the East Fork by appointment.   I don't know if they do this anymore though.  You can call them at 715-333-5009.
I've been contacted by Todd who can also assist with shuttling, as well as provide water level updates.  You can reach him at wheeler54615@yahoo.com.
Hazards, Logjams and Current:
Current:   The river had many long, slow pools, with occasional fast rapids.
Logjams:  None.
Whitewater:  There are 9 sets of named rapids on this stretch.  Most are Class 1, but there are three Class 2's (marked on map).  I thought the rapids were fairly straight forward, but note these can be dangerous during high water.
River Depth and Navigability:
There is a depth gauge located halfway into the trip, but historical data is not posted online, so making depth forecasts is somewhat tricky.  I'll try anyways…
891′ to 892.0′:  A very shallow depth.  You will likely have to walk 4 or 5 of the rapids, but the rest of the river should be navigable, remarkably clear, and the boulder gardens very striking.
892.1′ to 892.3′:  A shallow depth that may require walking a few of the rapids.  Otherwise an attractive depth.
892.4′ to 892.8′:  An average depth for early summer.  Our trip was done at 892.6 which was a great depth, but we did hit a few rocks.
892.9′ to 893.3′:  A somewhat high depth.  Getting over the rapids will be very easy, but clarity will not be as good. 
893.4-894.0′:  A high depth in which some of the rapids could be pushy and difficult.  Many of the scenic boulder gardens would be hidden under water.  Only suitable for experienced paddlers.
894.1'+:  A very high depth.  Likely only suitable for hardcore whitewater paddlers.
Detailed Overview
River Road to Hwy 73:  1.8 miles.  A small creek that might be runnable in high water.  Jams shouldn't be too bad.
Hwy 73 to Hay Creek Road:  5.4 miles.  Probably a feasible creek prospect.
Hay Creek Road to Peterson Road:  4.3 miles.  Probably doable as a creek prospect as it is more open, but there would still be some jams.
Peterson Road to Hwy ZZ:  7.0 miles.  Probably too many downed trees.
Hwy ZZ to Knutes Road:  5.1 miles.  Very narrow and wooded…downed trees are probably an issue.  Best launch option probably SW of bridge. 
Knutes Road to Steponik Road:  5.8 miles.  Probably a sandy slow section with no rapids and a handful of downed trees.  You should be legal to launch by Knutes Road, but the local landowner doesn't like outsiders.  Supposedly there is an access option at Borek Road.
Steponik Road to Pray Road: 

  4.6 miles.  Ok section with several small Class 1's, a Class 3, and a Class 4. 
Pray Road to Overguard Road: 

  7.4 miles.  Good section with large granite boulders and one Class 1 rapid. 
Overguard Road to East Fork Campground: 

  4.5 miles.  The last, best, and most popular segment on the East Fork.

Overguard Road to East Fork Road:  2.3 miles.  Scenic section of the river with four Class 1's and one Class 2.
East Fork Road to East Fork Campround:  2.3 miles.  Another good section of the river with two Class 1's and two Class 2's.

East Fork Campground to Lake Arbutus:  Simple flowage paddling.  Lake Arbutus has about 9 landings to choose from.
Trip Map
Overview Map
Video
Photos
4 Comments to "Black River – East Fork: Overguard Rd to Campground Rd"
How did your trip turn out?

Questions or comments?

Feel free to leave your feedback.