Big Slough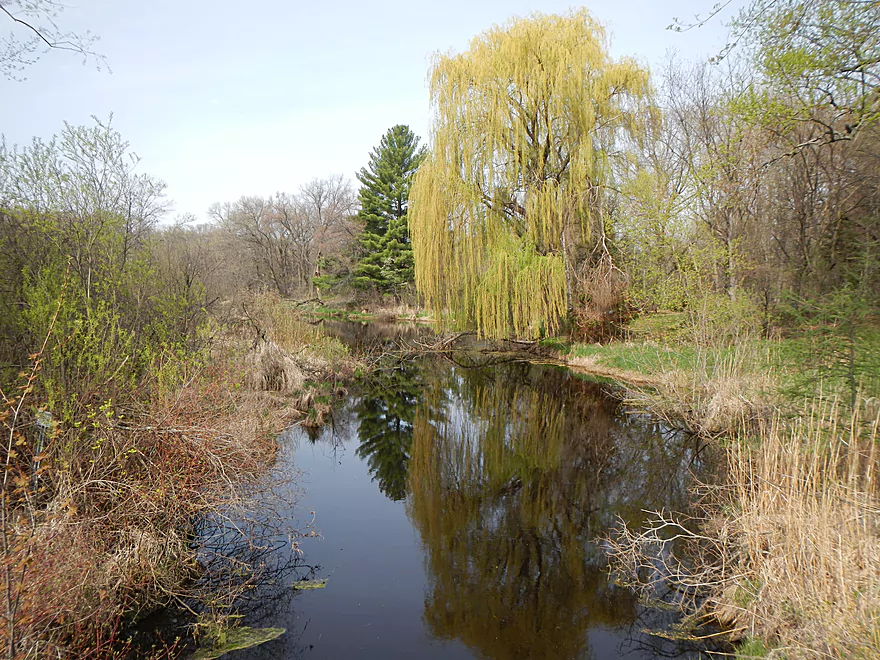 Put-in:
Malisch Road Bridge
Take-out:
Big Slough Public Boat Access
Gradient:
0.5' per mile (guess)
A more obscure branch of Neenah Creek, with nothing absolutely spectacular, but all in all, a pleasant, peaceful paddle that I'm glad I did.  You've probably never heard of Big Slough, so I'll provide a bit of background here…  The Fox River flows roughly south to north from Portage up to Green Bay.  The first major tributary to the historic Fox River is Neenah Creek (sometimes referred to as the North Branch of the Fox River), which is a fine canoeing creek.  Neenah Creek itself has three forks.  The main fork parallels the Fox River, but flows north to south–an example of some of the unusual drainage for this watershed.  The Fox and many of its tributaries don't flow very fast and, in fact, form many "natural flowages."  The west fork of Neenah Creek comes in from Briggsville, is navigable and is, unfortunately, called the south branch of Neenah Creek (should have been called the west branch).  This, like the north branch, is quite navigable for paddlers.  Lastly, there is  "Big Slough."  It is a major tributary that comes in from the south and is very slow.  Looking at it on a map, you might mistake it for a lake, but it is a creek with a current…just not a very fast one at times.
The history of the creek and area is actually quite interesting.  As most of you know, Portage is the site of the famous continental divide and canal.  What is interesting is that the Wisconsin River is, on average, 8′ above the Fox, and during flood stage this approaches 20′.  Before a levee system was constructed, the Wisconsin would routinely flood over Portage and into the Fox River, creating a very confusing continental divide.  Portage wasn't the Wisconsin's favorite target though…it mostly preferred to spill over the divide a couple miles upstream by "Lewiston" and into Big Slough.  Big Slough, of course, spilled into Neenah Creek, which in turn flowed into the Fox.  These were no minor floods either.  During the flood of 1880, a make-shift dike broke and the Wisconsin burst into the Fox River through Big Slough, creating a lake 100 miles long and two miles wide, and leaving Oshkosh and Fond du Lac mostly underwater.  While the Portage Canal is celebrated as the historic link between these two great watersheds, in a sense Big Slough is the more historically important connection.  It would be interesting to see the mighty Wisconsin pour through into the Fox river again…and, in fact, it might happen!  There are two levee systems that constrain the Wisconsin River by Portage.  The Caledonia Levee system is on the south bank and the Lewiston Levee is on the north bank.  The latter is over 100 years old and in poor shape.  Officials are bickering over how to fix it and even as early as 2010, they were terrified the Lewiston Levee would go….and if it broke, Big Slough would remember its former glory!  At the end of the 19th century there was a formal congressional proposal to permanently divert part of the Wisconsin River (and Duck Creek) into the Fox to provide enough water for navigation.  One of the arguments for it was that the current levees artificially rob water to the Fox that it normally receives from the Wisconsin and this would help restore the natural balance.  Their method was to be simple…they would simply open the gates at the portage canal.  It is odd to think of the Portage Canal as a massive dam…but that is what it would have been.
For this trip, I put in at Malisch Road bridge.  This is a nice, low-traffic road with an okay parking and launch area.  You'll be greeted by a very picturesque weeping willow.  You'll also be greeted by a herd of ravenous dogs that, thankfully, seemed constrained by a fence.  They were very loud and annoying though, and in hindsight I wish I had put in further upstream (more on other options later).  To start, Big Slough has okay current, clear water, and a sandy substrate.  The bank quality is terrific, which suggests the water levels don't vary a lot.  I went when most creeks were above normal, so I don't know how this affected Big Slough and if it runs dry in the summer.  I suspect it does not because of the low gradient and because the Wisconsin River is probably a significant supplier to the creek (through the groundwater table).  Regardless, I never had any "get stuck" moments.  In fact, I never had any logjams either, which was a huge relief (the locals do clear it out).  My previous three trips or so had left me with a lot of wounds from combating logjams and mudjams, so it was a relief to have such a non-confrontational stream.  Also nice was the "elbow room," which allowed me to use a longer, faster boat.  Some of my previously reviewed rivers cannot (or should not) be done in longer kayaks or canoes…but Big Slough would be perfect for even a long canoe.
The first few miles of the trip were my favorite.  The creek was the narrowest, fastest, and most diverse.  Wildlife was also abundant on this section and, in fact, on the whole trip.  Saw lots of geese and their goslings (including domestic white geese that were mingling with the Canadas on the water).  Easily the most number of turtles I've ever seen.  The upper section is secluded, so you don't have to worry about other boaters scaring the turtles off the logs.  Saw a friendly beaver (didn't get a picture, but got a nice video of him).  Saw a number of herons and ducks, and there was plenty of fish activity.  I would like to think most of it wasn't carp…but I suspect it was.
After a couple of miles you'll start to see evidence of human civilization.  You'll see an odd duck blind or two…then the houses start to pop up.  Unfortunately, after halfway into the trip, you'll encounter piers with motorboats.  This is an oddity…for a non-dammed creek that is a tributary to another creek to support such motorboat traffic…but Big Slough gets pretty big before it gets to its mouth.  When I went, there weren't too many boats on the water, but I encountered 3-4 by the take-out.
Take-out is just 600′ from the mouth of Neenah Creek.  (All of this is shown on the map.)  There is an established boat ramp, "Big Slough Public Boat Access," which is a great launch, with good parking and no fees that I could see.  No bathrooms either…plan accordingly.  Again, all in all, a very nice trip.  The first section was 3-star for the wildlife and bank quality, whereas the second half was just 2-star, hence the 2.5-star compromise.  The second half was just a bit too big, open, and monotonous…lacked contrast.  There is open water paddling, so always monitor the forecast for wind speed and direction before doing this trip.
So, what other route options and landings are there?  You can put in further upstream and I regret not doing so.  One option is the bridge at Hwy 127.  Parking is not great though.  The upstream section from the bridge looks plenty navigable, but downstream there is serious congestion, and satellite pictures look worrisome.  I do not recommend Hwy 127.  The other upstream fork of Big Slough comes in under Muskrat Road and this I recommend.  Looked plenty navigable and satellite pictures looked promising…no guarantees that there aren't logjams or shallow water portages to contend with though.  You can, I believe, put in even further upstream from Muskrat Road.  There is a large drainage network that appears to form an artificial lake and it (and the canals) look explorable.  I don't know too much more about this though.  I would speculate that this a levee and ditch system designed to protect Portage by funnelling water North into the creek instead of east and into the city.
Prior to the final Big Slough Landing, there is the Hwy X bridge (a mile upstream).  This could work with parking, but the launch area is poor.  Continuing past the public Big Slough ramp, you can take out on Neenah Creek.  It's not a fast creek (at least not this far south), so you could probably paddle upstream to the Grouse Drive bridge, about 1.5 miles–a good bridge access area that is kind of secluded.  Just be careful to not paddle up the "south branch" of Neenah Creek by mistake, or you'll end up in Briggsville.  A better Neenah Creek option after the Big Slough mouth would be to head down a couple of miles to where Muskrat Road crosses Neenah Creek.  This is a popular launch with great parking and a good launch area.
If you're interested in the history of the area, I suggest checking out the following links:
Other Neenah Creek Trips:
Main Branch:
Upstream of Peppermill Creek:  I suspect the creek is too congested to run
1st Lane (Peppermill Creek) to 1st Court:  1.1 miles. First half is a nice clear open stream but there is congestion after that.  
1st Court to Seeley Lake Access:  2.8 miles.  Amazing clarity, nice riffles and steep hills…but serious logjams issues.  Been on my to-do list for a while…
Seeley Lake Access to West Chauncey Street:  0.6 miles.  Mostly pleasant lake paddling with a dam to portage.
West Chauncey Street to Hwy A:  6.8 miles.  My favorite section with terrific clarity, a few fun rapids, and clean substrate…but rumor has it new logjams might be an issue.  Reviewed Apr 2014.
Hwy A to Hwy P:  4.1 miles.  My second favorite section.  Very nice wetgrass paddle with great clarity and no logjams…best saved for a sunny day.  Reviewed Oct 2014.
Hwy P to Grouse Drive:  6.4 miles.  Reviewed Dec 2017.

Hwy P to Hwy 23:  3.9 miles.  A pleasant stretch that starts nice with clear, sandy seeps but becomes less interesting when it flows though the marsh.
Hwy 23 to Grouse Drive:  2.5 miles.  A mediocre stretch…less marshy than before, but still very open.

Grouse Drive to Muskrat Road:  3.1 miles.  Creek slows down and widens significantly.  Reviewed Feb 2017.
Muskrat Road to Hwy CX:  4.6 miles.  A big open wetgrass paddle…at times pleasant with good water fowl, this is likely my least favorite section.  Reviewed Nov 2016.
Hwy CX to Dixon Road:  3.1 miles.  Mostly open but with some possible jams.
Dixon Road to Hwy CM (on the Fox):  1.2 miles.  Final stretch with take-out on the Fox River.
Tributaries:
Trip Map
Zoom to de-clutter the icons. Zoom out to see the Lewiston Levee.
View
Big Slough
in a larger map
Overview Map
Video
Photos
6 Comments to "Big Slough"
How did your trip turn out?

Questions or comments?

Feel free to leave your feedback.