North Branch of the Root River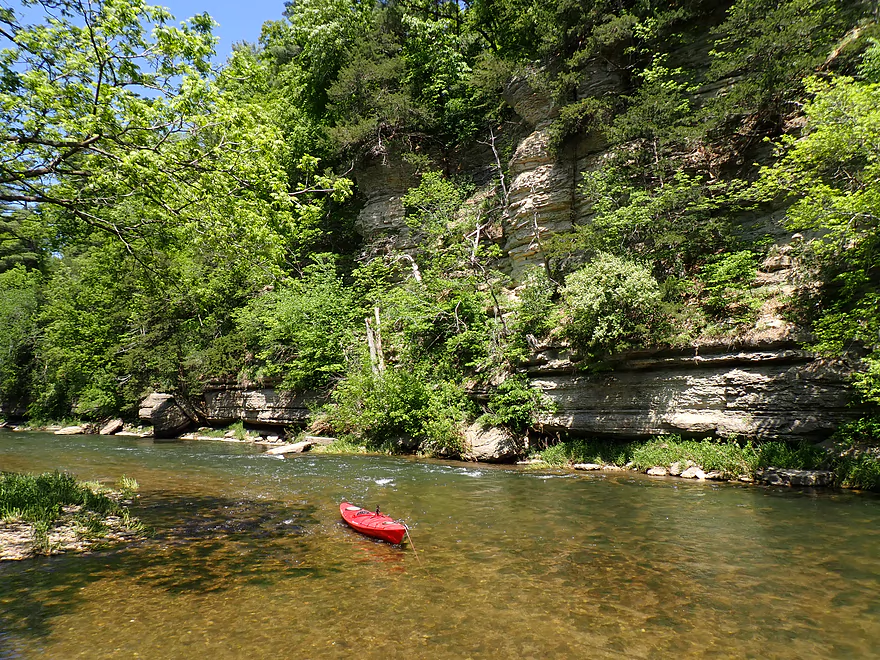 Take-out:
Country Road 116
The Root is a nice paddling river located in the southeast corner of Minnesota.  It's most popular stretches are between Chatfield and Rushford, which are serviced by multiple shuttles/rental companies.  Upstream from Chatfield the river splits into a "Main Branch" and a "North Branch".  Both are great for kayaking and are likely more scenic than their downstream siblings despite the latter being more popular.  The book "Canoeing the Driftless" covers many of the Root's more obscure tributaries including the North Branch which is where I got the idea for this trip.
I started the trip at County Road 1, which is a good bridge access with an incredible view of the river and the downstream cliffs.  The first mile of the trip includes scenic wooded bluffs, occasional limestone outcrops, light rapids, and very clear water.  This is a clean river with a rocky bottom which looked like crushed limestone.
As nice as this all was, it wasn't even the main highlight of the trip.  At roughly the one mile point, the river is rerouted sharply south-to-north by a set of 100′ high limestone palisade walls.  These were stunning and very much reminded me of the Upper Iowa River (a neighboring river 50 miles to the south).  The palisades were swarming with bird activity many of which seemed to be really agitated by a nearby owl.
For the next two miles, the river opened up somewhat but stayed scenic with more outcrops and light rapids.  There was a logjam to portage on this stretch (a monster), but it was pretty easy to get around and the only portage of the trip.  That being said, the North Branch (per paddling author David Lind) can produce surprise logjams so kayakers should stay vigilant.
Prior to Root River Park, the river splits around a quarter-mile island which will present paddlers with a choice.  The north channel (what I chose) is much more shallow, but is likely more scenic and features a sandbar and some small outcrops.  The water clarity here was incredible and I got to see an otter cross the river ahead of me.  Or you can choose the south channel which is deeper but I believe has a logjam to portage.  The south channel may also have some large outcrops I missed.
At around the three mile mark, I entered Root River Park.  It's a nice park in many ways but isn't very accessible for visitors.  From the parking lot, you have to hike a mile+ just to see the river and cliffs.  Kayaking is definitely a better way to enjoy the river. 
The best part of the park is where the river is redirected sharply north by yet another impressive set of palisades.  The scenery here was incredible, but because of harsh lighting and leaves covering many of the cliff faces, I don't think my pictures or video really did justice to the park (or really the entire trip).  Had I known this, I would have saved this section for an April or October paddle when the cliffs would have been more exposed.  I definitely recommend checking out pictures taken by others including this incredible panorama of the palisades by Chris P.
The north end of Root River Park marked roughly the four mile mark in the trip, which is usually when I like to end trips short because I spend so much time with video/pictures, but there were no convenient intermediate take-outs on this trip, so I had to continue six more miles to reach a bridge access.  This was ok though as the river stayed scenic (although it never again quite matched the grandeur of the first two palisades).
At about the five mile mark the river is rerouted north-to-south by yet another impressive bluff.  The next two miles of the river flowed around a long, skinny peninsula.  On the inside was a huge golf course (a ball splashed into the water about five yards from my boat!).  On the outside were mostly undeveloped wooded bluffs with more boulders and partially obscured rock faces.
Finally at roughly the 8 mile mark I left the huge golf course behind.  From here to the take-out, the bluffs weren't as impressive, but there were still nice outcrops and rapids.  The clarity in this last stretch was the among the best of the trip and might rank among the best I've ever paddled.  It's a real treat to paddle a river and so often be able to see the river bottom as you paddle over it.  Following a short, but long and impressive stretch of limestone outcrops, I ended the trip at County Road 116 where a small waterfall descending over a limestone outcrop provided nice closure to the trip.
In summary this was a fantastic trip and among the most scenic I've ever paddled.  I suspect it might be the best leg on the entire Root River system and I'm surprised most paddlers prefer instead the downstream legs by Lanesboro and Peterson.  I hope to return in the future to check out more of the North Branch as paddling author David Lind suggests other legs (bridges 116 > 19 & 19 > 30) are also very nice.
Noteworthy Wildlife:
Sights included quite a few fish, frogs, clams, and what looked like an otter.  The highlight was all the birds hanging out by the palisades which included vultures, eagles, and an owl.
Local Diversions:
Root River Park:  The park provides access to the North Branch of the Root River and some of its best cliffs.  But…there is no direct/short access to the river so it's not a viable kayak access.  To get to the river, you have to park and hike a mile+ over a long trail system.  Kayaking and not hiking is the best way to see and experience the palisades.
Nearby Caves:  SE Minnesota features some nice caves.  This includes Quarry Hills Caves, Niagara Cave, and Forestville Mystery Caves which features the Root River flowing partly underground.
Put-in:
County Road 1 Bridge:  This is a decent bridge access and is popular with locals.  Most park/launch from the southwest corner where a faint trail leads to the water.  The current is swift by the bridge, but there is a small sandbar which offers an easy launch option.
Alternate Put-ins:
County Road 20 (3.0 miles upstream from CR 1):  This bridge access doesn't look great, but should be doable.  This 3 mile leg is an intriguing prospect with likely some nice cliffs, but not quite as nice as the Root River Park leg (this review).
Take-out:
County Road 16:  This is an ok bridge access.  A tree blocks access to the southwest bank, but you can just get out on the northwest bank and follow a faint trail under the bridge to the northwest shoulder.  Shoulder parking is a bit steep but doable.
Alternate Take-outs:
County Road 19 (4.1 miles downstream from 16):  This should be a suitable bridge access.  This bonus leg is very good with excellent cliffs.
Shuttle Information:
Bike Shuttle – County Road 16 to County Road 1:  4.7 miles with 207′ of ascent.  This is a somewhat hilly bike shuttle but at just 4.7 miles it should be plenty manageable for those in bike shape.  About 0.7 miles of this route is gravel.  This is a little annoying, but  you can usually find packed down areas to bike in.
Kayak Rentals/Shuttles:  The Root River has a number of rental/shuttle liveries, but none actively service the North Branch as far upstream as Root River Park.  The one "sort of" exception is Root River Outfitters who told me they could possibly service the Upper Branch, but only if they had advanced notice and it wasn't during peak times (which obviously my Memorial Day Weekend paddle didn't qualify for).
Hazards, Logjams and Current:
Rapids/Current:  The river moves at a good pace with countless rapids, but none greater than Class 1 IMO.
Logjams:  There are few downed trees in the river, but usually the river carves a path around them.  There was one exception where a massive tree piled up on top of a gravel bar and this had to be portaged, but I didn't find this difficult.  Note, while I don't think of the North Branch as having logjam issues, trees do go down unexpectedly and paddlers should be vigilant for surprise logjams.
Strainers:  There are multiple strainers in the river to avoid.  I didn't find these too difficult, but they could be more serious in higher/faster water.  Portage anything you're not comfortable running.
River Depth and Navigability:
Closest Gauge:  Root River MB @ Pilot Mound   Note, the North Branch doesn't have an active gauge so I'm using one on the Middle Branch which should reasonably parallel the North Branch.  My estimates below are very rough as I'm not an expert on this river.  Always use your own judgement before deciding to paddle a trip or not.
My Trip Depth:  535 CFS or 8.69′
< 250 CFS:  Too low.
251-325 CFS:  This might be too low, but I'm not sure.  If you're willing to wade some of the rapids and have a shallow drafting boat you might be ok.
326-400 CFS:  A low depth with some bumping on the rapids but I think you would be ok.
401-600 CFS:  An average depth and good target range.  I only grounded out a few times at 535 CFS and clarity was excellent.
601-700 CFS:  A high depth but should be doable.  Clarity won't be as good.
701-850 CFS:  A very high depth that could be tricky because of the strainers.  Maybe only suitable for advanced paddlers.
851-1000 CFS:   Maybe close to flood stage.  Only suitable for expert paddlers.
1001+ CFS:  Maybe too high for safe paddling.
North Branch of the Root River Overview:
Click here for a North Branch Overview Map.
Upstream of Stewartville:  I just don't know if the NB is navigable upstream of Florence Park/Stewartville.
Florence Park/Stewartville to CR 20:  5.6 miles.  Per paddling author David Lind, this stretch has more farmland, is slower, and is more shallow compared to downstream legs.  I suspect it is ok for paddling but not elite.

Florence Park/Stewartville to 20th Street:  1.7 miles.
20th Street to 15th Ave:  0.9 miles. 
15th Ave to CR 120:  1.7 miles.
CR 120 to CR 20:  1.3 miles.

CR 20 to CR 1:  3.0 miles.  The river speeds up and I believe will feature two sets of nice cliffs.  This is a good prospect.
CR 1 to CR 16:  10.0 miles.  An elite water trail leg and likely the best on the NB.  Highlights include 100′ high limestone cliffs, nearly perfect clarity and fun light rapids.
CR 16 to CR 19:  4.1 miles.  River makes a sharp horseshoe turn around Table Rock.  Highlights should include impressive bluffs and cliffs.  This is likely the second most scenic leg on the North Branch.
CR 19 to Hwy 30:  7.0 miles.  Paddling author David Lind describes this as a beautiful route with long stretches of sheer bluffs and sandstone cliffs 40-50′ high.  This is maybe the third most scenic leg on the NB.
Hwy 30 to Hwy 113:  4.1 miles.  This is a flatter and more open stretch with fewer bluffs.  I suspect it is not super interesting and just a mediocre prospect.
Hwy 113 to 3rd Street Launch/Chatfield:  1.7 miles.  Probably a mediocre prospect with just one nice bluff paralleling the river.
3rd Street Launch/Chatfield to Hwy 5:  2.6 miles.  This leg is serviced by several liveries (about as far upstream on the NB that any livery will go).  There may be some small outcrops upstream of Hwy 5.
Hwy 5 to Main Branch Mouth:  1.9 miles.  A mediocre prospect.
Main Branch Mouth to Parsley Bridge Canoe Access:  3.8 miles.  A decent prospect with a few rocky areas.
Downstream Root River Main Branch Options:  See this overview map.
Trip Map
Overview Map
Video
Photos
2 Comments to "North Branch of the Root River"
How did your trip turn out?

Questions or comments?

Feel free to leave your feedback.