Black Earth Creek – Mazomanie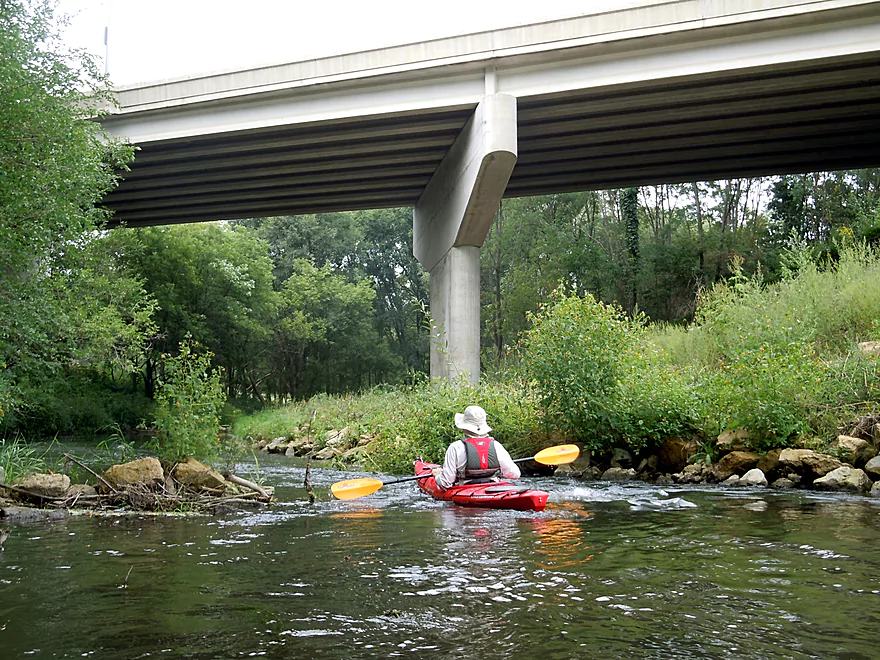 Put-in:
Olson Road Bridge
Take-out:
Walking Iron Park
Time:
4 hours 17 minutes (atypical....expect 2 hours)
Connecting the city of Middleton to the Wisconsin River, Black Earth Creek is an obscure paddling prospect–more known for its nationally famous trout population.  Nevertheless, this creek is a wonderful little gem with a great combination of prairie paddling and forest paddling that should not be overlooked by south-central Wisconsinites.
Previously in May, I had paddled and reviewed a section of Black Earth Creek from the city of Black Earth to Olson Road (mile upstream of Mazomanie).  This was a positive experience, albeit with some challenging obstacles.  I was recently notified (thanks John Wick!) that some locals were interested in forming FOLBEC  (Friends of Lower Black Earth Creek), whose goal is to promote and improve the creek, including navigability for paddlers.  Some cleanup work of log jams has already taken place and key sections are scheduled to be cleared in the future, including the two log jams that I had faced by Black Earth and the jams after Walking Iron Park.  One of the notable contributions of the group so far was to very recently raise a super low farm fence (actually two) that was by far the biggest impediment for paddling from Black Earth to Mazo (see previous review).
One of the more interesting tidbits I recently heard was that several individuals had been able to paddle all the way through Mazomanie.  This had me shocked!  For many years, I've wanted to do this section based on what I saw from the roads and parks around the city, but was always leery of log jams.  So with this news, I decided to take a chance and finally do the trip.
To start our trip, we put in at Olson Road between Black Earth and Mazomanie.  This is where I took out from my last trip and is a good access point for the creek.  Not exactly a luxury put-in, but for bridge access it is pretty good, with a convenient mow job that facilitates parking and access to the water.  The water is also shallow at the put-in ledge, which makes it easy to just wade in and sit into your kayak. 
The first half mile or so is not why I gave this review five stars. It's mostly grassy banks with a few trees and cornfields flanking the creek.  During my spring trip, I had a wonderful view of the hills that form the creek valley, but I could rarely see them on this section because of the tall grass.  On the flip side, the fall wildflowers were in full bloom, creating walls of yellow, orange, purple and white–which made for a terrific experience.  Even early European settlers commented on the beautiful fields of colorful flowers in the area.  The wildlife, however, was somewhat lacking on this trip…but this was probably just bad timing, as I saw plenty on my first trip.
Back 15,000 years….the creek looked a lot different and. in fact. actually was a huge glacial river.  From the ice sheets to the east, Glacial Lake Middleton was formed and it (and other tributaries) contributed to a massive river that filled the Black Earth Creek Valley.  The river eventually receded, leaving the creek, but also a lot of sand and gravel that has contributed to its character and clean consistency to this day.   Here is a picture of what the old glacial river might have looked like.
The current is respectable without being too pushy and the water quality alternated between being opaque and clear. Black Earth Creek is special in part because of its water clarity but unfortunately this trip didn't show the creek's best side. I suspect it was because of the rain the day before which usually dirties watersheds (I suspect municipal storm drains are a big factor as the creek has three in Cross Plains, Black Earth and Mazo…and maybe parts of Middleton).  The section by Black Earth was most certainly clearer, but I don't want to overstate the issue as the Mazo segment still had some pretty clear sections and suspect usually they are in better shape.
Prior to the first railroad bridge, the trip is ho-hum, with the only noteworthy item being a hop-over to contend with.  Pretty easy to do in a kayak, but perhaps a problem for others.  I don't think this creek is suitable for boats over 13′ though.  After the first railroad bridge, the creek really opens up and takes on a nice character.  Not a lot of trees, but the grasses, wildflowers and prairie plants are very striking, and there are terrific views of the surrounding hills. 
The creek current (never lazy) picks up and you'll get to go over several ledges which are a lot of fun and all probably just class 1.  The rapids I ran after Black Earth between the railroad bridges was most certainly more severe.  Some of these ledges are a bit bumpy but all in all I can't complain and really liked our flow rate of 47 CFS.  Too much would cover up the character of the creek and too little could mean walking a kayak (which I never had to do).  Unscientifically, I would recommend 40-60 CFS as a good target range.  The water depth was actually surprisingly deep for much of the creek, with just a few shallow sections and bumps on the ledges.  Most of the ledges are artificially created to force more oxygen into the creek for trout.
Soon you'll come across the best and biggest ledge by a large barn and scenic overlook of the valley, which is still pretty easy and safe to run.  This farm is noteworthy because the occupants (the Wolf Family) have really worked hard to help the creek and were significant benefactors in developing the Wolf Run Trail, which runs (roughly) from the farm to a trailhead in Mazo (by the double railroad bridges). 
The creek from here to the Hwy 14 bridge has been heavily worked on and rerouted.  There used to be a dam on the creek which formed Lake Marion which served as a water refueling stop for trains.  The dam has since been removed but the lake remains (separate from the creek) and is artificially kept afloat by groundwater pumps.   Because of the dam, its silt, the lake, and the artificial railroad banks funneling the creek…it was for the best that the creek was moved in an attempt to restore it to its natural state (it wasn't moved far).  The new channel is very nice — clean, fast and with fun riffles to paddle over.  On occasion you'll see nice tree canopies from the left bank hang over and it will be interesting to see how this section evolves over the years.
At the end of this section, the creek flows under Hwy 14…a remarkably tall creek bridge (because it has to go over a railroad bridge and the railroad bridge in turn goes over the creek).  You'll soon after Hwy 14, paddle by the Wolf Run Trailhead.  Parking is on your left and a pedestrian bridge goes over the creek and connects to the main trail.  This could certainly server as an alternative access point and there is an outhouse here.  Wolf Run looks like it has potential to be a nice bike trail and the hope is to extend the trail all the way to Wisconsin Heights High School.
Soon after the trailhead, you'll come across the second biggest impediment of this stretch by "two bridges" where the main railroad and a spur both cross the creek.  The first bridge is a problem.  Debris has clogged up the left and middle channels.  The right channel is open but small, with big rocks in fast current.  Not a stretch for expensive composite hulls!  I went down the right channel…and got stuck.  It took a lot of scooting and tossing rocks out of the way to get through (but I didn't have to get out).  This is not ideal though, and I suggest simply getting out and leading your kayak down this shallow section.  [Editor's Update—this has been reportedly cleared!]  Don't make my mistake of touching the railroad pylons.  They have a nasty creosote preservative that is super difficult to get off if touched.  The current is shallow but a tad tricky and can suck you between the pylons so be careful.   The second railroad bridge has issues, but for the most part is easy to get through as long as you shoot left and dodge the rocks.
From here on, you're paddling in the city of Mazo and this was my favorite part of the trip.  The water clarity improves, the current stays fast, and you'll paddle through incredible tree canopies.  Together with the steep banks this creates a fantastic tunnel effect.
Maybe a third of your way into Mazo, you'll paddle by the North State Street (aka Hwy Y) bridge.  Very recently the county acquired access rights to the land by the bridge here and this is a very good launch area for paddlers.  Parking is easy to do on the street above and the grass is mowed around the wing walls and down to a sandy ledge which facilitates easy access to the water.  Located on the SW side of the bridge, I've marked this on the map.
The next bridge is the Bridge Street bridge, which was initially going to be our take-out.  However a "No Trespassing" sign, steep unimproved terrain around the wing walls, a "Beware of Dog" sign, and a dog running around unleashed and with a muzzle on were enough to convince me to use the Walking Iron Park access instead (very glad I did so).
The following section to Walking Iron has the most deadfall and this is an issue.  There were several tricky "hop-overs" which I handled ok but am a veteran paddler and long boats or trips at lower CFS might have to portage.  There was a tight "duck-under" which a certain percentage of paddlers will not be able to execute and will have to portage.  There were several big log piles but usually there was a path around or through.  One jam was bad enough that we had to portage it completely.  Not ideal, as the banks were rough here, but this was ok to do if you straddled the logs in the center of the creek.  Here the creek is most shallow and it is easiest to pull your boat over the jam (it really helps to have rope). [Editor's note — A good percentage of this has been cleaned up already]
At the jam, there was a gravel substrate that was quite attractive in the clear water.  The substrate will vary on the trip with some mud, some sand, some rocks and a lot of artificial fill.  In addition, there were several micro sandbars and gravel bars.
The take-out is easy and difficult to miss.  Basically, a pedestrian bridge from Walking Iron Park crosses over some nice rapids and there is a hidden take-out area downstream right of the bridge (or NW side).  Just dodge the poison ivy at the take-out, cross the bridge and you'll be in the main park area.  The park mows completely up to the bridge which is convenient, but I don't think you can park by the creek bridge.  We parked by the pool and facilities which is a small hike to the south (all of this is marked on the map).  You can, of course, unload/pick up by the bridge though.
This trip is an easy car shuttle and despite there being liveries nearby on the Wisconsin River, I doubt they would service the creek (most of their rental boats would be too big, too).  The bike shuttle is not bad at 2.6 miles, with no gravel roads and a pretty hill-less ride.  Hwy 14 is very busy though, and I suggest avoiding it for as long as possible by peddling the streets of Mazo instead before you have to cross and use Hwy 14 briefly.
All in all, a trip I really enjoyed.  I think some may disagree with the five star rating, and perhaps I'm biased because I've long wanted to do this for years, I have a preference for small creeks, and because it is somewhat local.  But I really enjoyed the trip, the fast current, ledges, clear water, the prairie paddling and wooded canopy paddling and light riffles.  I'm also giving it the benefit of the doubt in that I presume many of the obstacles will be cleared out shortly and if I hear of anything I'll certainly update the review.
If you're curious and want to learn more about Black Earth Creek, check out these links:
Black Earth Creek Watershed Association – Terrific non-profit organization that works to protect and conserve the creek.  Great info in their online newsletter section.
Capitolwatertrails.org – Nice clean-up effort on the creek and the webmaster is knowledgeable about the area
Seekingtrout.com – Nice local trout blog with great pictures.  They have a lot of great info on the most recent restoration efforts on the Creek.
National Heritage Trust – Good info about the creek and a nice map of the new Wolf Run Trail
Wolfruntrail.net – Brand new website dedicated to promoting the new Wolf Run Trail
FOLBEC  (Friends of Lower Black Earth Creek) with hopefully a new website coming this fall
Webmaster's Update 1 – As of 9-22-2014, the section from Olson Road to E. Hudson road should be clear.  Blynn road to the mouth is clear as well, but work needs to be done on E. Hudson to Blynn.
Webmaster's Update 2 – A new free kayak shuttle for Black Earth Creek has been formed.  Click here for more information.
Addendum and Special Historical Notes by John Wick
Thanks John for providing the information below!
The Village of Mazomanie was created by Brodhead the railroad head engineer to take advantage of a 20 ft head of water to generate power for a flour and grist mill which was promptly constructed. The then existing Village of Dover to the west on the county line lost out. Brodhead's placement of dam, railroad and mill pond was all integrated into his industrial plan. Water flowed into a turbine in the basement of The Old Mill. A water tank tower did stand near the NE corner of the mill with the railroad between tank and mill when I moved my family to town in Feb 1955.
We use the term Two Bridges to describe the Trailhead and Shelter location because the shelter is on an island between the creek and the railroad Y. The Y connects the railroad line to Sauk City with the railroad line to Madison. The first and shorter new trail bridge is over a railroad drainages ditch and the second and longer new trail bridge you show in a picture is over the creek. The Sauk line will hopefully soon become a trail too as it no longer serves as a railroad over the broken Wisconsin River bridge.
The older steel railroad bridge carries the railroad from Mazo to Sauk over the BEC. The all-wood bridge with debris catching pilings was built during WW II and carries the connecting Y over the BEC. They look double because they are so close but they are on two different railroad lines.
What is now County Road KP as a main road once entered Mazomanie along the creek into Crescent Street, the curve being the source of the name. Two Bridges Trailhead is at the current east end of Crescent Street. The connection to KP was broken when the Y was built in the 1940s wartime. The first highway #14 high bridge into town was built earlier in 1936 before WW II. Still hidden in bushes is a short concrete bridge over the mill race from pond to mill along the railroad.
The bridge is high because the upper part of Mazomanie is at elevation 800 ft. The east end of the bridge was set high enough for the railroad line below to Madison, then continues rising to 800 ft. That Madison railroad line does not bridge the BEC until a 1/2 miles below Olson Road Bridge by the water.
The concrete towers you saw inside Mazo were left from a dam for a flour or grist mill downstream from what is now called The Old Mill. That downriver dam and mill were all washed out in a flood from what I remember hearing from mill owner old Ted Sawle, and never rebuilt, an event many years ago. There was another mill downstream just above Morrill Road bridge according to Ted. Ted, over 90 when he talked to our history group, owned a mill at Hyde, Wi. He said nearly a dozen mills on water power had been built in our area at one time or another.
Detailed Overview
Upstream from N. Birch Trail:  The creek is small, but might be surprisingly navigable during high water.
N. Birch Trail to Stagecoach Rd:  0.5 miles.  Creek here is small and wooded with possible congestion and a few jams. 
Stagecoach Rd to Cross Plains:  2.0 miles.  An intriguing prospect that may now be viable because Black Earth Creek has grown in size.  Starts narrow, rocky and wooded then opens up.  Maybe 2-3 logjams.  Stagecoach Rd may not be a good access as a "No Tresspassing" sign is on one side of the bridge.
Cross Plains to Salmo Pond:  4.3 miles.  Nice stretch.  Half of this leg flows by the community of Cross Plains.  One fence and one logjam to deal with but not major.
Salmo Pond to Black Earth Community Park:  4.2 miles.  Several fences to deal with, but all in all, one of the more underrated legs on the creek.
Black Earth Community Park to Olson Road:  4.5 miles.

Black Earth Community Park to The Shoe Box Landing:  1.5 miles.  Nice stretch that passes through the outskirts of Black Earth.  Might be a few minor logjams to sneak past.
The Shoe Box Landing to Olson Road:  2.9 miles.  Pleasant open stretch.  This is a common "add-on" leg for those wanting to do the popular Mazo trip, but as a longer trip.

Olson Road to Walking Iron Park:  3.7 miles.  The best and most popular leg on the creek.  Much of it flows around the outskirts of Mazomanie and though a nice woods. 
Walking Iron Park to W. Hudson Road:  1.1 miles.  A small but great section that is recommended as an add-on to an Olson Road trip.  This doesn't receive as much upkeep so paddlers may encounter a logjam or two.
W. Hudson Road to Blynn Road:  4.4 miles.  An ok section but nothing special.  This leg while once clear, may now have a few surprise logjams.
Blynn Road to Mouth at Arena:  6.8 miles.  Technically now Blue Mounds Creek, this is the weakest section.
Trip Map
Overview Map
Video
Photos
45 Comments to "Black Earth Creek – Mazomanie"
How did your trip turn out?

Questions or comments?

Feel free to leave your feedback.