Otter Creek – Blackhawk Lake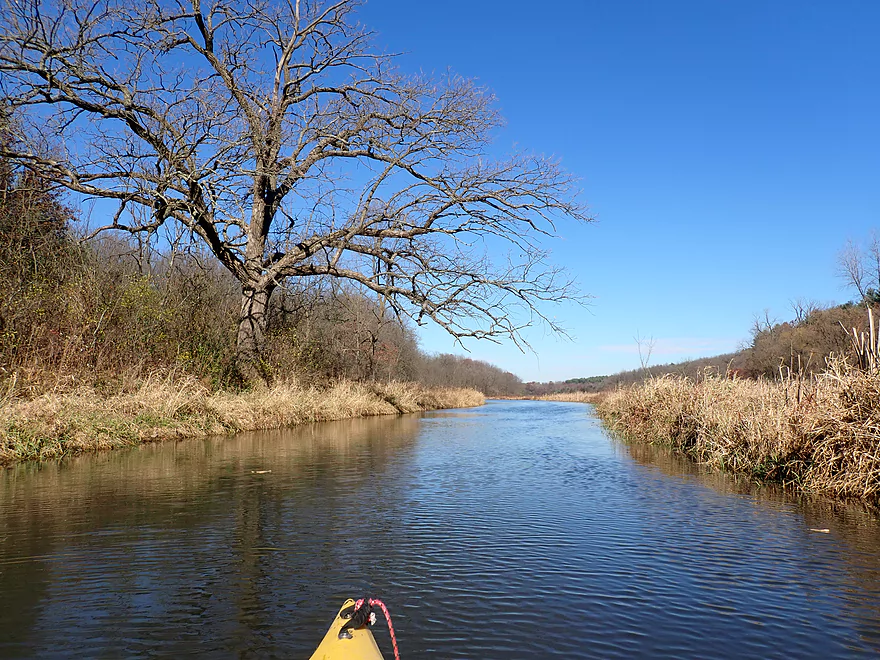 Put-in:
Union Valley Road
Gradient:
28' per mile (although that includes a dam)
About 50 years ago, when artificial lakes were the fad, little Otter Creek and neighboring Cave Hollow Creek were dammed to create the 212-acre recreational lake called Blackhawk Lake.  Although only a short distance west of Governor Dodge State Park and popular Cox Hollow Lake, Blackhawk Lake is a relatively obscure lake known mostly just to locals.  A March paddle this year on lower Otter Creek turned out surprisingly nice, peaking my interest in the upper creek and Blackhawk lake itself.
My trip started at the first Union Valley Road bridge.  I was a little worried even before launching because the creek looked so shallow by the bridge…but I decided to go for it.  You can actually kayak many creeks at surprisingly low levels if there aren't rocks and rapids.  Because I didn't see these on satellite maps, I reasoned (wrongly) I would be ok.
The creek to start was very narrow.  At times the grasses along the banks were taller than the creek was wide.  More concerning were the number of rocks and riffles that I encountered.  There just wasn't enough water to pad these obstructions, and practically every riffle required "scootching" or "hopping" to get through.  This happened a lot…and was a disappointment. 
On the plus side the creek was scenic.  In several spots, it would flow by steep hillsides topped with pine trees and exposed rock outcrops.
About a mile into the trip, I came to the second Union Valley Road bridge.  After portaging an annoying logjam, the creek finally widened and filled out.  I hoped this was a new norm, but unfortunately it was just a brief impoundment caused by a beaver dam.  It's actually too bad there aren't more beaver dams on this creek.  They could act as "locks" to let paddlers get by the annoying shallow sections.  After the beaver dam, it was more shallow riffles that had me getting out of my boat multiple times.
Upstream of Cave Hollow Road, the effects of the downstream dam kicked in, and the creek finally widened and deepened significantly.  This was a transition point between upper Otter Creek and Blackhawk Lake which was my favorite part of the trip.  This "neck" of the lake was more open and featured an attractive stretch of wetgrass.
Sadly, the dam is causing some sedimentation issues and I had to do some scootching to reach the main body of the lake.  I was curious if the south end of the lake was normally this low, or if I was just unlucky enough to catch it at a low level.
Blackhawk Lake is a big lake and there is a lot to explore.  That day featured strong south-to-north winds, so I was content for just a shorter trip along the eastern shoreline.  The lake is part of a much larger county park that features a campsite, picnic area, and a boat launch.  Most of the facilities are located along the western shore, while the eastern shore is undeveloped.  If you use the park, a $7 day pass is required.
The northwest end of the lake is its most scenic part.  This features some distant outcrops, pine trees and two little inlets.  I had wanted to explore this area, but scrapped those plans because of the high winds.  If you're curious about this corner of the lake, I advise watching this video from the Driftless Kayaker which features a large beaver dam they found.
The highlight of the lake for my abbreviated paddle was the northeast corner which featured some nice boulders along the shoreline.  Just beyond this was the dam outlet and a massive dike.  I doubt many (if any) paddlers portage the dike, but I was determined to do so.  The dike was surprisingly steep and it helped that I was able to pull my boat up with rope.  The view from the top looking both downstream and at the lake was pretty spectacular.
Below the dike, I re-entered Otter Creek.  I then paddled a short ways downstream and took out at a public parking lot by High Point Road.
In summary, this was a disappointing trip because of the shallow depth.  I honestly don't know if Upper Otter Creek could ever be navigable…perhaps after a heavy rain?  I don't know.  If ever there was enough water though, it would be a cool prospect.
Paddlers will likely be much more interested in paddling Blackhawk Lake.  It's an ok lake…but not super special.  If you simply rotate your head 360 degrees, you pretty much see 90% of the scenery there is.  Several portions of the lake are cool though and worth checking out.  This includes the rocky shoreline in the northeast corner, the southern neck, the dike, and the inlets by the northwest corner.
Noteworthy Wildlife:
Upper Otter Creek is known as a trout stream, and I did see a few flopping fish.  The trip highlight was a large beaver dam located just downstream from the second Union Valley Road bridge.
Put-in:
Union Valley Road1st Bridge:  This is a manageable bridge access.  Technically speaking this is just upstream of the Blackhawk Lake Recreation Area (a large swath of public land).  You should be ok to launch by the bridge as long as you stay within the DOT right-of-way, but you shouldn't wander too far beyond that.
Alternate Put-ins:
Union Valley Road2nd Bridge:  This is also a manageable bridge access and is a popular staging point for trout fishermen.  Unless water levels are very high though, you shouldn't launch from either Union Valley Road bridge as the upper creek is just too small.
Cave Hollow Road:  This is a very good access option with a pair of public parking lots on either side of the bridge.  The creek by this point is affected by the dam and is mostly navigable (minus a few shallow spots).  This is a scenic area and I wish I had launched here.
Blackhawk Lake Boat Ramp:  This is an excellent public access option that most paddlers will prefer to use.  This is a part of a larger county park that requires a $7 day pass or $26 dollar annual pass.
Take-out:
High Point Road/Plank Road:  This is a surprisingly good public access with a convenient public parking lot.  If coming from the lake, you will need to portage the dam (which is quite tall).  I personally didn't mind this and it was cool to see the view from atop such a high dike.
Alternate Take-outs:
Most paddlers that do this trip will just do the lake portion.  These paddlers will want to launch from either Cave Hollow Road or the main Blackhawk Lake Boat Ramp (located along the western shore).  The latter is part of a larger county park and a pass is required ($7 daily or $26 annual).
Shuttle & Rental Information:
High Point Road to Union Valley Road:  3.6 miles with 348′ of ascent.  This is a relatively short shuttle that is scenic…but is incredibly hilly.  Half of my shuttle was spent walking my bike up hills.

Hazards, Logjams and Current:
Wind:  The creek portion is fine and quite sheltered from the wind, but Blackhawk Lake is very open.  You likely want to stay off the lake if it is very windy.
Logjams:  There are several snags.  The first significant logjam was located just downstream from the first Union Valley Road bridge.  There are two additional significant logjams after the second bridge.
Rapids:  Upstream of Cave Hollow Road there were a surprising number of riffles.  In high water these could be full blown rapids.
Fences:  There was one cattle fence between the two Union Valley Road bridges that was easy to duck under.
Beaver Dams:  Downstream from the second Union Valley Road bridge is a large beaver dam.  This wasn't difficult to portage.
River Depth and Navigability:
There is no gauge on Otter Creek. IMO the best analogue is the Black Earth Creek gauge.  I did this trip at 47 CFS which was too low.
0-100 CFS:  Likely too low for the creek portion upstream of Cave Hollow Road.
101-150 CFS:  The upper creek portion might be navigable.  I don't know for sure though.
151-200 CFS:  A higher depth.  I still don't know if the upper creek portion would be navigable though.
201+ CFS:  This would only happen after a lot of rain.  At this point there might be some tricky strainers and rapids on the upper creek portion.
Detailed Overview
For additional information on access options, see my overview map.
Union Valley Rd (1) to Plank Rd:  2.9 miles.


Union Valley Rd (1) to Union Valley Rd (2):  0.7 miles.  Very tight, narrow and shallow section.  Unless there is very high water, this likely isn't viable.  There is one major logjam.
Union Valley Rd (2) to Cave Hollow Rd:  0.6 miles.  This is typically too low to be a viable paddle.  There are 2 logjams on this stretch.  Highlights include a beaver dam and some nice boulders.
Cave Hollow Rd to Plank Rd:  1.6 miles.  A flatwater paddle over Blackhawk Lake.  This is a scenic quiet lake surrounded by steep wooded hills.  Highlights include a rocky stretch in the northeast corner and a beaver dam in the northwest corner.  To continue downstream, a portage over a 30′ high dam is required but is not too bad.  There is an alternate access on the western shore.

Plank Rd to Hwy Q:  2.4 miles.  A neat creek prospect with attractive rocky sections, but very small.  Maybe four logjams, but they should be easy portages.
Hwy Q to Hwy II:  2.8 miles.  Good section with many light rapids and boulders reminiscent of Snow Bottom.  Bank erosion is an issue near the end.  No logjams.
Hwy II to Spring Valley Rd:  4.2 miles.  Maybe 5 logjams, but a good prospect.  Creek flows by a long bluff with the potential for multiple outcrops.
Spring Valley Rd to Hwy I:  6.0 miles.  Downed trees and tall mud banks start to become an issue.  Maybe 16 logjams.  If you can take out at Conway Road you may be able to avoid the worst of it.
Hwy I to Hwy 130:  2.0 miles.  More steep muddy banks.  Maybe 6 logjams.
Hwy 130 to Hwy C:  1.8 miles.  Mostly open, but heavily eroded with maybe 3 logjams.  Should be one nice outcrop.  Perhaps one difficult fence to paddle under by Hwy C.  Hwy C is a very difficult access because of the steep banks and farm fences.
Hwy C to Wisconsin River/Otter Creek Boat Landing:  2.9 miles.  A congested leg…maybe 7 logjams.
Trip Map
Overview Map
Video
Photos
How did your trip turn out?

Questions or comments?

Feel free to leave your feedback.