Fox River – White River Locks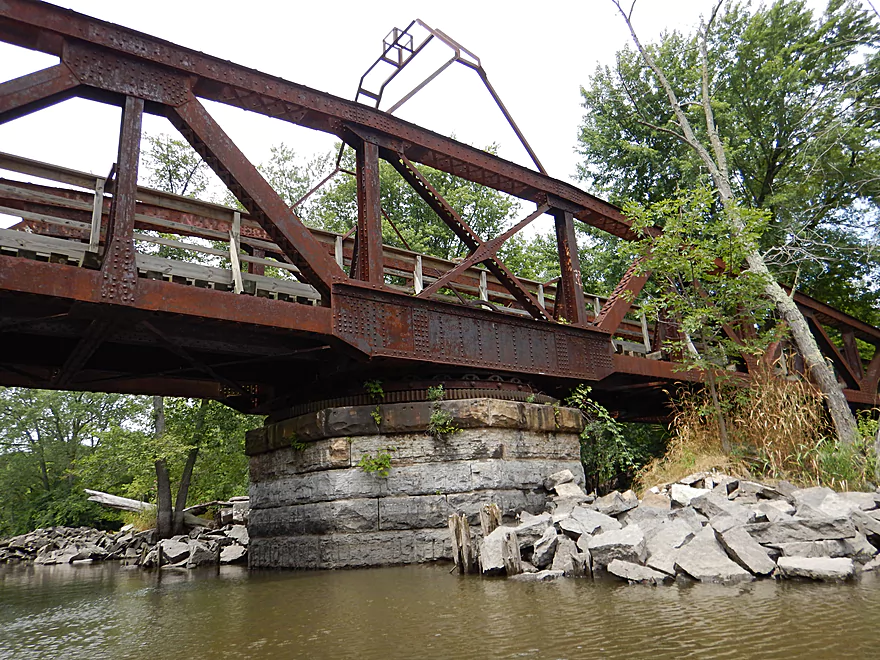 Put-in:
Princeton - Jefferson Street Landing
Take-out:
White River Locks - Lock Road
As faithful readers will know, WisconsinRiverTrips.com has reviewed many sections of the Fox River.  While not an elite paddling prospect, it does have pleasant segments here and there.  For this latest (and not last) chapter of the Fox, I launch from Princeton and take out at the White River locks, which is the furthest downstream I've explored.
The first impression of the trip was very good and had me thinking this could be a four star trip.  Here the river is at its narrowest and dense woods line the steep banks and gracefully overhang the river.  This is unusual for the Fox as typically its banks are very open, flat, and overgrown with grass.  The current is not fast, but at least moves.  Another Fox anomaly is that the first mile was actually a bit rocky, with attractive rock piles frequently lining the shores.
Maybe a quarter of a mile into the trip, you'll see one of the neater historical sites on the Fox–basically, a very old swing bridge that once served rail traffic.  The ENTIRE railroad bridge would actually pivot to let boat traffic through.  From underneath you can still see the old bridge wheels/gears that sit in a massive turret.
From here on, the trip stays pleasant, although the trees thin out a bit and the current slows down.  There is little development on the banks, which is always a welcome sight.  While I saw no boat traffic, I suspect typically you would encounter a handful of fishing boats on this stretch.
At 1.9 miles into the trip, you'll see a public landing off Old St. Marie Road, which is a good take-out option (but would be a short trip unless you started further upstream).  After this landing the Fox starts to become less interesting.  The already slow current regresses to a crawl.  The already wide channel widens, and the tree cover starts to thin out.  This, honestly, wasn't a fun section.  The scenery was ok, but given the size of the river it was a little repetitive.
The take-out at the White River Locks was very nice and is an attractive part of the river.  The old dam and lock gate have been sealed in, but if you want, you can paddle around the "island" to explore the old lock channel, but it seemed kind of weedy and mucky to me.
So, this was a trip that started on a really nice note, but kind of fumbled the ball away by the time it got to the end zone.  Not a bad idea if you are a local, but for most everybody else you can probably find
better nearby prospects
.
Put-in:
Excellent public launch in the heart of Princeton.  Good ramp, good parking, no fees, few people use this, and a public outhouse.
Alternatively, you could put in 3.6 miles upstream at the Princeton Locks off Lock Road (also a good access).
Take-out:
Very good take-out at the White River Locks (not to be confused with the Princeton Locks).  There are two landings here, one above the sealed canal and one below.  The White River Locks have free parking and good launching options, but no public outhouse.
Shuttle Information:
The bike shuttle is pretty easy and only 5.1 miles with few hills.
Mecan River Outfitters does do shuttles upstream of Princeton, but I'm not sure if they will go downstream of the city.  They can be reached at 920-295-3439.
Hazards and Logjams:
No hazards, no jams.  Easy trip.  Only concern would be wind direction and speed as this is an exposed channel.
River Depth, Navigability and Current:
The trip was done at 550 CFS per the local gauge in Princeton.  This is a pretty average depth.  The Fox isn't a super volatile river but can get high in the spring.  Figure 800-1000 CFS for higher levels and the max you'll probably see for a year is around 2000 CFS.  On the flip side, the river rarely gets below 400 CFS and even then navigability will never be an issue as the channel has been heavily dredged (my paddle rarely hit the bottom).  As for current, there isn't much.
Noteworthy Wildlife:
Water snake, painted turtles, woodchuck, several eagles, and an otter (which I rarely see on rivers). 
Local Diversions:
Events in Princeton include the September Whooping Crane Festival and the spring sturgeon spawn (check online for timing, since it varies from year to year).  For a "really big" paddling experience, bring 14 of your friends and take a historic tour in a replica 28 ft. Voyageur canoe. 
Detailed Overview
Hwy H to Hwy E:  3.1 miles.  Creek/river is kind of small here and you may need high water.  Route is 3.1 miles and logjams shouldn't be an issue.  A very open and grassy route.
Hwy E to Ross Road:  2.9 miles.  Hwy E has tough parking because of steep shoulders but you should be able to park in a drive NW of the bridge.  Next 2.7 miles will be mostly open wetgrass and logjams shouldn't be an issue.
Ross Road to Hwy 44:  3.3 miles.  More open wetgrass for the next 2.9 miles with possible logjams before Hwy 44.  Parking isn't the greatest at Ross because of the steep shoulders.
Hwy 44 to Haynes Road: 6.6 miles.  An obscure section of the Fox River upstream of Pardeeville that has redeeming values, but can be a frustrating paddle because of the logjams in the stream.
Haynes Road to Hwy 22 Dam (the south one):  2.0 miles.  Looks like a boring lake paddle IMO.  I did not see public access at either dam, so you may have to portage them.  Am not sure.  I believe canoe author Frank Piraino put in on the Hwy 22 bridge by the north dam/fork. 
Hwy 22 to Swan Lake Campground:  2.6 miles.  I do not know much about this route, but it was paddled by Frank Piraino who had a favorable opinion of it.  Rumor has it there are snags here.  I suspect there will be jams in the north fork after Hwy 22, but the south fork should be free (but less scenic).  Swan Lake Campground requires a fee for access.
Swan Lake Campground to Swan Lake (South Shore Boat Ramp):  2.7 miles.  An ok stretch.  In essence a creek paddle through grasslands with a bit of lake paddling at the end.  Serviced by a local livery.
Swan Lake to Hwy 33:  5.8 miles.  Pleasant marsh paddle.  Does include 1-2 miles of paddling.
Portage Canal:  2.3 miles.  A unique experience filled with history.  Unfortunately the canal can be at times challenging to navigate.
Hwy 33 to Governor Bend:  5.4 miles.  A classic stretch and one of the best water trails on the Fox.
Governor Bend to Hwy O:  5.7 miles.  A pleasant stretch.
Hwy O to Endeavor:  7.6 miles.  A surprisingly nice section with good wildlife.
Buffalo Lake:  10.6 miles.  An artificial lake/flowage.  Looks boring….  Beware of the weeds in late summer.
Montello to Grand River Locks:  3.4 miles.  A good section. 
Grand River Locks to Lake Puckaway:  5.3 miles.  Probably a nice section.
Puckaway Lake:  6.2 miles.  Also looks boring and to be avoided.  At least it's not fake like Buffalo Lake.  Maybe 7 miles.
North Puckaway Lake to Princeton Locks/Dam:  9.8 miles.  I do not know much about this stretch.
Princeton Locks/Dam to the City of Princeton:  3.5 miles.  A simple but pleasant section.
City of Princeton to White River Locks:  6.0 miles.

City of Princeton to Old St. Marie Landing:  1.9 miles.  A pleasant wooded section with a historic turn bridge.
Old St. Marie Landing to the White River Locks:  4.1 miles.  A slow, broad channel that is ok, but gets repetitive.

White River Locks to Landing Road: 10.4 miles.  The White and Puchyan Rivers add a lot of volume by now.  Not sure this is a great paddling stretch.
Landing Road to Riverside Park in Berlin:  3.4 miles.  A simple section that flows through downtown Berlin.
Riverside Park to Eureka Boat Landing:  7.8 miles.  River is probably no longer a cute baby and is instead an ugly teenager.
Eureka to Omro:  Roughly 6.5 miles.  Probably too big to be enjoyable.
Omro to Lake Butte des Mortes:  5.0 miles.  Likely uninteresting.
Trip Map
Overview Map
Video
Photos
2 Comments to "Fox River – White River Locks"
How did your trip turn out?

Questions or comments?

Feel free to leave your feedback.