Mormon Creek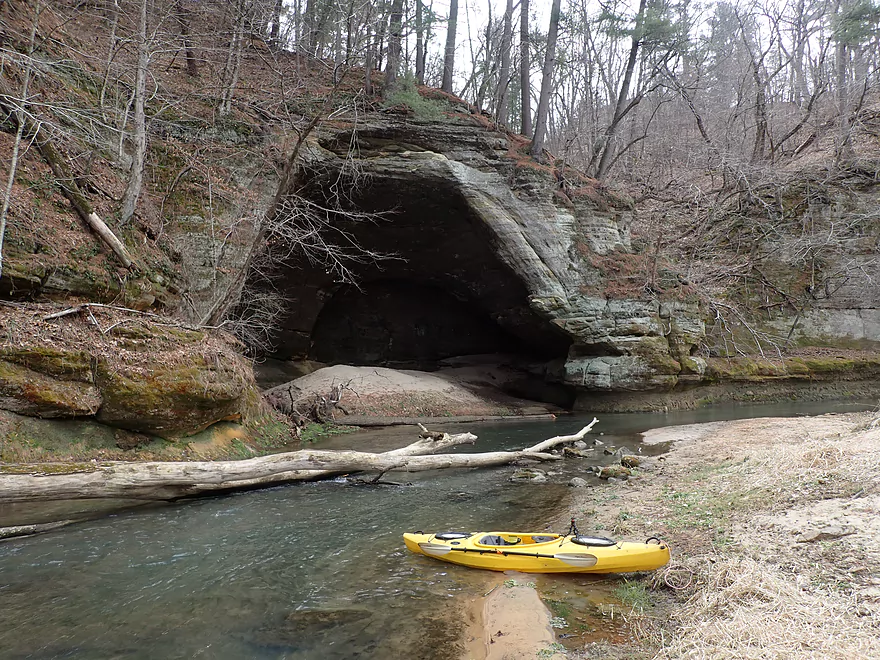 Mormon Creek is a little known trout creek located south of La Crosse.  It was featured in the Wisconsin Public Television documentary "Mysteries of the Driftless" in which a kayaker paddles though a sandstone tunnel!  I've wanted to do the creek for some time, but had always been worried about logjams.  After further satellite map study, I decided on a short two-mile trip which I believed included the best scenery while avoiding the worst obstructions.
I started the trip at Justin Road, which is a really nice bridge access used by trout fishermen.  Here the creek was surprisingly scenic and it was easy to launch just upstream of the bridge.  After I ran some fun Class 1 rapids under the bridge, I passed a fisherman who was as surprised to see me, as I him. 
After easily ducking under a fallen tree, I heard the roar of rapids ahead.  It was a 3-4 foot drop consisting of two main ledges and in my opinion rated as Class 3 rapids.  I portaged the first set of rapids and ran the second, which was a bit of a trick as tight maneuvers were required to get around a strainer in fast current.  In hindsight, maybe I should have portaged both?  The rapids themselves seemed artificial, and were likely the product of bank restoration or trout improvements.  Typically I'm all for bank restoration as most Southern Wisconsin creeks are choked with an unnatural amount of sediment/mud from decades of topsoil erosion and poor land use.  But in this particular case, the fill looked like trashy construction debris and it was piled up too high.  The pool behind the ledge was deeper than my paddle could reach which isn't ideal for trout.  The large, irregular concrete blocks also made paddling difficult.
I soon passed Roesler Park.  It's not as scenic as Justin Road, but it is a better put-in than Justin Road if you wish to skip the Class 3 portage.
The creek turned south and straightened out.  This was an open stretch, but was relatively tidy and attractive with the highlight being a few light rapids.  The banks were massive and looked somewhat artificial.
Church bells from the Guadalupe Church heralded the entrance to what would become the highlight of the trip.  Here the creek entered a scenic wooded stretch with a surprising number of white pines.  The channel is forced sharply west by a steep bluff and flows through a gorge/dells with jaw-dropping scenery.
The first sub-highlight was a tunnel carved into the sandstone along the west bank.  Yes, it is artificial, but it's still really cool.  It's about 50′ long with a "skylight" carved in the middle.  The water in this tunnel was clear with with an attractive turquoise color and flowed fast over a fun ledge in the middle. At one time a dam and mill were located on the creek here and the tunnel was built to provide a millrace.  All that remains of the dam are light riffles which I suppose you could paddle as an alternative to the tunnel.
What was incredibly impressive was the huge sandstone cliff along the south bank.  Perhaps 600′ long and 80′ high, this was better than the outcrops I saw last week on the Upper Kickapoo (and those were pretty good).  One qualifier is that I did this trip in early spring.  In summer when the vegetation and leaves are fully out, I suspect Mormon Creek turns into a jungle and most of the cliff faces become quite obscured.
But perhaps the most impressive feature of the area (not the cliffs nor the tunnel) was a gigantic natural cave carved into the sandstone cliff known locally as Oehler Cave.  This very much reminded me of "Council Overhang" in Starved Rock State Park.  A logjam blocks the creek by the cave which will force paddlers to get out and do an easy portage.  While this is a good excuse to get out to take pictures, there is a private home along the north bank and kayakers should be absolutely respectful of private property.  Do not wander too far from the high water line when portaging and keep your voices down.
Following the cliff, I soon passed the Cty MM bridge.  I had considered this as a take-out, but it's not viable since a fence blocks access to the creek.  That I didn't take out here was for the best regardless, as I would find out soon enough.
The creek then opens up and features a few more light rapids.  After passing a large sandbar, I was surprised to see another large sandstone outcrop.  This wasn't as good as the one by the cave, but still was fantastic and super scenic.  This too had a logjam to portage.  I portaged on the north bank which was tricky, and in hindsight the south bank (by the cliff) would have been much easier.  After re-entering the creek, I was surprised for a third (and final) time to see yet another sandstone outcrop.
So that roughly concluded the first half of the trip which was fantastic.  The second half of the trip wouldn't be as good, but wasn't awful.
Mormon Creek stays relatively attractive up to Old Town Hall Road despite being mostly a large ditch paddle with just a thin layer of trees along the banks.  In the distance I could see the Mt. La Crosse Ski Area which despite having enough snow appeared to be closed for the season.  Just prior to Old Town Hall Road was a massive logjam.  Because the banks were so big, this required a longer and somewhat difficult portage.  I was definitely glad it wasn't summer when these banks can be overgrown, weedy, and a somewhat impenetrable jungle for portaging.
I passed under Old Town Hall Road which seemed like a good bridge access.  Paddlers only interested in the sandstone outcrops could take out here. 
Soon after I encountered a few "logjam rapids" which you can see at 4:28 in the video.  They weren't as bad as they sound and there always was a way through, but it was a bit disconcerting to paddle next to downed trees in fast current.  The second set of "logjam rapids" had a massive tree down perpendicular to the channel which created a two-foot ledge/mini-waterfall.  If I was feeling adventurous I would have run this, but I decided to instead bump down a side channel which was barely viable.  This is definitely a trip to wear and keep your life jacket on as the creek is often surprisingly deep and fast.
After that, the creek opened up significantly and passed through a large section of farmland.  Here the banks were massive and really looked artificial.  At least there weren't logjams, but unfortunately some farmer was burning something awful which had me coughing up a storm.
For the final leg of the trip, Mormon Creek enters a nice wooded stretch.  There were a few snags, but nothing too difficult to get past.  In the far distance were the scenic Mississippi bluffs and exposed outcrops.  I  took out at Hwy 35 which was a decent access, but not appealing because of the fast heavy traffic and exhaust fumes from the cars. 
I would have loved to instead continue a few more miles to the mouth on the Mississippi and take out on Goose Island where I had previously done a loop around the island.  But from my satellite research, there appeared to be too many logjams along the creek mouth to justify this.  Hopefully in the future locals will clean up both the upper and lower portions of the creek so longer stretches are navigable.  Mormon Creek is actually much more scenic and has more potential than its more popular neighbor to the north (the La Crosse River).
My final advice would be to keep your trip short to avoid too many logjams.  Paddlers just interested in the sandstone outcrops could conceivably do a micro one-mile trip from Roesler Park to Old Town Hall Road.  This would feature the best scenery (three sandstone cliffs, the super cave, and the tunnel) and contain just three logjam portages (one easy, one medium, one difficult).  My other main advice would be to do this trip in spring or fall so you can best see the rock cliffs and formations.
History of  Mill and Oehler Cave:
For a fascinating history of the area and historical pictures, I highly recommend the website Oehlermill.org.  Basically a mill was first built here by Mormon settlers in the mid-1800s, and later rebuilt by German immigrants.  The famous sandstone tunnel was I believe a millrace and used to be underwater.  In 1992 there was an attempt to add the Oehler site to the National Registry of Historic Places but this was abandoned, and in 1999 much of the area land (including the cave) was donated to the Catholic Church.  In 2001, the church Shrine of Our Lady of Guadalupe was built atop the bluff that overlooks Oehler Cave.
Local Diversions:
Grandad Bluff:  This is a must-see/must-visit if you haven't been here before–the view is magnificent.
Shrine of Our Lady of Guadalupe:  This is a famous church located very close to Mormon Creek.  Even if you're not Catholic (which I'm not), you can still appreciate the stunning Neoclassical Spanish architecture and gorgeous grounds.  It very much reminded me of Holy Hill in Southeast Wisconsin which is "high praise".  Note,  if you're not familiar with the area, Google Maps can be confusing.  The church while located next to MM Road is actually only accessible from the visitor center off of Tepeyac Road (figure 1.8 miles of backtrack driving if you get lost as I did).  From the visitor center you have to hike up a ~2000′ foot hill to reach the church.  This isn't so bad though, as the trail is very scenic and the church offers free shuttle rides up and down the path.  To get into the church (so you can see the incredible domed interior), you can visit during hours of operation.  Typically you can access the outside grounds daily from 8-5 regardless of whether the church is open.
Noteworthy Wildlife:
Wildlife sightings included one muskrat, two fish, deer, two cranes and four fishermen.
Put-in:
Justin Road:  This was an excellent bridge access.  There is room to park on the shoulder and a great spot to launch northeast of the bridge.  This area is used by fishermen.
Alternate Put-ins:
Upstream of Justin Road:  You could certainty launch upstream of Justin Road from multiple bridges or say Mormon Coulee Park, but I don't advise it as many logjams are visible from satellite images.
Roesler Park (0.25 miles downstream from Justin Road):  This is a good public access.  It's not as scenic as Justin Road, but if you want to avoid the upstream Class 3 portage, this is a good put-in option.
Take-out:
Hwy 35:  This is a busy, noisy road and while not a great access it is a doable one.  Southeast of the bridge there is room to park and you can drag your boat 180′ up the long grassy bank to your vehicle.
Alternate Take-outs:
Old Town Hall Road (1.2 miles upstream from Hwy 35).  This certainly looks like a viable bridge access.   While I never had to portage any logjams after Old Town Hall, paddlers might want to take out here to avoid a few downstream snags.  Ending here though would make for a short trip.
Goose Island (1.2 miles downstream from Hwy 35):  There are two access options on the east side of Goose Island that would work well (see overview map for details).  But again I fear there are too many logjams (maybe four, based on my reading of satellite maps) between Hwy 35 and the Mississippi.
Shuttle Information:
Bike Shuttle – Hwy 35 to Justin Road:  2.4 miles with 72′ of ascent.  Both Hwy 35 and Hwy 61 are fast, busy roads and it wasn't pleasant bike shuttling on them.  There are also two roundabouts to deal with and a few steep hills.  On the plus side the shuttle is short and there is plenty of shoulder room for a bike.  I was surprised that two other bikers passed me on this route.
Hazards, Logjams and Current:
Logjams:  Strictly speaking I only had to portage three logjams which I guess wasn't so bad.  One of the portages though was a bit trying (but doable).  There were also noteworthy snags on the creek that I had to deal with.  See trip map for exact locations of obstructions and details.
Rapids:  This is a fast creek with many light rapids.  Most are not a problem, but there is a large 3-4′ ledge upstream of Roesler Park that should be portaged.
Strainers:  These weren't an issue for the most part, but there is a pair of "logjam rapids" just downstream from Old Town Hall Road which should be taken seriously and portaged if you don't feel safe running them.  See 4:28 in the video.  This includes a large ~2′ ledge created by a downed tree.  This is definitely a trip to wear and keep your life jacket on as the creek is often surprisingly deep and fast.
River Depth and Navigability:
Closest Gauge:  Kickapoo River @ Ontario
Trip Depth:  8.9′ CFS
Navigability Estimates:  The following are just rough estimates as there is no Mormon Creek depth gauge.  Always use your own judgement.

< 8.6′:  Maybe too shallow for paddling.
8.7-8.8′:  Shallow, but likely doable for paddling.  Note, a paddler did a trip at 8.8′ and noted ~6 logjams.  Most of the shallow logjams are I believe after Old Town Hall and you should be able to avoid them by taking out there.
8.9-9.0′:  Above average but likely a good depth.
9.1-9.3′:  A high depth.  Likely doable, but paddlers should be careful.
9.4+':  Perhaps only suitable for expert paddlers.
Mormon Creek Overview:
Upstream from Mormon Coulee Park:  Parts of the upper creek may be navigable with possible outcrops, but logjams are likely too much of a nuisance.
Mormon Coulee Park to Justin Road:  3.4 miles.  This stretch has good scenic potential, but likely has too many logjams to be viable for paddling.
Justin Road to Hwy 35:  2.6 miles.

Justin Road to Roesler Park:  0.25 miles.  A set of Class 3 rapids must be portaged.  Otherwise this is a pleasant stretch.
Roesler Park to MM:  0.5 miles.  Includes a spectacular stretch with a gigantic sandstone outcrop, a tunnel, and a huge cave.  There is one minor logjam by the cave but it is a super simple portage.  MM is not a viable access because of a fence issue.
MM to Old Town Hall Road:  0.7 miles.  Leg includes two outcrops, but also two logjams (one a medium portage, and one a difficult portage).  MM is not a viable access because of a fence issue.
Old Town Hall Road to Hwy 35:  1.2 miles.  Pleasant stretch but no outcrops.  There are no major logjam portages, but there are a few strainers in fast current you may want to portage.

Hwy 35 to Mouth on Mississippi:  0.9 miles.  This stretch might include 4 logjams.
Mouth to Goose Island Access:  0.3 miles.  A short leg on a nice Mississippi backwater.
Trip Map
Overview Map
Video
Photos
2 Comments to "Mormon Creek"
How did your trip turn out?

Questions or comments?

Feel free to leave your feedback.