East Twin River (Mishicot to Two Rivers)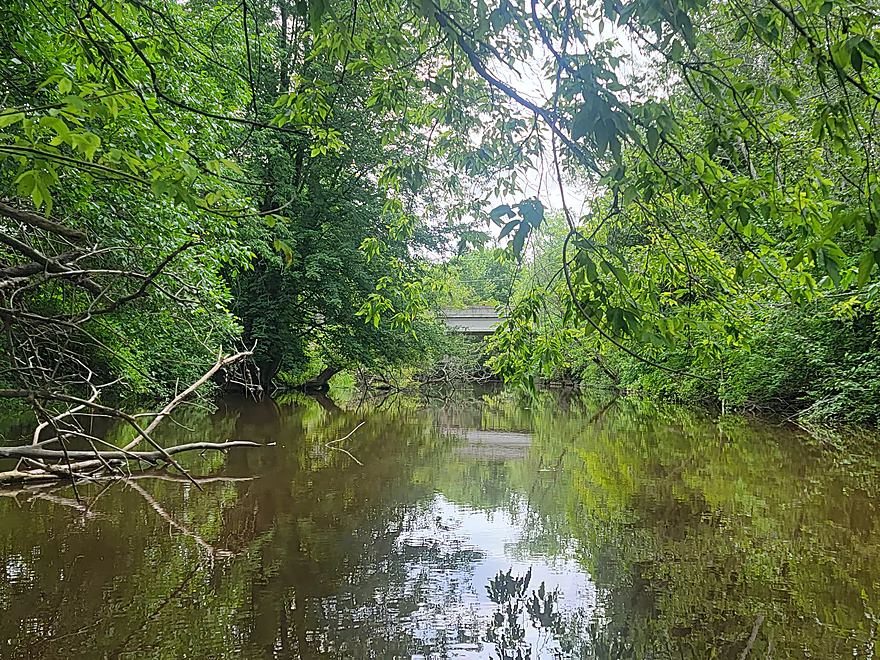 Take-out:
Paddler's Park - Two Rivers
This was a beautiful river to travel on.  We saw a variety of wildlife including some bald eagles that nest near Two Rivers.
I imagine the river was much higher this year compared to some of the past years. As such the current made paddling much easier for the first 2/3rds of the trip. Almost all of the obstacles you will run into will be between the Steiner Corners Bridge and the Sturm Road Bridge, which is about 45 minutes into the trip. There is one fallen tree (picture attached) where you will have to drag your kayak over to continue on, and at least two more fallen trees where you will have to get out onto shore, drag the kayak around, and then get back in the river. It was clear I was not the only one to have made the trip this year as a pretty clear path out and back into the river is being established. There will be at least 3 more times where you will not have to get out of the kayak if you are careful or are willing to play kayak limbo.
While it wasn't hard for me at least, if you are looking for an easier trip I would recommend seeing if you can launch somewhere around the Sturm Road Bridge as past that point I encountered no obstacles. Conveniently the East Twin Golf Course (the rough halfway point) has an area where you can get up onto shore just before the Maplewood Road Bridge and they have signage encouraging kayakers to use their facilities and have a pathway to the Clubhouse if you want to stop for a snack. Only downside is where they encourage you to stop is very muddy and you will sink in, making getting in and out difficult.
The last 3rd of the journey will be on the much wider and deeper part of the river as you approach Two Rivers. The current is basically nonexistent at that point so make sure you have some energy saved up to finish the trip. At the end I got picked up at Paddlers Park, a convenient kayak launch managed by the city, away from the poweredboat launches. All in all the trip surprisingly only took me about 4 hours, with the only delays being the downed trees and a quick bathroom break at the East Twin Golf Course.
Addendum from the Webmaster:
Thanks for the review!  This river is definitely on my todo list.
WisconsinRiverTrips.com is always very appreciative of guest reviews, and if you the reader is ever interested in submitting one, you can use this online form.
Trip Map
Photos
How did your trip turn out?

Questions or comments?

Feel free to leave your feedback.