Black River – Power House Road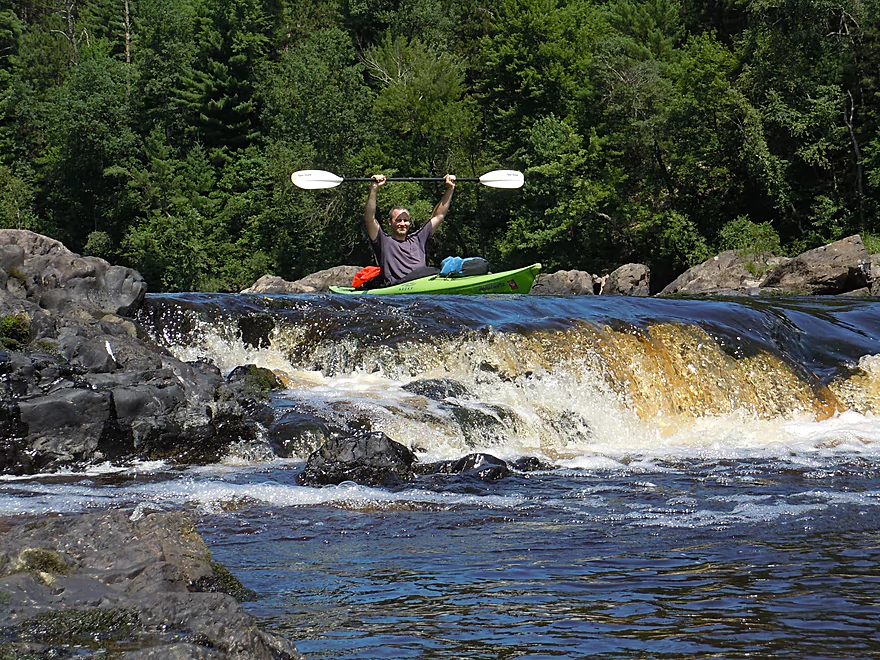 Put-in:
Powerhouse Landing
Take-out:
Halls Creek Landing
Time:
5 hours 7 minutes (without side adventures, 2 hours is more typical)
The Black River is one of Wisconsin's truly special paddling destinations.  Most prefer to paddle downstream of Black River Falls, but savvy paddlers know the river's secrets lie in its upstream portions.  And of these upstream portions, the most interesting is a 13.5 mile stretch from Lake Arbutus Dam to the Black River Falls dam. 
This "dam to dam" portion is likely a little long for most paddlers, and I suggest doing it in parts.  For this trip we settled on a 4 mile segment from the Hatfield Powerhouse to Halls Creek Landing.  We could have launched 3 miles sooner at Hwy K or Clay School Road Landing, but this would have included some rough Class 3 rapids (super scenic though).  Hardcore whitewater paddlers often start at Clay School Road, but then portage their boats over massive boulders to ride the Class 5 chutes below the dam.  Casual paddlers can easily launch below the chutes, but still face some Class 3 rapids (such as Canyon Rapids after Hwy K).
Playing it safe we simply started at the public launch off Powerhouse Road.  The powerhouse itself is somewhat interesting in that it is 3 miles disconnected from the dam upstream.  Engineers accomplished this by creating a 3 mile long millrace that parallels the old channel, before being piped into the powerhouse and back onto the main channel.   This millrace has upset many in the paddling community as they feel it frequently starves the old channel of sufficient flows for paddling. 
From the launch, you'll see the tail end of Powerhouse Rapids (typically Class 2) flanked by fantastic granite boulders.  Being adventurous, I portaged the east bank by the rapids to run part of these rapids which were a little bumpy but fun.
Just downstream of the powerhouse, we saw the only few homes on the trip (most of the shoreline is a protected natural area) and came across our first island.  These are noteworthy because islands equate with rapids on this trip.  The least obstructed path is usually on the right/west channel.  After some light riffles and small boulder gardens, the river settles down and flows between scenic banks filled with white pines and river birch.  The substrate was a mixture of sand, rocks and gravel which you could sometimes see through in the red-tinted water.   At several times, there were seeps flowing from the banks, and a unique crumbling rock substance that looked like wood but wasn't (really cool!).
The next island represented a somewhat ponderous decision to make.  The left/east channel had nicer boulder gardens, but we decided on the right/west channel for its fun Class 2 ledge.  This is easy to scout from shore if you wish, but not imperative as it is pretty safe (at our flow rate anyways).  Immediately following the ledge, we deviated sharply right to paddle through a narrow slot and ledge created by large granite boulders. At the bottom of the main island, we doubled back to scope out the east channel which was quite striking with a fantastic boulder garden.  For trips like this it pays to explore and poke around to find hidden chutes, ledges, micro-waterfalls, and unique geology.
Immediately following this island was the Brickyard Road Canoe Landing and perhaps the largest boulder garden of the trip.  The middle seemed a little shallow and obstructed but there seemed to be good chutes on both sides, with perhaps the best being on the left/east end of the river.
After a pleasant flat-water section, we came across yet another island.  This had a spectacular 2.5′ ledge in the middle which you could possibly run (maybe Class 3), but I elected to go around it.  This is super easy to do by wrapping west/right around the ledge or by following the entire western/right channel around the island. 
Once the two channels rejoin at the bottom of the island, the river really starts to change dramatically.  Hardwoods become more prevalent, most of the granite outcrops go away and the rapids are demoted to minor riffles at best.  After some flatwater paddling you'll come across yet another island…but this one is massive (likely 1.5 miles long).  I initially tried going left/east, but really it was too shallow and I gave up.  If you can make it onto this channel you'll paddle past the mouth of Morrison Creek and an east bank landing immediately thereafter.
We chose the right channel which was  bigger, shorter and faster.  This was scenic in its own right as there were MASSIVE gravel bars and sandbars (would be a fantastic camping spot).  Here and there, you could see the carnage left by the major floods of 2016.  Banks ripped open, big trees in the middle of sandbars and even a canoe that had been cleanly ripped open and wrapped around deadfall (hopefully the paddler from Morrison Creek or the Upper Black was ok).  The flood was so strong that the Black River Falls dam even lost one of its gates and it ended up downstream.
The take-out by Halls Creek was great.  Just downstream from the ramp is that cool "I can't believe it's not wood" rock I recommend checking out. 
This was a terrific trip which we intentionally took our time to explore and to take pictures.  Faster paddlers I suspect may want to do a longer section which would be easy to do.   Instead of taking out at Halls Creek, you can keep paddling for 6 miles to the Black River Falls Dam, which while a flowage contains some fantastic outcrops reminding me of Wisconsin Dells.  Whitewater paddlers can again launch 3 miles sooner at Clay School Landing or Hwy K for a super scenic part of the river.
Put-in:
The power company has created a public launch area below the powerhouse (just off Powerhouse Road).  Good parking, a nearby outhouse, good gravel launch area and scenic.  This is a popular spot with local fishermen.
Again, serious whitewater paddlers can start the trip 3 miles sooner at Hwy K or Clay School Road Landing.
Take-out:
Just below Halls Creek, there is a popular public canoe landing with plenty of parking but no outhouse.
Again, if you are ok with lengthening your trip by 6 miles, you can paddle the Black River Falls flowage (very scenic) and take out at the Black River Falls dam.
Shuttle Information:
The bike shuttle would be pretty doable.  Only 3.2 miles, but a few hills to climb (167′ of climbing and 118′ of descent).
There are a couple of rental and livery options.
Hatfield Sports Shop:  715-333-5009 Note, their website is down so they may no longer be in business.
Black River Canoe Rental:  715-284-8136 The owner prefers to do Lower Black, but I believe he'll service the upper sections if you schedule an appointment in advance.
Hazards, Logjams and Current:
No logjams to worry about.  Well, close to the take-out there were some strainers along the bank but alert paddlers should be able to avoid these easily.
This segment contains a number of rapids and riffles separated by long stretches of flat, slow water.  Most of the rapids are pretty easy and Class 1.  
There is a Class 2 set of rapids just prior to  Brickyard Road landing (marked on map) that is pretty easy.  The river will be split by an island…go right (more open and unobstructed channel) to enjoy the rapids here.
The other significant rapids are at the top of the next major island.  Here a 2.5′ ledge is a Class 2-3 option for adventurous paddlers, otherwise it is easy to paddle around it (right/west) to take a Class 1 detour.
At higher flow rates, the rapids may become more pushier, unforgiving and dangerous.
River Depth and Navigability:
Despite there being 4 Black River gauges in a 20 mile radius of the put-in, determining a proper flow rate is a contentious and subjective evaluation.  I prefer the powerhouse gauge by the put-in, but this doesn't include the main channel (just the millrace), so is somewhat inaccurate, but likely not too bad.  Below is a guide based on my preferences and guestimates.
0-100 CFS:  All the rapids would likely have to be walked, but the rest of the river would likely be navigable.
101-150 CFS:  Pretty shallow and bumpy.  I think this would be doable for rec paddlers but you might have to walk some sections.
151-200 CFS:  A good target depth for rec paddlers.  IMO not too shallow nor too deep.  We went at 176′ CFS which I thought was perfect.
201-250 CFS:  A bit higher, but should still be plenty good.
251-350 CFS:  Likely doable, but the scenic granite boulder gardens may start to become submerged.  Some of the Class 2's maybe pushy.
351-500 CFS:  IMO a high depth not enjoyable for rec paddlers, but would be great for serious whitewater paddlers.
501-1000 CFS:  Only serious whitewater paddlers should attempt to paddle the river at these levels.
As a complicating caviet, the Hatfield Dam does special releases periodically to help out hardcore whitewater paddlers which won't be reflected by this millrace gauge.  This usually happens on one Saturday a month from 11:00 AM to 3:00 PM.  The schedule for 2017 is June 10, July 8, August 12, and September 9 (plus a calibration release on the previous Thursday).  For more information on the these special releases see Weather.gov.  If you are a hardcore whitewater paddler, these releases are a godsend.  If you are a rec paddler they can be annoying though and you may want to pick another day when the river won't be as pushy.
Noteworthy Wildlife:
Two fat water snakes, many clam shells, several dragonflies, one immature bald eagle, some geese and a slow bass that was hanging out by one of the kayaks (we thought it might have been injured).  For plants there were a lot of white pines, river birch, some bitternut hickory and a handful of wildflowers.
Quick Overview
Black River:
Upstream of Hwy 73:  Obscure sections of the Black with little known about them.  Some legs will have logjam issues.
Hwy 73 to Lake Arbutus:  48 miles.  Good legs with a mix of rapids, boulder gardens and undeveloped banks.  Only reason these legs don't receive more paddling traffic is because they're located away from population centers.
Lake Arbutus:  3 miles.  A scenic but challenging lake because of the waves.
Hatfield Dam to Halls Creek Landing:  7 miles.  Some of the best and most fun whitewater on the Black River.
Halls Creek Landing to Black River Falls Dam:  6 miles.  An impounded part of the river, but nice with cool cliffs.
Black River Falls Dam to North Bend:  37 miles.  This is the heart of the Lower Black and sees the most paddling traffic.  No major rapids, but there are many scenic cliffs and creek inlets.
North Bend to Mouth:  30 miles.  This is the second half of the Lower Black.  While not as scenic, there are still cool sandbars and sandbanks.  Few paddle these stretches.
Noteworthy Tributaries:
Robinson Creek:  One of the best paddles in all of Wisconsin.
Halls Creek:  Also one of the best and with amazing sandstone walls. 
Morrison Creek:  Very scenic creek with some fun whitewater.
Wedges Creek:  Great paddle with amazing boulder gardens. 
East Fork of the Black River:  Some fun riffles and unique granite geology.
Perry Creek:  Shallow but a super scenic creek. 
Dickey Creek:  A wonderfully scenic creek with fantastic sandstone…but too many logjams.
Beaver Creek:  Some fun rapids and amazing sandstone in Galesville, but logjams on the downstream portions.
Popple River:  A shallow whitewater river that is very nice.
Arnold Creek:  A pleasant tributary to Lake Arbutus with really nice reflections.
Rock Creek:  Many scenic boulder gardens, but usually this creek is too shallow to run.
Roaring Creek:  Very scenic creek with a great waterfall at the mouth, but might be a challenge to paddle.
Vismal Creek:  Super scenic but has a lot of logjams and is shallow.  Requires very high water conditions.
Plus countless small creeks that are too small to paddle but quite fun to explore by foot.  If you know of viable paddling options, let me know!  Am very curious to know more about Douglas Creek, Levis Creek, O'Neal Creek, and Crawley Creek.
Detailed Overview
Headwaters to Neillsville:
Upstream of Division Drive:  Likely too many logjams to be navigable.
Division Drive to Sawyer Ave:  (6.5 miles)  Rocky and a few light rapids.  Maybe 4 logjams.
Sawyer Ave to Hwy 64:  (2.5 miles)  Rocky and a few light rapids.
Hwy 64 to Bridge Road:  (14.4 miles)  Solid prospect reviewed by Mike Svob.  Some Class 1 rapids and nice gravel bars.  Intermediate access points at Bahnkes Ave and Hwy AT.
Bridge Road to Hwy X:  (6.0 miles)  Little is known of this section…likely pretty simple.
Hwy X to Colby Factory Road:  (6.0 miles)  Little is known about this section…likely some rapids and outcrops.  Intermediate alt access points at Hwy 29 and Hwy N.
Colby Factory Road to Popple River Mouth:  (7.9 miles)  This stretch has far fewer rapids than downstream legs with only a few minor rapids.  It should still be pleasant though.
Popple River Mouth to Reese Ave:  (5.3 miles)

Popple River Mouth to Warner Drive:  (1.0 miles)  This is a slower and less interesting stretch, but does include 4 Class 1's and scenic Hemlock Rapids which are Class 3.
Warner Drive to Greenwood Park:  (3.4 miles)  A good leg with many rapids (3 Class 2's and 17 Class 1's).
Greenwood Park to Reese Ave:  (0.9 miles)  A slower stretch with just 2 Class 1's.  Part of this passes through the community of Greenwood.

Reese Ave to Twenty Six Rd:  (5.1 miles)

Reese Ave to Sladich Rd:  (0.7 miles)  A mostly nondescript wooded stretch.  The exception is Greenwood Rapids where an island splits the river.  The right side is scenic, but the left side has fun Class 3 rapids.
Sladich Rd to Willard Rd:  (1.6 miles)  A somewhat slow and relatively uninteresting leg.  Highlights include one nice outcrop, a few gravel bars and a 400' stretch of Class 1 rapids.
Willard Rd to Twenty Six Rd:  (2.8 miles)  A great leg with 10 Class 1's and 2 Class 2's.  Highlights also include scenic boulder gardens and a few outcrops.

Twenty Six Road to Hwy H:  (5.0 miles)  Multiple Class 1 & 2 rapids. 
Hwy H to Grand Ave/Hill Road:  (8.0 miles)  A great trip with several Class 2 rapids and scenic granite outcrops.
Note, for more details on the Upper Black, I highly recommend "Indian Head Rivers" by Michael Duncanson.
Alternate Black River Trips – Neillsville to Black River Falls:
Grand Ave/Hill Road to Opelt Road Landing:  (6.7 miles)

Grand Ave/Hill Road to Hwy 10:  (2.2 miles)  Nice section with a handful of rapids.  These are mostly Class 1 at lower depths, but strengthen to Class 2 during high flow rates.
Hwy 10 to River Road Landing:  (4.3 miles)  Fantastic whitewater section.  Maybe six Class 2's and two class 3's.  Scenic boulder gardens and a few outcrops.

Opelt Road Landing to Bryan Ave Bridge:  (1.1 miles)  Not sure there is anything special about this stretch.
Opelt Ave Bridge to Hwy 95:  (4.4 miles)  Ok…nothing special.
Hwy 95 to West Arbutus County Ramp/Hatfield Dam:  (4.8 miles)

Hwy 95 to North Arbutus Boat Landing:  (2.4 miles)  Includes a scenic gorge, boulder gardens and rapids including the Class 3 Red Granite Rapids.  River slows after rapids.
North Arbutus Boat Ramp to West Arbutus County Ramp:  (2.4 miles)  A large open water paddle on Lake Arbutus that can feature challenging waves on summer afternoons.

Hatfield Dam to West/East Channel Confluence:  0.2 or 0.3 miles.

West Dam to West/East Channel Confluence:  0.3 miles.  There is a large boulder field and Class 2 rapids below the west dam.  At the outlet of the west channel is a Class 4 drop.  This is easy to scout and portage.
East Dam to West/East Channel Confluence:  0.2 miles.  Perhaps the most extraordinary rapids in the state with Class 4/5+ rapids.  The action starts below the dam where steep granite banks narrow the river significantly and force it down deep chutes.  The gorge starts with Class 2-3 rapids but ends with two significant drops.  American Whitewater warns "between the dam and this point lie some serious drops which contain near inescapable boiling cauldrons at moderate to high flows". 

Hatfield Dam Confluence/West Clay School Road to Powerhouse Road Landing:  (3.1 miles)

Hatfield Dam Confluence to Hwy K:  (0.3 miles)  One of the most scenic paddling areas in the state with massive granite outcrops.  There is one set of Class 2 rapids.
Hwy K to Powerhouse Road Landing:  (2.8 miles) The first half mile by Hwy K is very scenic and contains one Class 3.  The second mile is mostly flatwater.  The third mile is almost continuous rapids and features one Class 3.

Powerhouse Road Landing to Halls Creek Landing:  (4.0 miles)  Scenic section with a few Class 2 rapids and a steep ledge.
Halls Creek Landing to Black River Falls Dam:  (6.2 miles)  Wonderful sandstone cliffs.
Alternate Black River Trips – Black River Falls to Mouth:
Black River Falls Dam to Mason's Landing:  (4.7 miles)  A great little section.
Mason's Landing to Irving Landing:  (9 miles)  A good section.
Irving Landing to Lost Falls Campground (2.3 miles)  A popular stretch.   Highlights include a few small outcrops, two tiny waterfalls, several impressive sandbars, and one large sandbank.  A side hike to Roaring Falls can be arranged.  Note Lost Falls Campground is private and you must purchase a pass from them to use their access.
Lost Falls Campground to Grinde Landing:  (6.4 miles)  A popular section with some nice outcrops and a waterfall by Roaring Creek.  Wolf Creek may also have a cool slot canyon.  The river splinters into multiple channels, some of which may be quite shallow in later summer.  As of 2023, Grinde Landing is closed because somebody stole the owner's deer stand.
Grinde Landing to Melrose Landing:  (3.9 miles)  A shorter section but with a really nice rock outcrop before Melrose Landing.  As of 2023, Grinde Landing is closed because somebody stole the owner's deer stand.
Melrose to North Bend:  (10.1 miles)  Likely the most popular stretch with the best sandbars on the river, three sets of outcrops, and a few waterfalls.
North Bend to Hwy 53:  (13.3 miles)  Likely a nice paddle with sandbars, large sandbanks and maybe a few outcrops.  Unfortunately it is very long.
Hwy 53 to Hwy 35:  (8 miles)  A nice section with epic sand banks.
Hwy 35 to Lytle Road:  (4.0 miles)  Goes through the Van Loon Floodplain Forest.  This can be a shallow trip but features many nice sandbars.
Lytle Road to Fred Funk Boat Landing (Mississippi):  (5.0 miles)  Multiple options because of the river delta.
Trip Map
Overview Map
Video
Photos
How did your trip turn out?

Questions or comments?

Feel free to leave your feedback.