Kickapoo River – Guest Review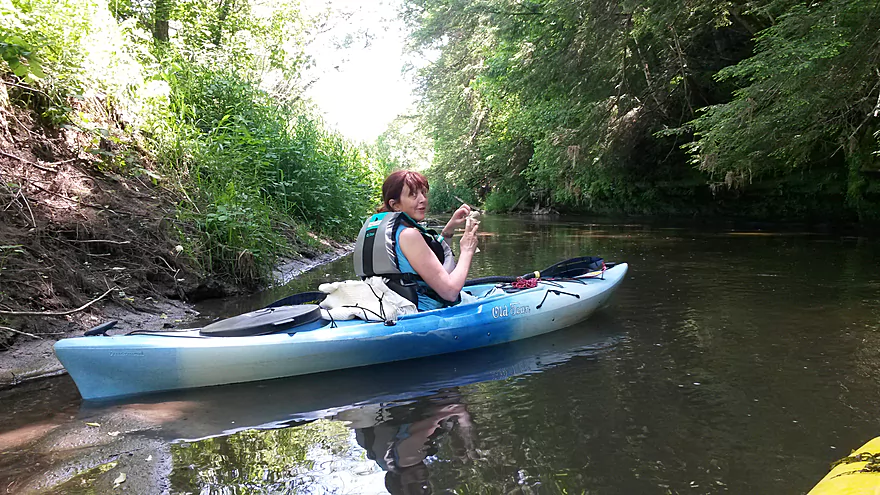 Put-in:
Wilton - Public Campground
Take-out:
Nicolette Ave/Hwy 131
Gradient:
15' per mile (fast)
These are both two of the worst and two of the best trips ever.
Worst because they are exhausting and horrible, with numerous portages…and best because they are epic adventures!!! I swore I would never do either of them again (who in their right mind would?!?!) and made my husband promise to say no if I asked…but, of course, I want to do them both again.
Trip #1 – Wilton to Nicolette Ave/Hwy 131
As part of wanting to kayak the Kickapoo from as far north as possible to the end, we did the upper-most bit on June 5, 2016.
Wilton (from the campground/park) to Nicolette Avenue just north of NOW School took us 6 hours to go 7 miles, and it was exhausting/hilarious!
I don't think it would be possible to go any further north, really.
According to the United States Geological Survey Map, the water level at Ontario was 8.5 feet. It would be impossible to do this route any shallower, and would have been better to have done it deeper. That being said, I don't know how it would have affected passage through log jams.
None of it was very deep, but it was rather dangerous in parts. It took a LOT of hard work to get through here. I am so very glad we did it!!! But, still, this is just a lot of hard physical labor.
Lots of riffles. Kept getting caught on rocks and had to rock/drag with hands/poke with paddles to get yourself free. Or just get out and drag your boat. Some spots were dangerous with the fast currents and dead wood.
Too many log jams to remember. We lost count. My husband twice had to climb out onto them and push his boat through and then drag mine through. I got out twice and hauled mine up a steep bank, through nettles and poison parsnip because I couldn't bear to do what he was doing.
There were beautiful rocky outcroppings…and they felt quite "special" because we knew that it is a rare person that has seen these from the river, as we were.
That being said, there were strands of hot wire and barbed wire across the river that we would come up on unexpectedly. Some of the barbed wire was attached to the solar charger to give it a zap. Pretty dangerous….
Trip #2 – Nicolette Ave/Hwy 131 to Ontario/Public Park Boat Launch
AUGUST 14, 2016 — It took us 4 hours to do the 5 mile trip. This reviewer gives a very thorough description, and should be read…nice pictures too! :
http://www.wisconsinrivertrips.com/segments/kickapoo-far-upper
There were no fence wires strung across this section. Unlike the other reviewer, we found so many log jams we lost count. They were bad ones too. 8, 9, 10? Who knows. I sincerely hung back at one point so my husband couldn't hear me and said out loud, "I. Am. Done. Finished. I cannot do any more." I squeezed out a couple of tears, and went on. I had to. There was nothing else I could do. At one point I spooked myself thinking that if one of us fell on one of these log jams and got hurt, who would be able to find us? And when you got out, if your foot went to the river bottom, the sludge was so thick (and stinky) that it truly felt like you might get stuck pretty badly.
Oh, but it was so very, very beautiful with more "rarely seen" outcroppings. Who knows what it is like now? There has been a flood since then again, so the log jams could all be rearranged, making it easier or harder.
These 12 miles were truly challenging and exhausting, but so very worth the adventure. It is all so very isolated. We felt like Lewis and Clark on both adventures! We knew we were seeing things not many people have seen, and it was beautiful…we loved the adventure of it all! However, these are NOT parts you want to do really unless you are just really wanting to do ALL of the Kickapoo.
Notes from the Webmaster:

Thanks Posie so much for the review, which is very much appreciated!  The first trip sounds great, and I might try paddling this yet this spring while the weeds are still down per your suggestion.  The 2nd trip you referenced overlapped with a trip I did four years ago.  It is unfortunate you had a trying time, while I had publicly recommended this trip to readers.  The problem could have been flow rates.  I went at 150 CFS and you at 105 CFS which would have allowed me to get over jams you couldn't.
Note, some of the supplemental photographs were taken from a winter scouting trip I did at low water levels.  Below is a Kickapoo River overview added by the webmaster. With many segments of the upper river explored, hopefully future lower sections can be documented.
Quick Overview
Wilton to Ontario:  12 miles.  This stretch is seldom paddled, but is cleaner and faster than downstream legs.  Those willing to endure weedy bridge accesses and occasional snags will be rewarded with spectacular outcrops.  A very underrated part of the river.
Ontario to Rockton:  13.5 miles.  This is the most popular section for kayaking on the river (if not the entire state).  Highlights include many spectacular sandstone outcrops.  This stretch can easily be subdivided.  Shuttle services are plentiful, but this leg can get crowded and noisy during summer weekends.
Rockton to La Farge:  11 miles.  This is the second most popular stretch of the river.  While the outcrops here aren't as numerous as the Ontario leg, they do tend to be larger and more impressive.
La Farge to Mouth:  ~90 miles.  After La Farge there are few rock outcrops and the river becomes much less interesting.  The lower Kickapoo is a generic hardwood floodplain that is at best a mediocre paddle.
Tributaries:

Kickapoo River – West Fork:  While lacking the outcrops of the main branch and a bit shallow in spots, this is a very underrated river with many fun rapids.
Billings Creek:  I actually like this creek better than the main river itself.  There are just as many outcrops, and the water and banks are much cleaner.
Tainter Creek:  While not very big and lacking in outcrops, it's still a cool creek with very swift current.
Detailed Overview
Upstream from Lincoln Ave:  The river is likely too small and degraded by open pasture to have  much appeal for kayaking.   Although "Kickapoo Springs" (the primary source of the river and a public DNR area) might be interesting.
Lincoln Ave to Keystone Road:  2.5 miles.  River is small (likely too small for most paddlers) and more scruffy with fewer outcrops.  Figure 1-2 logjams and 3 outcrops.  Several of the Elroy Sparta Trail bridges are quite scenic/rustic.  High water will be required to do this stretch.
Lincoln Ave to Hwy 131 (East of Midge Road):  6.3 miles.

Lincoln Ave to Hwy 71:  1.6 miles.  Section includes five outcrops including one really nice one.  River is shallow here with many Class 1 rapids.  There is one strainer that has to be portaged, but no other logjams.  I encountered a bull on this stretch (here) which might be a deal breaker for most paddlers.  You could possibly portage around the farm in question along the Elroy Sparta Trail but it would be a long and difficult portage.
Hwy 71 to Wilton Campground/Library:  0.7 miles.  A nice stretch with ~3 mediocre outcrops and one really nice one.  Water clarity is stunning here.  There is a low tree that requires some tight ducking to get under.
Wilton Campground/Library to Hwy 131(by Posey Creek):  1.4 miles.  Less attractive stretch but still ~4 mediocre outcrops.  There is a serious logjam by Water Street that must be portaged.

Hwy 131 (by Posey Creek) to Hwy 131 (by Mica Rd):  1.3 miles.  A terrific stretch with scenic pine trees, several mediocre outcrops and one fantastic sandstone outcrop.
Hwy 131 (by Mica Rd) to Hwy 131 (East of Midge Rd):  0.7 miles.  More of a scruffy stretch, but still a few mediocre outcrops.  The Black Valley hills in the distance are very scenic from this leg.

Hwy 131 (East of Midge Road) to Hwy 131 (near Nicollet Ave):  4.1 miles.

Hwy 131 (east of Midge) to Hwy 131 (by Michigan Ave):  0.5 miles.  A good leg with a one nice set of outcrops.
Hwy 131 (by Michigan Ave) to Hwy 131:  0.6 miles.  Another good leg with 3 outcrops.  Some minor rapids including a 4-6" ledge.
Hwy 131 to Hwy 131 (by Nisswa Rd):  0.6 miles.  One of the best legs on the Upper Kickapoo which features 6 noteworthy outcrops and terrific ice flows.
Hwy 131 (by Nisswa Rd) to Hwy 131 (by Nordale Ave):  1.1 miles.  Not as scenic as other legs with messy shorelines and eroded banks.  There are still a few nice outcrops.
Hwy 131 (by Nordale Ave) to Hwy 131 (by Nicollet Ave):  1.3 miles.  Another one of the Upper Kickapoo's best legs with ~6 outcrops including a small natural bridge one can paddle through.

Hwy 131 (near Nicollet Ave) to Ontario:  5 miles.

Hwy 131 (by Nicollet Ave) to Hwy 131 (Oil City):  2.3 miles.  Two long stretches of bluffs contain great outcrops. 
Hwy 131 (Oil City) to Hwy 131 (Kickapoo Wild Adventures):  1.4 miles.  Terrific stretch with two major outcrops.  One set of Class 2 rapids.
Hwy 131 (Kickapoo Wild Adventures) to Ontario (Brey Valley Road Park):  1.5 miles.  One set of outcrops.

Ontario to Hwy 131/Bridge #4:  3.6 miles.  A more open and flatter stretch of the Kickapoo.  There are still 3-4 outcrops. This is THE most popular leg on the entire river.
Bridge #4 to Bridge #7:  6.0 miles.

Bridge #4 to Wildcat Landing:  3.1 miles.  A super popular stretch and the most scenic on the Kickapoo.  River flows past steep hillsides and many outcrops (at least 16).
Wildcat Landing to Bridge #5:  0.9 miles.  River opens up a bit, but still three super sandstone outcrops.
Bridge #5 to Bridge #7:  2.1 miles.  A good stretch with seven major outcrops and one cave.

Bridge #7 to Rockton/Bridge 12:  5.1 miles.

Bridge #7 to Bridge #8:  1.2 miles.  From bridge #7 onward, the Kickapoo becomes much less interesting.  There are still some good spots though.  This stretch has maybe 3 outcrops.
Bridge #8 to Bridge #10:  2.5 miles.  A good stretch with 5-6 outcrops.
Bridge #10 to Rockton/Bridge #12:  1.4 miles.  This stretch is more open, but still perhaps 3-4 outcrops.

Rockton to La Farge:  10.4 miles.

Rockton to P/Bridge 14 Canoe Landing:  2.4 miles. An ok stretch with 3-4 outcrops.
P/Bridge 14 Canoe Landing to La Farge/Bridge 14 Landing:  8.0 miles.  A great stretch with a covered bridge and 4-5 outcrops...several of which are huge (the largest on the river).

La Farge to Hwy 131 (by Ski Hill Road):  6.8 miles.  Nice section but with a few jams. 
Hwy 131/Ski Hill Road to Viola (Banker Park):  7.0 miles.  Maybe 2 bluffs, but mostly open I think.  Have been told there are 26 portages between La Farge and Viola, so beware.
Viola to Readstown:  12.5 miles.  Should be able to subdivide.  Not sure if any rock outcrops and might be some jams.
Readstown to Soldiers Grove:  6.7 miles.  Should be clear of jams and perhaps the most popular section on the lower Kickapoo.  But it does not seem too special and I doubt there are rock outcrops.
Soldiers Grove to Hwy B:  9.0 miles. I doubt there are logjams, but I think this stretch would not be very interesting.
Hwy B to Gays Mills:  4 miles.  Probably not interesting.  A dam and flowage to contend with near Gays Mills.
Gays Mills to Hwy S:  4.6 miles. 
Hwy S to Haney Valley Road:  5.8 miles.
Haney Valley Road to Taylor Ridge Road:  3.6 miles.
Taylor Ridge Road to Steuben:  5.0 miles.
Steuben to Plum Creek:  13 miles.  Maybe not interesting?  Think you can subdivide this if need be.
Plum Creek Landing to Wauzeka Boat Landing:  9.8 miles.  Non-exotic but flows through a wildlife area.  A landing at Hwy 60 allows you to subdivide the trip.
Wauzeka to the Wisconsin River:  0.9 miles.  The last stretch before the Wisconsin.  Numerous take-out options on the Wisconsin River itself.
Trip Map
Overview Map
Photos
2 Comments to "Kickapoo River – Guest Review"
How did your trip turn out?

Questions or comments?

Feel free to leave your feedback.