Token Creek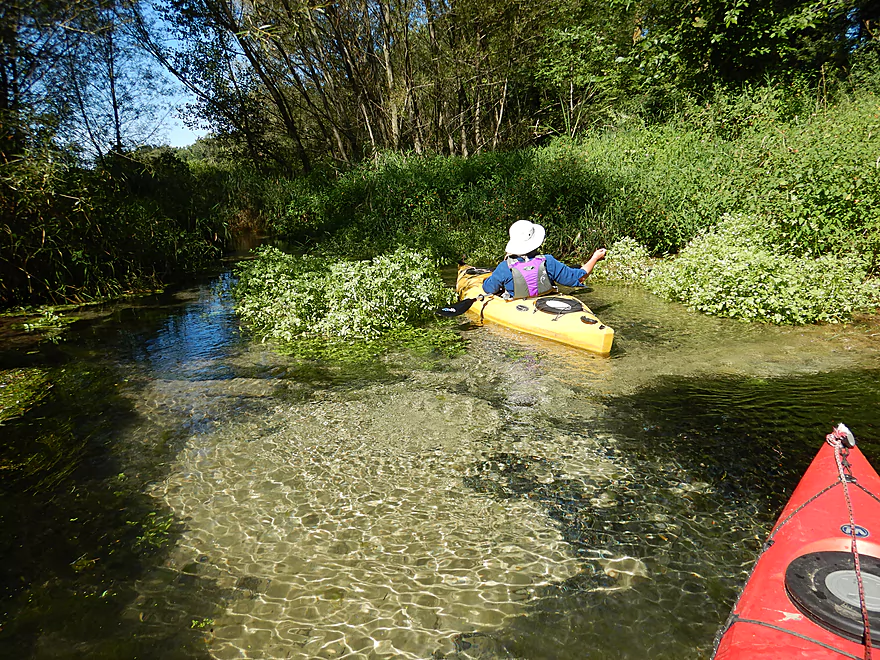 Put-in:
Elmer and Edna Culver Wetlands Conservancy
Time:
4 hours 50 minutes (2.5 hours would be more typical)
Gradient:
4.3' per mile (starts fast, ends slow)
For our Token Creek trip, we started at the Elmer and Edna Culver Wetlands Conservancy.  This is a neat park with a scenic tallgrass prairie and nice hiking trail system.  But the best part was the 3-4 springs that form Token Creek.  These aren't minor springs either…but are the largest in all of southern Wisconsin and the reason that Token Creek is the single biggest tributary to Lake Mendota.
The put-in is a little unconventional, but we actually launched on the largest of the spring pools, which was easy to do.  The springs here are gorgeous…crystal clear water and filled with "boils" (little bubbling sand volcanoes) spewing their cleanly goodness to create the creek.  In spots you could see tidy clusters of watercress growing underwater like potted plants.  I highly recommend doing a trip like this on a sunny day early in the morning for the best lighting.
From the spring pool we paddled through a very narrow canary grass-lined chute and over some light rapids to reach the main channel.  Here the creek widens and is soon joined by two other major springs gushing down the hillside.  For the next mile the creek flows through an attractive marsh.  The channel here is narrow, deep, clear, quick and flanked by tall attractive plants and flowers.  At times it felt like you were paddling through a hedge maze (a good thing).  This was the best part of the trip and by itself worthy of five stars.
This upper portion of the creek wasn't always like this.  This used to be a flowage created by a downstream dam.  In 1994 the dam broke and a major restoration project was undertaken by conservationists to restore the creek to its native glory.  Unfortunately, there was so much silt deposited in the marsh by the flowage, the restoration plan had to completely dig a new channel for the creek to reach the original layer of glacial deposits, which is one of the reasons this upper section is so straight.  I highly recommend this article from CherokeeMarsh.org for more on upper Token Creek's history.
Close to Portage Road, we paddled under a hiking bridge that connects with a vast hiking trail system that goes around the marsh.  Here woods finally enclose the creek but it is still a nice section.  There were a few downed trees, but all were easy to duck under.  Portage Road itself is actually a popular access used by most paddlers to start the trip.
After Portage Road the creek's character does change.  Large mats of pondweed and algae constrict portions of the creek and require a little effort to punch through.  I didn't mind, but my kayak has a sharp bow well suited to cutting through algae.  Other paddlers may prefer to do this stretch earlier in the season to avoid the occasional algae icebergs (there weren't that many).  The highway noise here was a little annoying and the new, low bridge for Hwy 19 was more than a little annoying, but all was manageable and this was still a nice part of the creek.
Following Hwy 19, the creek finally starts to meander and flows through a marsh filled with dead trees.  Here we paddled past an attractive gazebo and covered bridge, and talked to the landowner who looked forward to paddling the creek.  This was a nice section filled with swaying pond weeds reminiscent of the Bark River, but not as nice as the earlier headwaters segment.  Along the way you'll see fantastic cleanup work done for paddlers by Mad City Paddlers and Capitol Water Trails.
A couple miles in, we came across an absurdly low bridge that was difficult to get under (and dirty).  It's at this point that our enthusiasm for the creek waned…  From here on the character changes as the water clarity becomes more turbid, invasive cow grasses replace the nice natural prairie grasses and flowers, and boxelders dominate the banks (the weediest and ugliest of river trees).
The next access option is at Token Creek Park, which would be a great spot to take out if you wish (there is even a V-shaped pier for paddlers to prop up their boats).  Here the creek slows to form a small pond.  A small rock dam had been placed here to trap silt for future dredging operations, but today little remains of this rock dam and it is easy to get through.  We decided to extend the trip 0.8 more noisy miles to take out at Daentl Road.  This allows you to paddle the creek through the park (kind of a mini-pond) and to paddle under Hwy 51 and I94 which form long creek tunnels. 
This was one of those trips that started great (five stars) and ended on a weak note (2-2.5 stars), hence the 3.5 star compromise.  The rule for this creek is pretty simple…the further upstream the better.
Put-in:
We launched at the Elmer and Edna Culver Wetlands Conservancy.  From the main parking lot, hike down the southeast trail to one of the major springs where you can start the trip.  While the park appears to be free, it has very limited hours (Apr 15 – Nov 15, weekends/holidays only, 8 am to 8 pm).  An outhouse is available by the parking lot.  There is also a nice trail system that runs along the marsh and through an attractive tallgrass prairie.
Most paddlers actually launch a mile later at Portage Road (which is a mistake as you miss the best part of the creek).  The launch itself though is very nice with parking for a few cars.  If the parking lot fills up, there is a trailhead parking lot northeast of the bridge which you can use instead.
Take-out:
Southeast of the Daentl Road bridge there is room to park on the shoulder and a small trail leads to the water.  This is a good access option and where we took out.
Paddlers can take out earlier (0.8 miles) at Token Creek Lane (Token Creek County Park).  This is a nice option with a parking lot nearby, but you must purchase a Dane County Park sticker.
Adventurous paddlers can instead continue 5.3 miles downstream to take out at Cherokee Park.  This would likely be a less interesting paddle and half of this would be a marsh paddle.
Shuttle Information:
I'm not aware of any local liveries. 
The bike shuttle is a bit tricky because of Hwy 51 and Interstate 90/94, which technically you are not supposed to bike on.  For bike shuttlers, I suggest taking out prior to both of these highways at Token Creek Lane (aka Token Creek County Park).  This would be an easy 4.0 miles with no major hills.  Some busy traffic on Hwy 19 but should be doable.  If you absolutely want to take out at Daentl Road (0.8 more miles of paddling), then this will require a very indirect 7.2 mile bike shuttle.
Hazards, Logjams and Current:
There were no serous logjams on the trip.  Several times we had to duck low to get under trees but were always able to get through.  Large boats and canoes may have to portage though.  Special thanks to Capitol Water Trails for the cleanup work they have done on the creek.
There are several low bridges to be mindful of.  The new Hwy 19 bridge is quite low and gets lower on the downstream side.  You can make it through in normal flows but could get stuck in higher water.  Portaging Hwy 19 wouldn't be fun.  About a mile later is a dilapidated snowmobile bridge that is even lower.  We barely fit under the right side and got sticky creosote on our hands.  You can portage this on the left/east bank.
Lastly, there are multiple signs that warn of sinkholes by the springs (the first mile of the trip).  Be very careful when launching by the springs and poke the ground with a paddle to make sure it is firm.  Also assume any area with boils (those cool little volcanoes) could have quicksand and stay in your boat.
River Depth and Navigability:
Despite there being little rain in the past three weeks, the creek was quite deep (maybe 3-4′ on average), and I would be surprised if it ever got too low to run.  There are several low bridges, so I advise not going during high levels.
Unfortunately, Token Creek does not have a gauge.  The Yahara River at Windsor gauge is right next door and is similarly sized, but drains much quicker so is only a rough guide.  Here are my guesstimates:
0-15 CFS:  Low conditions, but I think the creek should be navigable.
16-25 CFS:  Average conditions.  Good navigability and mostly good clarity.  Trip was done at 27 CFS.
26-45 CFS:  Above average conditions.  Likely navigable and mediocre clarity. 
46 – 55 CFS:  Getting under some of the low bridges might be problematic.
56 – 80 CFS:  Likely too high for enjoyable paddling.
81+ CFS:  Very high conditions.  Would absolutely stay off the creek at this point.
Noteworthy Wildlife:
A turtle, several red-tails, many ducks, one blue heron, one green heron, and several other kayakers.  The highlight was dodder which is a parasitic plant that feeds on other plants.  It was quite common along the banks and looked like it was strangling its victims (very cool).
Alternate Token Creek Trips:
Upstream of Elmer and Edna Culver Wetlands Conservancy:  Not navigable.  The springs are the start the creek.  There is a smaller tributary from the south but that has too many logjams to be navigable.
Elmer and Edna Culver Wetlands Conservancy to Daentl Road:  5.3 miles.  Reviewed here.

Elmer and Edna Culver Wetlands Conservancy to Portage Road:  1.2 miles.  An amazing 5 star section with large springs, clear water, and a narrow swift channel though an attractive marsh.
Portage Road to Token Creek Lane/Token Creek Park:  3.3 miles.  Creek starts nice but towards the end becomes less interesting.  There are several low bridges here that can be difficult to duck under in high water.
Token Creek Lane to Daentl Road:  0.8 miles.  Mediocre section.  Highlights (or lowlights) are two long tunnels under noisy Hwy 51 and Hwy 132.

Daentl Road to Cherokee Park:  5.3 miles.  Probably a relatively weak section.  Half of this would be on wide open Cherokee Marsh.  As of 2023 there are roughly 8 major logjams downstream from Daentl Road.
Trip Map
Overview Map
Video
Photos
18 Comments to "Token Creek"
How did your trip turn out?

Questions or comments?

Feel free to leave your feedback.