Fox River – Swan Lake to Portage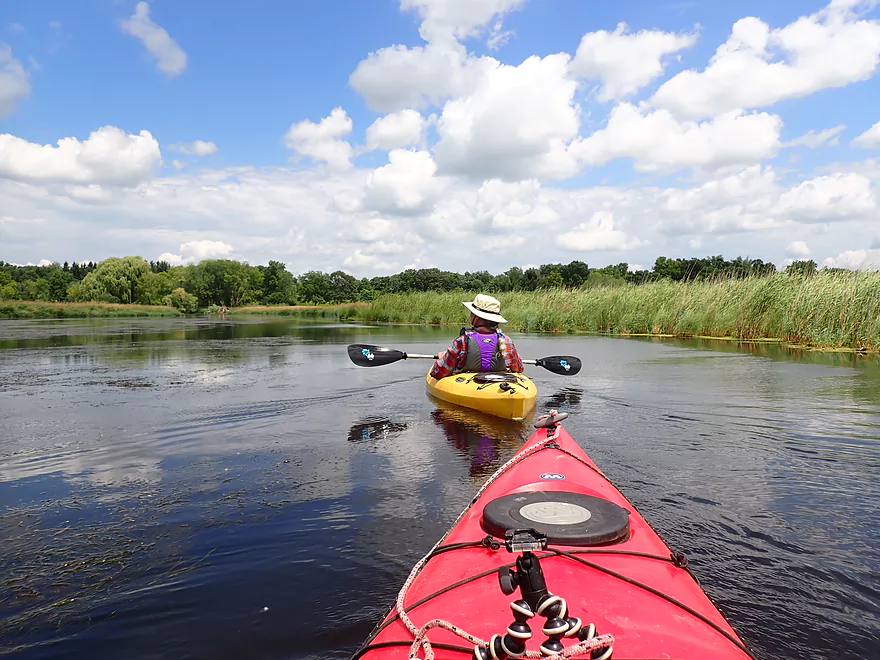 Put-in:
Swan Lake Boat Ramp
Time:
3 hours 49 minutes (2.5 hours would be more typical)
This is a return to Swan Lake and the Upper Fox to continue a trip we started seven years ago.  While almost all "river lakes" are artificial byproducts of dams, Swan Lake is unique in that it is completely natural.  Without a dam to trap sediment, it runs unusually clear.  Often we could see completely through the 3-4′ depth to view the sandy gravel bottom.  The clarity could have been even better had the Lake not been experiencing unusually high depths this year.  No-wake ordinances were in place to protect the shorelines, and not having to fight wake from powerboaters was appreciated.
Much of Swan Lake is developed and has a very "Lake Wisconsin" vibe to it.  The piers along the shoreline are massive…some over 100′ long.  When we got too close to one of these 100′ monstrosities, an irate homeowner came out of his home and started angrily chastising us for getting too close to his pier.  Thankfully the west end of the lake was mostly undeveloped except for this one very high hill which had elaborate staircases and even elevator systems connecting the homes at the top to the piers at the bottom.
Finding the exit of the lake was pretty easy…you just keep paddling west and the mouth is marked by a small white sign.  For the next few miles the Fox River flows through  undeveloped and open wetland (part of the Swan Lake Wildlife Area).  In some ways this is a very simple marsh paddle but it was quite nice with great clarity, clean substrate, and attractive marsh plants.  This included some invasive species like cattails and European cow grasses growing over 5′ high…but also some nice domestic wetland species as well.  In the distance we could occasionally see vistas of the Baraboo Hills and the portage power plant which was novel given how far away they were.  We ended the trip at Wayside Park in Portage which was a great access. 
In summary this was a simple but nice trip.  Because the current is so slow it could be explored as a round trip (from say Wayside Park and back).  My only slight regret was not paddling this with less wind (which ruins reflections) and not paddling during a lower flow rate (for even better clarity).
Noteworthy Wildlife:
Sights included two ospreys, a painted turtle, two sandhill cranes, a muskrat lodge, and a teenage blue heron hesitant to fly.  The highlight were the countless damselflies and dragonflies…perhaps the most I've ever seen on one paddle. 
Local Diversions:
Fort Winnebago Surgeons Quarters:  This was part of a much larger Fort Winnebago complex, but today all that remains is the surgeon's quarters.  This has been preserved as a 19th century museum and contains many historical artifacts from the time.  Before the canal was built, a 1.4 mile trail connected the fort with the Wisconsin River.  Tours are available and ours painted an especially grim and morbid picture of the times…but all in all was well done. 
Put-in:
We started the trip at the main Swan Lake boat landing off S. Shore Drive.  This is a great public launch with parking, outhouses, no fees and a nice boat ramp.  On the downside this can be crazy busy in the summer and I believe the parking lot can fill up.  For paddlers it is advised to launch east of the main ramp along the shore to stay clear of powerboaters using the ramp.
An alternate access a block to the west is at the end of Blank Road where there appears to be an unimproved public access.  Parking is available along the shoulder but don't block in the neighbors.  This is a great access option for paddlers because there is hardly anybody here.
Take-out:
Wayside Park is a great take-out with a mowed access area and public parking, although there is no outhouse.
Shuttle & Rental Information:
The bike shuttle would be a difficult 8 miles.  The route would include some very busy roads in 51 and Hwy 33 (we car shuttled).
Indian Trails Campground does provide shuttles and rentals along this route.  It is suggested you call in advance to ensure availability:  608-429-3244 .
Hazards, Logjams and Current:
Logjams:  None.
Current:  Very little…it picks up a bit closer to portage.
Wind:  Because this is an open paddle, wind can be an issue.  You likely don't want a headwind greater than 8 mph.
River Depth and Navigability:
Note the Pardeeville gauge has been disabled for road construction, so I'll refer to the Princeton gauge instead although this likely isn't as representative.
0-600 CFS:  Typical summer depth…maybe some shallow spots, but should be a good depth because of exceptional clarity.
601-1000 CFS:  More of a late spring depth.  Plenty good for paddling.
1001-1500 CFS:  A high depth but a good paddle.  We did this at 1400 CFS and clarity was ok in spots but could have been better.
1501-2000 CFS:  Most of the good clarity is likely lost at this point.  Still a nice paddle.
2001-3000 CFS:  A very high depth and some banks might be close to bursting.   This should still be viable for paddling though.
3001+ CFS:   Maybe too high and dirty?  I don't know. 
Detailed Overview
Hwy H to Hwy E:  3.1 miles.  Creek/river is kind of small here and you may need high water.  Route is 3.1 miles and logjams shouldn't be an issue.  A very open and grassy route.
Hwy E to Ross Road:  2.9 miles.  Hwy E has tough parking because of steep shoulders but you should be able to park in a drive NW of the bridge.  Next 2.7 miles will be mostly open wetgrass and logjams shouldn't be an issue.
Ross Road to Hwy 44:  3.3 miles.  More open wetgrass for the next 2.9 miles with possible logjams before Hwy 44.  Parking isn't the greatest at Ross because of the steep shoulders.
Hwy 44 to Haynes Road: 6.6 miles.  An obscure section of the Fox River upstream of Pardeeville that has redeeming values, but can be a frustrating paddle because of the logjams in the stream.
Haynes Road to Hwy 22 Dam (the south one):  2.0 miles.  Looks like a boring lake paddle IMO.  I did not see public access at either dam, so you may have to portage them.  Am not sure.  I believe canoe author Frank Piraino put in on the Hwy 22 bridge by the north dam/fork. 
Hwy 22 to Swan Lake Campground:  2.6 miles.  I do not know much about this route, but it was paddled by Frank Piraino who had a favorable opinion of it.  Rumor has it there are snags here.  I suspect there will be jams in the north fork after Hwy 22, but the south fork should be free (but less scenic).  Swan Lake Campground requires a fee for access.
Swan Lake Campground to Swan Lake (South Shore Boat Ramp):  2.7 miles.  An ok stretch.  In essence a creek paddle through grasslands with a bit of lake paddling at the end.  Serviced by a local livery.
Swan Lake to Hwy 33:  5.8 miles.  Pleasant marsh paddle.  Does include 1-2 miles of paddling.
Portage Canal:  2.3 miles.  A unique experience filled with history.  Unfortunately the canal can be at times challenging to navigate.
Hwy 33 to Governor Bend:  5.4 miles.  A classic stretch and one of the best water trails on the Fox.
Governor Bend to Hwy O:  5.7 miles.  A pleasant stretch.
Hwy O to Endeavor:  7.6 miles.  A surprisingly nice section with good wildlife.
Buffalo Lake:  10.6 miles.  An artificial lake/flowage.  Looks boring….  Beware of the weeds in late summer.
Montello to Grand River Locks:  3.4 miles.  A good section. 
Grand River Locks to Lake Puckaway:  5.3 miles.  Probably a nice section.
Puckaway Lake:  6.2 miles.  Also looks boring and to be avoided.  At least it's not fake like Buffalo Lake.  Maybe 7 miles.
North Puckaway Lake to Princeton Locks/Dam:  9.8 miles.  I do not know much about this stretch.
Princeton Locks/Dam to the City of Princeton:  3.5 miles.  A simple but pleasant section.
City of Princeton to White River Locks:  6.0 miles.

City of Princeton to Old St. Marie Landing:  1.9 miles.  A pleasant wooded section with a historic turn bridge.
Old St. Marie Landing to the White River Locks:  4.1 miles.  A slow, broad channel that is ok, but gets repetitive.

White River Locks to Landing Road: 10.4 miles.  The White and Puchyan Rivers add a lot of volume by now.  Not sure this is a great paddling stretch.
Landing Road to Riverside Park in Berlin:  3.4 miles.  A simple section that flows through downtown Berlin.
Riverside Park to Eureka Boat Landing:  7.8 miles.  River is probably no longer a cute baby and is instead an ugly teenager.
Eureka to Omro:  Roughly 6.5 miles.  Probably too big to be enjoyable.
Omro to Lake Butte des Mortes:  5.0 miles.  Likely uninteresting.
Trip Map
Overview Map
Video
Photos
How did your trip turn out?

Questions or comments?

Feel free to leave your feedback.