Big Rib River – Amco Park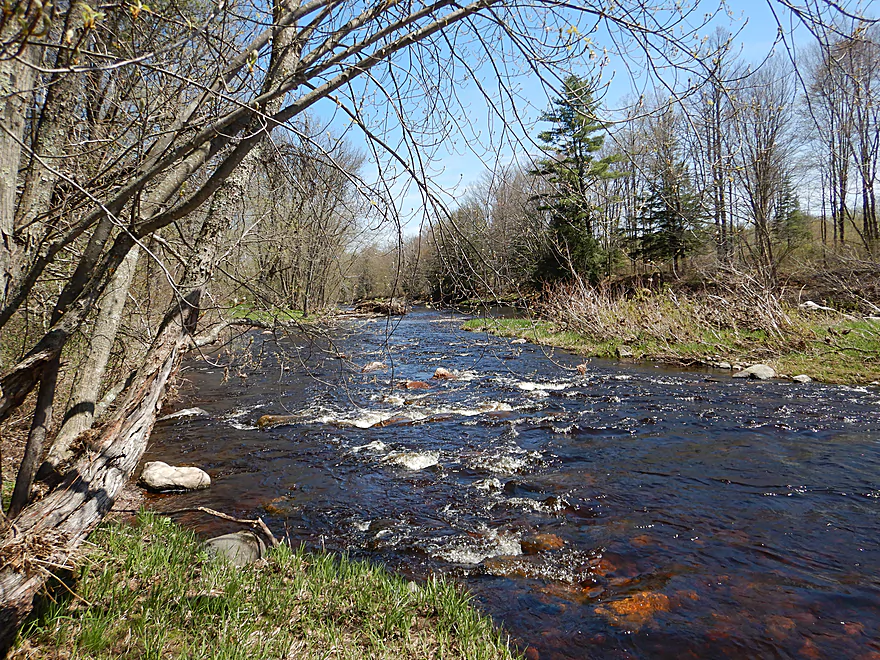 The Big Rib is a classic paddle river located west of the city of Wausau.  While not in the same class as some nearby rivers (eg the Eau Claire, upper Black, and Big Eau Pleine…) it still has some attractive parts and makes for a pleasant paddle.  The Big Rib can be very scenic though and its two most photogenic sections are the dells and rapids located south of of Hwy 64, and Big Rib Falls off Hwy S.  While I would have loved to paddle by either, I was not feeling well so opted for the much easier peddle/paddle of Amco Park to Hwy A.
Amco Park was a terrific launch and a very scenic part of the river.  In fact this little stretch (by the put-in) was my favorite of the entire trip.  Here the river after passing by large exposed banks takes a sharp turn left and falls over a series of attractive Class 1 rapids. 
Part of what made this paddle unique was the lack of development (no farms and only one home).  The banks were heavily wooded with mostly hardwoods, a few pines, and a scattering of hemlock and balsam fir.  After having paddled so many small creeks, this seemed like such a big river but really only averaged 70′ in width.  The water was clean and somewhat clear, while the river bed consisted of a nice gravel substrate.  Something else that was 'unusual' (relative to the many southern rivers I usually paddle) was the lack of mud.  There was very little of it and the banks were mostly low and at times rocky.  Occasional gravel bars would appear in the channel reminding me of the Black River.
This stretch doesn't have the geology of its upstream and downstream neighboring segments…but it does have some.  You'll occasionally see small boulders in the channel like little icebergs and there are a number of light rapids that you'll get to paddle over.  On three or four occasions, the river banks had exposed rock outcrops, which while never very big were scenic because their textured and crumbling nature.
In conclusion, this was a nice peaceful paddle perfect for paddlers looking for something simple and unchallenging.  The scenery was pleasant…clean water, some outcrops and no development, but nothing jaw-dropping (like say the Eau Claire River to the east).  This would be a good starter paddler for locals wanting to explore the Big Rib.
Put-in:
Amco Park is a great put-in option…no fees, good parking, easy launch site, public outhouses, and even picnic areas.
An alternate upstream put-in would be Silver Fox Road.  This would add 3.3 miles to a trip and be a scenic section with light rapids…but a tough bike shuttle because of the poor roads.
Another alternate put-in even further upstream would be Hwy 64, which would add 8.3 miles to the trip.  That would include fantastic scenery, Class 3 rapids, and a brutal bike shuttle.
Take-out:
Hwy A was a good bridge take-out option with a faded path usable for paddlers (downstream, river-right).  Parking is not top-notch because of the steep shoulders, but you should be able to make do.  You might be able to park on the nearby snowmobile drive.
An alternate downstream take-out would be Big Falls County Park which would add 7.7 miles to a trip.  This would be likely a simple but pleasant stretch with the highlight being scenic Big Rib Falls at the end.  The falls are likely Class 4 in difficulty and should only be run by experienced paddlers.  The portage/take-out isn't the easiest because of the rocks, but doable. 
Shuttle & Rental Information:
The bike shuttle route was mediocre…5.7 miles, no gravel and some small hills (180′ of climbing and 144′ of descent).
While there are paddle rentals and liveries in Wausau, I doubt they come out this far west.
Hazards, Logjams and Current:
This was a safe easy stretch well suited to beginners and paddlers in bigger boats (like canoes).  The current was mostly brisk with off and on riffles and light rapids but nothing greater than Class 1.
No logjams and the channel was pretty much free of deadfall, but in a few cases low-hanging branches in fast current could catch unawares paddlers off guard.
River Depth and Navigability:
I did this trip at 240 CFS per a nearby guage which is likely an average depth for late spring.  Here is a rough depth guide:
0-100 CFS:  A very low depth.  Many of the riffles would likely be too bumpy to be enjoyable.
101-200 CFS:  Some of the riffles would be bumpy, but I suspect this would be a plenty doable depth.
201-300 CFS:  A common average flow rate and a good target range. 
301-400 CFS:  The river is above normal but likely still quite doable.  Clarity would likely be poor.
401-500 CFS:  This would be a pretty high level.  Some of the snags could be difficult to circumvent at this depth.
501+ CFS: These are very high levels and not recommended for casual paddlers.
Noteworthy Wildlife:
Not much…I did see some clam shells and paddled directly under an eagle.  It kept turning its head at crazy angles to get the best view of me.  The highlight was actually a porcupine I encountered on the drive home.  It took its time crossing the road despite the nearby cars and didn't seem afraid of anything.
Area Diversions:

Big Rib Falls –  About 7 miles downstream is Big Rib Falls which you want to check out even if you don't paddle it.  There is a park (Rib Falls County Park) just to the north of the falls and from here it is easy to get out and climb on top of the massive granite outcrops to see the Class 4 falls.  The best view actually might be from the Hwy S bridge to the east. 
Black Creek – This is a noteworthy tributary to the Big Rib located about five miles southwest of Amco Park.  It is one of the prettiest and rockiest creeks I've even seen.  The best section flows by the community of Athens which consists of a two mile-long stretch of continuous boulder gardens.  Unfortunately it is usually too shallow to paddle, but it is a fantastic whitewater river when it has enough water (500-800 CFS per the Big Rib gauge might be a floor).  I've marked several access options on the overview map, but basically I think the best section would be from Iron Bridge or Erbach Park to Goodrich Street where the sanitation plant is.  American Whitewater has a review of this creek.
Even if you don't paddle the creek, you can still experience its best parts vicariously via a terrific mile-long nature trail stretching from Erbarch Park to Hwy 97.
Detailed Overview
Upstream of Hwy M:  Likely navigable paddling, I just don't know much more.
Hwy M to Lemke Drive:  4.5 miles.  An unknown prospect…might be interesting.  Could be some downed trees.
Lemke Drive to Hwy 64:  4.6 miles.  Pleasant but not a special trip. 
Hwy 64 to Silver Fox Road/Greiner Road:  3.7 miles.  Famous section that contains the dells, the most rapids and a tough section with Class 3 rapids.  Likely 5 stars.  Note, the bike shuttle for this section is poor.  Reviewed by AmericanWhitewater.org, but note their flow estimates are very aggressive.
Silver Fox Road to Hwy F/Amco Park:  3.3 Miles.  A pleasant section with some light rapids.
Amco Park to Hwy A:  4.5 miles.  Slower than upstream sections but pleasant and wooded with a few small outcrops. 
Hwy A to Big Rib Falls County Park:  7.7 Miles.  A great stretch and maybe the best leg on the Big Rib River.  Highlights include attractive hemlocks, light rapids, boulders, and seven separate sets of gorgeous granite outcrops.  Ends in a bang with Rib Falls which is very scenic.
Big Rib Falls Park to Marathon Lion's Riverside Park:  6.6 miles.  Not as good as the preceding leg, but still likely some light rapids and outcrops.  I believe there are a number of sandbars on this stretch too.
Marathon Lion's Riverside Park to Sunny Vale Softball Complex:  9.7 miles.  Ok prospect with more sandbars, but fewer (if any) boulders and cliffs.  Take-out is somewhat speculative as I am not 100% sure it is viable.  But it is a public park with a parking close to a slough, and the slough may connect to the river.
Sunny Vale Softball Complex to Mouth:  5.1 miles.  Some sandbars to start, then the river gets squiggly as it enters the delta. Numerous take-out options including Mallard Lane Boat Ramp, Rookery View Park and DC Everest County Park.
Not listed are several of the Big Rib tributaries.  The most interesting one is Black Creek running from Erbach Park/Athens to Meridian Road (5.8 miles).  This contains neat boulder gardens and rocky gorges but could also have unknown hazards.  This creek has been paddled before with the most popular section being a whitewater stretch by Athens per Rick Kark.  Also reviewed by AmericanWhitewater.org.
Trip Map
Overview Map
Video
Photos
2 Comments to "Big Rib River – Amco Park"
How did your trip turn out?

Questions or comments?

Feel free to leave your feedback.