Bois Brule River – Pine Tree Landing to Lake Superior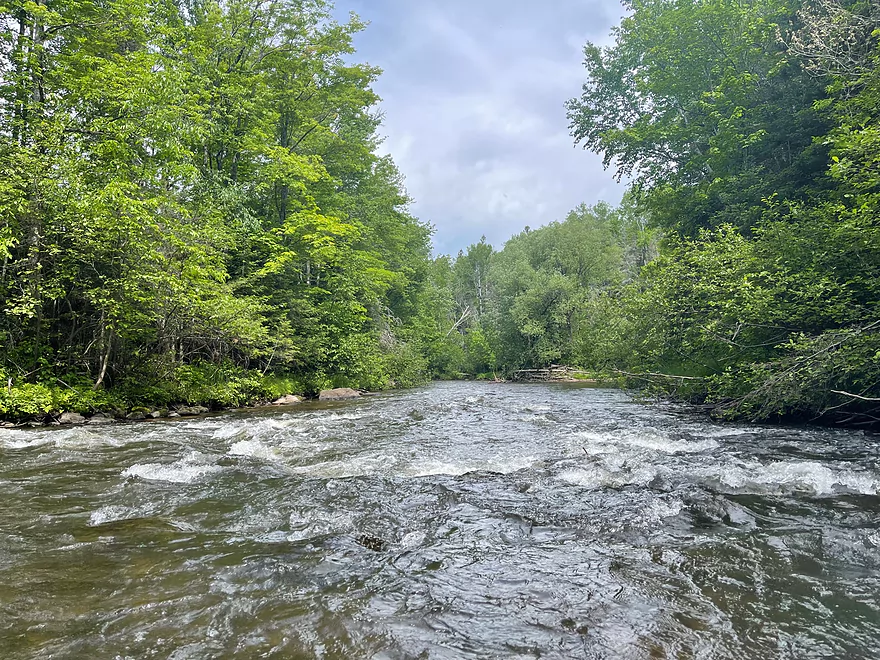 Put-in:
Pine Tree Landing
The Bois Brule is the most spectacular river to paddle in the entire state and the north end moves very fast. The rapids are very intense with Mays Ledges as most challenging. Make sure to only run if you have experience with more advanced rapids and make sure you have a spray skirt. Water will splash up from the impact after the drop offs from the ledges.
After Mays Ledges, the water continues to move rapidly but the rapids are not as intense. There is a landing at Hwy 13 where kayakers can put in if they do not want to run Mays Ledges.
The river continues through Class I rapids and flows through the Boreal Forest for a picturesque Nothwoods setting. There is a dam that has to be portaged and the take-out is very well marked.
After the dam, the river continues the downward trend through the woods and continues to flow fast until about a mile from Lake Superior where the water is suddenly calm. After hearing rushing water for nearly the entire trip, it is very silent. But the peacefulness does not last long as the waves of Lake Superior can soon be heard. The forest suddenly disappears and the lake can be seen with a beach to take out just before the river flows into the lake.
This section of the Bois Brule can be paddled as a day trip and is perfect for a thrill seeker. If you would rather not paddle the intense rapids and want a shorter trip with incredible scenery, Hwy 13 to Lake Superior is the perfect trip. If you enjoyed the more popular Upper Brule, I guarantee that you'll enjoy the Lower Brule just as much!
Addendum from the Webmaster:
Thanks again Peter for another great review! WisconsinRiverTrips.com is always very appreciative of guest reviews, and if you the reader is ever interested in submitting one, you can use this online form.
Bois Brule Overview from the Webmaster:
Hwy P to Stone's Bridge Landing:  9 miles.  There is a small launch area off Hwy P.  This section is a narrow creek running through a marsh and you may need extremely high water to get through.
Stone's Bridge Landing to Winneboujou Landing:  9.3 miles.  The most popular section on the entire river.  Very scenic with several Class 1 and Class 2 rapids. 
Winneboujou to River Road Landing:  2.8 miles.  A good prospect with one set of Class 2 rapids.
River Road Landing to Hwy 2 Landing:  1.7 miles.  A pleasant section with one set of Class 1 rapids.
Hwy 2 to Pine Tree Landing:  9.2 miles.  More open and slower, this is one of the least popular sections of the river.
Pine Tree Landing to Mouth on Lake Superior:  18.2 miles.

Pine Tree to Hwy FF Landing:  2.9 miles.  A faster section with more Class 1 Rapids.  There is one set of strong Class 2 rapids prior to Hwy FF.
Hwy FF to Hwy 13/Town Park Road Landing:  6.1 miles.  Rapids increase in strength.  Some strong Class 2's and a 3 foot ledge.
Hwy 13 to Brule Dam/Loveland Road:  2.3 miles.  Mostly minor rapids.
Brule Dam to Mouth:  6.7 miles.  A good flatwater section with the highlight being Lake Superior itself at the end. Take-out is east of the beach.
For additional details on the Lower Bois Brule rapids, see WisconsinTrailGuide.com.
Trip Map
Overview Map
Photos
2 Comments to "Bois Brule River – Pine Tree Landing to Lake Superior"
How did your trip turn out?

Questions or comments?

Feel free to leave your feedback.