Fever River (aka the Galena River)
This is a historic river the starts in Wisconsin and runs through Illinois.  Often it doesn't have enough water to kayak, but when it does it's a great paddle.
Trip Reports
Bean Street to Hwy W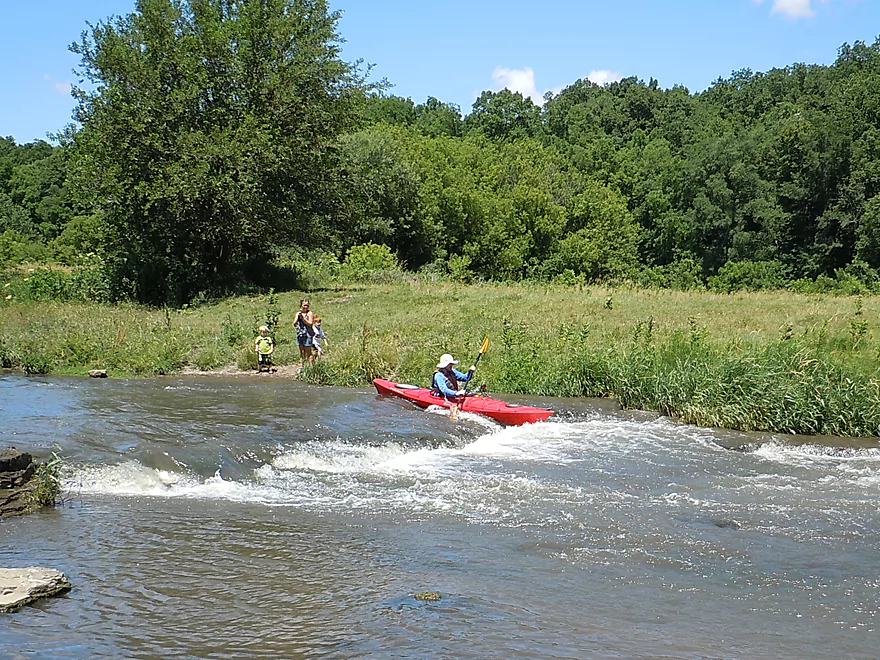 Date Paddled:
June 24th, 2017
Distance:
8.0 miles
Time:
5 hours 21 minutes (4 hours would be more typical)
If you are willing to duck under a few fences, this section will reward you with amazing limestone outcrops and fun rapids.
Read More...
Hwy W Park to Ensch Road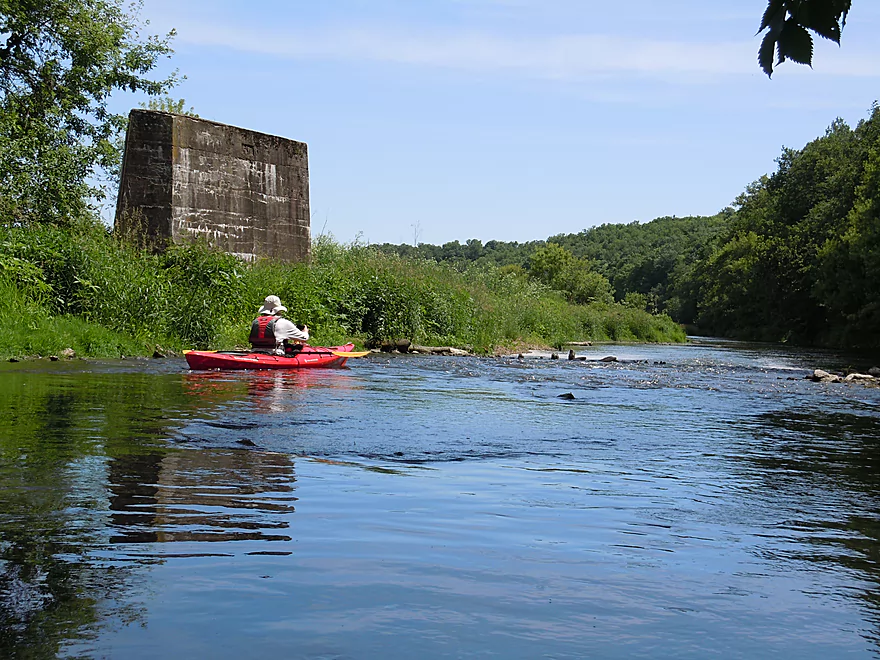 Date Paddled:
June 14th, 2014
Distance:
6.2 Miles
Time:
5 hours 25 minutes (not representative)
The name of the river is confusing, because while originally named the Fever River, the state of Illinois (shamed to have a river named after smallpox) renamed it to the Galena River.  This left mapmakers in Wisconsin confused…to this day.  On the flip side, some old Galena residents in Illinois still refer to it as […]
Read More...
Overview Map
Detailed Overview
Knee Deep Road to Twin Bridge Road:  1.3 miles.
Twin Bridge Road to Bean Street:  5.1 miles.  Shallow trip but with neat geology.  Some cow fences to deal with.
Bean Street to Hwy W:  8.0 miles.  Great section with limestone outcrops and many light rapids (reviewed Jun 2017).

Bean Street to Horse Shoe Bend:  2.2 miles.  A five star section with open oak savannas, fun rapids including a one foot ledge, and a wonderful limestone wall north of Hwy 11.  One fence to duck under which is low but manageable.
Horse Shoe Bend to Bennett Road:  4.1 miles.  You should be able to launch at Horse Shoe Bend no problem (public fishing area).  This segment is not as interesting and a bit weedy and overgrown, but still fast and with a few really nice outcrops.  One tricky fence to get under.
Bennett Road to Hwy W:  1.8 miles.  Bennett Road should be doable as a put-in (another fishing access).  River really opens up after this bridge and is quite nice with more rapids and a few limestone outcrops.

Hwy W to Buncombe Road Fishing Pull-off:  5.8 miles.  A great section on the Fever with some cool tunnels (reviewed Jun 2014).
Buncombe Road to N. Birkbeck Road:  3.0 miles. 
N. Birkbeck Road to W. Council Hill Road:  2.5 miles.  Put-in and take-out are likely very brushy and somewhat difficult (but think they are doable).  Parking at W. Council Hill Road is a challenge.
W. Council Hill Road to W. Buckhill Road:  4.4 miles.  Both put-in and take-out are brushy with W. Buckhill being more feasible.
W. Buckhill Road to Hwy 20/84 Bridge:  5.0 miles.  Pleasant section, but the river is more riffly and interesting upstream of W. Buckhill Road.
Hwy 20/84 Bridge to Mouth/Gear's Ferry Landing:  5.6 miles.  On the Mississippi veer right and paddle upstream to reach boat ramp.  Motor boat traffic might be an issue.
Nearby Guages
Fever River @ Buncombe Drive
Videos
For best quality, view in fullscreen!


Comments
How did your trip turn out?

Questions or comments?

Feel free to leave your feedback.