West Fork of the Kickapoo River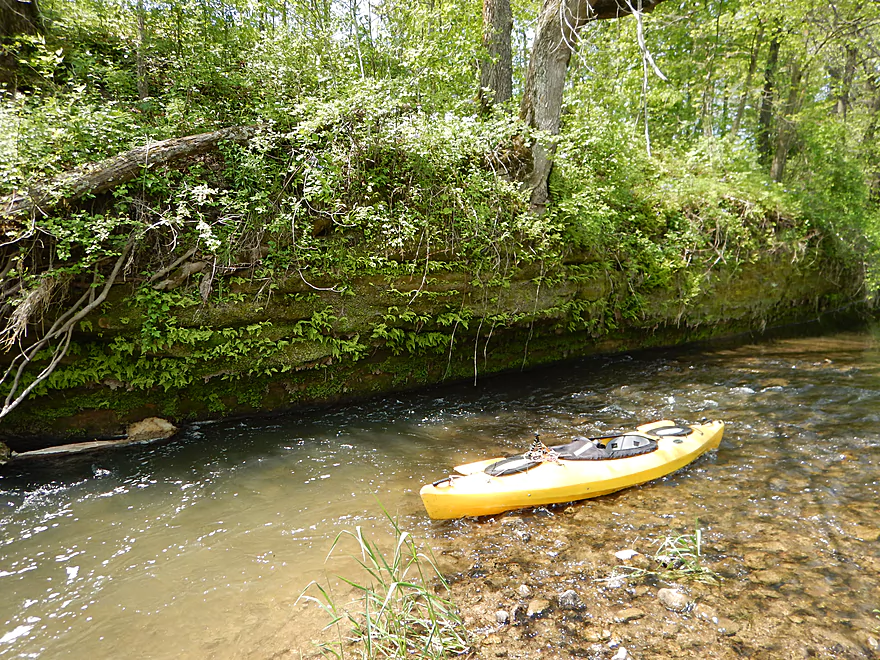 Put-in:
Hwy S bridge (south of Serendipity Country Club)
Time:
4 hours 28 minutes (3.5 hours would be more typical)
The "West Fork" is the more obscure, westerly sibling to the famous Kickapoo River.  While popular with trout fishermen, it hardly gets any paddling traffic.  The initial plan for this trip was actually to explore the far upper stretches of the West Fork, which had to be scrapped because of low water levels (a shame, as this is probably the more scenic stretch).  I ended up doing the middle part of the river, which was still a neat experience and one that I can recommend to others.
One of the highlights of the trip were the sandstone outcrops.  While not as grand as those on the main branch of the Kickapoo (or Billings Creek), they were still very nice and I counted six, plus one limestone outcrop in the first four miles.  As a bonus, in a few cases the rock faces would weep attractive seeps that would trickle groundwater into the river below.
While the main branch is an up-tempo river, the West Fork is even faster, and there were countless riffles to enjoy on this stretch.  The scenery is very striking as well.  You paddle over rocky substrate that is easy to see through the clear water.  The river winds tightly through banks of thick grass, affording views of the striking driftless hills flanking the river.  And portages?  Never had one.
This was a great trip, although I just can't give it five stars.  Some parts were a little scrubby and the last two miles have very large and unsightly mud banks (the unfortunate by-product of years of erosion).  All things being equal, the Kickapoo (main branch) is actually the better prospect and I suggest doing that first.  The rock outcrops are just nicer and its white pines add a nice touch, which the West Branch lacks (being predominantly hardwood in contrast).  This is still a fun prospect to explore if you have already done the Kickapoo and are looking for a new (and faster) driftless adventure.
Put-in:
Hwy S (just south of Serendipity Country Club) is not a bad option for putting in.  There is a mowed area for parking on the shoulder and you don't have to drag your boat very far to reach the water.
An alternate put-in a half mile downstream is a parking lot for trout fishermen on the east side of the river.  This is a good option, too.  But by putting in at the upstream bridge, you can enjoy some additional riffles and a nice scenic vista of exposed sandstone outcrops in the distance.
Take-out:
I chose to take out at the Hwy 56 bridge, which is not a good option.  Parking is okay, but it is a long, uphill hike to reach the car (one of the last pictures).
In hindsight, I suggest taking out earlier at Hwy S by Scott Hollow Road.  There is shoulder parking here used by fishermen and it is much closer to the water.  Plus the additional 2.26 miles (between Scott Hollow and Hwy 56) are not nearly as nice as the first upstream section (4.6 miles between Serendipity and Scott Hollow).  You still have good current and nice vistas of the driftless hills, but no more rock outcrops and the mud banks start to get huge.
Shuttle Information:
There actually used to be a canoe livery and resort on this very section, but I think they went bankrupt.  For bikers this is a medium difficult shuttle at 5.2 miles and somewhat hilly, but nothing too extreme and should be manageable.
Hazards and Logjams:
There were no logjams!  This is surprising as a I had photographed a large down tree close to the take-out two years ago, but it has since mysteriously vanished.  There are some low hanging branches in fast current that paddlers will want to be careful of, but experienced paddlers will have no problems with these.  
This is a fast river, with countless riffles, but nothing dangerous nor over class 1 at low flow rates.  The West Fork does transform itself during high flow rates and can be dangerous then.
River Depth, Navigability and Current:
Typical for most fast, rocky streams, but very important to keep an eye on.  I went at 75 CFS per the local gauge at Ontario.  I do not suggest going much lower.  Most of the river was pretty deep, but many of the riffles were a bit bumpy and at lower flow rates I would have gotten stuck and even needed to get out. 
On the flip side, the West Fork does indeed get nasty at higher flow rates.  I had scouted the river two years ago at 155 CFS after a heavy rain and thought it looked a little pushy (and muddy) at those levels.
Noteworthy Wildlife:
Two bald eagles, trout (some decent-sized ones), trout fishermen (also some decent-sized ones), a snapper doing a belly flop off a log 4 feet high, a frog crossing the river that I almost ran over, some painted turtles, a green heron, some goslings going over class 1 rapids, and massive cliff swallow flocks swarming over me like a scene from "The Birds".
West Fork Overview:
Knapp Valley Road to

Hwy

P:  (0.7 miles)  A quaint creek and mostly open, but a section with perhaps several logjams.

Hwy

P to Bloomingdale Road:  (1.26 miles)  Mostly open but maybe several jams.  Possible rock outcrops and riffles, but I think there is one fence (maybe electric) to deal with right after P.
Bloomingdale Road to Hwy S (2nd bridge):  (6.9 miles)  A great trip with fun whitewater.  Reviewed here.

Bloomingdale Road to

Hwy

S

:  (0.7 miles)  A wooded section with fun riffles and nice rock outcrops.  This is shallow though.

Hwy

S

to Smart Hollow Road:  (2.56 miles)  Great rapids and scenery.  Best part of the river.
Smart Hollow Road to Avalanche Road:  (0.8 miles)  Also good rapids and scenery.  Includes a significant ledge.
Hwy S (Avalanche) to Hwy S (Serendipity):  (2.75 miles)  More open but still with good current and driftless scenery.

Hwy S (Serendipity) to Hwy 56:  (6.9 miles)  Good trip with more sandstone than the upper portion but less frequent rapids.  Reviewed here.

Hwy S (Serendipity) to Hwy S (Scott Hollow Road):  (4.6 miles)  A great trip with fun riffles, clear water, sandstone outcrops, and scenic hills.  

Hwy

S (Scott Hollow)

to

Hwy

56:  (2.26 miles)  A good trip, but not as nice as the previous leg.  

Hwy

56 to Harrison Road:  (5.6 miles)  I strongly discourage this segment as logjams look like too much of an issue.  But I could be wrong…
Harrison Road to mouth of Kickapoo:  (1.42 miles)  I suspect there are too many jams on this section.
Other Nearby Prospects:
Trip Map
Overview Map
Video
Photos
How did your trip turn out?

Questions or comments?

Feel free to leave your feedback.