Fox River – Portage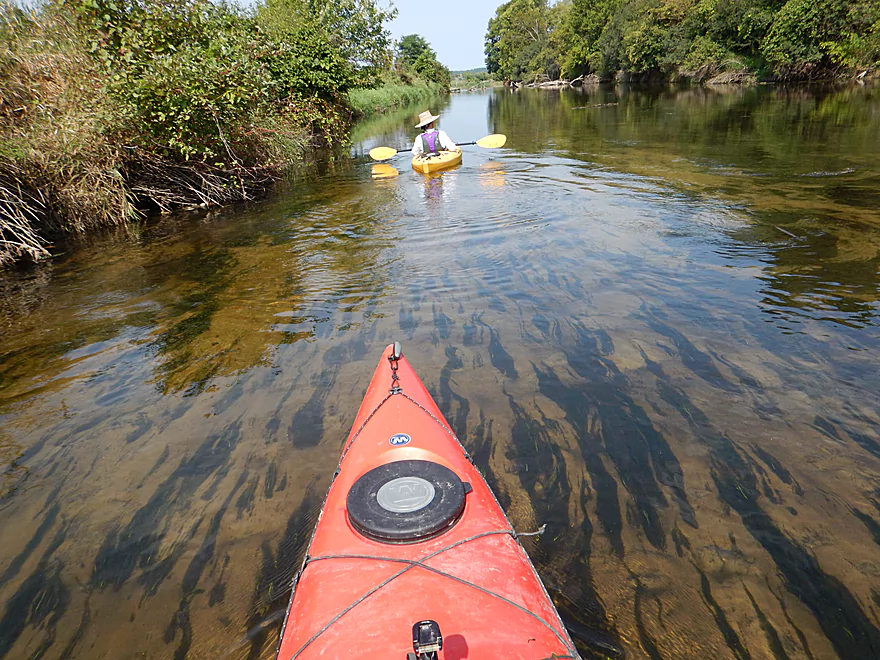 Date:
September 5th, 2015
Put-in:
Hwy 33 wayside in Portage
Take-out:
Governor Bend County Park
Time:
4 hours 52 minutes (2.5 hours would be more typical)
From Hwy 33 to Governor Bend is a classic trip on the Upper Fox that is popular with paddlers because of its lack of log jams, lack of busy boat traffic and history.  Most paddlers prefer to double the trip length by taking out at Hwy O, which is certainly an option to consider, but would make for a long trip.
The first impression of the Fox at Wayside Park was quite positive.  Great put-in and fantastic water clarity that allows you to see the sandy substrate and little things like crayfish scooting around.  Right away you'll be reminded of why this is such a historic river, as evidenced by the nearby Surgeons Quarters, the multiple infographic signs and evidence of a very old bridge system. 

Shortly into your trip, you'll encounter the famous Portage Canal on your left.  Do mind that there is a small seepage escaping from the canal prematurely.  And don't paddle up this by mistake thinking it is the real thing (as we did).  The canal is an amazing piece of engineering that is absolutely worth getting out to explore.  You can actually paddle much of the canal (which I've previously done), but it is largely in poor shape.  In fact, you'll see a tree growing on the north lock which has been stuck in a partially open state for a long time.  The big problem with the canal is the algae growth.  In late summer and during low water it gets so thick that navigating the canal can be extremely difficult.  Also, the rotting weeds give off a powerful odor (a predictable result of stagnant water).  It would be great to see a clean-up of the canal. 

After the canal, the river doesn't have too many surprises left.  Mostly an open wetgrass paddle, this is pleasant and peaceful without too many signs of civilization.  At times the water clarity was fantastic.  On the downside, the canal dumps significant quantities of rotting algae into the river which creates odor problems for the duration of the trip.  This might be better in early spring when high flow rates are flushing the river clean.  It didn't help that there were five dead and rotting deer in the river. 
The Fox is known for being a slow river and this upper section is THE SLOWEST of them all (cool gradient map), which not only makes for a slow paddle but hurts the water quality.  It hasn't helped that this section has been artificially straightened, deepened and widened to accommodate 19th century boat traffic.  Imagine removing your finger from a garden hose and that is the affect dredging/widening has had on the river's current.
Frequently along the river you'll see an elaborate trail system paralleling the water, with nice boardwalks and many well-built wooden bridges over small feeder creeks.  This was part of the Marquette Ice Age Trail segment that ran from the canal to the bridge at Clark Road for four miles.  No doubt a super cool hiking trail (and even a possible shuttle option for kayakers), it was shut down in 2014 when a new landowner decided he did not want his portion of the trail to be used by the public.  This has resulted in the entire Marquette trail segment being shut down and "no trespassing" signs are now visible along the trail.  Very tragic given the time, money and effort the Ice Age Trail Alliance, volunteers, and other private landowners put into this.  Trails like this increase property value, so hopefully the holdout owner will eventually see the light.  
The river changes close to Governor Bend Park, with a surprise hill, some small residential homes and pine trees.  It is here, unfortunately, that the river is at its widest, slowest and most uninteresting.  The reason being that there is a partial flowage caused by an old lock and partially removed dam.  Most paddlers portage this, which is easy to do on the left bank.  It's bumpy at low water, but at our depth was a fun little class 2 section of rapids.  Do scout this before running as there are many rocks to avoid.  Below the dam is a snag which is somewhat circumnavigable, but has trapped a significant amount of rotting weeds which were extremely smelly and difficult to push through.  You could run the rapids and then portage the weeds which would be an amusing option given most portage the rapids.
After the dam remnants, the river narrows again and I suspect the stretch from Governor Bend to Hwy O is nicer and certainly cleaner.  The trip gets 3 stars for its lack of development, good water clarity, peaceful nature and historical aspects.  But no more because of its lack of current, its issues with rotting things and its Frankenstein rerouting/straightening (which has removed a lot of the river's character).
Side note…  So after the trip, we decided to check out the nearby state natural area called "Observatory Hill."  A supposed favorite childhood haunt of famed conservationist John Muir (aka the Father of our National Parks).  So we get there and we see a sign that said "smile, you're being videotaped."  Odd.  Then we see huge stacks of logs, many massive logging machines, many tree stumps and very torn up ground.  Oh, the irony.  We tried walking up the trail to get to the observation point but gave up, as the ground was so obliterated by the logging machines we couldn't tell where the trail was.
Put-in:
Wayside Park off of Hwy 33 (just east of Portage) is a popular and good put-in.  No outhouses though.  If you're into history, the Fort Winnebago Surgeon's Quarters is right next door.
Take-out:
Governor Bend County Park is a great take-out that is popular with local fishermen and has an outhouse.
Shuttle Information:
There is a livery upstream on the Fox at Indian Trails Campground, but I doubt they service the Fox River this far downstream.
Otherwise, this would be a pleasant five-mile rural bike ride with little traffic and negligible hills.
Hazards and Log Jams:
None really.  There is some "killer muck" to deal with (more on that later) and some rapids by Governor Bend Park, but this is easy to portage.  The few snags that are on the river have been cleared out.  This is certainly a good river for beginners and big boats.
River Depth, Navigability and Current:
According to the upstream Pardeeville gauge, I went at 7.68′, which is about average.  I suspect 7′ is on the low side and 8′ is on the high side.  8.5′ is the action level for flooding.  While the river can get low, I doubt it ever gets too low for paddling.  Although weeds (especially in late July and August) can be an issue, going after a rain to loosen things up could help.  But not too much rain, as the clarity is good on this river and you'll need low water to enjoy this.
Wildlife:
Not much.  Huge whirligig swarms, some beaver evidence, a number of painted turtles and many dead deer.
Detailed Overview
Hwy H to Hwy E:  3.1 miles.  Creek/river is kind of small here and you may need high water.  Route is 3.1 miles and logjams shouldn't be an issue.  A very open and grassy route.
Hwy E to Ross Road:  2.9 miles.  Hwy E has tough parking because of steep shoulders but you should be able to park in a drive NW of the bridge.  Next 2.7 miles will be mostly open wetgrass and logjams shouldn't be an issue.
Ross Road to Hwy 44:  3.3 miles.  More open wetgrass for the next 2.9 miles with possible logjams before Hwy 44.  Parking isn't the greatest at Ross because of the steep shoulders.
Hwy 44 to Haynes Road: 6.6 miles.  An obscure section of the Fox River upstream of Pardeeville that has redeeming values, but can be a frustrating paddle because of the logjams in the stream.
Haynes Road to Hwy 22 Dam (the south one):  2.0 miles.  Looks like a boring lake paddle IMO.  I did not see public access at either dam, so you may have to portage them.  Am not sure.  I believe canoe author Frank Piraino put in on the Hwy 22 bridge by the north dam/fork. 
Hwy 22 to Swan Lake Campground:  2.6 miles.  I do not know much about this route, but it was paddled by Frank Piraino who had a favorable opinion of it.  Rumor has it there are snags here.  I suspect there will be jams in the north fork after Hwy 22, but the south fork should be free (but less scenic).  Swan Lake Campground requires a fee for access.
Swan Lake Campground to Swan Lake (South Shore Boat Ramp):  2.7 miles.  An ok stretch.  In essence a creek paddle through grasslands with a bit of lake paddling at the end.  Serviced by a local livery.
Swan Lake to Hwy 33:  5.8 miles.  Pleasant marsh paddle.  Does include 1-2 miles of paddling.
Portage Canal:  2.3 miles.  A unique experience filled with history.  Unfortunately the canal can be at times challenging to navigate.
Hwy 33 to Governor Bend:  5.4 miles.  A classic stretch and one of the best water trails on the Fox.
Governor Bend to Hwy O:  5.7 miles.  A pleasant stretch.
Hwy O to Endeavor:  7.6 miles.  A surprisingly nice section with good wildlife.
Buffalo Lake:  10.6 miles.  An artificial lake/flowage.  Looks boring….  Beware of the weeds in late summer.
Montello to Grand River Locks:  3.4 miles.  A good section. 
Grand River Locks to Lake Puckaway:  5.3 miles.  Probably a nice section.
Puckaway Lake:  6.2 miles.  Also looks boring and to be avoided.  At least it's not fake like Buffalo Lake.  Maybe 7 miles.
North Puckaway Lake to Princeton Locks/Dam:  9.8 miles.  I do not know much about this stretch.
Princeton Locks/Dam to the City of Princeton:  3.5 miles.  A simple but pleasant section.
City of Princeton to White River Locks:  6.0 miles.

City of Princeton to Old St. Marie Landing:  1.9 miles.  A pleasant wooded section with a historic turn bridge.
Old St. Marie Landing to the White River Locks:  4.1 miles.  A slow, broad channel that is ok, but gets repetitive.

White River Locks to Landing Road: 10.4 miles.  The White and Puchyan Rivers add a lot of volume by now.  Not sure this is a great paddling stretch.
Landing Road to Riverside Park in Berlin:  3.4 miles.  A simple section that flows through downtown Berlin.
Riverside Park to Eureka Boat Landing:  7.8 miles.  River is probably no longer a cute baby and is instead an ugly teenager.
Eureka to Omro:  Roughly 6.5 miles.  Probably too big to be enjoyable.
Omro to Lake Butte des Mortes:  5.0 miles.  Likely uninteresting.
Trip Map
Overview Map
Video
Photos
2 Comments to "Fox River – Portage"
How did your trip turn out?

Questions or comments?

Feel free to leave your feedback.