Sheboygan River
The Sheboyan River is one of the nicer East-Central water trails in Wisconsin.  Expect some riffles, rocky stretches, good fall color and maybe even salmon depending on your location and time.
Trip Reports
Johnsonville Dam to Dassow Park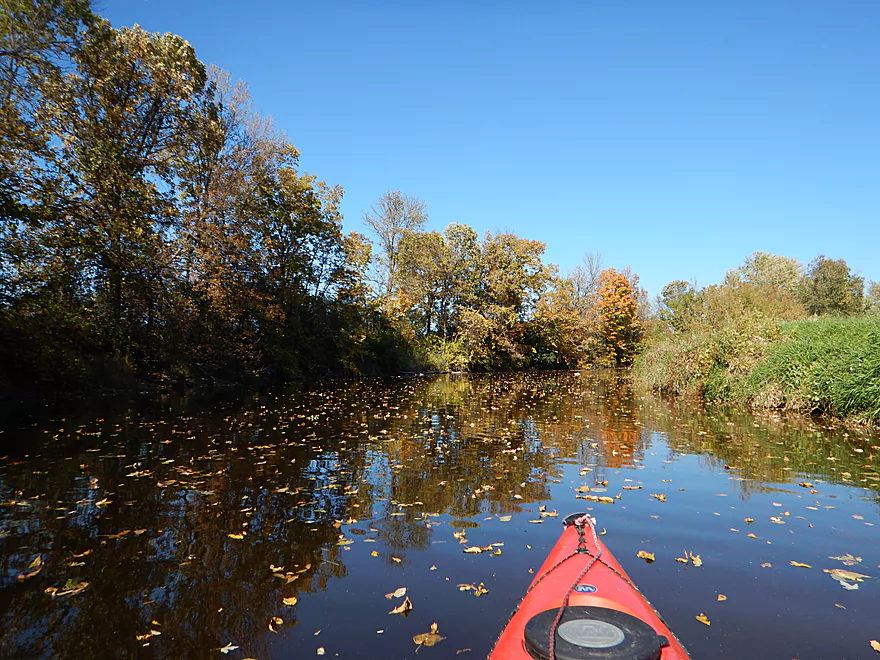 Date Paddled:
October 11th, 2015
Distance:
6.4 Miles
Time:
3 hours 40 minutes
A great paddle on Wisconsin's "east coast" that starts by a famous brat factory and ends in scenic Dassow Park.

Read More...
Rochester Park to Esslingen Park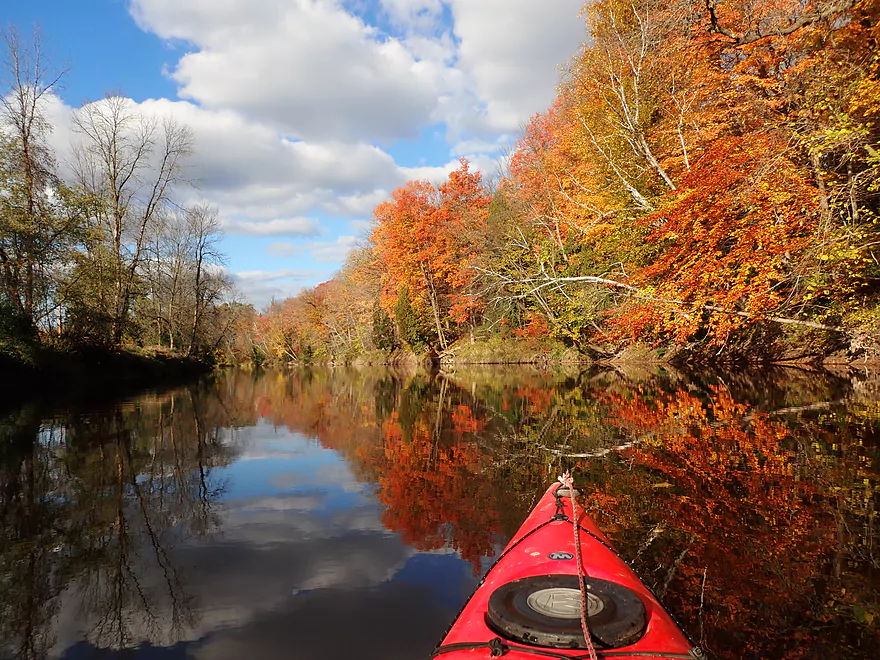 Date Paddled:
October 23rd, 2021
Distance:
9.8 miles
Time:
Expect 4-5 hours
This was a unique paddling experience that featured good fall color, light rapids, and spawning salmon.
Read More...
Overview Map
Detailed Overview
Thanks to Mike Svob, author of "Paddling Southern Wisconsin", for much of this information.
Upstream of Hwy CCC:  River looks too small and channelized to be interesting.
Hwy CCC to Palm Tree Road landing:  3.17 miles.  Interesting creek prospect with a mix of wetlands and woods.  Part of a State Natural Area with a cool bridge.  Warning the weeds in late summer can make navigation difficult.  A group got lost here and had to call 911.
Palm Tree Road to Sheboygan Marsh Tower:  8.8 miles.  The heart of the Sheboygan Marsh and probably similar to Horicon Marsh.  Some flowage paddling and channelized sections. 
Sheboygan Marsh Tower to Hwy MM:  1.1 Miles.  Probably nice, but with logjams and a possible fish barrier.  Am not 100% sure that Hwy MM is ok for public access.
Hwy MM to Kiel (8th St.):  5.9 miles.  First 1.3 miles is mostly wooded and probably nice, with perhaps a few jams.  Then it is open marsh to Kiel.
Kiel (8th St. landing) to Kiel (Rockville Road landing):  2 miles.  Seemingly pleasant urban paddle, but a dam and two flowages to contend with.
Kiel (Rockville Road) to Steinthal Road/Dam:  0.7 miles.  Very big flowage...looks boring.
Steinthal Road/Dam to Rockville Road:  1.2 miles.  Looks like a pleasant wooded section with maybe a log jam.
Rockville Road to Millhouse (Gierke Road/Dam):  2.5 miles.  Mostly minor flowage paddling.
Millhouse Dam to Hwy FF: 5 miles and a good prospect.  Dam might not be a good put-in though.  Hwy 57 is a half-mile downstream and a good backup plan.
Hwy FF to Johnsonville Dam:  5 miles and also a good prospect.  Be careful of the dam in high water.
Johnsonville to Dassow Park:  6.4 miles.  A good stretch.  Hwy J and Hwy M are alternate launch options.
Dassow Park to Hwy TT:  5 miles and a good prospect.
Hwy TT to Hwy C:  3 miles and also seems good.
Hwy C to Settlers Park (by the dam):  2.8 miles.  A mediocre urban paddle through the city of Sheboygan Falls.
Settlers Park to Sheboygan Falls View Park:  0.3 miles.  A scenic but dangerous section with strong whitewater.  Americanwhitewater.org has a nice review.
Sheboygan Falls View Park to Rochester Park:  0.7 miles.  A narrow wooded stretch with perhaps some Class 1 and even Class 2 rapids.
Rochester Park to Esslingen Park:  9.5 miles.  Despite being mostly a golf course paddle and needing to portage two dams, this is a really nice paddle.  This trip is best timed in October when fall color can be quite good and you can see large salmon spawn.
Esslingen Park to the 8th St. landing:  3.1 miles through the heart of Sheboygan.  One more mile and you can get out onto the breakwater and disembark on one of Sheboygan's Lake Michigan parks.
Also nearby are the Pigeon, Meeme, Mullet, Black, and Onion rivers, as well as Sauk and Sucker Creek.  I'm trying to find which are feasible water trails, so if you have some tips leave them in the comment section below.
Nearby Guages
Sheboygan River @ Sheboygan
Videos
Comments
How did your trip turn out?

Questions or comments?

Feel free to leave your feedback.