Honey Creek – County C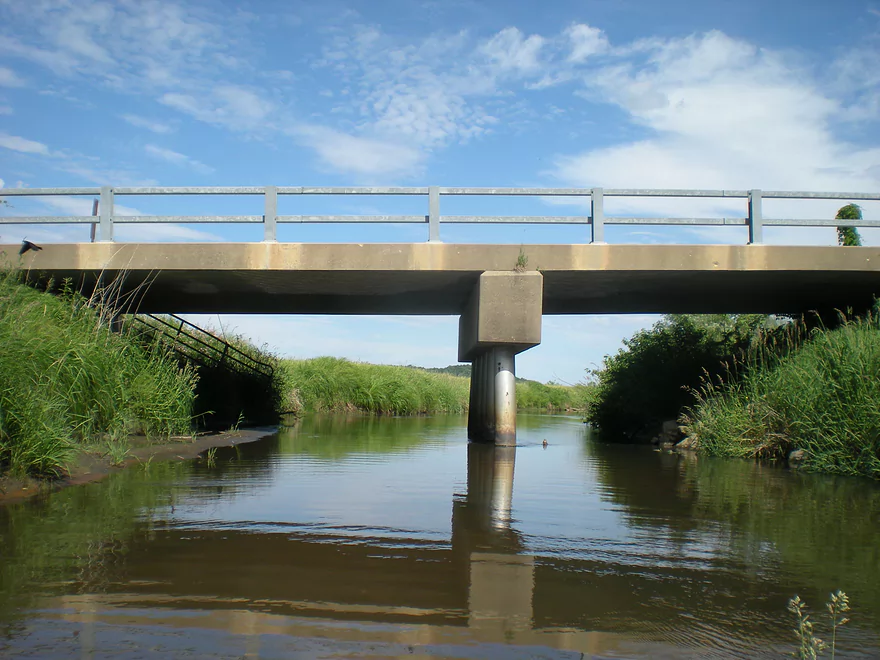 Put-in:
Country Road C Bridge
After the Baraboo River, the next largest tributary in Sauk County flowing into the Wisconsin River is Honey Creek, which gets to a decent size before it empties into the Wisconsin near Ferry Bluff/Prairie du Sac.  The bottom section (about 5 miles up from the Wisconsin River) gets an odd canoe review or two, but this is not a super widely paddled section.  Backtracking upstream, most sections on this creek are not navigable because of the frequent log jams.  One exception is upstream from the Leland dam (close to the Baraboo Hills).  Here kayakers can take advantage of the decent parking and put in at the pond and travel upstream as far as they can go.  I've made it up a couple of miles before hitting a log jam.  This section is very nice and has a lot of wildlife–more so than other rivers I've paddled, and this is a hotspot for birds during migration.  Even further upstream is 'Hemlock Draw,' which is a popular public nature area.  Basically, it is a trail system that follows the creek as it winds its way through the Baraboo Hills and past many cool bluffs.  Unfortunately the creek this far upstream is not navigable.
This review won't be about the above two sections, but rather a third section that is very rarely paddled and located about halfway between Leland and Witwen (see the map for details).  I put in at a small brook (tough put-in that required that I drop the kayak in vertically using rope.  Once in…the brook (although not part of the creek) is surprisingly navigable (although probably not for anything over 11ft).  After traveling through a cool grass tunnel for a hundred feet or so, I reached the main creek.  This is a wooded section that is somewhat muddy.  Bank quality is not that great as well….the channel obviously receives a lot of farm run-off which has created the steep muddy banks.  There are occasional shallow spots, but it isn't bad for a creek.  What is bad are the log jams…I expected a few…but there were a lot, and I spent a lot of time portaging.  A key when navigating any type of small river/creek is to view the section from a satellite map.  If you have trouble seeing the water or if there are a lot of trees close to the shore, then chances are there will be a lot of log jams.  After about a mile or so, I reached farm/grassland and the creek became much more navigable.  I only faced a few minor log jams after that.  After crossing under one bridge, I took out under the second bridge (the wooded section after this looked like it had a lot of log jams).  Take-out on this bridge was not fun…and if you do a creek like this I highly recommend rope, as it is much easier to get your kayak into and out of steep banks if you can pull it around by its nose.
Aside from the awful log jams, it is a nice little creek (albeit not as clean as it should be).  If somebody would clean up all the log jams, this would be a fun route to paddle.  I didn't dare touch the section from Elm Road to Witwen, but I suspect that would be the best prospect.  One trick that you can do with this creek (and other marginally navigable creeks) is to go during the spring floods.  Obviously be careful, as Honey Creek can be quite nasty during flood stage, but if done right (and from what I've heard) you can float over a lot of the log jams in this fashion.
Detailed Overview
Hwy PF to Leland Pond Access:  2.2 miles.  The first half of the trip has two many logjams, but the second half was open and nice.  Locals wanting to explore this can paddle up and back from Leland Pond.
Leland Pond Access to Hwy C:  3.0 miles.  Likely too many logjams.
Hwy C to Elm Road:  2.6 miles.  Too many logjams.
Elm Road to Witwen:  3.9 miles.  Way too many logjams.
Witwen to Hwy O:  5.4 miles.  Maybe 14 logjams.   Otherwise it looks nice.
Hwy O to Hwy 60:  3.4 miles.  Maybe 17 logjams.
Hwy 60 to Ferry Bluff:  2.0 miles.  Countless logjams.
Note, the south branch of Honey Creek (spanning from Plain to Witwen) is much less logjam prone and may be a viable paddle during high water.
Trip Map
Overview Map
Video
Photos
How did your trip turn out?

Questions or comments?

Feel free to leave your feedback.