Bittersweet Lakes State Natural Area (SNA)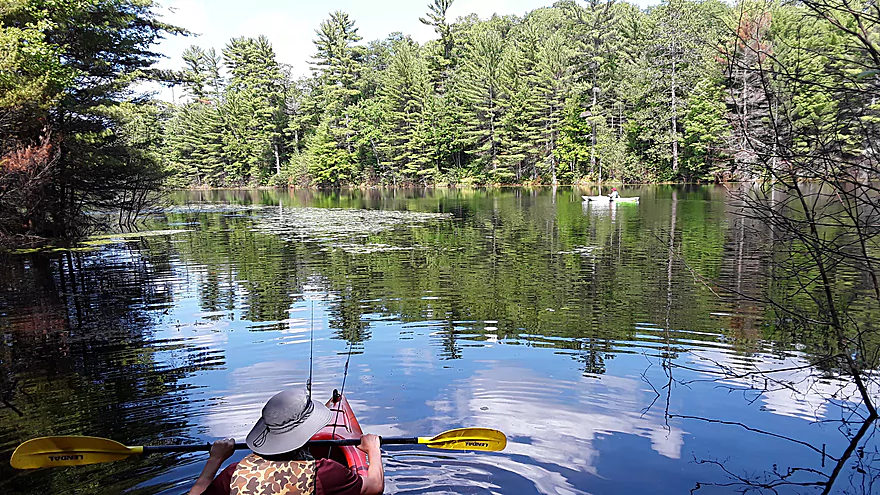 Put-in:
Prong Lake or Bittersweet Lake
Take-out:
Prong Lake or Bittersweet Lake
Time:
5 hours. You could do all four lakes in just a couple hours or spend 2-3 days to really explore the whole area.
If you have been wanting to do a BWCA trip, but don't have the time or are not sure if it is the thing for you, this may be just the trip for you.  It's like a mini BWCA but only 3.5 hours from Madison.  The area is great for a day trip or a place to spend a day or two getting away from it all. Bittersweet Lakes State Natural Area (SNA) is a series of 4 small lakes connected by short portages. They are all nice, clear, clean no-motor lakes, 3 of which are only accessible by short portages. There are two access points, one by vehicle (see note below) and one by foot.  The entire area is relatively small, about 3 miles from end to end by water and portage, and can be paddled in just a few hours.  There are 5 rustic campsites–each with a fire ring, tent pad, and a table if you would like to spend a night or two.
The 4 lakes, Bittersweet (104 acres, 31 feet), Oberlin (46 acres, 25 feet), Smith (43 acres, 18 feet), and Prong (30 acres, 50 feet) are all soft water seepage lakes, are slightly acidic, and have relatively high water clarity. Each of the lakes have their own unique character and are home to many unusual plant species including seven-angle pipewort, watershield, bur-reeds, golden pert, quillworts, water lobelia and waterweed. The forests around the lakes include old-growth northern mesic forests with hemlock and yellow birch, black spruce-tamarack bogs, and second-growth northern dry-mesic forest composed of paper birch, aspen, red maple, red and white oak.
Prong Lake
I strongly recommend putting in at the southernmost lake, Prong, which is accessible by a portage of about 300 yards, which is by far the longest portage you will have to do for any of the lakes. The parking lot is located just off Hwy 70 about 7 miles west of St. Germain, but depending on your car and driving skills you may be able to drive another 100 yards or so to an intersection with a track/snowmobile trail to unload your gear. Directly across the track from this intersection there is a metal gate blocking an old road.  This is the portage trail. There was a sign post but no sign when I was there, so I hiked it first to make sure it was the portage. It was wide and overgrown with grass so I simply dragged my kayak. There were no rocks until the very end.  The launch is a bit steep to the water, but the water is shallow and very clean. I was immediately impressed with the plant life and the clarity of the water. If you are into fishing we had good luck fishing along the shore in the area between the portage and the main part of the lake. There is a campsite around to the right (southeast) shore as you enter the main part of the lake and the portage is straight north across the lake. Panfish and Bass are common.
Bittersweet Lake
The portage to Bittersweet Lake is on the northeastern corner of Prong Lake and is marked by a yellow sign on shore.  It is an easy portage of about 100 yards. The launch onto Bittersweet Lake was a bit muddy/swampy when I was there and the lake seemed a bit high. While It is possible to drive to and launch at the western edge of Bittersweet Lake, I would only recommend doing so with a 4-wheel drive vehicle with good clearance, and even then I would recommend putting in at Prong.  Why drive when you can paddle? Bittersweet Lake is the biggest of the lakes, but because it is the most accessible it probably gets the most use. There are 2 campsites on the lake, one of which is at the end of the access road and thus may not be the best choice if you want peace and quiet. The other campsite is on a nice point that looks over the lake. Bittersweet is the only lake where Northern Pike are common.
Smith Lake
The portage to Smith Lake is on the northeastern end of Bittersweet and again is marked by a yellow sign. The portage is again about 100 yards, and a bit steeper than the other portages, but is still a fairly easy portage. Smith Lake is relatively small and shallow and thus warmer and is good if you want to go for a swim. The campsite is on the western shore and the portage to Oberline Lake is on the northeastern corner of the lake.
Oberline Lake
Oberline Lake is long and skinny and runs diagonally from southwest to northeast, with a bay at the end that extends southeast. I felt this was the prettiest and cleanest of the lakes, with some nice areas around it to explore. There is a campsite about half way on the right (east) side of the lake on a nice point. Some reviewers have mentioned that this site may be accessible by a rough 2 track. Panfish and Bass are common.
Trip Map
Photos
12 Comments to "Bittersweet Lakes State Natural Area (SNA)"
How did your trip turn out?

Questions or comments?

Feel free to leave your feedback.