Bass Creek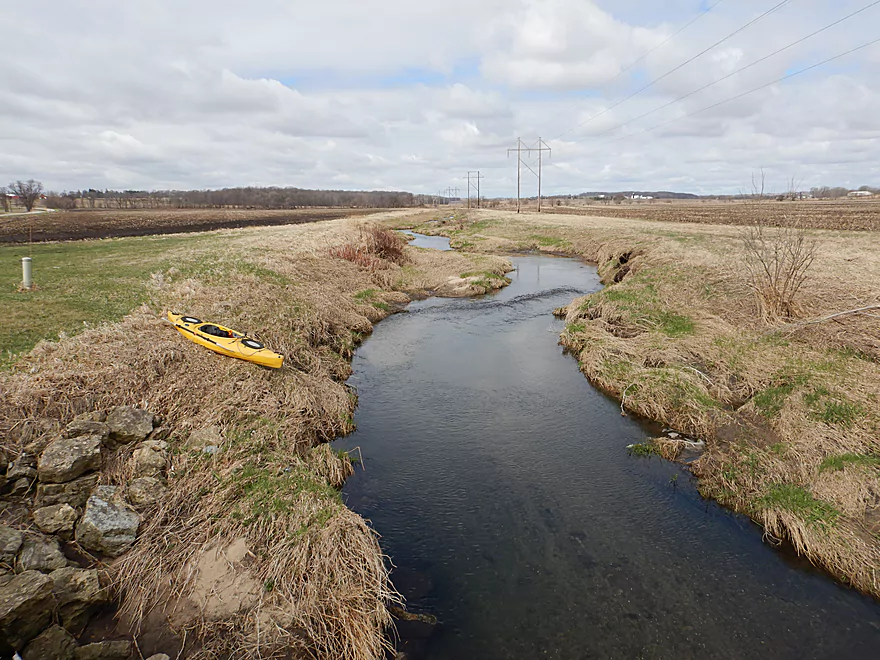 Bass Creek is a tributary to the Rock River located just west of Janesville.  I first heard about it from paddling author Rick Kark, who did and liked the lower section.  In researching the creek, I discovered an upper segment by Footville which looked more interesting and appeared to be logjam free.
I started the trip at Old Hwy 11, which is practically as far upstream as you can go for a put-in.  The creek started shallow, rocky, riffly and very clear…not at all what I suspected.  Most of my paddling was along a straight line with some wiggle.  I suspect the creek had been artificially straightened and ditched by local farmers.  When you straighten a creek, you speed it up and you remove muck from the substrate (as it doesn't have time to settle).  With Bass Creek this left an attractive pebble bottom intermixed with sand as well as some surprise gravel bars.
After Schaffner Road, the scenery transformed from open farm fields to some light woods, which added a different character to the trip.  Later Stevens Creek joins up and nearly doubles the size of Bass Creek.  Afterwords, the creek starts to become more like a traditional creek with meandering and dense wooded banks.  I was worried about logjams, and there was some deadfall, but none of it serious or requiring a portage.  I took out at County Road H by the large grain silo.
In summary this is a difficult paddle to judge.  On the plus side, it was fast, riffly, clean and had no logjams.  On the downside, it was occasionally shallow and lacked variation .  These are the types of paddles I like, but am not sure the general public is as enthused for, so I'll go with a compromise 2.5 star rating.  
Noteworthy Wildlife:
Not much wildlife…some ducks, geese, deer, and red-winged blackbirds.  I only saw one fish (a large dead carp).
Put-in:
Old Hwy 11 was a very good bridge access with plenty of shoulder parking and a bank conducive to kayaking launching.
Take-out:
County Road H was a mediocre bridge access.  There is a lot of rock fill on both banks which made dragging my boat out a bit tricky, but its not bad.  Plenty of room on the shoulder for parking.
Shuttle & Rental Information:
The bike shuttle was relatively flat, paved and a manageable 4.2 miles.  Typically this would be easy…but a brutal headwind with cold 20 mph gusts made this pretty miserable.
Hazards, Logjams and Current:
Logjams:  None!
Current: Very fast with countless riffles.  No major rapids worthy of class rank.  
Hazards:  None…this was an easy trip.
River Depth and Navigability:
Upper Bass Creek is shallow and should only be run during high flow rates.  The following estimates are based on the Sugar River gauge in Verona.
0-90 CFS:  Likely too low.
91-130 CFS:  On the low side.  Doable, but you will ground out on many of the riffles.
131-170 CFS:  An average flow.  Most of the creek would be fine, but you will ground on some riffles.  I did the trip at 155 CFS and would have preferred more water.
171-260 CFS:  Likely an ideal depth with adequate padding for the rocky sections.
261-340 CFS:  A high depth, but likely still navigable.
341+ CFS:  This might be the point at which the banks burst, and the creek may be a bit unattractive for paddling.  I'm not sure though.
Alternate Bass Creek Trips:
W. Dorner Road to Old Hwy 11:  1.1 miles.  Open and shallow section with many light riffles.  Unfortunately there are two large fences by Dorner Road which may make this section somewhat unviable.
Old Hwy 11 to H:   3.4 miles.  Reviewed here.

Old Hwy 11 to Hwy 11:  0.3 miles.  Short but pleasant section with many riffles.  Old Hwy 11 is a much better access option than new Hwy 11.
Hwy 11 to Schaffner Road:  1.3 miles.  Simple, open section that has been artificially straightened.  Pretty zippy current.
Schaffner Road to H:  1.8 miles.  More open, straight-line paddling.  Stevens Creek doubles the size of Bass Creek and afterwords the banks become much more wooded.

H to S. Johnson Road:  3.0 miles.  Much more wooded and congested.  Maybe 25-30 logjams.
Johnson Road to D:  7.4 miles.  Positively reviewed by Rick Kark, who liked the scenery and only had to portage two logjams.  I suspect deadfall is more of an issue now….figure 5-7 logjams.
Hwy D to Mouth (on Rock River):  1.0 miles.  Final mile of the river.  Some deadfall, but should mostly be a way through.  Maybe one portage.
Mouth to Happy Hollow Park:  1.0 miles.  Short stretch on the Rock River.
Trip Map
Overview Map
Video
Photos
How did your trip turn out?

Questions or comments?

Feel free to leave your feedback.